The Christmas Day x NBA games tradition is like no other. Aside from a full day of games with star-studded matchups, the players and the brands celebrate the holiday by gifting the best gift of all:
Fire sneakers.
The 2019 edition of the Christmas Day x NBA games live up to its expectations. Kobe fanatics brought back classics. Jordan Brand, AND1 and ANTA got festive on us. Giannis, Bron and The Klaw debuted some new heat. And as expected, Montrezl Harrell and PJ Tucker rocked some undeniable gems.
From PEs to customs and more, this Christmas was a great one.
Take a look at the best kicks below, and be sure to follow Kicks On Court on Instagram to stay up to date on every sneaker worn throughout the league.
Boston Celtics vs. Toronto Raptors
Air Jordan 34 "Wrapping Paper" – Jayson Tatum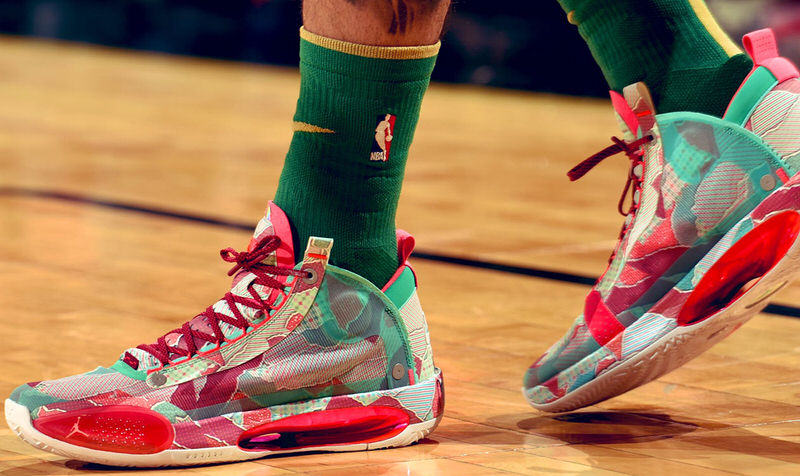 + These are extremely festive. Gotta respect it
+ Peep every AJ34 to date here
AND1 Attack PE – Fred VanVleet
+ FVV is putting AND1 back on the map
+ These should release ASAP
ANTA GH1 "Ugly Sweater" – Gordon Hayward
+ Not gonna lie, these ANTA GH1s are pretty fire
+ Who rocked an ugly sweater during the holidays?
Custom PUMA Clyde Hardwood by Sierato – Marcus Smart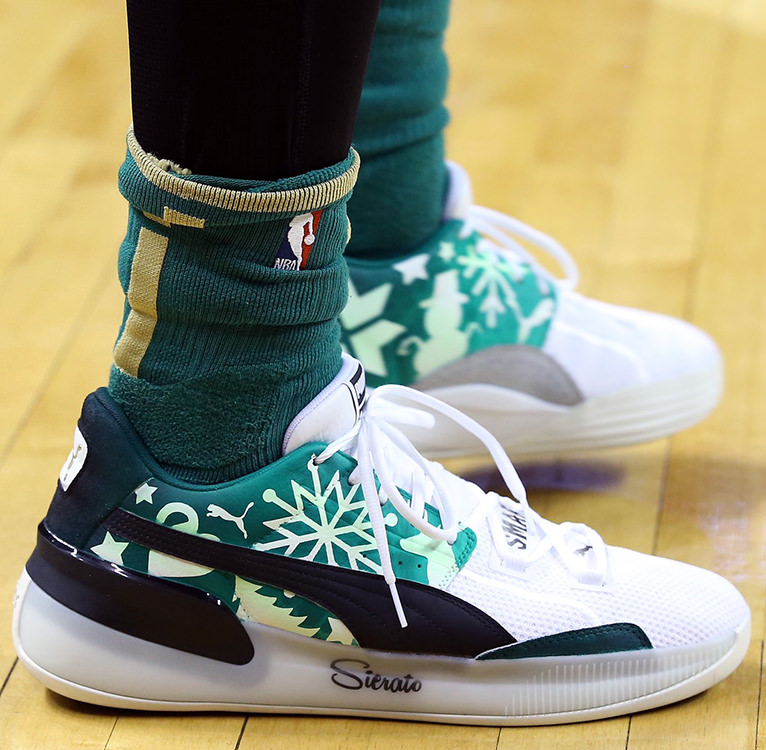 + Sierato is always cooking up some heat
+ Be sure to follow the artist behind the pair here
Milwaukee Bucks vs. Philadelphia 76ers
Nike Zoom Zoom Freak 1 "Soul Glo" – Giannis Antetokounmpo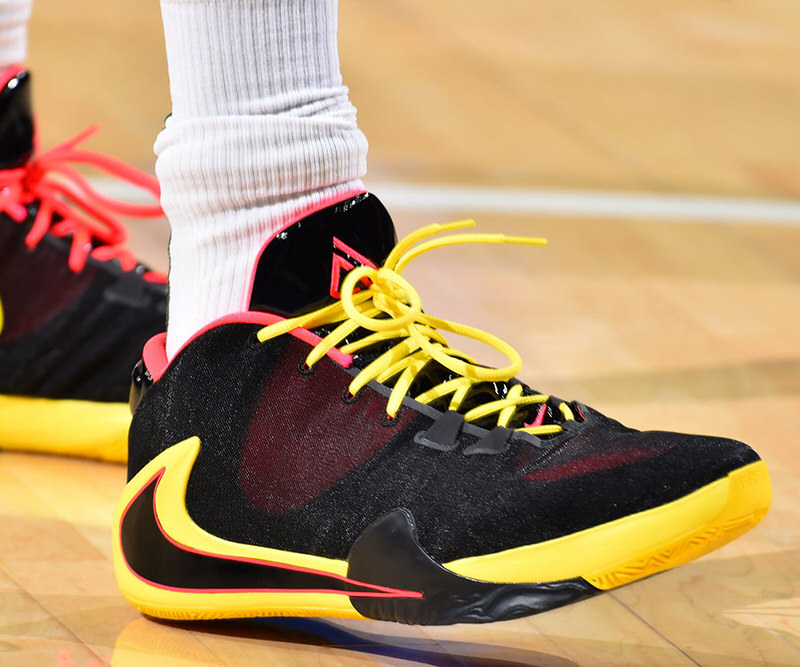 + These are so good. The patent leather tongue is a nice touch
+ Take a look at every Nike Zoom Freak 1 rocked this year here
Nike Zoom Kobe 6 "Grinch" – Tobias Harris
+ Hands down the best Christmas sneaker to date
+ Nike needs to re-release these ASAP
Nike Kobe 7 "Cheetah" – Tobias Harris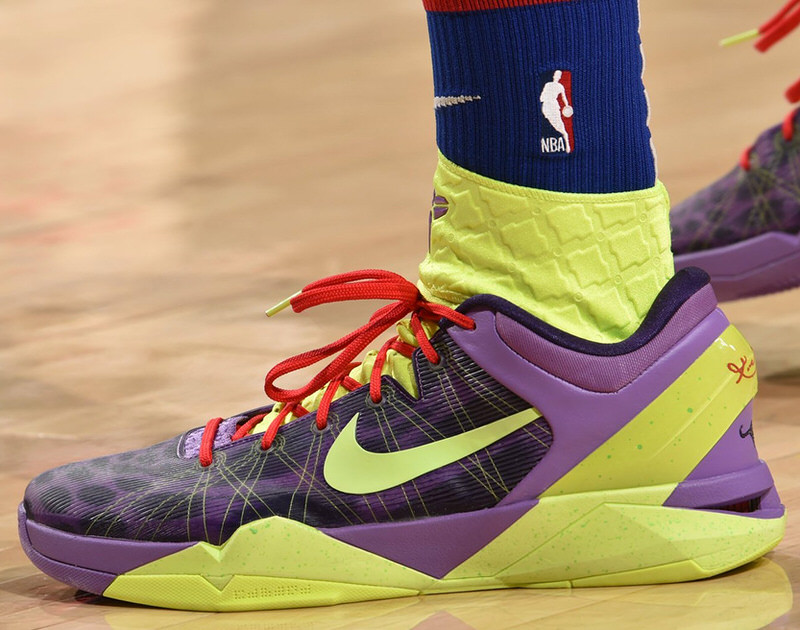 + Tobias was on a mission this Christmas
+ Who still has their pair?
Under Armour HOVR Havoc 2 PE – Joel Embiid
+ Mismatched sneakers are the wave
+ Y'all feeling these?
Houston Rockets vs. Golden State Warriors
adidas Harden Vol. 4 PE – James Harden
+ Harden went into the Warriors' house in blue and yellow
+ Was he trolling?
Nike KD 12 "Aunt Pearl" – PJ Tucker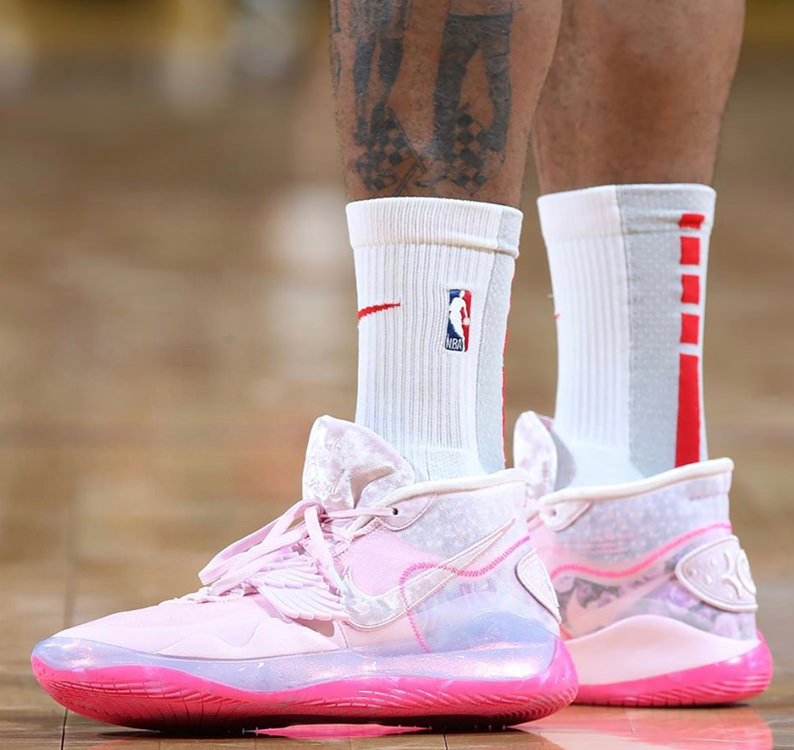 + The Aunt Pearl line honors Durant's late aunt who battled breast cancer
+ Respect to PJ for repping his fellow Texas Longhorn alum's kicks
Air Jordan 4 "Wahlburgers" – PJ Tucker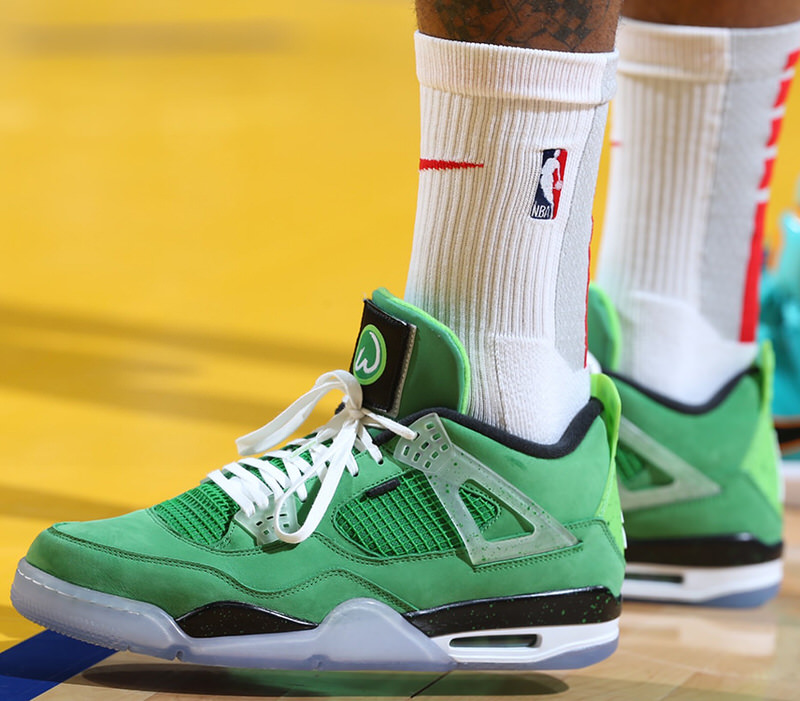 + $15K on feet. Something light for PJ
+ Take a look at every sneaker the reigning Kicks On Court champ wears here
Los Angeles Clippers vs. Los Angeles Lakers
Nike Zoom Kobe 5 Protro "Chaos" – Anthony Davis
+ Word to The Brow for rocking a classic
+ The Nike Zoom Kobe 5 "Chaos" is set to re-release early 2020. Who's ready?
Nike LeBron 7 "China Moon" – LeBron James
+ Where do you rank this "China Moon" within the LeBron 7 line?
+ Looks as though The King just confirmed the pair's re-release. You copping?
Uninterrupted x Nike LeBron 17 "More Than An Athlete" – LeBron James
+ These are clean. Who got the W on SNKRS?
+ Peep every sneaker The King wears this season here
Nike PG 3 – Paul George
+ These are a statement for sure
+ Is the Nike PG 3 the best one in PG's signature line?
New Balance OMN1S "Money Stacks" – Kawhi Leonard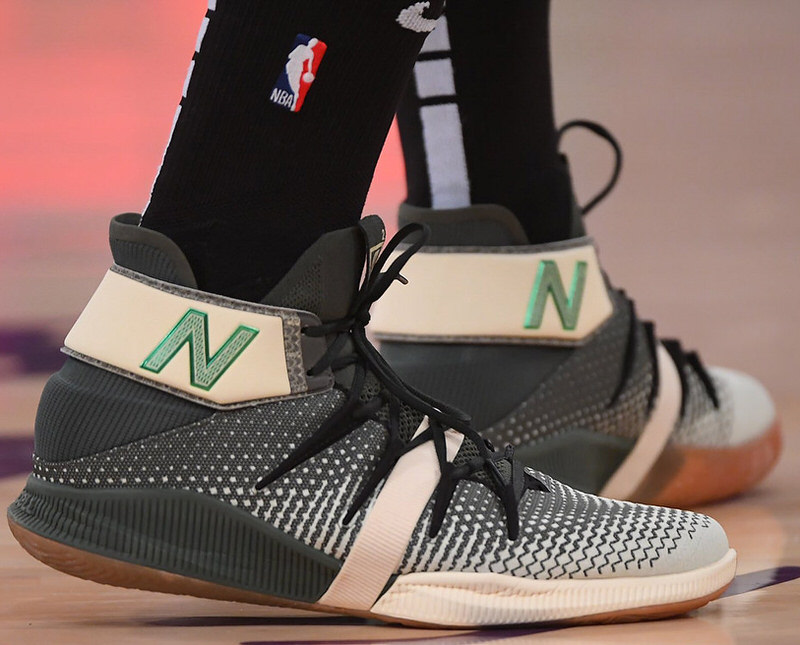 + Word to Uncle Dennis for the mula-inspired pair
+ The pair drops today. Who copped?
Kith x Nike LeBron 15 "King's Crown"
+ Montrezl is really bringing out some gems all season long
+ This Kith x Nike collab went crazy. We need another installment
New Orleans Pelicans vs. Denver Nuggets
Custom Adidas Pro Model 2G – Jamal Murray
+ Santa packing that heat
+ The Pro Model 2G is back with a modified touch including Bounce cushioning. Fire!
Nike Zoom Kobe 6 "Grinch" – Gary Harris
+ Real ones know
+ Is the "Grinch" the best sneaker of the decade?