NBA games on Christmas Day is to NFL games on Thanksgiving — they're an American tradition!
Really, nothing's better than waking up, unwrapping presents and then gluing your eyes to the TV for 8+ hours of NBA Hoops.
Our favorite brands know we're tuned in too, so they outfit their stars with Christmas inspired kicks. With no clear cut rules on Christmas, these kicks draw inspiration from anything and everything concerned with the winter holidays. That means Santa, trees — the whole lot.
In preparation for tomorrow's games, let's take a look back at some of our favorite Christmas Day kicks!
10. Kobe Bryant, 2008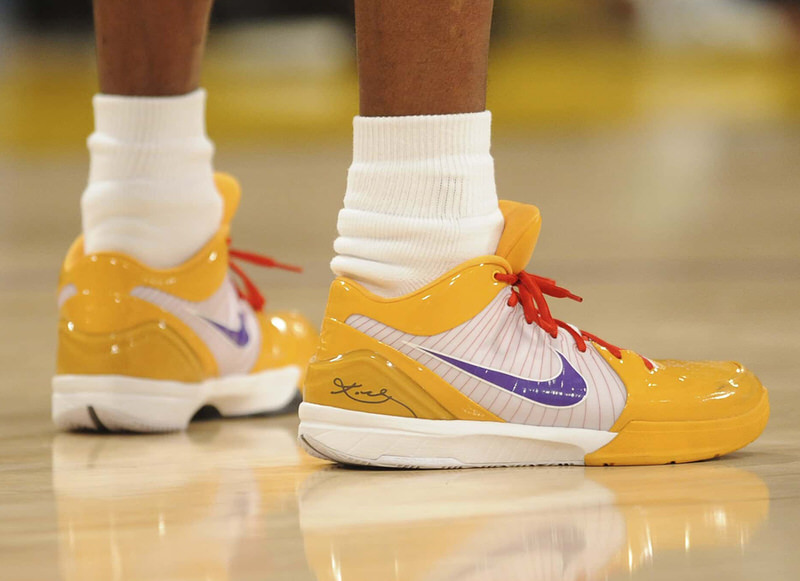 Shoe: NIKEiD Kobe IV
Game: Lakers vs. Cavs
The wealthy keep getting wealthier – when Kobe's Lakers faced-off against LeBron's Cavs on Christmas Day '08 100 pairs of this special edition Kobe IV was given to court-side attendees, super cool! As the name implies, these Kobe IVs were derived from NikeID (now Nike By You) and were an overall very Lakers-ish sneaker.
A small nod to Saint Nick came via red laces; but no one thought these would pretty much the starting point to Nike's annual Christmas offerings. From here – Christmas kicks would grow exponentially wilder, but S/O to the OG, the Kobe IV 'NikeID.'
9. Draymond Green, 2017

Shoe: Nike React Hyperdunk 2017 Flyknit 'Arthur' Custom
Game: Warriors vs. Cavs
Does any player in the league personify the 'Arthur Fist' meme more than Draymond Green? The Warriors star forward decided to bring some holiday cheer to his React Hyperdunk 2017s with the best holiday touches we've ever seen in the NBA.
Marc Brown's Arthur The Aardvark was drawn onto the heel celebrating alongside a Christmas Tree and a yellow bulb can be seen dangling from the Swoosh.
Clever little details like a speckled midsole and the multicolor Flywire (meant to look like Christmas Tree bulbs) made Dray's custom Hyperdunks a winner.
8. Ray Allen, 2012

Shoe: Air Jordan 18 & 20 PEs
Game: Heat vs. Thunder
Forever put respek on Ray Allen's name because his PE game knows no bounds.
Jordan Brand decked out their longtime endorse with not one, but two pairs of [then] never retro'ed Jays – the Air Jordan 18 & 20. Both pairs came dressed in red, green and cream for a distinctly 'jolly' look.
7. 2011 Nike Basketball Collection
Shoe(s): Nike KD IV, LeBron 9, Kobe VII System, Air Max Sweep Thru
Games: Numerous
Nike Basketball's 2011 holiday collection was so stacked we had to include every pair.
KD's bronze, cookie-cutter inspired, kicks are possibly the hottest pair of the bunch with their low-key flare and spot-on storytelling. King James's traditionally colored Air Max LeBron 9 seemed simple, but its gold speckled outsole added an extra touch of Christmas magic.
The Black Mamba's 'Christmas Leopard' Kobe VIIs added originality to the 2011 holiday collection with its nonconforming print and color scheme. Amongst the other shoes, Kobe's kicks appeared out of place, but they've aged like fine wine on the secondary market almost ten years later.
Lastly, Amar'e Stoudemire's Air Max Sweep Thru came correct with a clean green, white, red color-blocking; but they're still the sleepers of the pack. You really can't go wrong with any of these options!
6. Kevin Durant, 2010
Shoe: Nike Zoom KD 3
Game: Thunder vs. Nuggets
Proceed with caution when guarding Kevin Durant. Nike Hoops played up that premise with the Christmas edition of the KD 3. Released within the 'Stoplight Pack,' the KD 3's came dripped in safety yellow and royal blue for a completely unique vibe. Even better, when KD's Thunder took on the Nuggets on Christmas Day, most of his squad rocked these vibrant KD 3s alongside their superstar. Crew love.
5. Kevin Durant, 2018
Shoe: Nike KD 11 Scrooge McDuck PE
Game: Warriors vs. Lakers
Ducks ran the '90s — if you were around, you know — and KD tapped into his childhood with these 'Scrooge McDuck' KD 11 PEs.
Naturally, '90s babies rejoiced.
Scrooge McDuck was obsessed with money, so Nike thoughtfully dripped this KD 11 in gold coin and dollar bills. While Scrooge himself doesn't appear on the shoes, we all know the vibe. We'll never touch these, well, maybe P.J. Tucker will, but don't expect a general release of these — ever.
4. LeBron James, 2009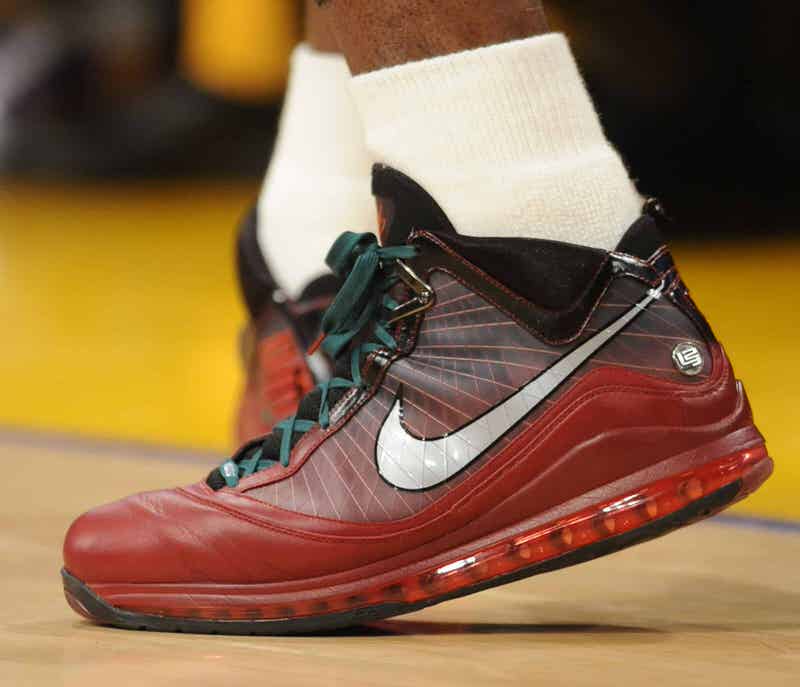 Shoe: Nike Air Max LeBron 7 "Christmas"
Game: Cavs vs. Lakers
For round two against the Lakers, LeBron graced the Staples Center's hardwood wearing one of the cleanest Christmas Day kicks — ever.
The Air Max LeBron 7 "Christmas" sports a beautiful vertical red fade throughout the upper; but the shoe's most special detail is found on the sock liner. A picture of young LeBron on Christmas Day adorns the insole, and honestly, it hits us in the feels. The overall package (box, insole, colors) really made us feel like we knew "The Kid From Akron."
Being the only shoe on this list that's recently retro'ed, the "Christmas" edition of the LBJ7 can actually be found online and in-store, now! So go cop a pair and yam on some cousins tomorrow.
3. LeBron James, 2003
Shoe: Nike Air Zoom Generation Laser PE
Game: Cavs vs. Magic
Christmas Day 2003 showcased the league's newest star (LeBron) facing off head-to-head against one of the league's most feared scorers, Tracy McGrady. T-Mac was at the height of his power and LeBron gallantly held his own during his first of many performances on Christmas.
In celebration of LBJ's Christmas debut, Nike laced their young bull in a special pair of lasered Air Zoom Generations. The laser detailing did most of the talking as the rest of the shoe sported white leather construction and silver detailing; but the most interesting detail of these beauties are the lion logos on the tongue (we wouldn't formally see LBJ's lion logo until the LeBron 5). Sometimes less is just more.
2. Kobe Bryant, 2002
Shoe: Air Jordan 7 PE
Game: Lakers vs. Kings
"Sneaker free agency" is one of those terms in the sneaker world that gets thrown around a lot, but few know that Kobe Bryant's 2002-03 season birthed the phrase. After severing his ties with Adidas, Bryant looked to field test various shoes from [just about] every brand to see where he wanted to sign next. What ensured was the craziest sneaker season of all time.
Jordan Brand aggressively courted the Los Angeles superstar by sending him PEs of iconic Air Jordan retros in Lakers colors. Everything from Lakers Jordan 3s to 8s graced the hardwood, but Kobe pulled out something special for Christmas Day against his rival Kings – a pair of Air Jordan 7s.
At a glance, they kinda look like 'Hare' 7s, but Kobe's PEs flipped the script by adding purple and gold accents throughout the shoe. An 'Away' edition of Kobe's Air Jordan 7s exists too, but these Christmas Day joints are way cleaner.
Bryant proved all the way back in '02 that he'd have a chokehold on the Christmas sneaker game, a fact that'll further be confirmed with our top pick…
1. Kobe Bryant, 2010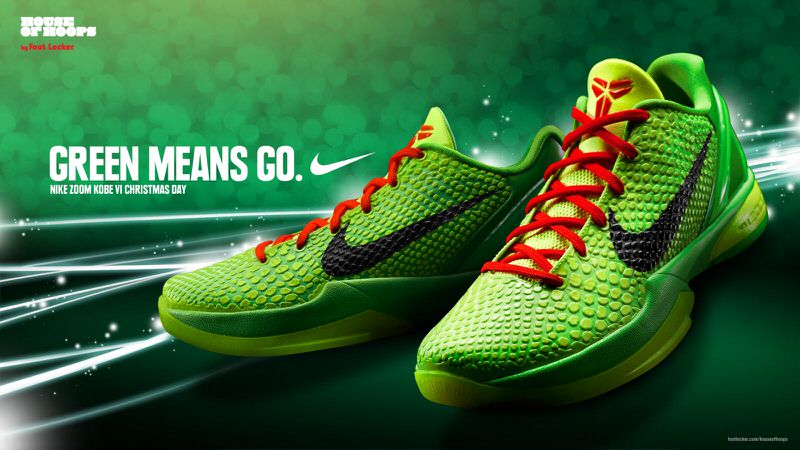 Shoe: Nike Kobe 6 "Grinch"
Game: Lakers vs. Cavs
Grinch. Kobe 6. End.
On the real though, Kobe's 2010 Christmas Day sneakers transcended the holiday and became [arguably] his greatest release of all time. Maybe even Nike Basketball's best shoe of the last ten years.
Released alongside our sixth entry, the Grinches fulfilled the 'green light' portion of Nike's Stoplight Christmas Pack. Charm oozes from this modern classic, and it easily deserves the top spot on our list.
Merry Christmas and Happy Holidays from Nice Kicks!