Last week, PJ Tucker posted a shoeless photo on Instagram stating he was officially a 'free agent' in the footwear world.
Making Nike the most exciting brand on the NBA hardwood in recent seasons, PJ's plugging of the Swoosh in rare, random and loud fashion has added major cool points to the brand in Beaverton while helping brand PJ as the league's ultimate sneaker head. To the Swoosh's credit, they've given PJ numerous PEs which is a rarity for a player not named to an All-Star team and also incorporated him in iD campaigns.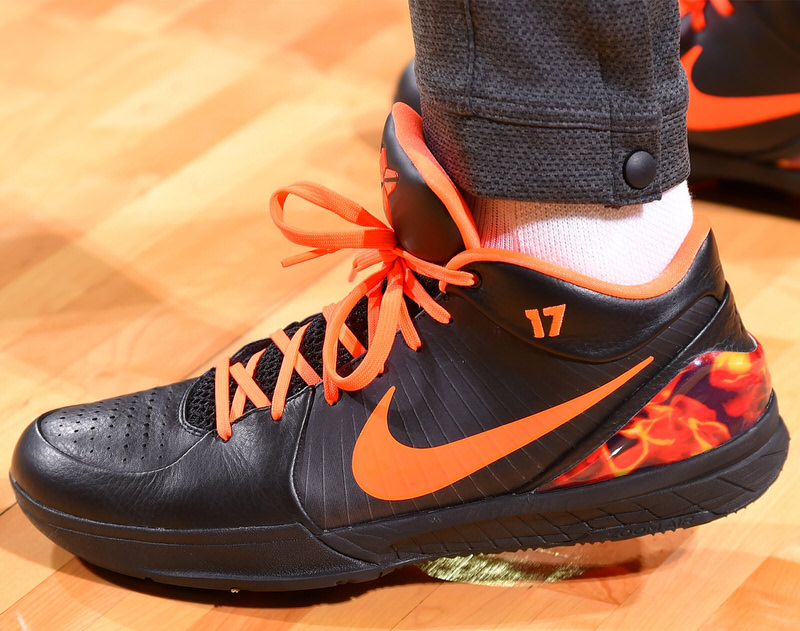 While brands and even retailers have the chance to throw a bag at PJ, he's not the first high profile player to be a footwear free agent while in play. From cut-short-contracts to unmatched offer sheet, a handful of household names have rotated logos while testing the market.
See a brief history of some of the most interesting sneaker free agents in NBA history.
Chris Webber // 1996-97 Season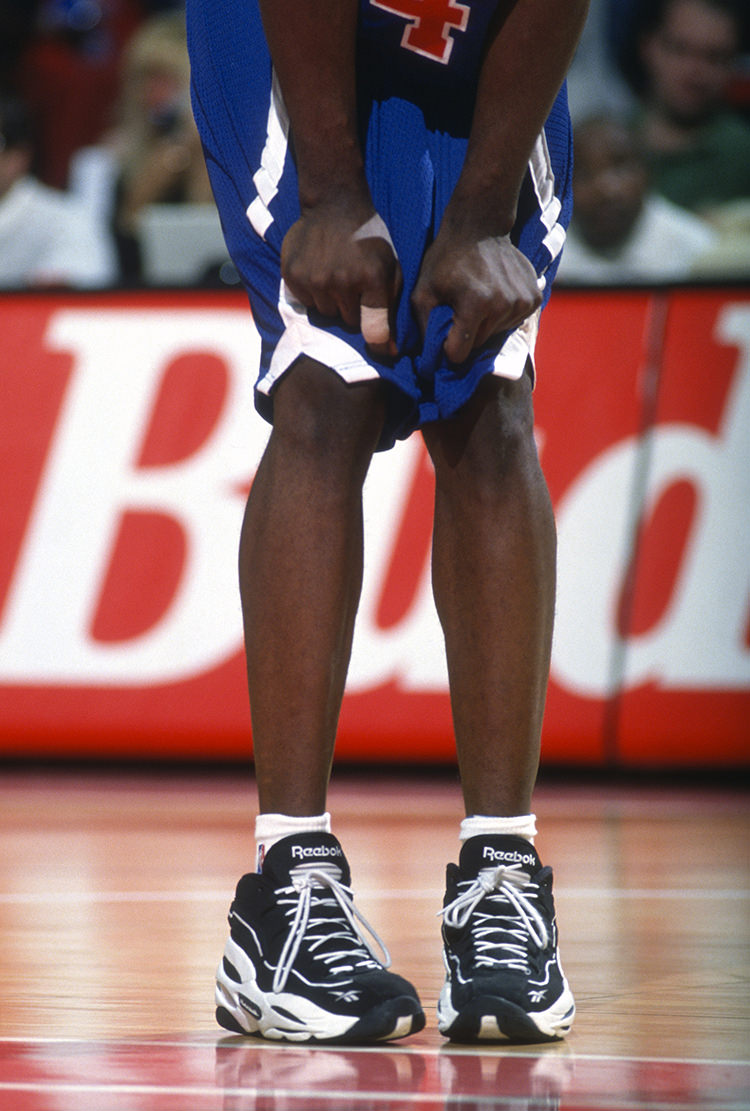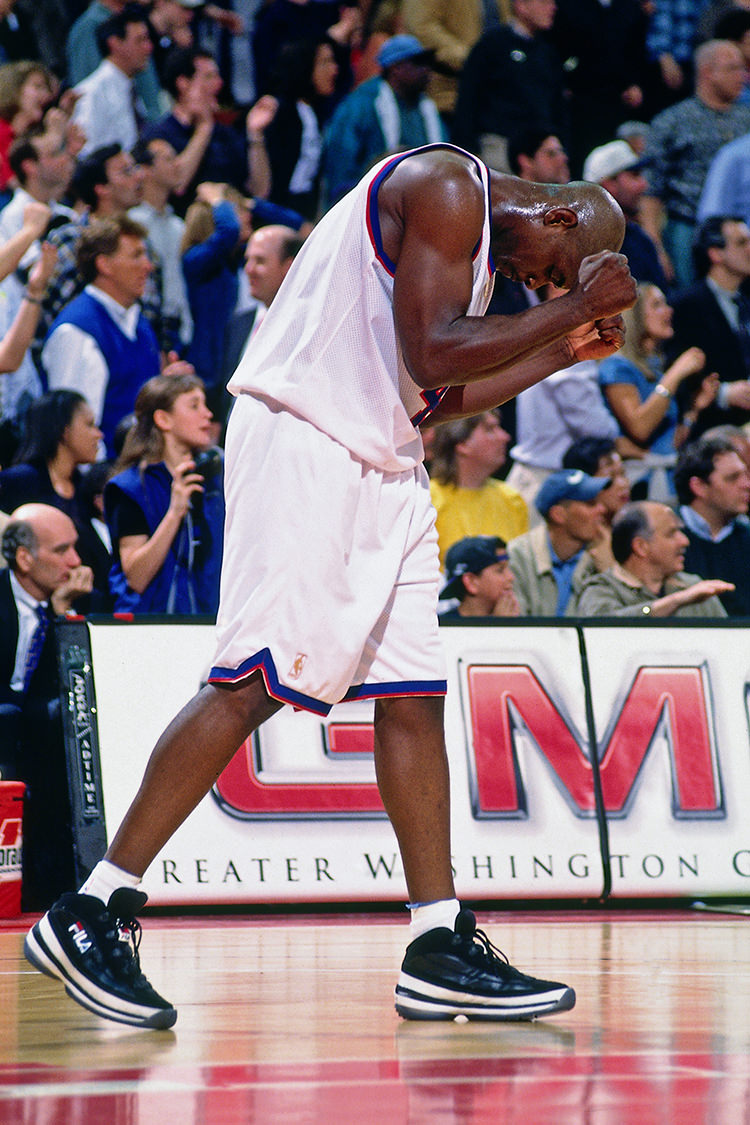 By most measures, Chris Webber was the future of Force or heir apparent of Air at Nike.
The brand's best unofficial NCAA spokesman since Pat Ewing at Georgetown, C Webb and his Fab Five teammates in Ann Arbor brought a new-school swag to the Swoosh that was both priceless and unpaid. Making black sneakers, black socks and baggy shorts matter in a manner that even the unbeatable Bulls couldn't, the All-American four man was a no-brainer for Nike coming out of college.
Signing with the Swoosh, C Webb would rock a variety of Air Max and Air Force models during his rookie of the year campaign in The Bay before being traded to the Bullets after only one season.
A signature shoe was swiftly in order with the Nike Air Max CW Sensation packing the wavy lines and visible tech that would define Nike's namesake sneakers of the '90s.
All good, right? Wrong. Chris wasn't feeling the price-point in regards to that of Mike's model and that of the underserved.
"One problem I had was that [Nike] were selling shoes to kids for $130 and [kids] in the neighborhood were robbing each other and stealing shoes," Webber said back in 1997. "So I had a problem with that, and I had to voice it."
Webber left Nike, rocking Converse and Reebok over the course of the 1996-97 NBA season. His Converse All Stars were seen in triple-black on court but less seen in that color code on the market. Perhaps a personalized custom to avoid free advertising? Not dumb.
Eventually, he would wear FILA in that season's spring into the playoffs against MJ and the Bulls — all of whom were now famous for wearing baggy shorts and black sneakers.
Webber would cite his friendship with Jerry Stackhouse as one of the reasons he inked with the Italian brand, giving them a modern big three of Stack, G Hill and C Webb. FILA's US headquarters in Baltimore also added to the move. His first shoe was to be sold for $85 to $90, far less than the $140 Air Max Sensation.
After signing with FILA in 1997 for a three-year deal, Webber would eventually leave FILA heading into the 1999 season and trade to Sacramento. Despite a deal with DaDa that would prove memorable though short, Webber would rotate brands the majority of his career.
What if C Webb never left Nike? We can only imagine.
Vince Carter // 1999-00 Season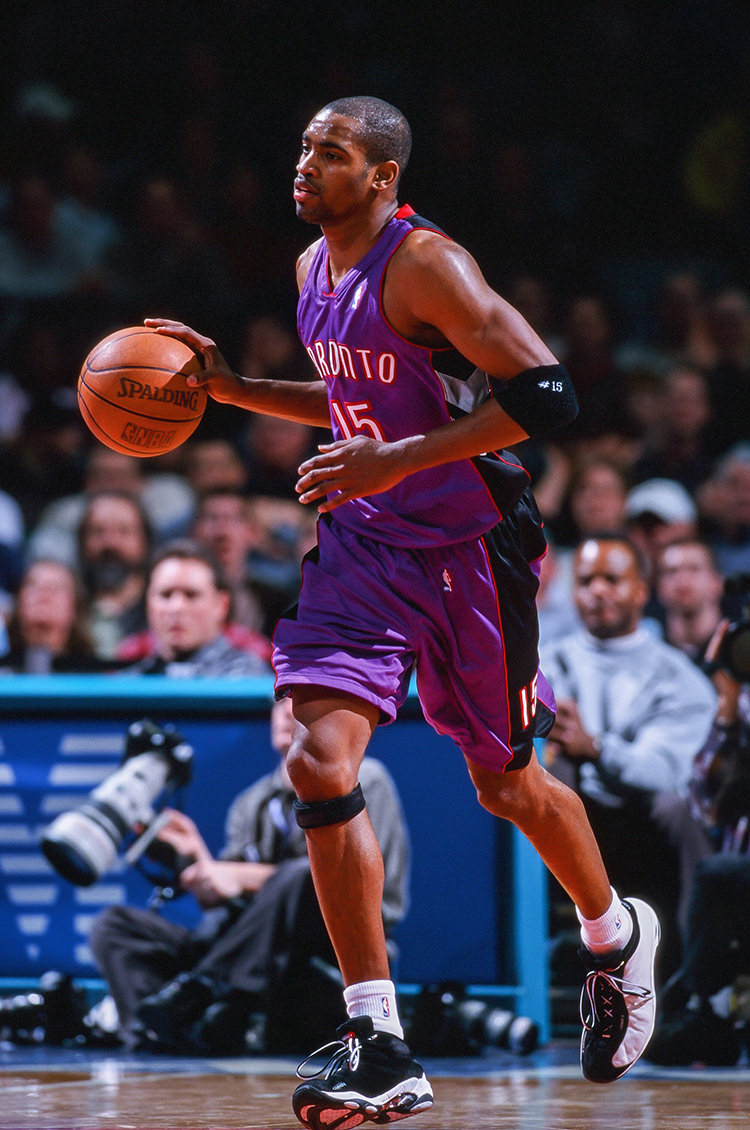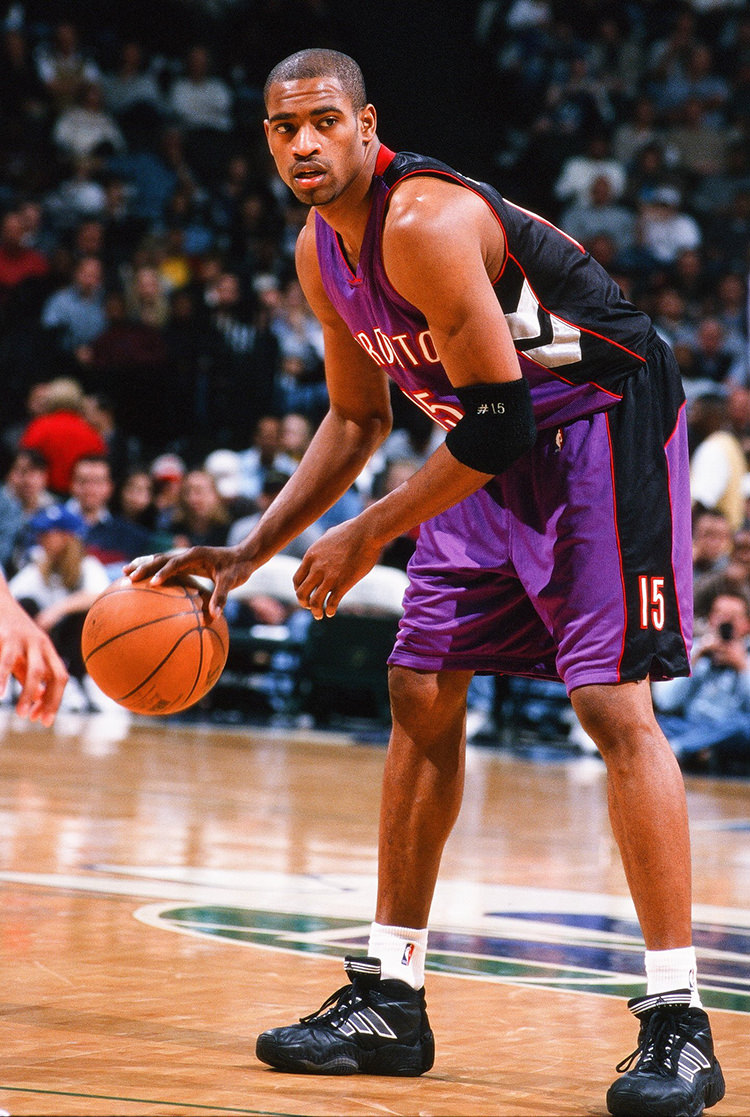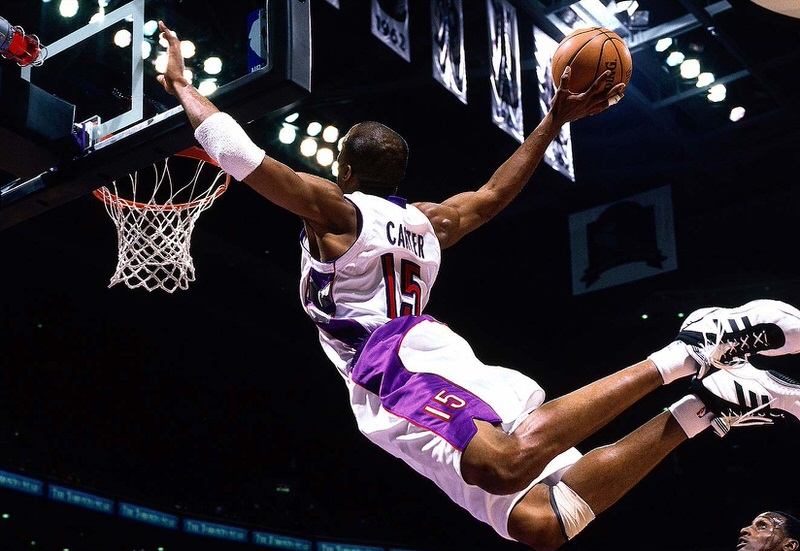 Remember when PUMA signed that fresh-faced superstar? It's happened a lot recently, but it happened for the first time in 1997 when they signed Vince Carter.
A signature star before he had an All-Star nod to his name, the PUMA Vinsanity was worn by Carter during his Rookie of the Year campaign in Toronto.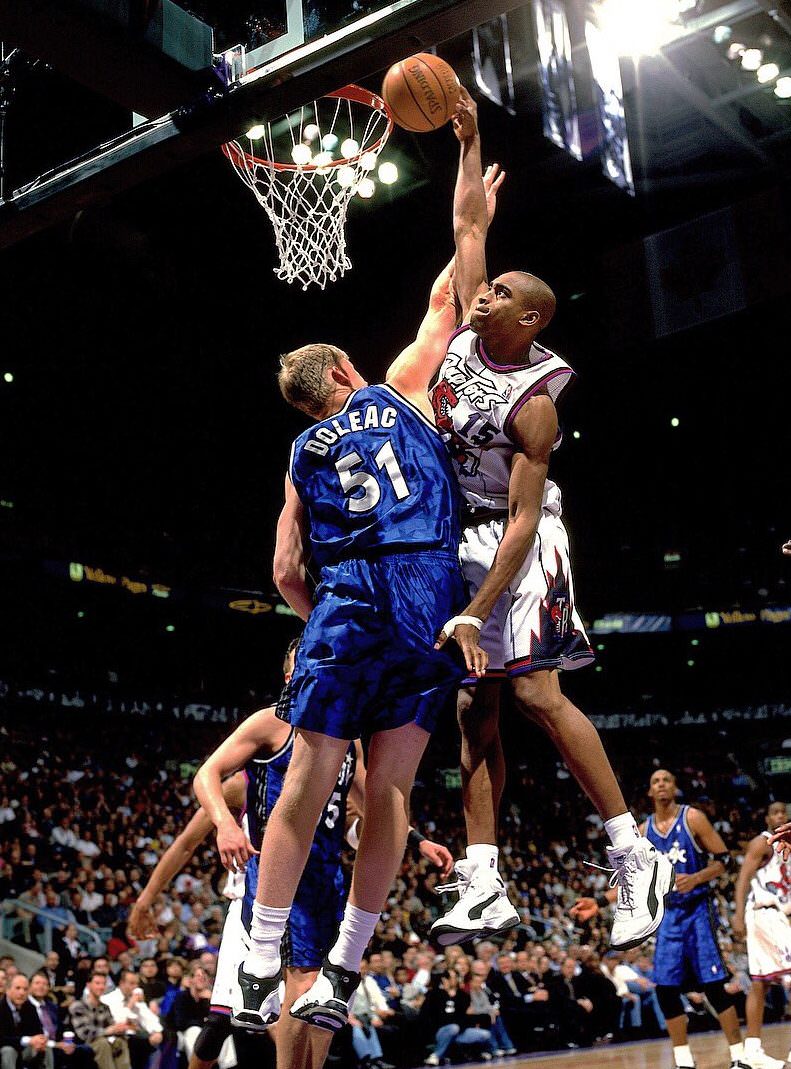 Worn in ads and in posters with the dinosaur dawning jerseys, VC's PUMAs had plenty of visibility during the shortened season – there was a lockout his rookie year – with pairs sold on Eastbay for the brand clawing back into basketball.
PUMA had their man in VC, making him their only NBA endorser and celebrating the brand's 50th anniversary with a historically handsome out-the-gate contract.
But it didn't last.
Carter famously broke his rookie year contract – which you can read all about here – with the German juggernaut requiring Air Canada to rotate brands for the 1999-00 season so no suitor got an unwarranted amount of shine.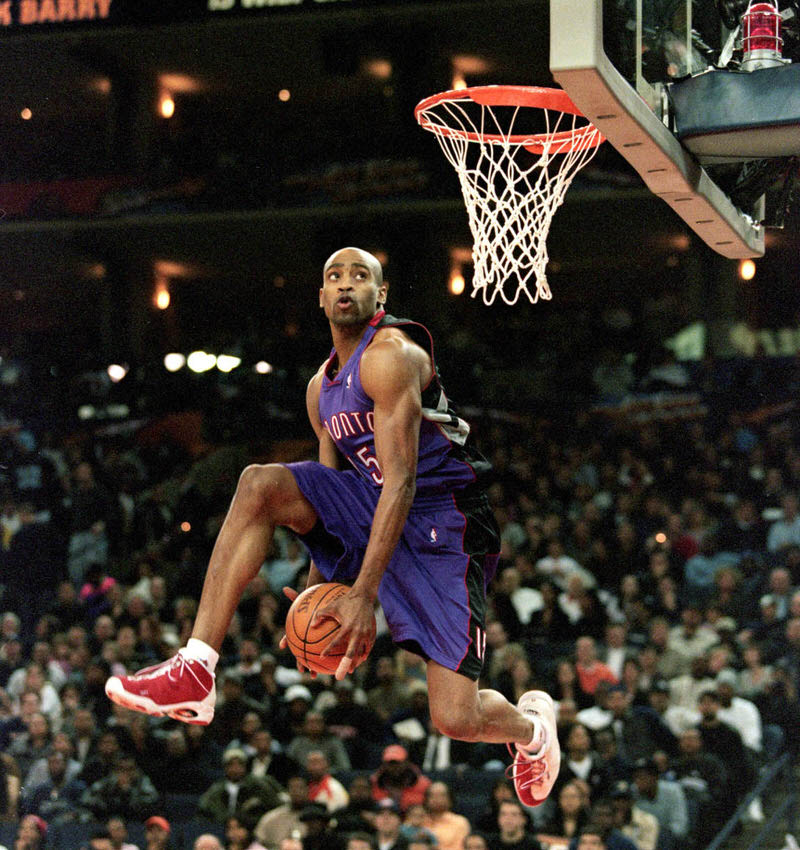 Welp, it was shine AND1 got.
While VC would also rock adidas in his lone season as a sneaker free agent, the Tai Chi would famously be worn by Carter in his immortal 2000 NBA Dunk Contest. The brand would see immeasurable buzz from Carter's once in a lifetime performance in their easily recognizable two-tone shoes.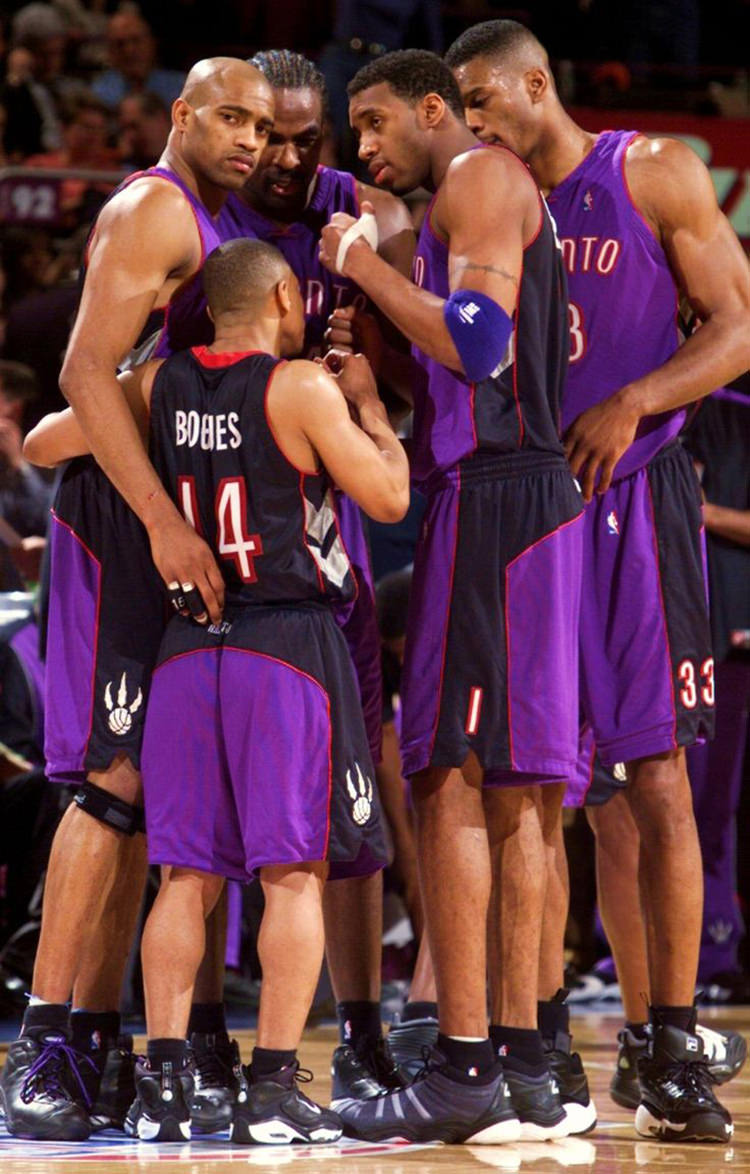 Carter would play much of the season in PE pairs of the Tai Chi before juicing the Shox BB4 just the same that summer in Sydney.
The Swoosh would sign Vinsanity heading into the 2000-01 NBA Season, having to pay PUMA a reported $14.5 Million on top of VC's new salary — a bill that proved well worth it for a big brand like Nike but too big for an amazing upstart like AND1 to foot at the time.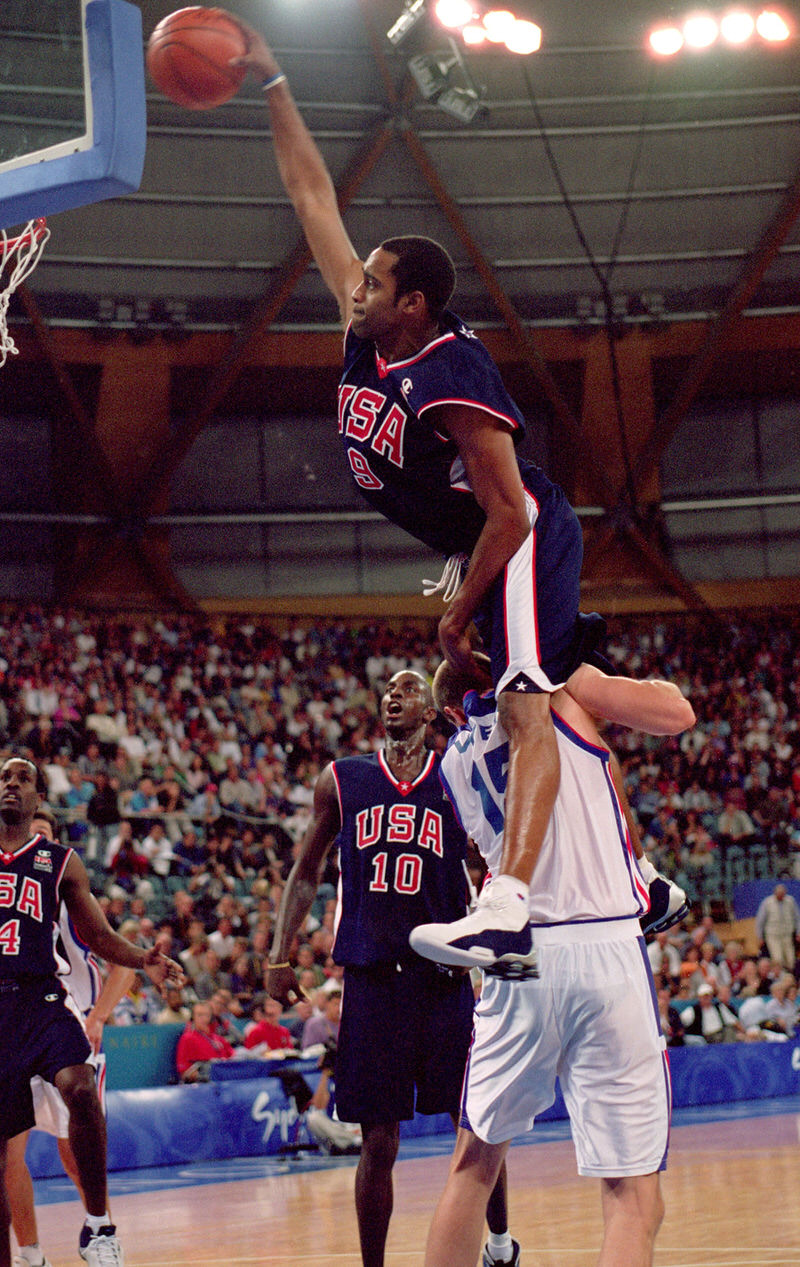 When speaking with Nice Kicks in 2019 about PUMA's resurgence, VC proved the consummate gentleman, stating he had "no hard feelings" towards PUMA and that "it's cool to see them back."
Kobe Bryant // 2002-03 Season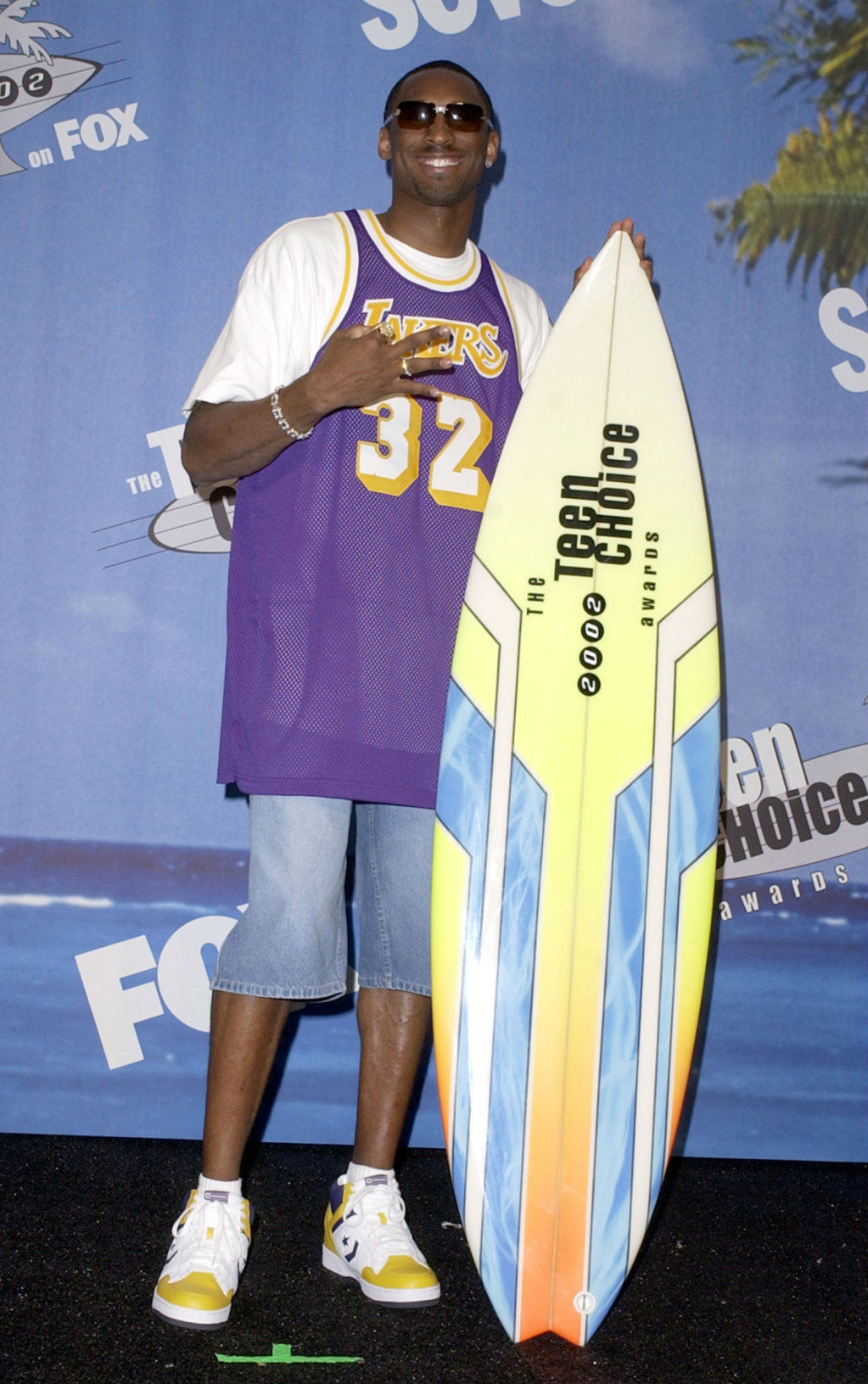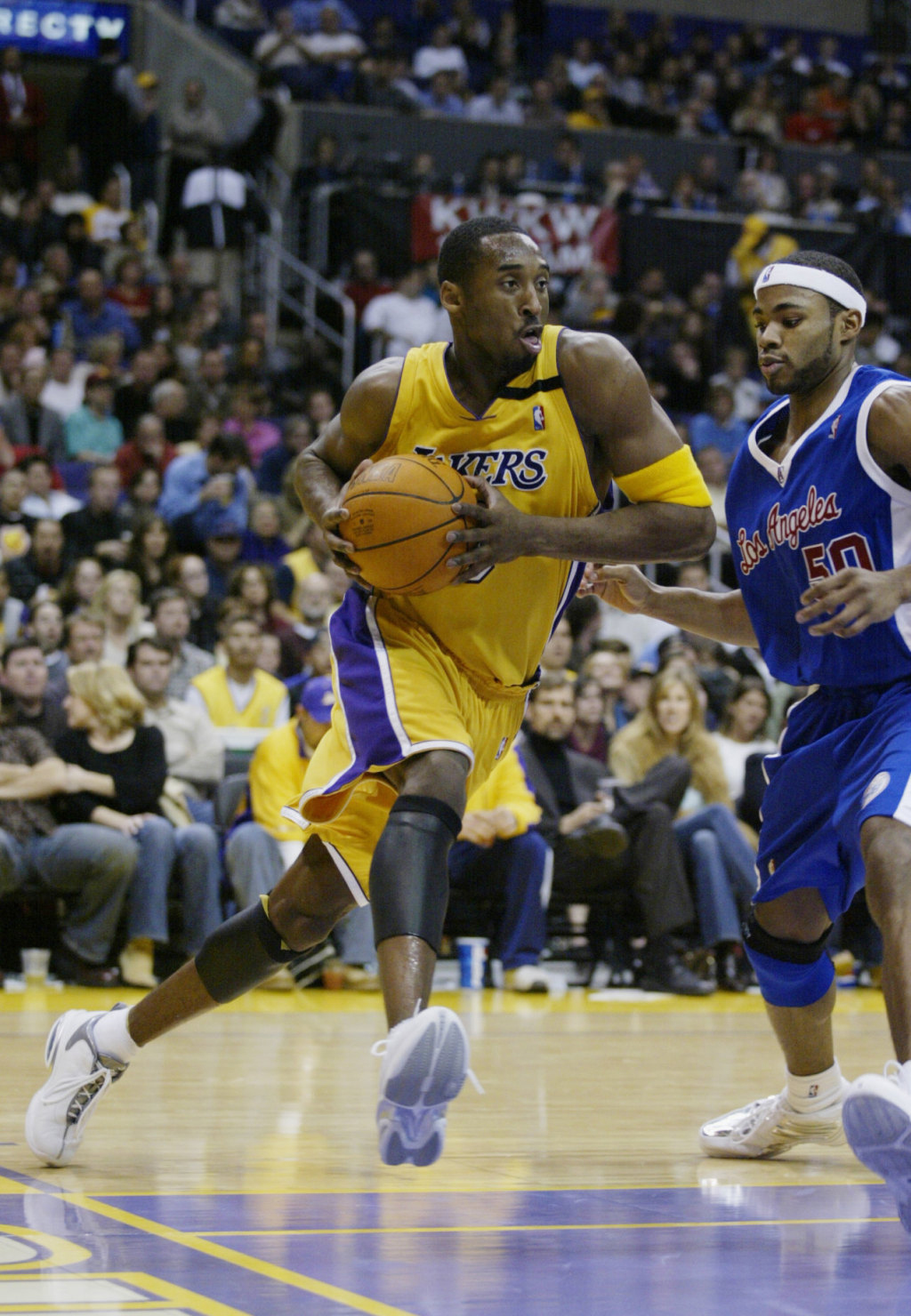 In only six seasons as a professional and about half as many as a legal adult, Kobe Bryant already had three championship rings and five signature shoes to his name.
While some would say if it ain't broke don't try to fix it, Kobe was looking for a change. In due time he would become sole star for the Lakers, but in the meantime he was looking for a new sneaker deal.
Following panning of his avant garde Kobe IIs with adidas and return wear to its successor, Jelly Bean Jr. broke his deal with the Three Stripes and pursued sneaker free agency heading into the 2002-03 season.
Breaking the deal with adi in the summer of 2002, Kobe would agree to rotate wears much like VC did so that no solo brand would see too much shine. Conversely, each and every brand would throw Kobe their best shot at signing him the following fall with a slew of samples and PEs.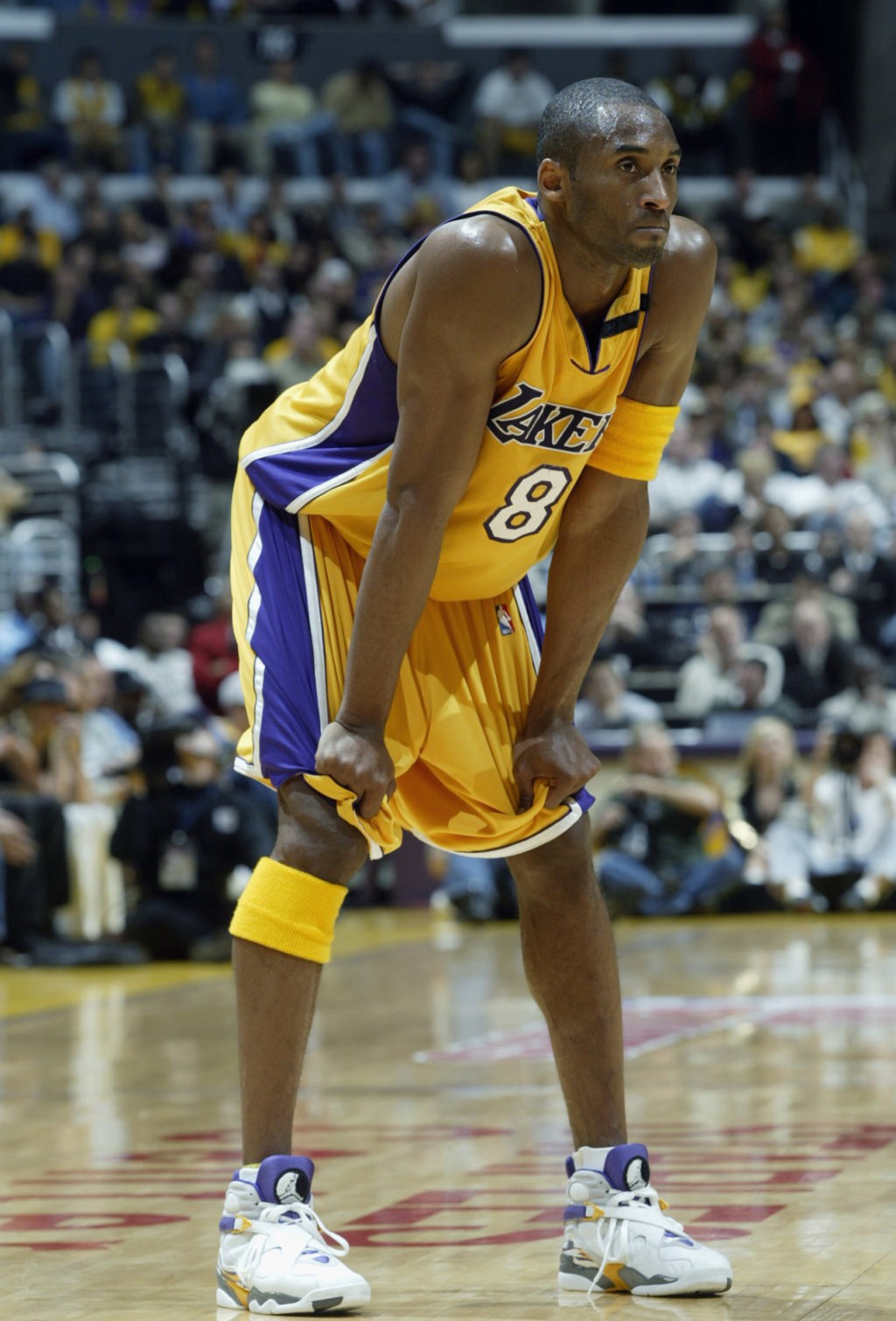 From Jordan Brand to Reebok, big brands would cook up colorways with only Kobe in mind, playing to Lakers colors and tagging. That year, each major maker had their hands full working outside their in-house roster as they were luring the Los Angeles All-Star and SVSM star LeBron James.
Rotating retros and performance models, the likes of Converse, AND1 and Nike would all get a fair shot at the Black Mamba's feet over the course of an entire season.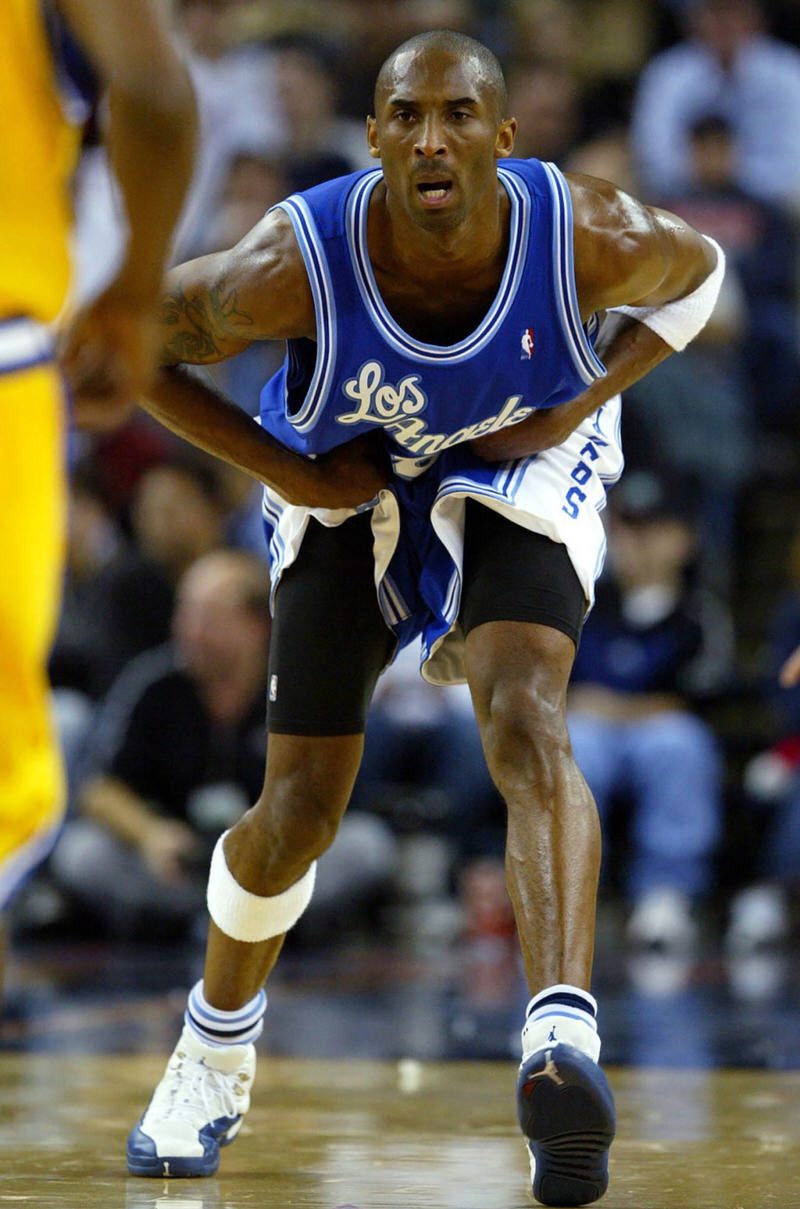 His sneaker free agency was truly revolutionary and you can read all about it here.
Ultimately, Kobe would land at Nike and as they say, the rest is history.
Gilbert Arenas // 2010-11 Season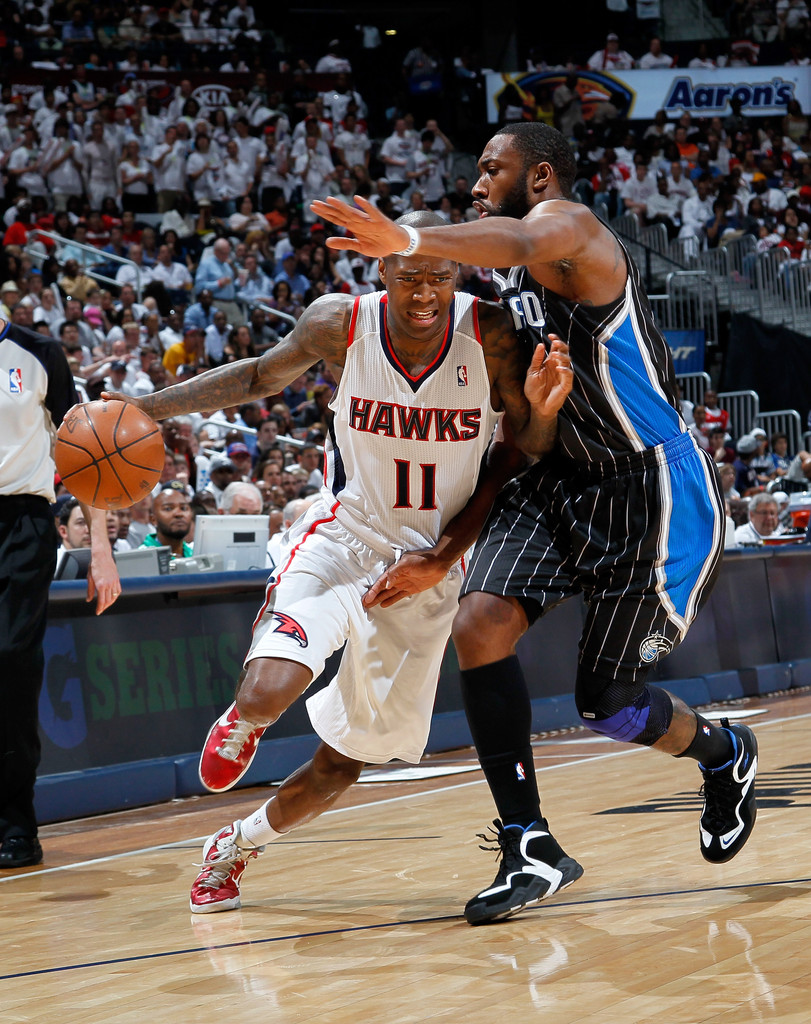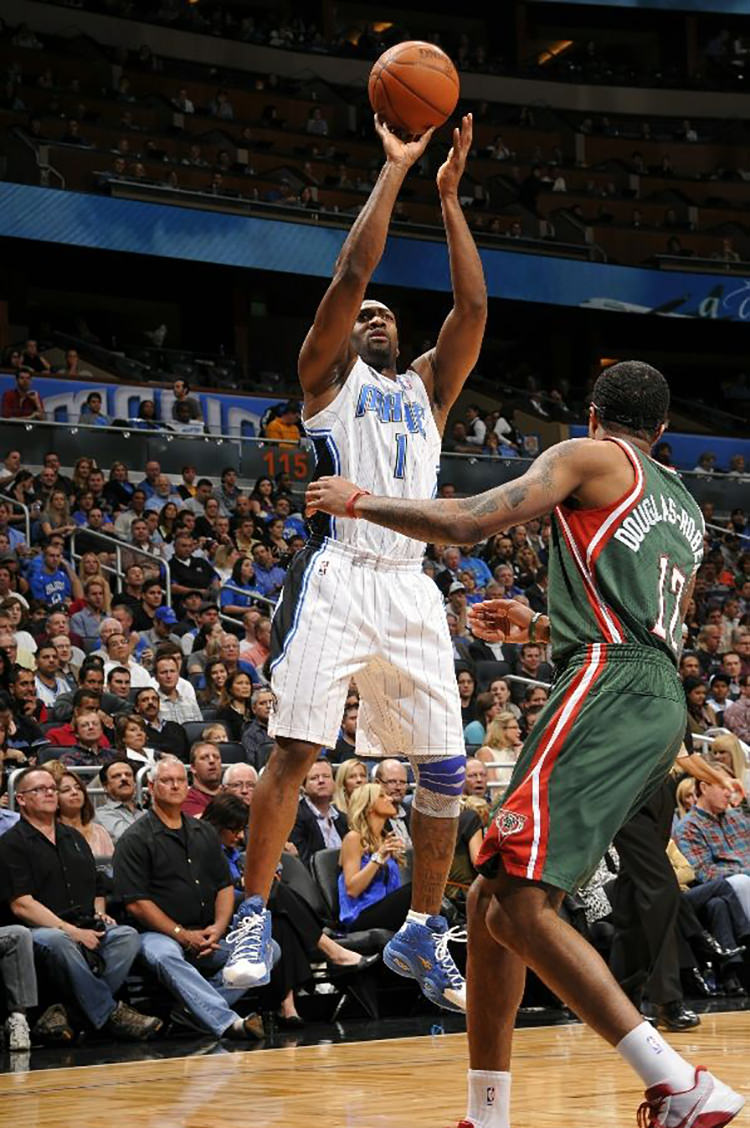 Gilbert Arenas was cooking the competition during his hot scoring hibachi days in Washington.
The lead man for adidas during an incredible run, Agent Zero had his own signature shoe and even pushed the brand for some of the most creative marketing we'd seen in the early days of the digital age.
However, after a misunderstanding gone wrong that involved bringing an unloaded gun without a license to the locker room, the NBA suspended him and adidas pulled his $40 Million sneaker deal. While all this sucked for the Wizards, adidas and one of the game's greatest scorers, the longtime sneaker head and lover of fun made the most of it by wearing EVERYTHING before ANYONE was doing it.
A longtime kick connoisseur who wore Flight 89s at Arizona and even balled in Air Max Plus runners as a pro, Gil cleared out his closet by rocking rare retros from Jordan, homages to his hero Penny Hardaway and Reebok Question PEs seldom seen. Not just stunting, his rotation stayed weird by pulling out Under Armour performance pairs, vintage FILAs, Bo Jackson trainers, CMFT Maxes and most famously Dolce and Gabbana designer sneakers.
Now retired from the NBA, Agent Zero and the Three Stripes appear to be on good terms now as Arenas often wears adi on his amazing podcast and laced up Hardens in much of his rookie BIG3 season.
Nick "Swaggy P" Young // 2015 Pre-Season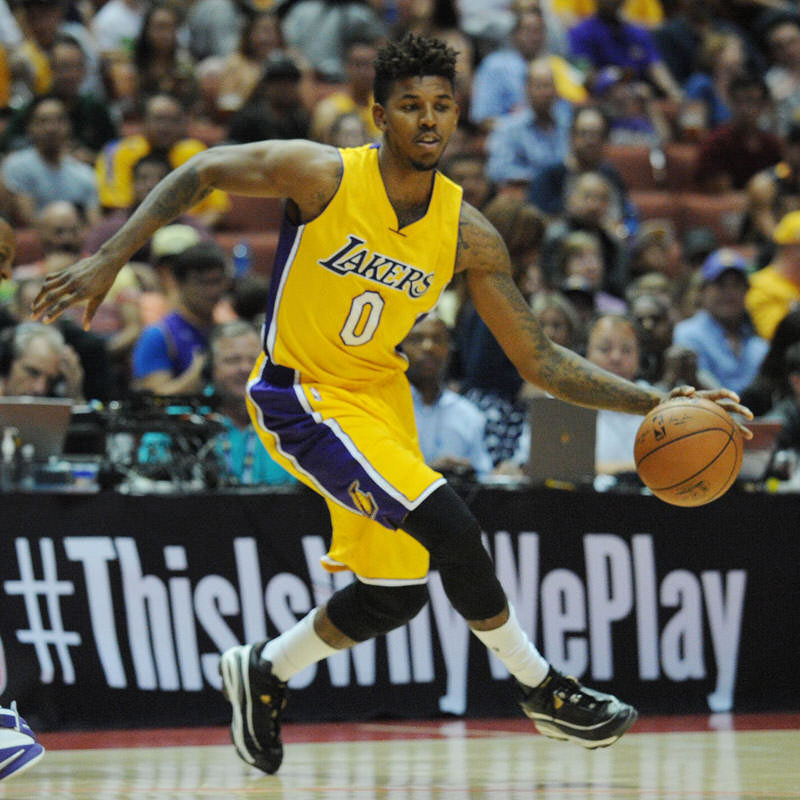 Belonging on the Kicks On Court Mount Rushmore next to the likes of PJ Tucker, Nate Robinson and Gilbert Arenas is most obviously Nick Young.
Like Tucker, Swaggy P took on court style to a whole new realm by rocking retro and OG sneakers from Nike that the world never thought would hit an NBA hardwood – at least not this decade.
Like Tucker, his Nike contract would expire during the height of his heat. Heading into the 2015-16 NBA Season, Young's contract with Nike was ending. At this point in his career, he was playing some of his best basketball in LA, debuting Kobes while the Black Mamba was sidelined and dating Iggy Azalea.
Young was popping on SportsCenter, TMZ and CSS, proving one of the most fashionable and funny players the league had ever seen. Still, would Nike pay him?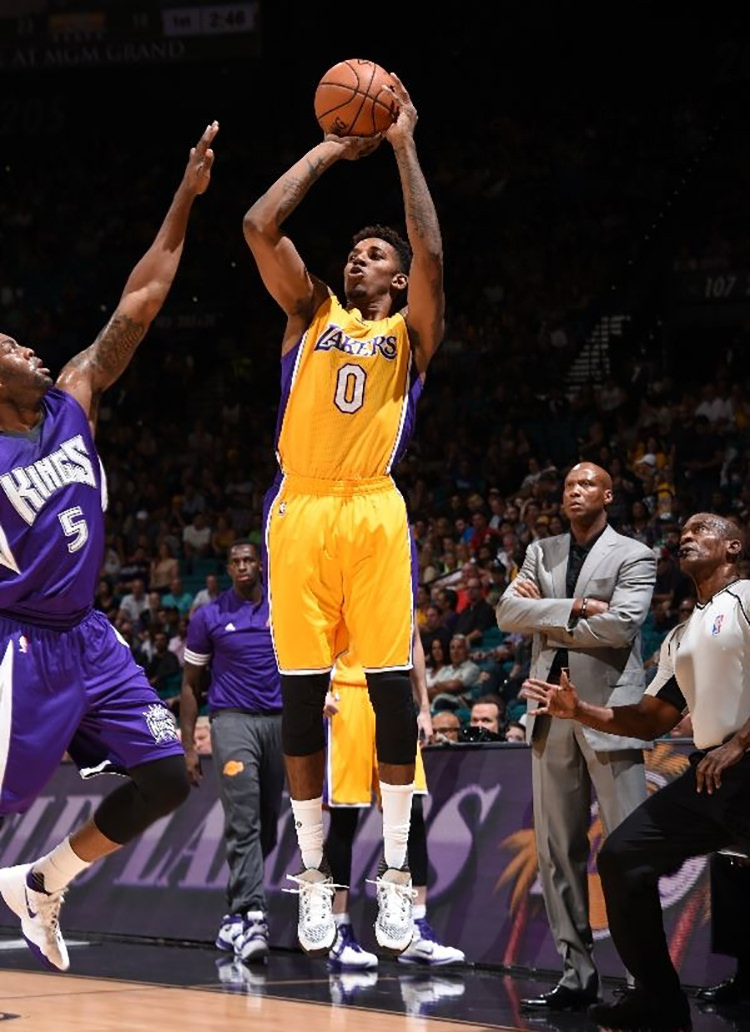 Testing the market as a sneaker free agent during the 2015 pre-season, Young would show up to NBA Media Day in Nike Kobes and rotate retros from Jordan, Reebok and even FILA as the Lakers prepped for a hopeful playoff push. At the same time, adidas was making major strides in lifestyle and performance with the launch of Kanye West's Yeezy line and the rise of Boost technology.
As a free agent, Young would be seen in "Turtle Dove" 350s off the court and Crazylight Boost on the court. In December of 2015, it would all become official when Young signed with the Three Stripes and had Twitter going nuts by hooping in the Yeezy Boost 750s.
Later that month, Kanye would shout Young out in "FACTS" and the Three Stripes would support Young with PEs, retail activations and plenty of heat during his days in LA and championship run with the Warriors.
In the time since, modern Kicks On Court stars on the rise like Montrezl Harrell and Taureen Prince have gone the free agent route and rotated brands while on court.
So, will PJ play the market or will Nike re-up the Rocket with rarities and give him his worth? We hope the best for PJ more than anything, but are excited at the possibility of him playing in everything.