We've seen a lot of shaky voting in recent years, but don't let Hall of Fame ballots fool you, Chris Webber was a bad man on the basketball court.
Becoming a national name in high school at Detroit Country Day, the private school power forward would live up to the hype close to home in Ann Arbor as the premier player on Michigan's renowned Fab 5. Following back-to-back Final 4 appearances, he'd declare after his sophomore campaign, rising to Rookie of the Year honors and eventually defining the 4 spot for the better part of the late '90s and early '00s.
While Chris would prove a journeyman in the NBA, swapping squads a total of five times over the course of fifteen years, his sneaker path would be much the same.
Signing with Nike after sporting the Swoosh over the course of his college career, Webber would receive a strong first signature in the form of the Nike Air Max CW Sensation. The problem? They retailed for more than Mike's model at the time and C Webb didn't like that. Leaving the boys at Beaverton, he'd jump around over the course of his career, seeing signature shoes from both FILA and DaDa, also wearing Converse, Reebok, AND1 and even an Air Jordan during his NBA days.
But what if he didn't?
Based on star power and marketability, it's hard to imagine that a full career with Nike wouldn't place CWebb among the Kicks On Court greats with a full house of signature shoes and Force favorites to his name.
We take a look back at what was and imagine what if…
What Was
1993-94 // Nike Air Maestro, Nike Air Unlimited & Nike Air Strong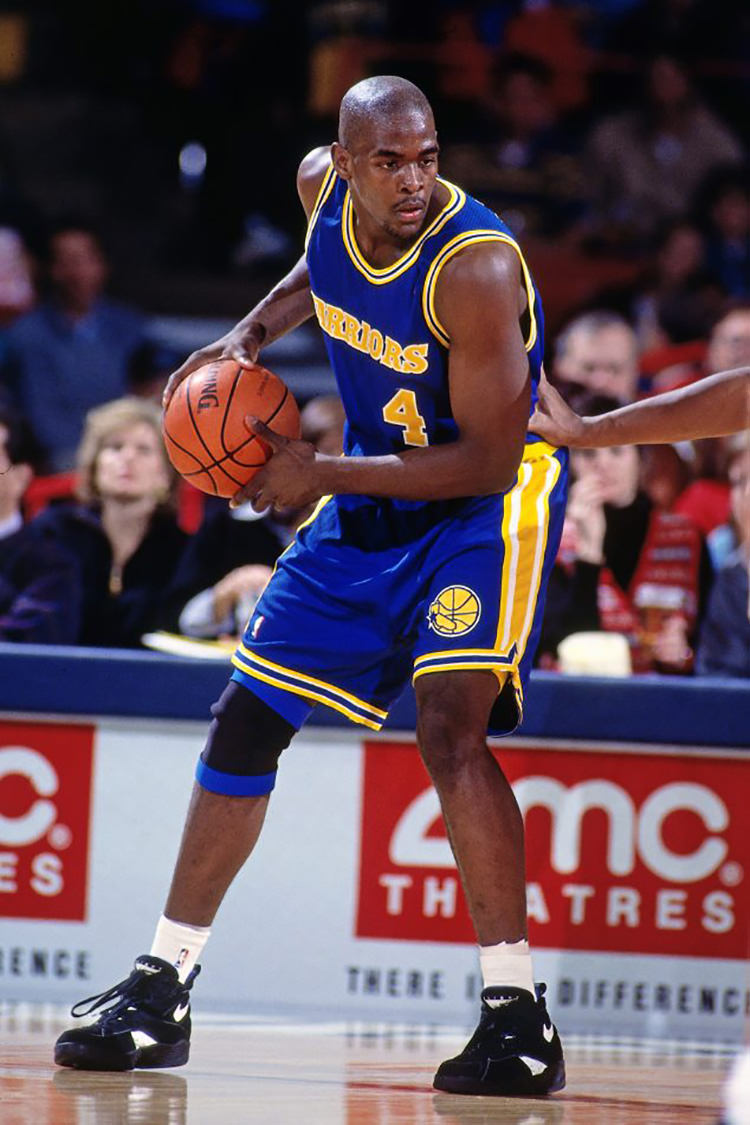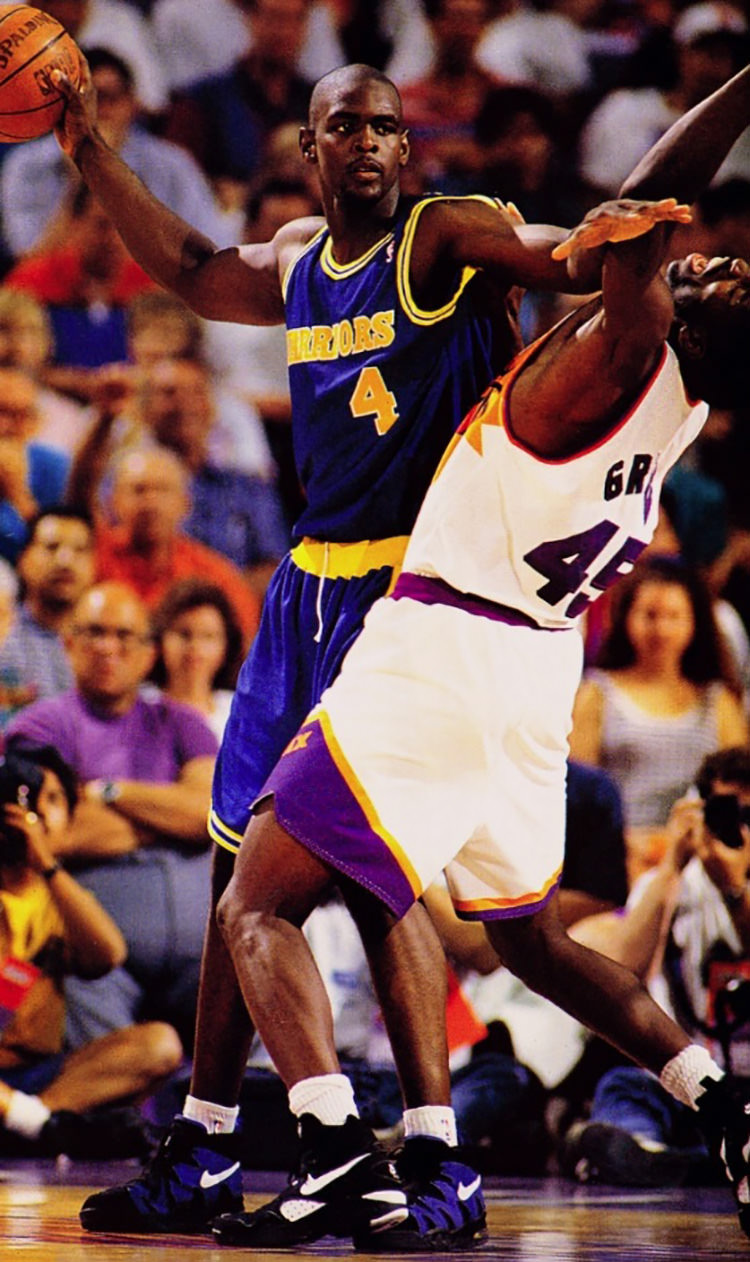 Chris Webber's rookie season under Don Nelson saw the same swag as his two year stay with Steve Fisher — lots and lots of Nike. Officially on Swoosh payroll, the Rookie of the Year rocked releases from the Flight and Force camps alike with his brethren in blue electing many of the same sneakers in Ann Arbor.
1994-95 // Nike Air Max2 Uptempo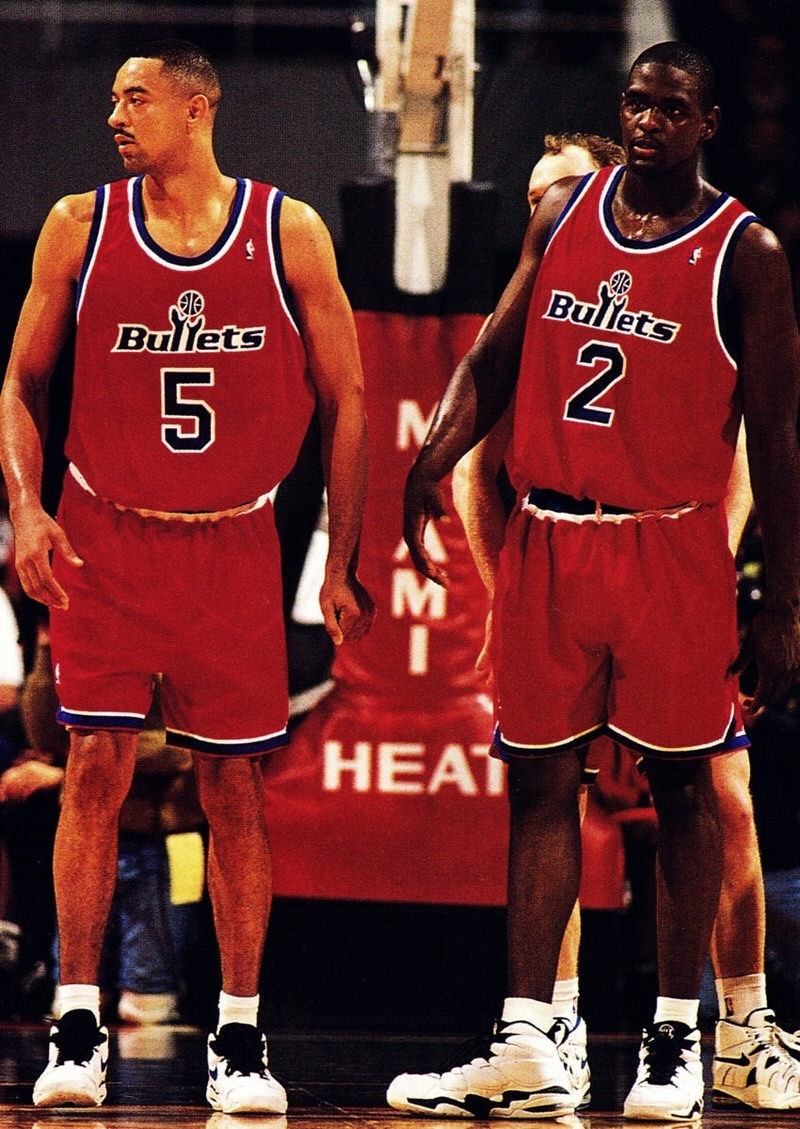 Dipsetting after a short stay in Oakland, Chris swapped coasts and laced the Nike Air Max2 Uptempo in his debut season with the Bullets.
1995-96 // Nike Air Max CW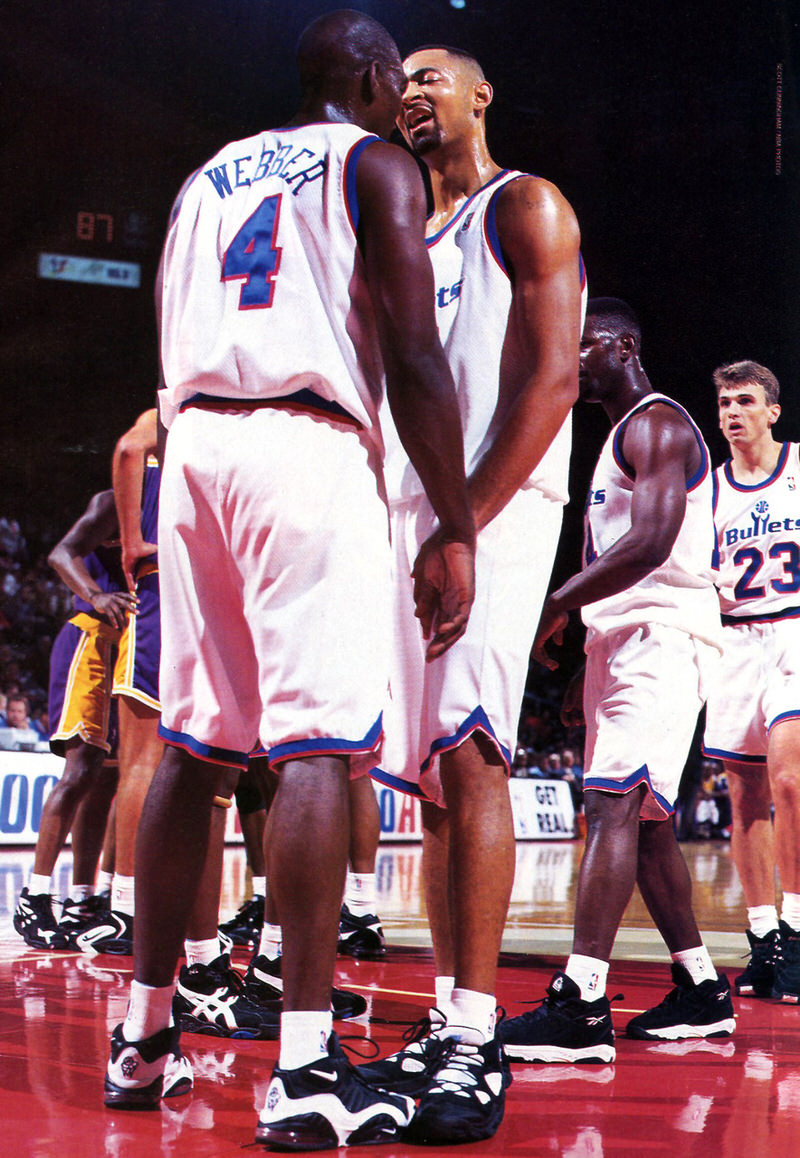 A signature star is born? It looked just like that as CWebb scored his own shoe — the Nike Air Max CW — in only his third pro season. The shoe was decked out with wavy lines, Air Max cushioning and even his own logo. Unfortunately, the Michigan alum wasn't feeling the price point. But what if he was…
What If?
1996-97 // Nike Air Max CW2 aka the Nike Air Pippen 1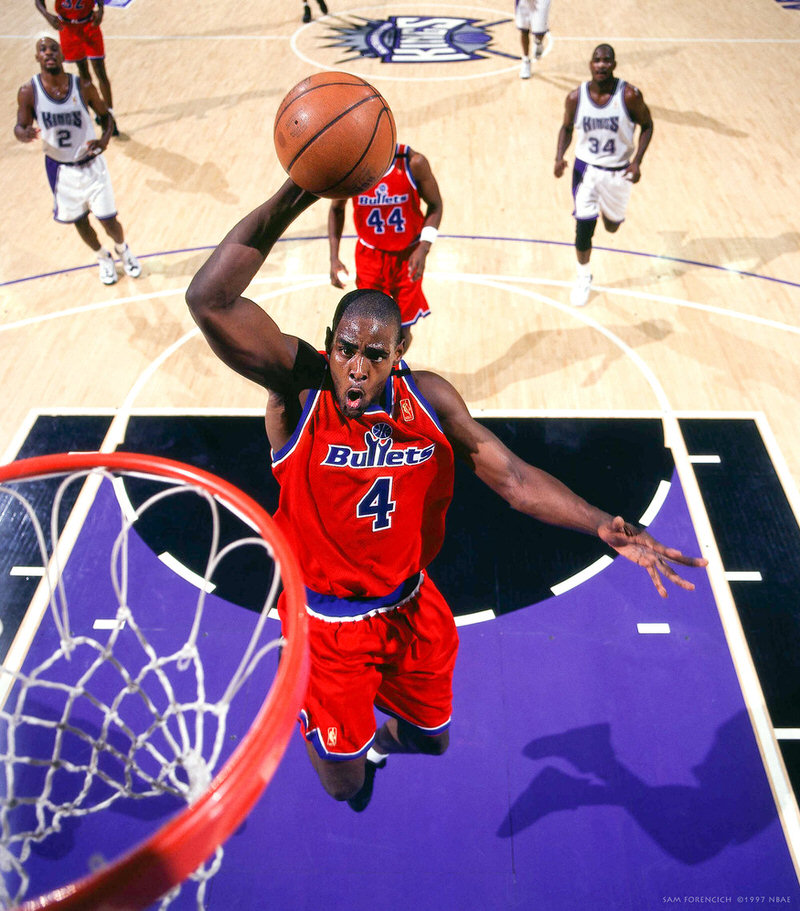 So let's pretend Chris Webber never gets mad at Nike for making his model cost more than Mike. Coming off his first signature shoe he's getting another one that effectively never happened.
Or did it?
We're calling an audible and saying the Nike Air Pippen 1 becomes the Nike Air Max CW2. Chris' cool factor and explosive game makes him the face of full-length Air while Scottie's Silent Assassin persona and eyeballs associated with Mike make him the perfect company man to push inline yet high priced Uptempos. The CW logo replaces that of Pip's on the heel while the original release colorways wear well with his Bullets uniform.
1997-98 // Nike Total Air Foamposite CW aka Nike Total Air Foamposite Max
After putting up 20 and 10 in his second signature sneaker, Nike's pretty pleased C Webb is finally an All-Star though bummed his team got swept in the playoffs. Still, numbers don't lie and he's getting his third — and final — signature shoe.
This go round, the Nike Total Air Foamposite Max becomes the Nike Total Air Foamposite CW.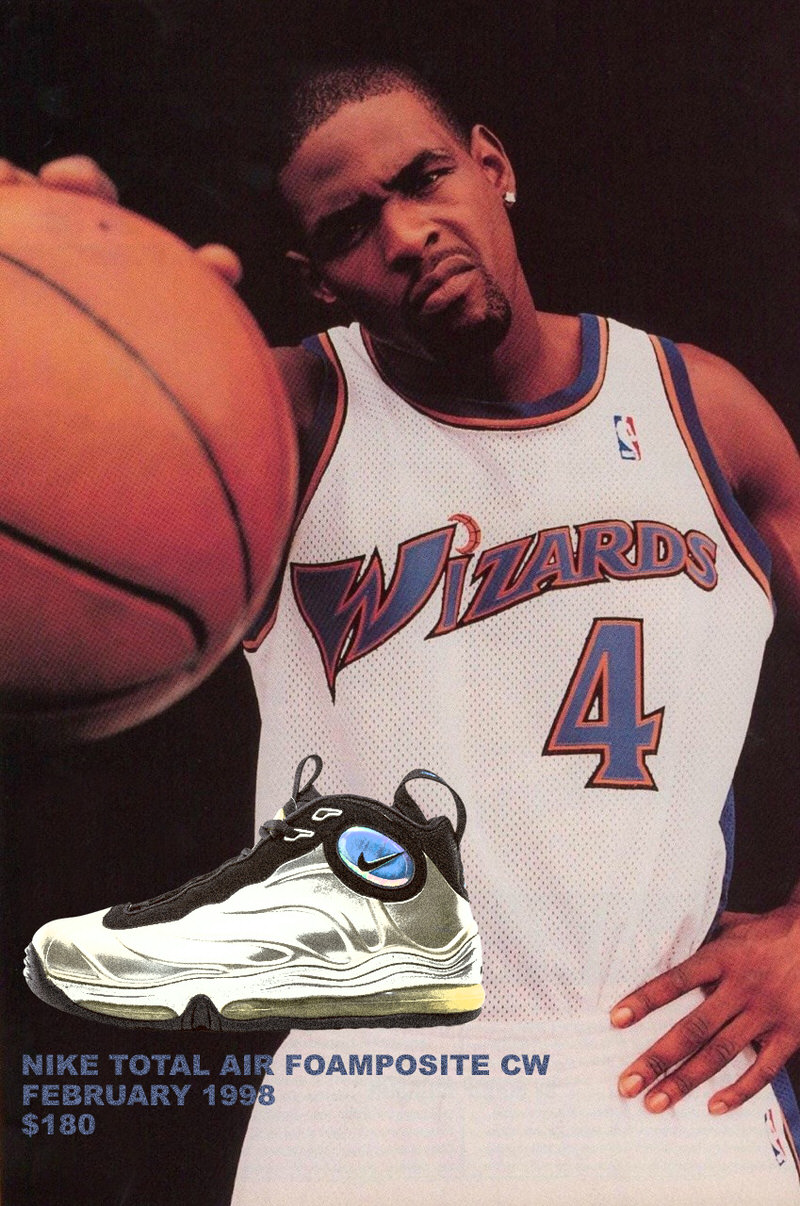 Loaded with top notch tech and full-length Air, they're a futuristic fit with Washington's new look Wizards uniforms and CWebb's next level take on the 4 spot. Nike loves it, but fans are lukewarm to it as they'd rather rock Penny and Mike signatures because guards are more relatable.
The CW line is put on hold because of lackluster sales but Chris remains the face of full-length Air just the same.
He would've worn PE pairs in the postseason but the Wizards end up finishing ninth in the East. This foreshadows moves on the roster and footwear front.
1998-99 // Nike Air Team Max Zoom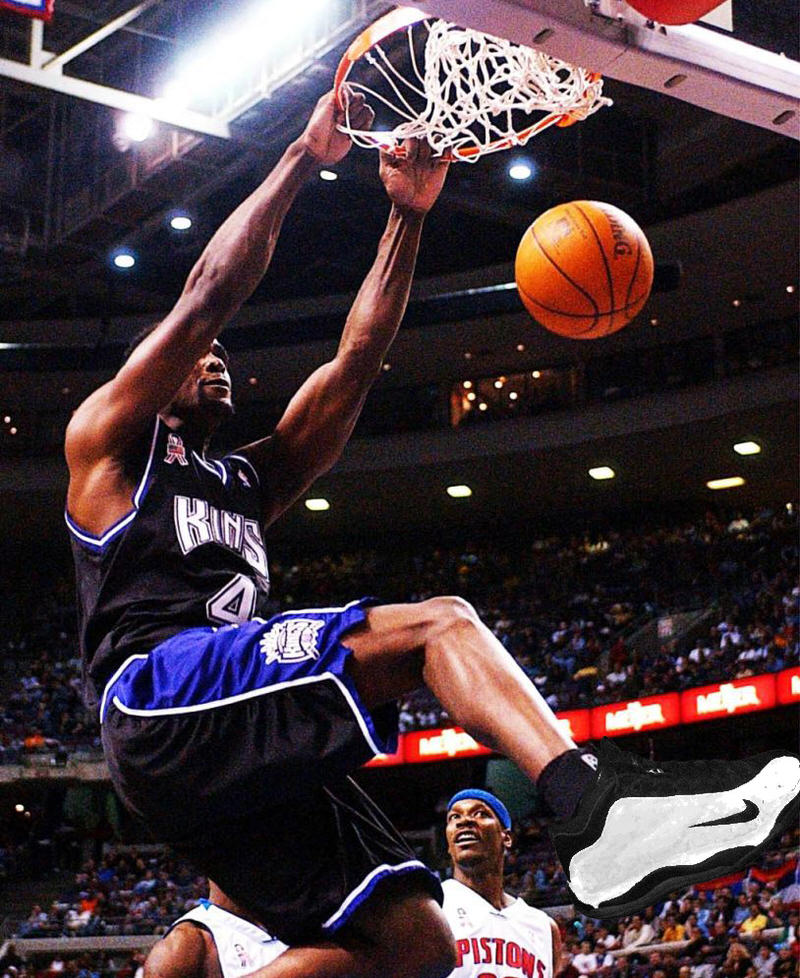 Shipped out to Sacramento in the midst of a lockout, Nike is VERY happy they don't have a CW4 releasing in blue and bronze. What they don't know though is that their boy is about to team up with a rookie rebel named Jason Williams and a foray of foreign born players that are about to reinvent team basketball and reintroduce Chris as the best 4 man in the game.
Because of this, Chris is guinea pig for a foray of Force favorites with slightly swifter capabilities. The Nike Air Team Max Zoom laces CWebb for the first few games of the year, later landing the Nike Air Vis Zoom Uptempo and Nike Air Agress Force as the team's profile rises.
1999-00 // Nike Air Flightposite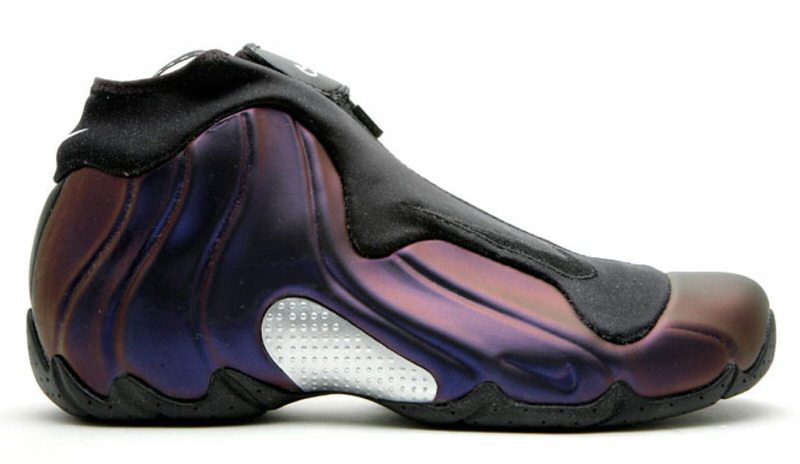 Securing a spot on the All-NBA Third Team and an All-Star nod just the same, CWebb is sitting pretty in the nine-nine all the way to the two thou and Nike is ready to reinvest. A resurrected signature line? No. A reinvented persona? Sort of.
As Nike struggles to sell signature shoes for big men, they put a freeze on fours and fives, freshening up the former with the Flightposite. KG holds down the gold/green pair in the Midwest while CWebb rocks the "Eggplant" colorway long before emojis made that sentence giggle worthy. Tim Duncan sports tamed takes in San Antonio and all is right in the world.*
Almost.
Chris can't stand full-length Zoom after years of playing in Air Max and pulls the plug on his end of the deal. He finishes the season and the playoffs in the Nike Air Max Powermatic which is less exciting but still kind of cool.
*Note: Rasheed Wallace is also asked to wear the Flightposite 1 as part of their power forward campaign. The request is met with a firm, "Nah, b." The Force is strong with Sheed.
2000-01 // Nike Air Max CWebb Uncaged aka the Nike Air Max Duncan
Remember when we said the CW line was done after three? It is, but we kind of lied. After a breakthrough season but also some bad blood over being forced into (and out of) the Flightposite, Nike is excited about Chris Webber all over again but has to play extra nice thanks to big money offers from AND1, Reebok and an upstart called DaDa.
Because of this, the would-be Nike Air Max Duncan never happens and is instead the Air Max CWebb Uncaged. Ironically, Nike decides not to bank on Timmy (pun intended) as being the greatest power forward to ever play the game and bets on C Webb's momentum and cool points. Tim still signs with adidas as the story originally unfolds.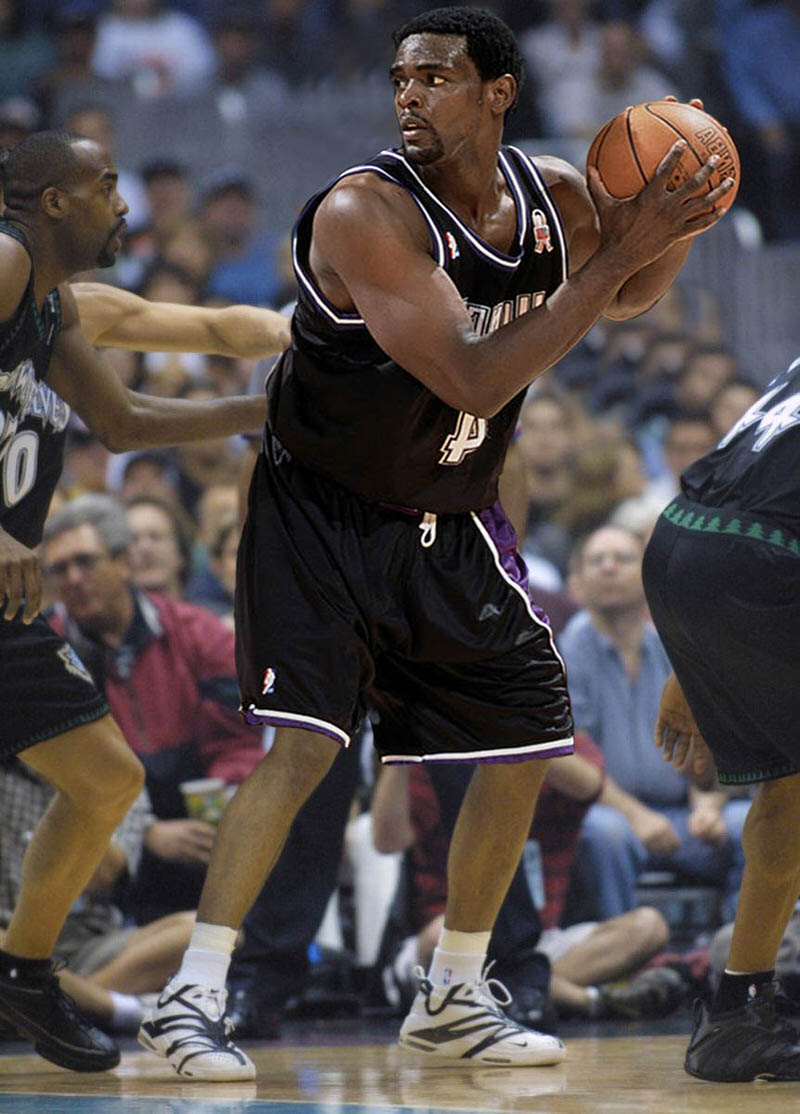 The CWebb Uncaged is a hit! Ekins eat up the odd design and all the tech while Webber's play puts the silver pair in the 2001 All-Star Game.
Because of this, the "Chrome" DaDa Cdubbz as we know it would be shelved for a year and a half, instead debuting in the 2002 NBA Finals on the feet of Nets center Todd MacCulloch while wearing their grey alternate jerseys. MacCulloch and his new shoes would lead the new look Nets to a 4-0 sweep of the Shaq and Kobe led Lakers, cementing MacCulloch as the face and feet of future DaDa models such as the Spinners and a 4th Quarter campaign commercial that would find him rapping with fellow endorser Karl Malone.
As for Chris, the success of the CWebb Uncaged leads to a contract extension with Nike but sadly the peak of his signature line.
2001-02 // Nike Air C-Phaze aka the Nike Air P-Phaze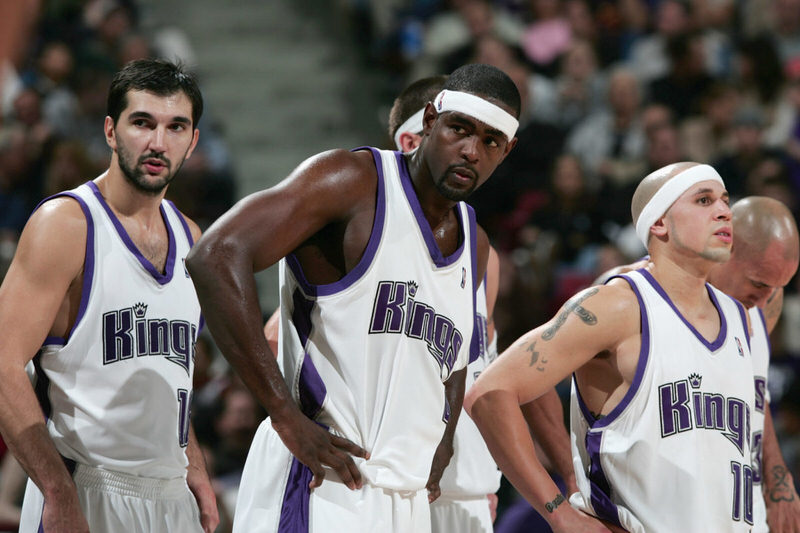 While the CWebb Uncaged is a fan favorite, its top notch tech and tooling makes it too expensive for just about everyone interested. The response is the Nike Air C-Phaze, known in reality as the Nike Air P-Phaze, which is an appropriately odd looking but more cheaply made follow up to its former, the CWebb Uncaged.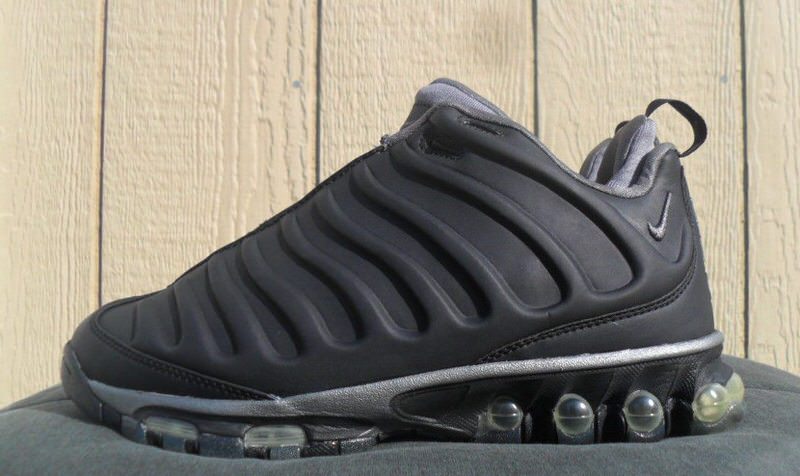 Fortunately for Chris and Nike, the C-Phaze is exactly that, just a phase. While Webber puts up double-double averages in his rebooted signature line, it's clear for both parties that winning is most important and he plays best rotating Air Max models. The original plan was for Chris and J Will to lead Nike's Battlegrounds series, but the season prior's trade shuts down all of what could've been.
2002-03 & 2003-04 // Nike Air Max Chosen
Webber isn't sold on Shox so he's in a bit of an odd space with Nike. His power forward compadres have all dipped for other brands with the exception of Rasheed Wallace who's fallen in love with fadeaway jumpers and Air Force 1s. What would Bill Russell do?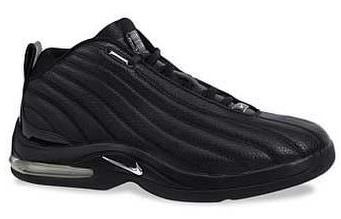 Calling in counseling from the Celtic great, Chris decides to take on a more team approached role as the vocal and exemplary leader of the Kings. His points and rebound numbers stay above 20 and 10 while his assist numbers rise. Just the same, his shoes show the same spirt of team as he laces the Nike Air Max Chosen all season. And the next.
We know, lame.
2004-05 // Nike Air Zoom Huarache 2k5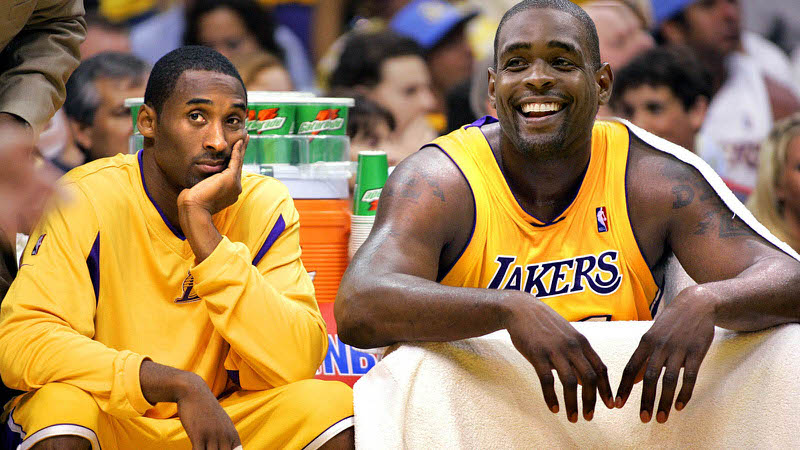 After two seasons of boring footwear and early exits from the playoffs, the Kings trade Chris. But not to the Sixers like in real life, but instead to the Lakers — for Shaq! The Big Diesel denounces any nicknames he made for the Kings previously and Shaqramento happens ahead of schedule.
Playing with Kobe, also with Nike, CWebb essentially provides what Lamar Odom and Pau Gasol would years later only ahead of schedule. The Lakers don't make the Finals their first year with CWebb, but they also don't tank like they did during Kobe's solo shooting extravaganza.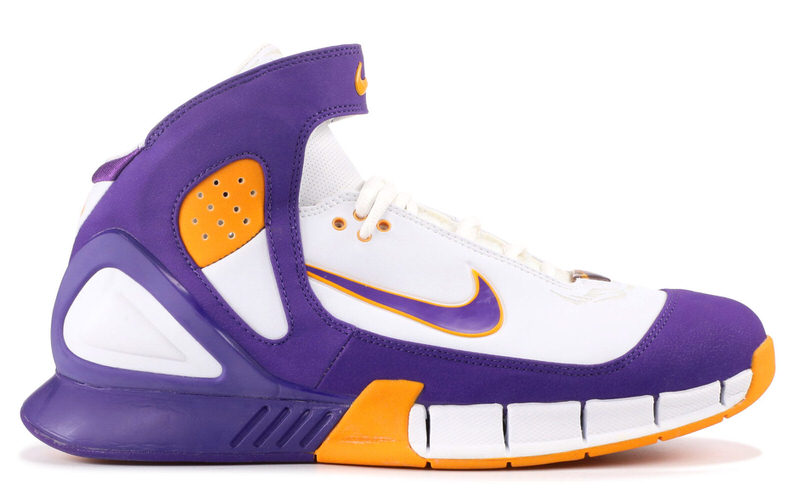 On the court, Chris is responding well to his new surrounding and taking life less seriously while winning in Hollywood. His footwear reflects the situation as he decides playing in the Zoom Air aided Huarche 2k5 is still better than that of the Shox Bomber. Plus, it keeps him and Kobe cool.
The time in LA also allows Chris to make fast friends with will.i.am, which leads Chris to not only producing "Blunt Ashes" on Nas' upcoming album, Hip Hop is Dead, but also executive producing the whole project. Kobe convinces Nas to wear his upcoming shoe on the album's cover but is not happy with Chris spending energy outside of basketball…
2005-06 // Nike Zoom Kobe 1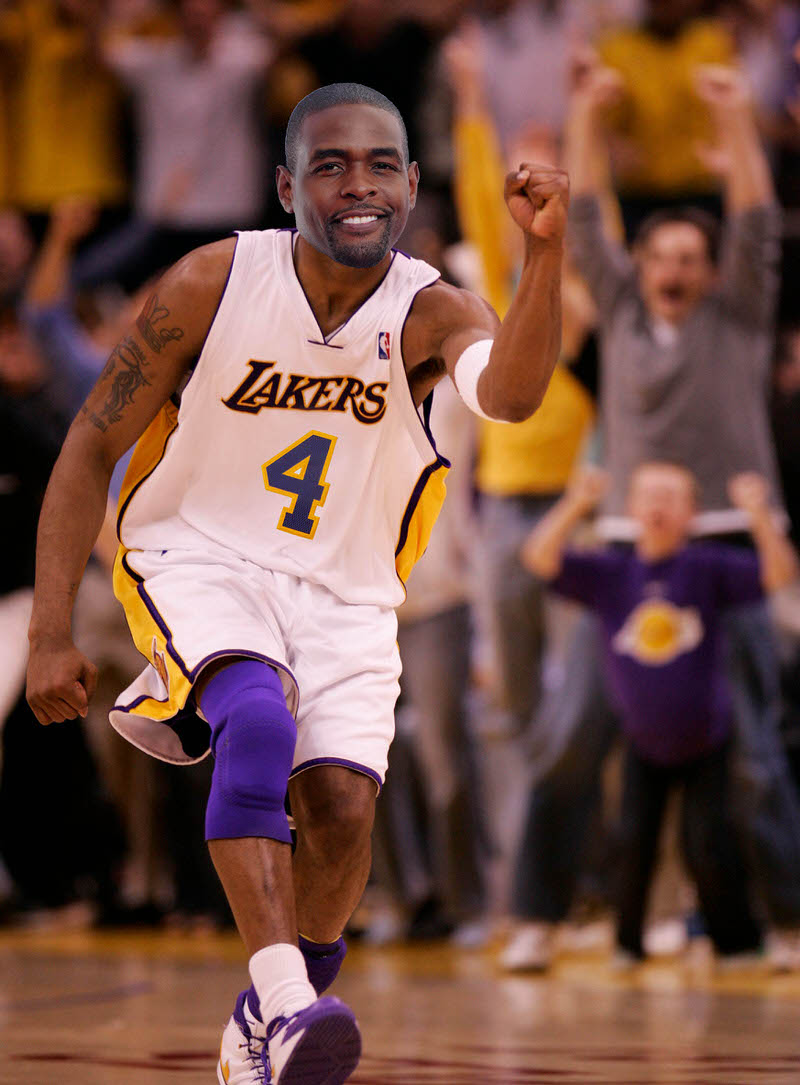 To start the season, Chris and Kobe are getting along swimmingly and Nike decides to pull a page from the MJ playbook and have teammates of Kobe don his signatures just the same as seen with Mike in Chicago. Fortunately for all involved parties, Kobe really respects Chris' game and boom they're both in the Nike Zoom Kobe 1. A solid start for what would become one of the greatest lines in modern basketball.
On the court, Chris remains productive, putting up 20, 11 and 7. The triangle is a great fit (yup, Phil's still there) only a Western Conference Finals fall to the Shaq led Kings causes Kupchack to blow everything up.
2006-07 // Nike Zoom LeBron IV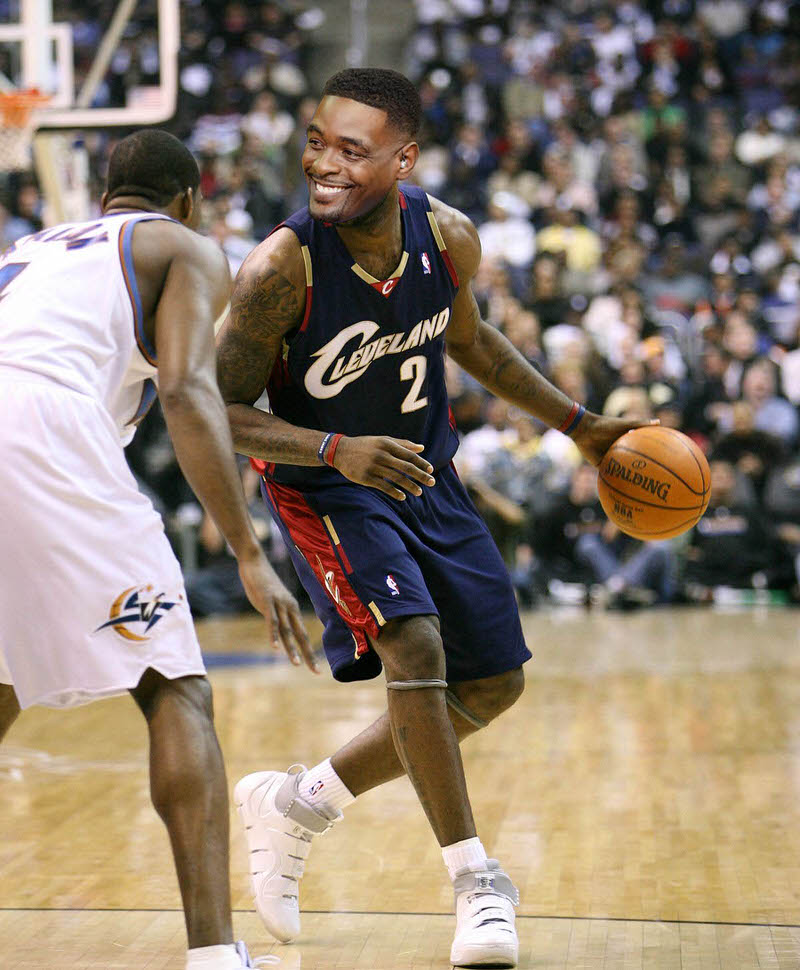 In the offseason, Chris is dealt to Cleveland for Larry Hughes, Anderson Varejao and a future first round pick who will end up being Kyrie Irving. During his lone season in LeBron Land, Nike and Chris decide it best for Chris to lace up the Nike Zoom LeBron IV as a truth to team and also a shot at Kobe. Webber and Bron are great together, showing amazing chemistry in pre-game dance routines and in game mastery of the outlet to clear the court for a LeBron dunk fast break.
The Cavs beat the Spurs in Game 6 of the Finals bringing home the first championship to Cleveland in decades, the first ring for Webber and also importantly, a series win over Duncan.
Webber decides to retire on top, rounding out one of the greatest Kicks On Court resumes ever assembled and paving the way for Todd MacCulloch to shine at DaDa. Pat Riley never lands Shaq, LeBron or any rings in Miami, causing him to return to New York as coach and general manage of the Knicks.
If only Chris never left Nike…
Big ups to Mis Zapas for the reference work on CWebb's Sneaker History that can be seen here. Also props to Shea Serrano's Basketball (and Other Things) book that inspired this What If idea and is available here.