Originally published on January 31, 2019
In sports and footwear, we are often rewarded with performances where the stars seem to align for an athlete, brand, and shoe to create organic defining moments.
With the Air Jordan series, you can go down the line in the models he played in and find a signature moment. For Reebok, there's Allen Iverson's crossover on Jordan in the Question. Later for Nike, LeBron's debut dunk in the Air Zoom Generation. With how the league and footwear are covered now, those moments seem few and far between, and when there's actually something close to that moment happening it can often feel forced or staged.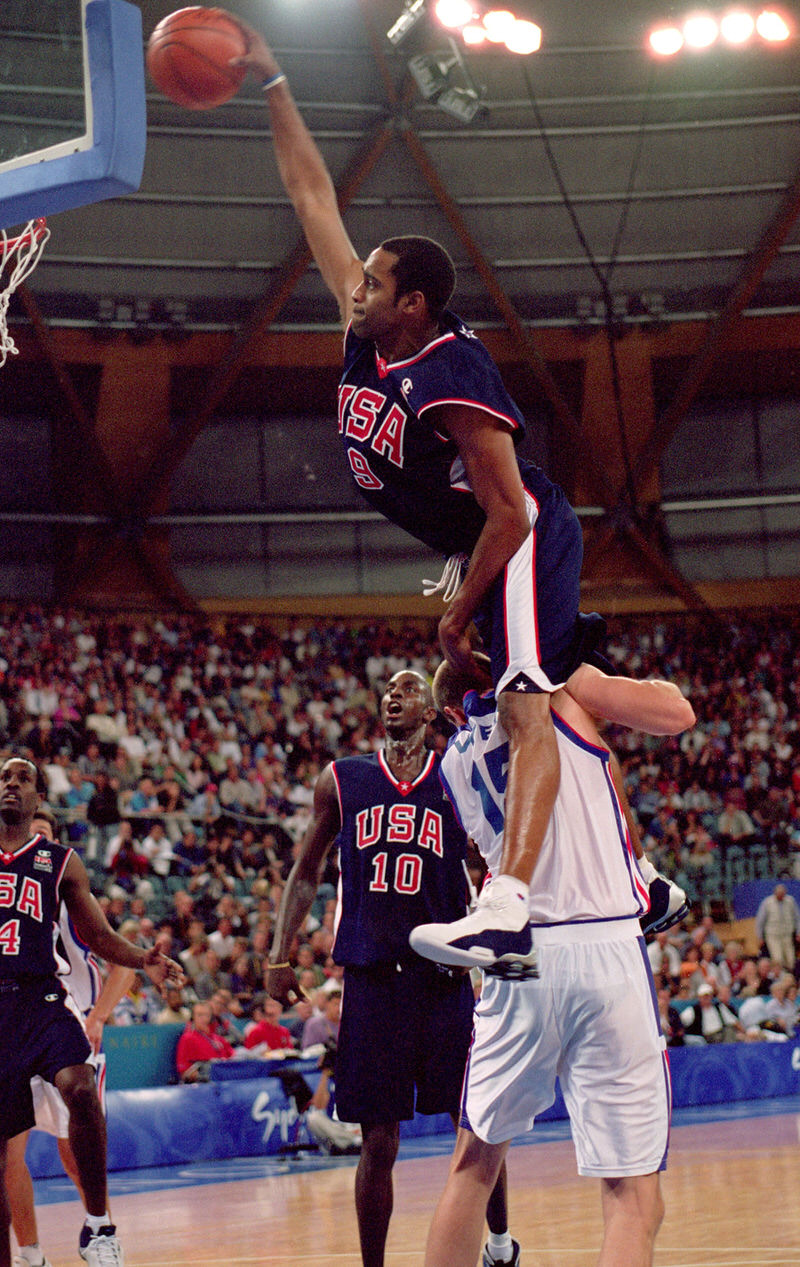 For Vince Carter and Nike, their collective moment would come during the 2000 Summer Olympics with the debut of the Nike Shox BB4. Given how many views his dunk over France's Frederic Weis has amassed in close to two decades, it's crazy to think how close that moment was from never happening.
Carter was initially bypassed for the final Team USA roster spot in favor of Ray Allen. Carter only made the team as an injury replacement when Tom Gugliotta went down with a season-ending knee injury. This was just a few months after VC had electrified an Oakland crowd at All-Star Weekend with a Dunk Contest performance that is widely considered as the best ever.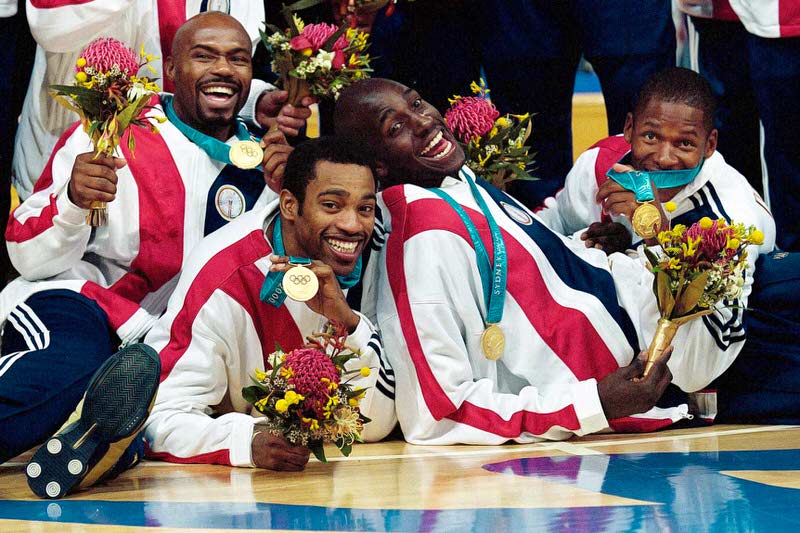 Coinciding with an Olympic rollout in Sydney, the Shox technology was already set to debut on the world stage with the BB4. Lucky for Nike, the perfect athlete had just been added to the Men's National Team. There was just one small issue before the pairing could be completed: Carter was in arbitration with Puma.
Nike had to reportedly pay Puma $14.5 million in damages on Carter's behalf after he terminated a 10-year contract he signed with the company before his rookie year due to several differences that arose during their one year in partnership. Once the legalities were cleared, Carter took care of the rest – using the Olympic stage to cement his status as one of the game's best young stars and instantly becoming the face and feet of both the BB4 and Shox technology in basketball.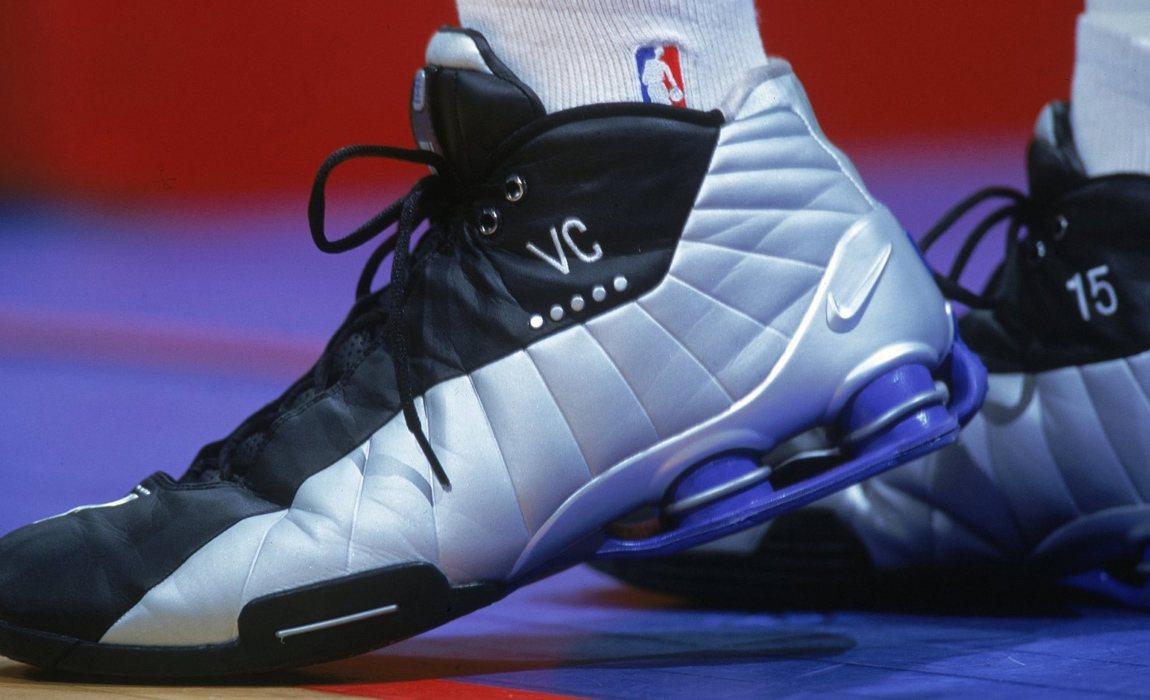 The Shox columns would be prominent in all five of Carter's signature shoes to follow. Even with being one of a select few players over the last 20 years to have a signature series with Nike, the BB4 holds a special place in Carter's heart.
So much so that for the last few years he had been pressing Nike to bring the shoe back from the vault. They finally obliged in his 21st season and now, each night he suits up for Atlanta he's reintroducing the shoe to the league's next generation of stars.
After a recent Hawks' road win, Carter discussed his memories of the BB4, the response he received during the Boing campaign around the shoe and what current shoe he compares to the reaction the BB4 received upon its debut.
Nice Kicks: What went into the decision of bringing the BB4 back for this season?
Vince Carter: It's something that I had been wanting to do. People had been asking me [about the shoe] for a long time. I had asked [Nike] to bring them back a couple of years ago and I guess they just weren't ready to for whatever reason. I'm just glad its back now.
It's been a hit. A lot of players have been talking to about them, asking for pairs. With retro shoes being what they are now – for me – I thought it was a really good idea to bring them back and everyone has seemed to enjoy it.
Nice Kicks: When you signed with Nike in 2000, were there already discussions about you being one of the guys to lead the Shox line?
VC: They had already had the idea of the Shox. They were just, I guess, trying to find someone to lead that line. That was right during the time that I was leaving Puma. It was perfect timing and it just worked out.
Nice Kicks: Speaking of Puma, what did you think of their relaunch last summer and what was it like to see your name mentioned in the stories because when you signed before your rookie year? You essentially did then what they're doing now.
VC: I didn't know I was brought up in the stories. It would have been great if they asked me! [laughs] They have the rights to that though, so no hard feelings. It's cool to see them back. I don't know how many guys that are signed but it's a great look for them.
I was willing to take the chance, if you will, to start with them and it wasn't the proper decision, but it was the right decision for me at the time, as far as being willing to take the chance because no one was wearing Puma outside of soccer.
It was a good opportunity and it was like having my own line at the time. There was no one doing that really at the time and you had guys asking to be a part of it. But, it didn't work out and we just moved on. It's good to see them back, though.
Nice Kicks: You did some amazing things in the BB4, with the most famous being the dunk over Fredric Weis in the Olympics. Do you have any other moments that stand out to you from wearing the BB4?
VC: It doesn't get any better than that dunk. Obviously, I did wear them for a while and I did some nice things in the shoe but they can't hold a candle to that [dunk].
Nice Kicks: Your line was launched after the BB4 and while technically it isn't part of your signature series, without you, it's easy to say that shoe doesn't resonate like it did. Where would you rank that if you could include it amongst your signature series?
VC: The BB4 is where it started. It changed the game as far as the look. You didn't see a shoe that looked like that or was built that way. We had some awesome commercials with that shoe. To have fans feel like they could be like Vince with the whole "Boing" campaign and have them feeling like it could enhance their vertical leap? That was pretty cool.
I had people come up to me and say, "Hey, I feel like [my vertical] went up a couple of inches." I had some people like, "This shit ain't working. My shoes are broken. What's going on?" That was kind of the whole idea behind those commercials and it was pretty cool.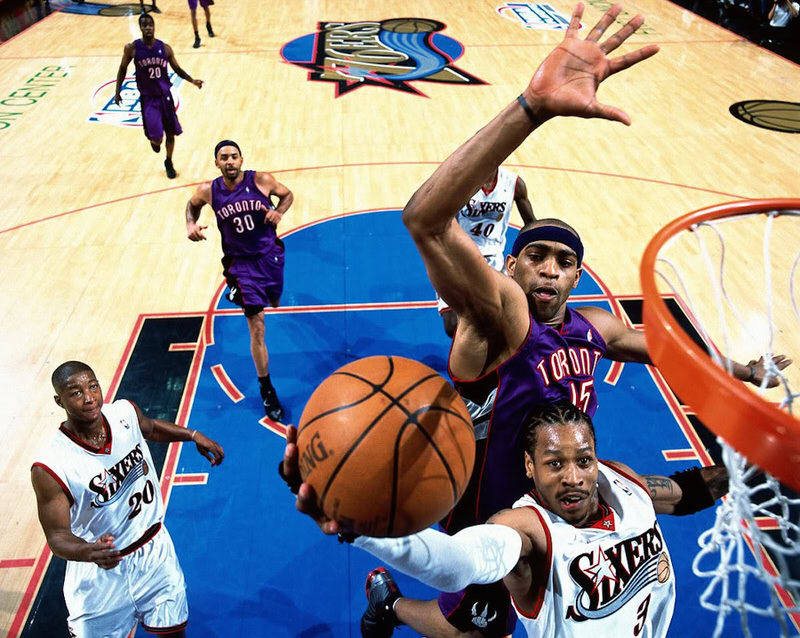 Nice Kicks; In terms of how footwear is constructed these days, materials are a lot lighter now from what they were two decades ago. Is there a noticeable difference for you in terms of feel when you're out there in this version?
VC: There is, but for me, there is nothing like wearing them. I was willing to go through whatever to wear them again. If I'm not mistaken, they did go and upgrade some of the materials with this version. It has been 18-19 years since then. Technology has changed. The approach to design and the shoe game in general [has changed]. It was just one of those things where I just wanted to wear the shoes and if they changed the technology, but still kept the integrity of the shoe, then I was all for it. It's still the same shoe and it still feels amazing.
One of the things that never bothered me was how heavy a shoe was. I never got into that because at the end of the day, for me, I wore shoes when they were "heavy" and I did what I did. So for me, with these, it was just adding to what it was already for me, which is a great shoe.
Nice Kicks: When the BB4 first released, there was nothing like it from an aesthetic or technology standpoint. As far as basketball shoes during your run with Nike, has any model pushed the envelope from a futuristic perspective quite like the BB4?
VC: Not from a looks standpoint. I think the new self-lacing [Nike HyperAdapt BB] would be the closest thing I can compare it to, in terms of a new look, style and technology. For you to not have to do anything to tighten your shoes is ridiculous. Obviously, you grow up, learn to tie your shoe and that's what it was. [laughs] It's tough to really say, because there have been a lot of guys with signature shoes that bring something different. Obviously, Jordan changed the game because it's Jordan.
With the Shox, they were just different. You've had shoes with different inserts and cushioning, but now there's a lot of different technology. There wasn't anything like the Shox. You had shoes with different lacing set up. You had the Kobes with the different cushioning.
Those were different but there was nothing like the Shox.