words & interview // Nick DePaula:
As Vince Carter plans to finish out the season in his classic Nike Shox BB4, the sneaker is of course most associated with his groundbreaking dunk over a 7-footer at the 2000 Olympics. Just months before, he had helped to singlehandedly put a different shoe, with a different brand, on the map at the turn of the millennium.
The Tai Chi, from the upstart brand AND1, was suddenly vaulted onto the league's largest platform in an instant, forever associated with one of the most iconic moments in the NBA's All-Star Weekend history:
Vince Carter's Dunk Contest.
Most years, the league's annual Dunk Contest is a product placement dream featuring planned out, special edition footwear in custom colorways for some of the game's highest flyers. What took place on that Saturday night in Oakland over seventeen years ago won't ever be replicated again.
As retold now by then-VP of Footwear Ryan Drew in an exclusive interview with Nice Kicks, the monumental marketing success of Vince Carter's Dunk Contest in the AND1 Tai Chi was pure, and completely unexpected, luck.
1 _ THE EARLY DAYS OF AND1
Every company needs a foundation to build on. AND1, its very name being a term used on the court by real players, had that from the jump.
It was exclusively a basketball company, and ultimately left an imprint on the sport's culture by bringing streetball to the masses, for better or worse. Founded in 1993 by a trio of University of Pennsylvania's Wharton School of Business students Seth Berger, Jay Coen Gilbert and Tommy Austin, the brand began as a grad school class project.
They loved basketball, they had an idea for a brand, and they had a logo.
The initial hoop gear offering of tees featured The Player, a faceless and raceless icon that anyone could relate to, the thinking went. With bold and brash captions alongside The Player, the brand launched a series of "Trash Talk" t-shirts. They almost immediately took off, and were worn on blacktops around the nation.
As Ryan Drew tells it, the early days of the brand were raw, with the "Trash Talk" tees and heavyweight "game shorts" carrying the load on the sales side. As the brand was exploding, the sneakers only came to be a couple years later, at the direct request of none other than Foot Locker.
***
As told by Ryan Drew:
The founders of the company, Seth Berger, Jay Coen Gilbert and Tommy Austin, they realized that there was a hole in the market for hoop gear. AND1 started with the Trash Talk tee, and it had the original Player pose of him standing up, that tons of guys ended up getting tattooed. There were five trash talk slogans around him, on this one t-shirt. At the top, it said, "Here's $5, go buy a game." Then there were other phrases all around.
There were these slogans all around the Player, just real big. The guys started out by driving around to all of the local Foot Lockers, and trying to sell the shirt. Finally, one of the managers goes, "Hey dude, you know, we have a national buying group that's up in New York. You need to go talk to them. They buy for all of us. We don't buy individually." [laughs]
So they go up and get a meeting with the head buyer, Kurt Schwartz, who is the original apparel buyer for Foot Locker way back. Kurt says, "Hey guys, love the concept. Love the t-shirt. Why don't you just take each one of those slogans around the player and just make five t-shirts? I'll buy all five of 'em." [laughs]
So that was kind of the first merchandizing lesson. We've got five slogans, so lets make five t-shirts. Jay goes, "Well, how the hell am I going to come up with five graphics?"
Right away, the t-shirts and the game shorts were blowing out of the stores, so Foot Locker was pushing AND1 into selling footwear. For the very first shoe, they didn't even have a sample yet.
They get a drawing of the very first shoe, in early 1996, and they literally call the footwear buyer at Foot Locker, and say, "We've got a shoe." They all go into the buyer's office, and he's probably thinking they're going to just pull out this home-run shoe sample.
Seth lays the paper of the sketch down, and goes, "We're in the footwear business." [laughs] And the buyer goes, "So normally, there's a sample of the shoes."
But that's the excitement and passion that everyone had early on, and they didn't even wait for it to get to the sample stage, they just took in a piece of paper and tried to sell it to Foot Locker. These guys were hungry, and they were all just brilliant guys. They were all Stanford and Wharton Business school grads, and there was just crazy brainpower at the company.
Early on, for the shoes, it was tough. The tees and shorts were just flying out, and everyone wanted them, but some people would just laugh at the shoe. We signed Stephon Marbury, who was a rookie, and it was his first shoe. It weighs a ton, it's got this big Player logo stitched onto the side, and it's all leather and super puffy. The logo was probably like a 500 stitch count, but we thought it was the greatest thing ever. [laughs]
2 _ VINCE CARTER ENTERS THE DRAFT
Puma signed him. That somehow should tell you how much of an unknown commodity the University of North Carolina's lottery-bound swingman Vince Carter was.
He had pulled off some insane dunks in school, with constant flashes of his raw athleticism, yet somehow, everyone still guessed wrong on VC. He was selected 5th by the Golden State Warriors in the 1998 Draft, after being named to the All-ACC 1st Team his junior year, only to be immediately traded for his UNC teammate Antawn Jamison.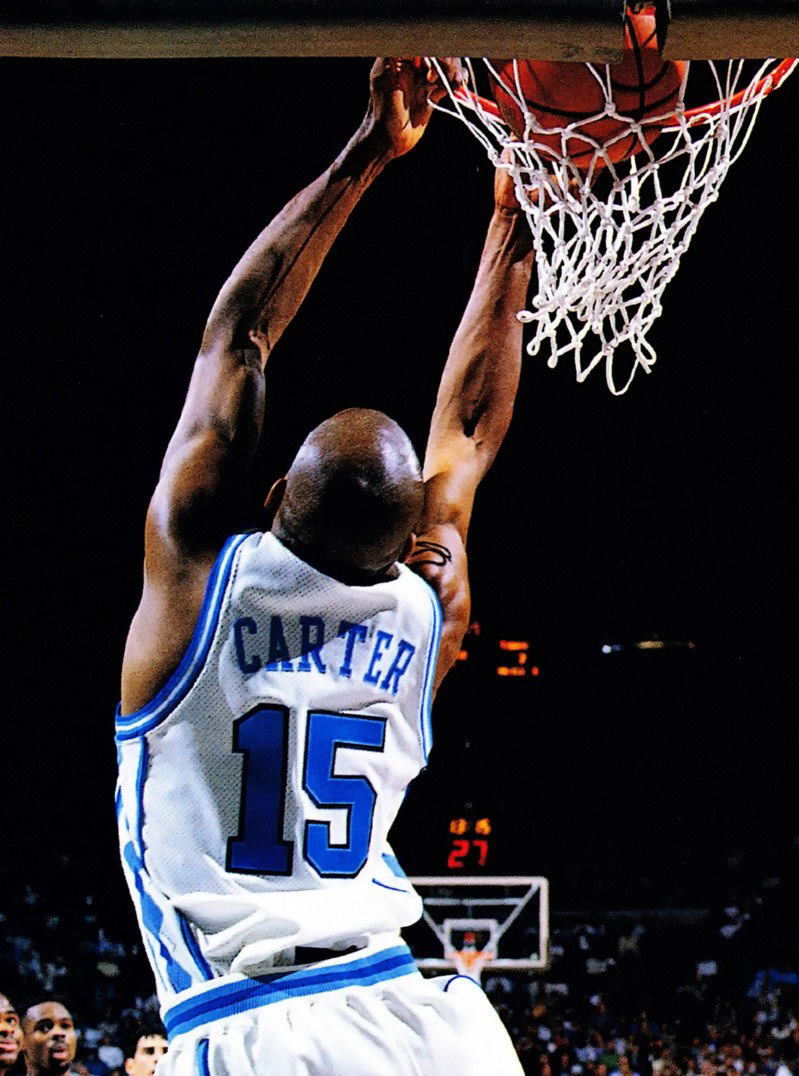 Carter didn't land a monster rookie shoe deal with Nike. He didn't have a can't-miss offer from Reebok. Fila had Grant Hill, and they didn't break the bank for Vince.
Puma celebrated its 50th anniversary by making Carter a 10-year offer. He would be the only player in the NBA wearing their shoes, with his own signature sneaker and marketing push on the way.
Meanwhile, AND1 signed Raef LaFrentz and Larry Hughes instead.
***
Ryan Drew:
There are some famous conversations that we had at the time. We signed Larry Hughes instead. He was the same year, the 8th pick. Vince was 5th, and ended up getting traded to Toronto.
There were a lot of conversations about Vince, and it was the typical North Carolina conversation. Everyone was going back to, "Is Vince really that good? Is he gonna be a highlight reel guy that's on SportsCenter all the time, and that's where you'll make your money?"
Or, there was this question of, "Is he going to pull a Jordan, where the coach and system held him back, but once he gets into the NBA, he'll explode?"
We were having all of these conversations, and I recall somebody saying, "Well, Vince can't shoot. So all he is, is just a dunker." [laughs] We were like, "Yeah, but remember when he dunked on Duke!"
That was the conversation though: "Do we want to sign this dunker, or do we want to find the next great player?"
Larry Hughes had had an unbelievable season at St. Louis, and we all said, "Ok, we're going after Hughes." We thought there was an opportunity that he may end up going to the Sixers, which he did. That's the direction that we went…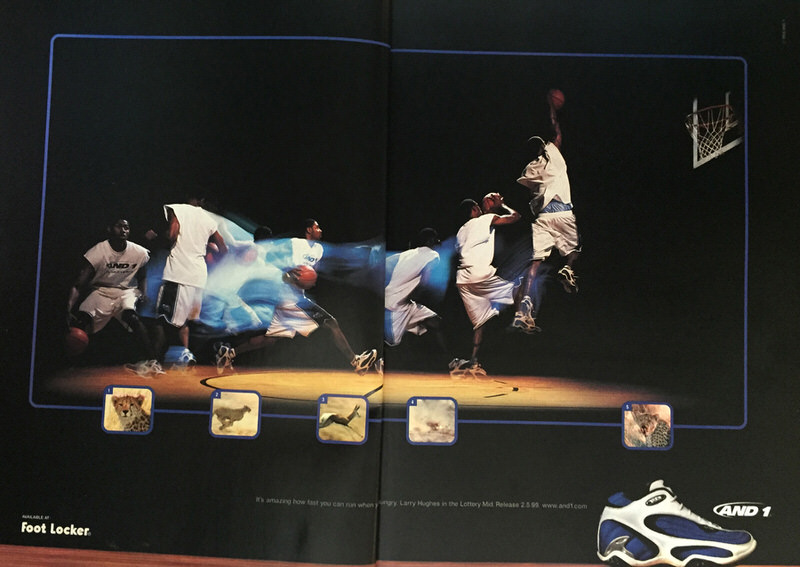 3 _ VC BECOMES A SHOE FREE AGENT
The early 2000s were a weird time for shoe deals. Two of the league's marquee stars in Vince Carter and Kobe Bryant both miraculously became true sneaker free agents — unheard of these days — as each looked to break away from their current endorser and shake free to a new brand.
After VC's Rookie of the Year season up north, which featured nightly poster dunks and a flurry of buckets from all over the floor, Carter looked to leave his initial endorsement deal with Puma and open up talks with all suitors.
The contract break was brutal, and Puma wasn't budging. After initially fighting to prevent Vince from signing a new deal for three seasons, the eventual break clause required him to play out his entire second season in a variety of brands before signing a new shoe deal.
That opened the door for tiny upstart AND1 to get his attention, all by floating a few pairs of custom size 16.5s Vince's way.
***
Ryan Drew:
If you remember, Vince was wearing Puma – the Vinsanity. When he backed out of his deal, Puma had him locked up.
His agent was basically saying that the shoes were bad for his feet, and they were going to make a big comment on a national stage saying that Puma's product wasn't that good. Puma was in a position where they had to let him out of the deal.
But, Vince couldn't wear one brand. It was kind of like when Kobe left adidas. He had to play that season out without a shoe deal, and he couldn't wear the same brand in a certain number of consecutive games, and had to wear a bunch of different brands and shoes.
"We didn't even know that he was going to wear that shoe in the Dunk Contest, until he really walked out with them on. There was no heads up."
We were just one of the shoes that he was wearing. He was wearing Nikes, he was wearing our stuff and he was wearing some adidas stuff. You just never knew when he was going to wear the shoes.
I don't actually remember him wearing a lot of AND1 product at that time. We had sent him some Tai Chis, and we sent him a few different pairs of shoes. He actually wore them on the cover of SLAM later on. That was all really back before anyone was doing a lot of the crazy colorway stuff.
When he backed out of the Puma deal, he was having this monster year, so everyone was sending him product. We made him the White/Red, a Black/White, a Black/Purple and also a Black/Red.
There was a '15' on the heel, but it was nothing compared to the customization that they do now. It was a total serif font – something that you'd use in your email. [laughs]
We didn't even know that he was going to wear that shoe in the Dunk Contest, until he really walked out with them on. There was no heads up.
We were sending him product, and we didn't even have anyone at the Dunk Contest. There was nobody even there from the company.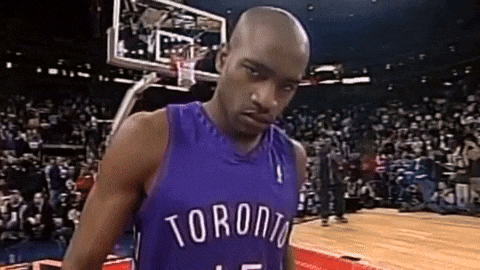 4 _ THE DUNK CONTEST
At the turn of the century, the league's annual Dunk Contest was on life support. We weren't quite yet to the disastrous "Dunk Wheel" era a few years later, but everyone could sense that All-Star Saturday Night's featured event was losing its luster. The days of Mike and Nique were long gone, and a new savior was needed, badly.
Thanks to the 1998-1999 lockout, there wasn't actually an All-Star Weekend during Vince's rookie year. In many ways, that only heightened the anticipation and expectations for what was to come that storied night in Oakland.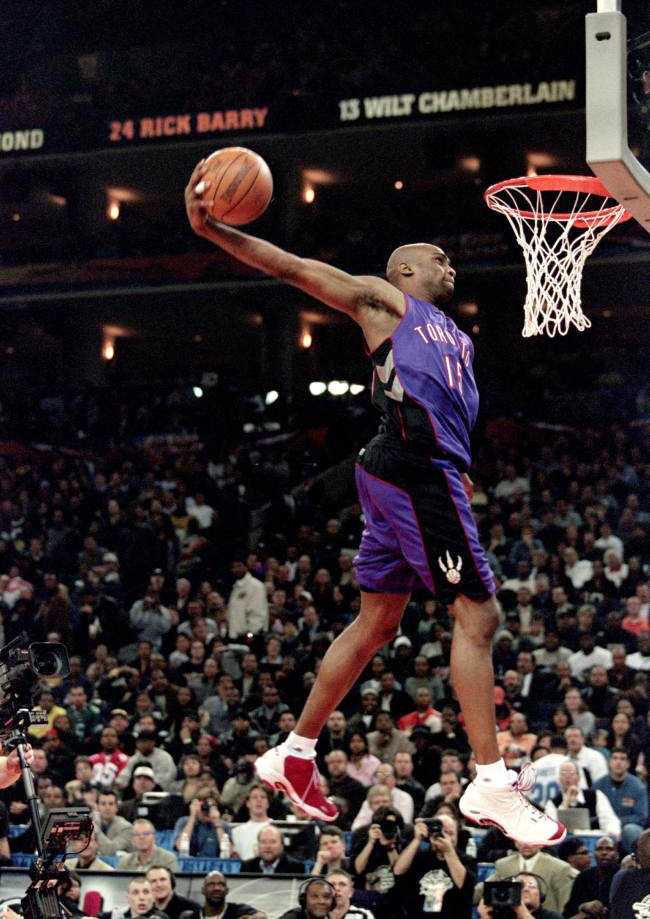 "I felt like I could jump to the moon," Carter told USA Today just after the Dunk Contest.
To this day, his series of five dunks at the NBA's 2000 All-Star Weekend is considered one of the league's most iconic moments. Donning Toronto's sleekened new sans-Dino unis, Carter put on a display of raw power, pure athleticism and imagination that powered the concept of dunking into a new millennium.
As the unknowing AND1 execs each realized in real time as they were tuning in on TV, Carter did it all in their new Tai Chi sneaker.
***
Ryan Drew:
I was actually in Seattle at the time, on vacation. I had just had a newborn baby, and my oldest son now is a senior in High School. He was one month old then. I was in Seattle, and on my way to a wedding. My wife is like, "We gotta get out of here." And I go, "But the Dunk Contest is on!!" [laughs]
Then, Vince rolls out with the Tai Chis on…
I got to the wedding crazy late, cause we were watching the Dunk Contest. Dude, his first round was bananas. The very first dunk he did was nuts. I'm sitting in my parents' rental condominium in Kirkland, Washington, watching the Dunk Contest on some 18" inch TV screen, and I'm going absolutely bananas.
My wife is begging me to leave for the wedding, and I couldn't turn away. We HAD TO stay until the Dunk Contest was over. I called up Seth and Jay, and just said, "Can you fucking believe what just happened?!"
"It was almost like the dunks that he had done were tailor made for the colorblocking of the shoe."
Not only was that maybe the best series of dunks I've ever seen — because it was just dunks that you'd never even seen before — but it was almost like the dunks that he had done were tailor made for the colorblocking of the shoe. The dunk where he goes between the legs, he's got one leg up and the ball is under, and you see one half red and one half white.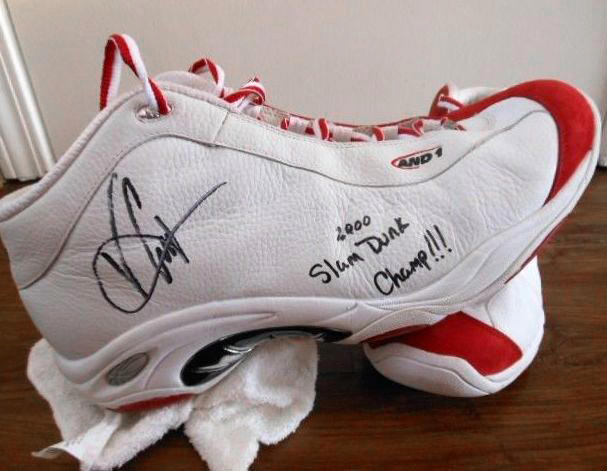 It was unbelievable. Then, every single image for the next three or four months that was NBA related, was him in the Dunk Contest with our shoe on – and we didn't pay for any of it!!
The thing that really sucked for us, as marketers, was we couldn't figure out, "Well, how the hell are we going to sell this thing?"
How could we sell this shoe that was just in the biggest basketball moment in our industry, and one of the most important moments in basketball that year, but we can't even advertise him in the shoe?
We couldn't call it "The Vince Carter Shoe" or show him in it.
We tried thinking about all kinds of stuff, and we created an ad where we took that through-the-legs dunk, and then removed everything out of the picture that was Vince Carter related. [laughs] We just had the shoes in the air with the ball and then the crowd in the background. That was the ad.
We figured it was so iconic, that people will just know what it is. They'll get it. We were afraid to actually run it, because then we thought that the NBA would sue, which they of course would've. [laughs] And Vince could've still sued us too. [laughs]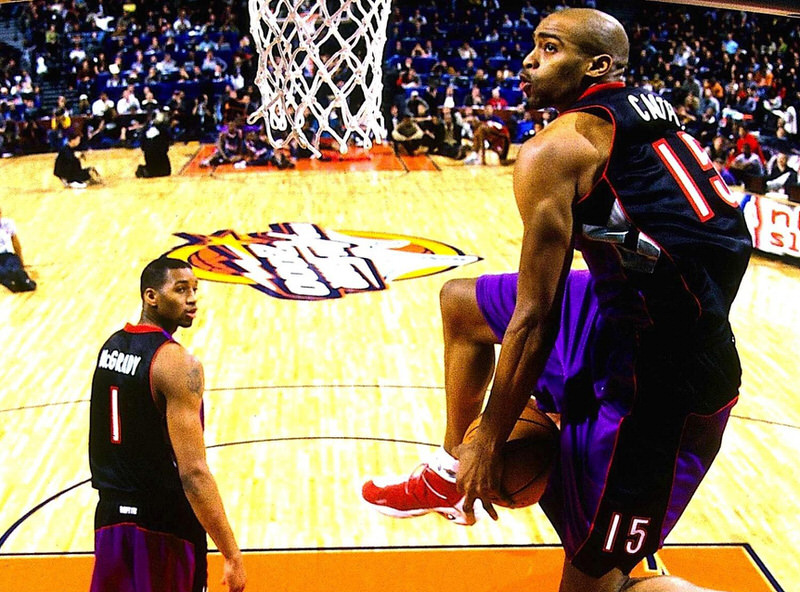 5 _ THE TAI CHI TAKES OFF
As Vince Carter laced up the Tai Chi on that February 12th night, by that point, AND1 had only been making sneakers for less than a handful of years. While they were still finding their way in product, it was a brand powered by the grassroots adoption of real hoopers.
To real consumers, AND1 was "authentic" — the pinnacle of marketing buzzwords that all companies thirst for.
Thanks to Vince, and thanks to a timeless design and clean colorway by designer Tuan Le and product lead Tom Austin, the Tai Chi simply took off.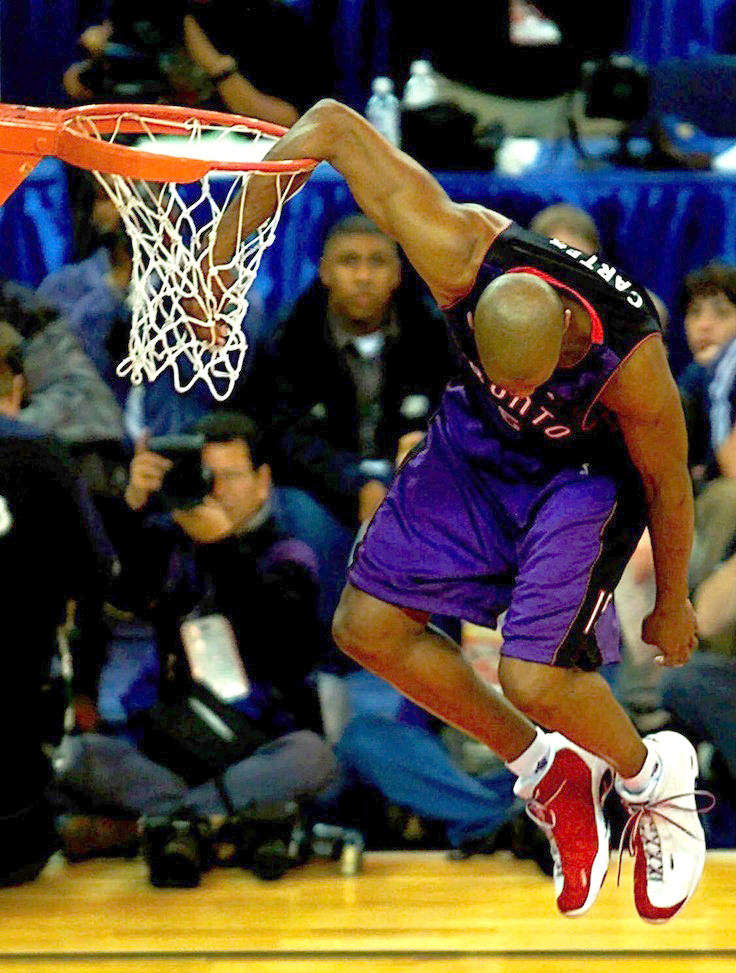 ***
Ryan Drew:
You gotta remember, that was the year where the Tai Chi, the Tochillin and the Finger Roll all came out. We were doing some cool color fades and textiles, and the whole Sprewell thing happened too, where he took the Knicks to the Finals the year before.
There was a two-year period of time there, with Vince, Sprewell in the "American Dream" ad and the Mixtapes. Larry Hughes was probably known more for being in the Tochillin ads, than he was for playing hoops. [laughs] We just exploded at retail in Foot Locker and Foot Action, because we put the Mixtape on the TVs in the stores.
That was when the brand really took off. That one year in particular, it was like we just couldn't do anything wrong at that point. Everything we did hit. It really catapulted the brand. We got a whole new office that had a full-court and everything.
There was a point in time where we were considered #2 in mindshare, behind Nike at the time. Adidas was bigger than we were, obviously, and they sold a lot more product, but they did not have the same level of heat that we had with kids. It was a great time to be at the brand.
"That shoe got all of its traction from the Dunk Contest. Period. The end."
We had a 24-month period where the company exploded. The Tai Chi wasn't really this huge shoe by then. We had done some textiles with it, and Sprewell was wearing it on the court and in some of our catalogs – but that shoe got all of its traction from the Dunk Contest. Period. The end.
That shoe would've gone down as just being an average shoe, had Vince not worn it in the Dunk Contest. It wasn't like we were doing crazy units — most of the units that we did on that shoe came post-Dunk Contest.
We had the Tai Chi, but then we did the Low top, which was a huge seller for us. It took what was this on-court performance basketball shoe at the time, and turned it into a casual shoe. We started spinning all of these crazy colorways, but the most success that we had with the shoe was always white pebbled leather on the lateral side, and then colored nubuck on the medial side.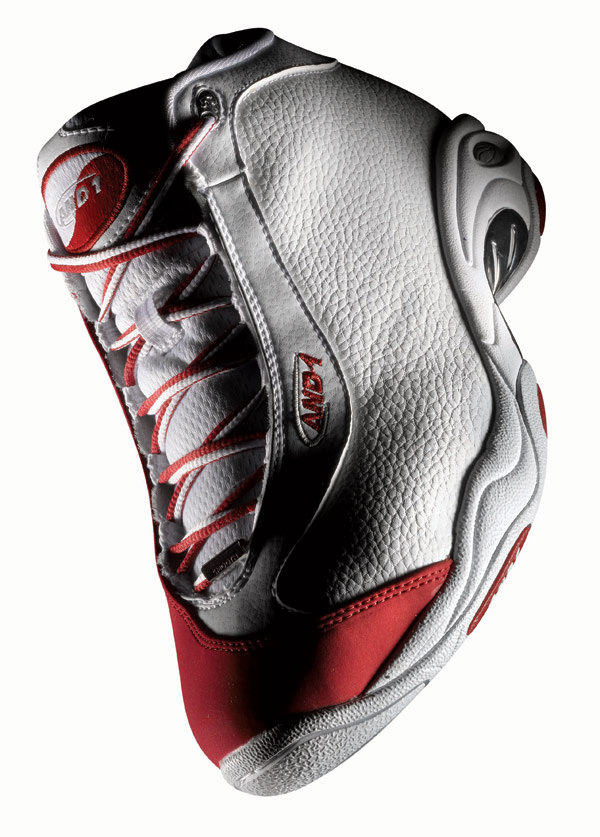 We'd change up the shoe a lot, and do patent or smooth leather, but it was never really as successful. That's back in the day when people were actually still using real leather. [laughs]
That was real full-grain pebbled leather, and the shoe weighed about nine pounds. [laughs] It had that big TPU shank in the midfoot with the fade too.
It was crazy. That was really the first time that we had interest from retailers who were calling us about a shoe. They were actually saying, "Hey, we need to get more of these."
The Tai Chi and the Tochillin, were the two shoes that put our brand on the map. There's probably only two shoes in the history of AND1 that did over a million units. The Tai Chi was one, and the Tochillin was the other.
Before the Dunk Contest, we were lucky if we had done 150,000 pairs. It just wasn't a big shoe. That was just a different time. Now, there's a lot more shoes on the wall. If you take yourself back to 1999 and 2000, you could still walk into a Foot Locker and take the entire wall in, in one section. Now, you walk in and there's a thousand shoes on the wall.
When the shoe first came out, it didn't go crazy at retail. It was one of our better selling shoes, but it wasn't like someone bought half a million pairs or anything. There was really never any technology in that shoe, and so when Nike had Shox take off and then everyone else was jumping on the mechanical cushioning thing, the Tai Chi had kind of had its time. It was just a foam midsole, with shitty traction. [laughs] The ironic thing is the traction was just awful.
"There's probably only two shoes in the history of AND1 that did over a million units. The Tai Chi was one."
We would see people wearing the Tai Chi, and guys would buy a White / Navy pair and a White / Red pair, and then wear the red on one foot and the navy on the other. Guys were just doing all kinds of crazy stuff with the shoe. Then, we did the 2Chi, and that was just an example of taking the design aesthetic too far. Everything at that point was asymmetrical, half and half, and things like that, because it was such great court visibility.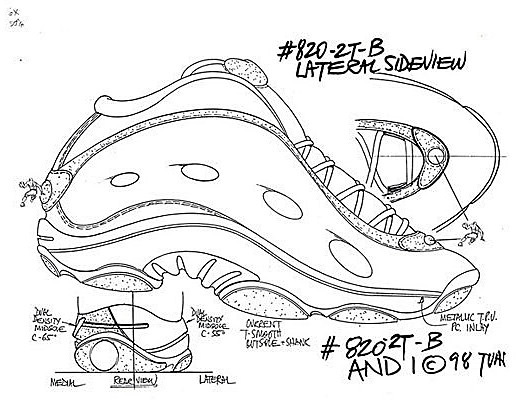 Tuan Le designed the shoe, and it was just one of those shoes where he hit it out of the park. He didn't actually color that shoe up that way. He had colored it up in a whole different way, and Tommy Austin was our head of footwear based in Asia at the factory.
Tommy was really a creative force in the industry, just an off the charts brilliant guy and a basketball fanatic. He was the one that was doing all of those colorups, and for that one, it was just super clean with the white and red. I think that's still the cleanest colorway that we ever did.
That whole year, we probably did 100 different colorations of that shoe. It was so identifiable on court, and it was really one of the only times that we had a chance to benefit from so many guys in the NBA wearing it. We never could figure out how to really monetize these dudes that were in the league, because we didn't always have a great stable of athletes, we just had a bunch of decent dudes.
When that shoe came out, it was really recognizable, and people knew it from the Dunk Contest. You'd be watching a game, and they'd pan by the bench, and you'd see like three or four dudes on the bench in them, because we kind of owned the 9th through 12th men. [laughs] The court visibility was just great.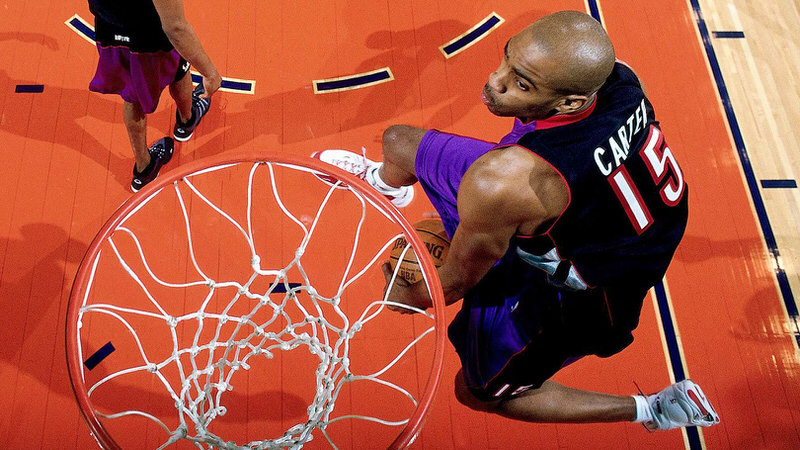 6 _ MISSING OUT ON VINCE
As it turns out, and regardless of how successful the Tai Chi became because of him, actually signing Vince Carter to an official endorsement deal was a tall task for AND1.
For starters, the new deal had to also help to cover his contract break with Puma, which raised the stakes of his offer. Unlike when he entered the league, Carter was also a megastar in his own right, now taking the league by storm as "Air Canada."
Nike landed Vince with a $30 Million deal — roughly half of which went to Puma. There was the $13.5 Million that an arbitrator ruled he owed them for bailing on the deal, along with another $1 Million to cover the brand's lawyer fees. In order to get out of the initial 3-year wait for a new shoe deal that Puma fought for? VC had to cough up yet another $3 Mil.
The numbers simply got too rich for AND1, and cost them a chance to build on the insane momentum they had already created by chance at the Dunk Contest.
***
Ryan Drew:
At the time, his mom [Michelle] was really involved in what he was doing, and she's a great lady. Vince had a real cool story. He was a music guy, and a drum major, and he was just a very nice dude. We met with his agent, his mom and him, and we walked him through a bunch of different things that we thought we could do for him and how he could really take us to the next level. He would be our marquee guy.
At the end of the day, it really came down to the money, and it wasn't just about signing Vince. Part of the deal was that you had to pay off Puma. The first $10 Million of the contract had to go to pay off Puma, because Vince owed Puma for leaving the deal. I don't think Vince was going to make a huge amount of dough on the new deal, because he had to pay Puma so much money still to get out of his first deal. If you remember, Puma went on a run after that. They got out of basketball, and went into that whole low profile look and to a completely different design direction. They started killing it.
"The first $10 Million of the contract had to go to pay off Puma, because Vince owed Puma for leaving the deal."
We tried to sign him, and I'll never forget one of the best quotes, as we were all sitting around the conference room, trying to figure out what the number was going to be for Vince.
This was back in the day, when we would have a seven hour meeting just to talk about changing the color of the logo on something.
Everything was so important, and it required every important person at the company to be there for hours to discuss it. Our CEO, head of marketing, head of sports marketing, myself and our CFO are all in there.
Our CFO got fired up, and his quote was, "I don't think Vince Carter will ever be as big as he was in that Dunk Contest."
He was half-right. Vince jumped over Frederic Weis in the Olympics in the Shox BB4, and that was a huge boost for that shoe. You couldn't have picked a better moment in time to launch a cushioning technology called Shox. I'll never forget that quote though, and I've gone back to that a number of times in my career.
Something happens, and it's lightning in a bottle, but maybe you'll never be able to recreate it. It could be that the moment has passed you by. It's the idea that, "Why do I want to pay for the past, instead of paying for the future?" It was an interesting take, and he got all fired up and slammed the table over it.
For any brand, you have a lot more forgettable shoes than you have incredible shoes, but I don't know that we ever had another shoe that really captured the attention of people like the Tai Chi. That damn Tai Chi just won't die.
The brand started in '94, but it really didn't get going as a footwear company until 1997. We were only in footwear for a little over two years when everything happened with Vince. We weren't really known for any particular shoe at that point.
We had a couple of shoes that had done ok, but nothing that had really gotten anybody's interest. The Tai Chi was the first shoe that legitimized AND1 as a footwear brand.