On this day in sneaker history 20 years ago, a freshman by the name of Mike Bibby debuted perhaps the most important shoe in basketball history with no ties to Michael Jordan. The Nike Air Foamposite One — designed by Eric Avar for Penny Hardaway — was seeded early to the Lute Olsen-coached squad, with players getting a chance to preview the latest innovation from the Advanced Product Engineering department at the Swoosh.
While teammates like Jason Terry would later rock the model on the hardwood, it was Bibby that brought them out for the Sweet 16 matchup against Paul Pierce and his top ranked team in the nation, the Kansas Jayhawks. Bibby would lead the Wildcats in scoring and assists, with 21 and 5, respectively, as they knocked off the 1 seed in stunning upset fashion.
For the Elite 8, Final 4 and NCAA Championship game, Bibby would continue to wear the Foamposite One and the Cats would continue to win, defeating Kentucky and cutting down the nets.
Said Bibby on the debut of our March Madness Memories column:
"Those were a big deal and everyone still goes crazy over those. The Nike guy came to our team and said, 'They're not your team colors but they're not out yet if you want to wear them.' Being the sneakerhead that I was I was going to wear them no matter what and it kind of put me on the map for wearing those. Penny didn't hit me up but I think I heard from the Nike people he was kind of upset that we kind of debuted them before he did. But he's still known for them — they're still called Pennys — and to be able to wear them before the main player was still special, especially for a college kid. I don't still have the original pair, [Laughs] that was a while ago. [But when it came to kicks,] Coach Olsen didn't really care, he let us do our own thing. The guys were into it too, not as much as I was, but I was going to wear them regardless."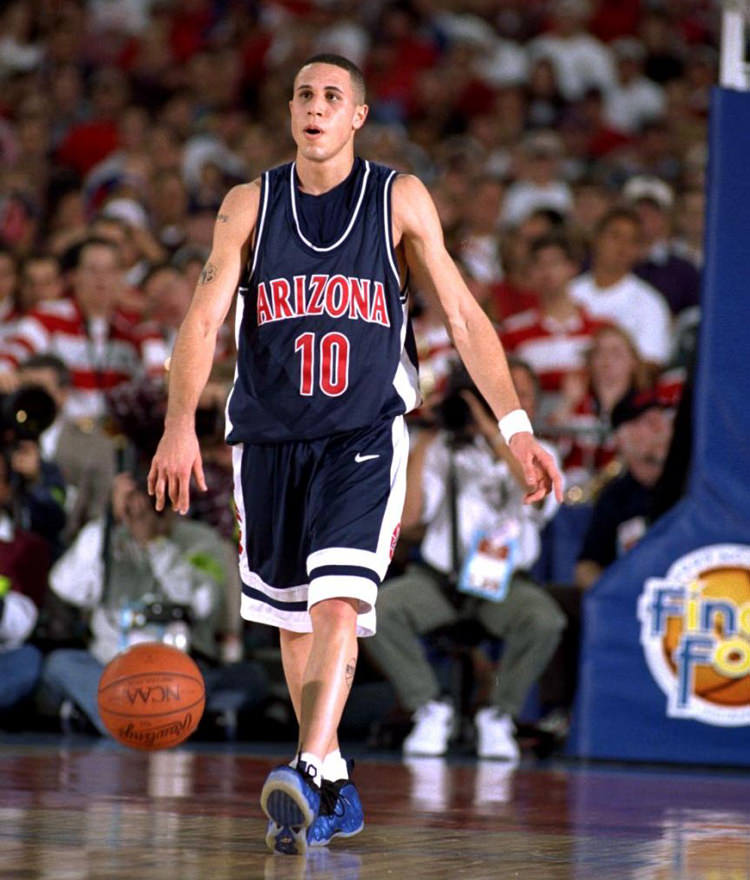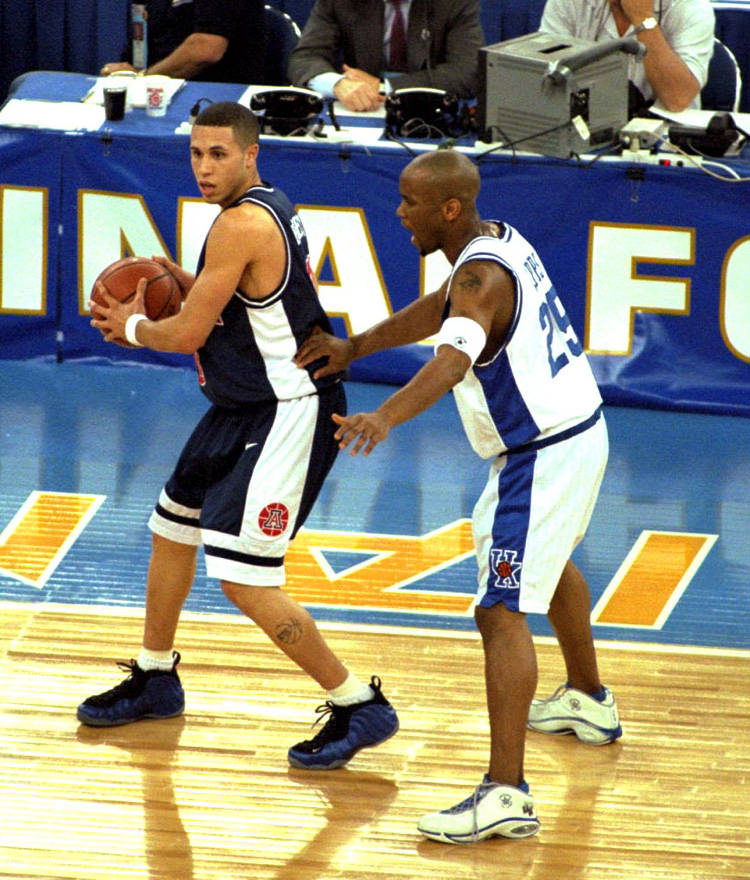 Days later in early April, the model's official endorser, Penny Hardaway, would bring them out at Madison Square Garden and rock them against the Knicks. While no photos on the web exist from that game, you can ironically find them on Anfernee's feet first in a game a few days later from the other home of the Foam: Washington, DC, a place where the model was embraced from jump.
Primed for postseason play, the $180 model would be worn in Sharpie PE form during the Magic's early exit in that season's playoff run that featured prolific play from Penny. Unlike previous Hardaway signature sneakers, the Foamposite One would recieve no Lil Penny ad promoting the shoe on TV, but rather this iconic print campaign playing to phone voicemail informational recordings from Nike.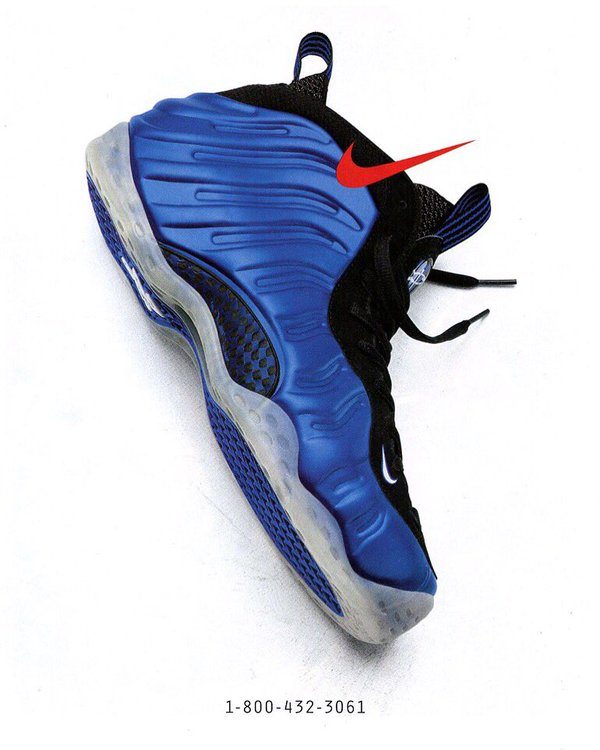 Sadly, despite 40 point outings from Penny, Bibby cutting down the nets and a hot print ad, the Foamposite One would not rock retail at first release. Pairs were heavily discounted thanks to their steep price and ahead-of-their-time design. Nevertheless, the shoe would continue to have serious cache in a sneaker culture that was more cult than mainstream at the time.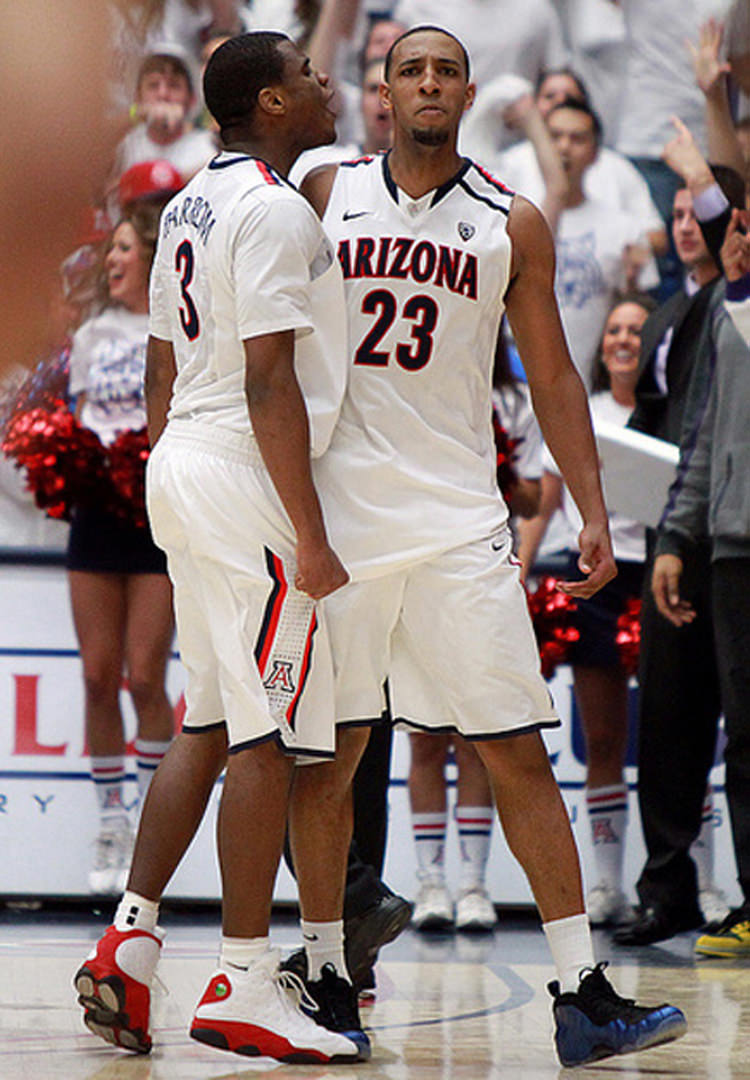 When the likes of Andre Igoudala or Donald Faison would break out a pair over All Star Weekend festivities, or college KOC stars would hit the vault, those closely watching instantly knew they were about that life. While word on Niketalk of the $750,000 original molds being destroyed had most thinking a retro run would never come, early re-release runs in the mid-2000s caused a chase for the OG heads, while constant sightings on Wale would take the beloved model from DC to the masses.
Will there ever be a shoe as ahead of its time as the Nike Air Foamposite One was twenty years ago in 1997? Only time will tell, but if the past tells us anything, it's that most won't know when it does happen.