Originally published in 2017
Back in 1997, Mike Bibby led a loaded but overlooked Arizona Wildcats squad to a NCAA Championship. Joined by the likes of the Miles Simon, Michael Dickerson, Jason Terry and Eugene Edgerson, the Lute Olsen coached team will forever be remembered for taking down Kentucky, but they'll also be remembered for their kicks.
Leaving his footprint on the college game in the likes of Pennys, Jordans and J Kidds, we caught up with Bibby to discuss his sneaker rotation at Arizona. From debuting the Foamposites to buying OG Jordans with his own cash, relive the March Madness Memories in the photos and quotes below.
Nike Air Foamposite One "Dark Neon Royal"
Mike Bibby: "Those were a big deal and everyone still goes crazy over those. The Nike guy came to our team and said, 'They're not your team colors but they're not out yet if you want to wear them.' Being the sneakerhead that I was I was going to wear them no matter what and it kind of put me on the map for wearing those. Penny didn't hit me up but I think I heard from the Nike people he was kind of upset that we kind of debuted them before he did. But he's still known for them — they're still called Pennys — and to be able to wear them before the main player was still special, especially for a college kid. I don't still have the original pair, [Laughs] that was a while ago. [But when it came to kicks,] Coach Olsen didn't really care, he let us do our own thing. The guys were into it too, not as much as I was, but I was going to wear them regardless. That year I was going against a lot of the top point guards in the country. I went up against God Shammgod, Jacques Vaughn, Ed Cota and a few other guys, too. It was a big time thing because you were gonna get a good game every night against a top team."
Nike Air Zoom Flight V
Mike Bibby: "They had like a little bubble on the side. I remember seeing Jason Kidd in them and that was one of the reasons I wore those. Growing up, my brother said one day, 'You and Jason Kidd kind of look alike.' Being an eighth grader when he was a senior in high school he was the top player in the country, so that was my goal: to be the top player in the country when I was a senior and just be like him."
Air Jordan 13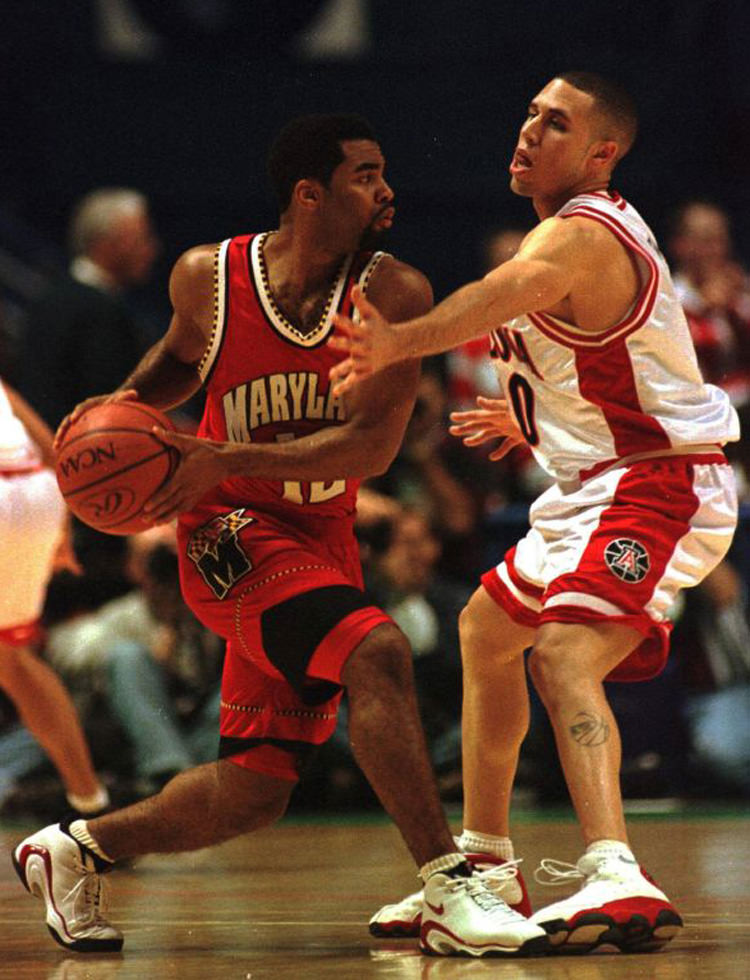 Mike Bibby: "A lot of shoes they gave us at the beginning were just like, 'Here, these are what you guys are going to be wearing and this is what it's going to be.' I got the 13s myself. I wore the White/Red 13s at home and "Flints" with our away uniforms. I always wanted to be with Jordan and I loved Jordans. MJ and I had the same agent when I was coming out of college, so when he asked me if I wanted to wear Jordans I told him, 'Hell yeah!' There was just no other option that I would rather do. No matter how you bring Jordans out, they're always going to be hot and there will always be people running around looking for them. So, to be a member of Brand Jordan and get stuff for free is one of the biggest thing you can do as a basketball player or a sneakerhead."
Special thanks to Brett Pickert.