It has been more than a half-decade since the Nike Air Yeezy 2 "Red October" released to the public in the most unexpected of fashion.
Dropping on February 9th, 2014 – a Sunday of all days – the bold but still mysterious sneaker was released via a Twitter link like many a Nike shoe of the time but with far more context, storylines, and surprise than any shoe before or any shoe after.
Funny and full-circle enough, the alpha and omega of this sneaker is fully laced to Twitter.
@SenorCollinB things r still n the works

— gentry humphrey (@GentryTwo3) October 4, 2012
The saga over the "Red October" Yeezy 2s all started with the possibility of another Yeezy 2 colorway itself.
Back in October of 2012 — months after the launch of 5,000 Black/Solar Red and "Pure Platinum" Yeezy 2s each on June 9, 2012 — Jordan Brand vet Gentry Humphrey, then at Nike Sportswear, responded to a fan on Twitter regarding a possible third colorway of said shoe.
His response, "things r still n the works," was not a break the Internet moment in regards to likes or RTs but enough to get the sneaker community hoping.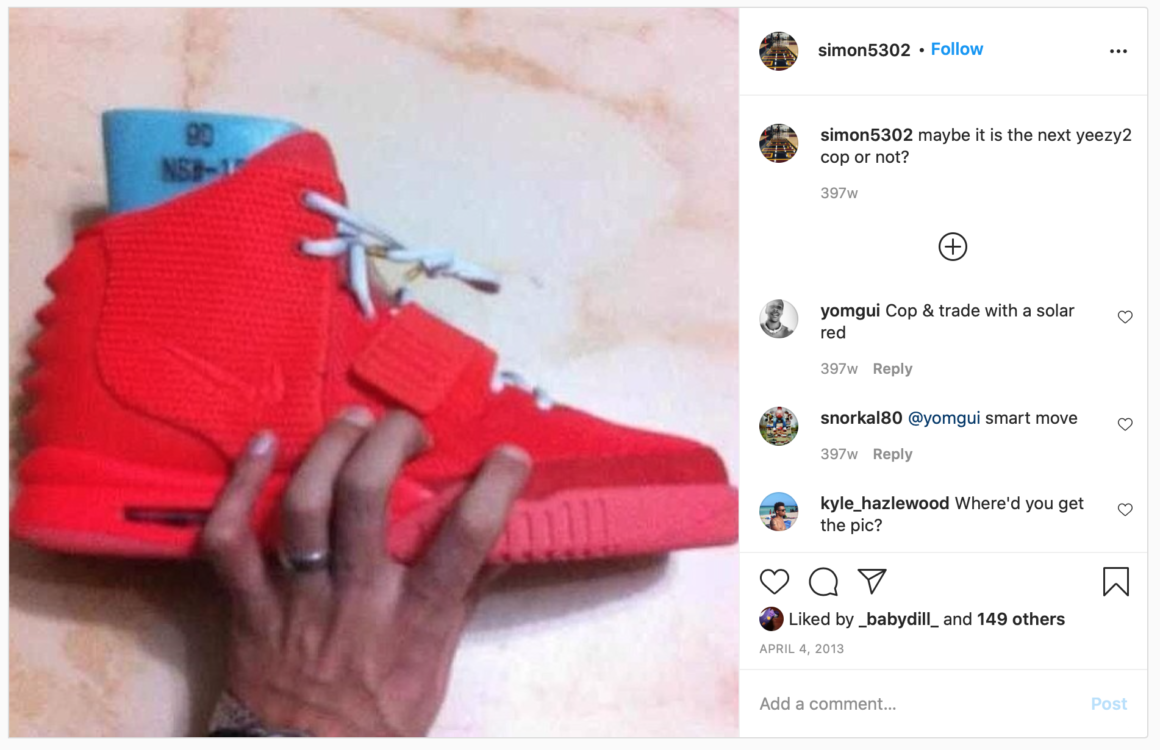 It wouldn't be until April 5th, 2013 – a half year after the Gentry tweet – that the world would see for the first time what could be the third and final Yeezy 2 colorway.
Shared by @simon5302, a noted sneaker collector, the factory style shot showcased an all-red Nike Air Yeezy 2 with grey laces and gold lace tips. This was enough for sneaker blogs and social media to get excited despite the fact that a Yeezy 2 hadn't released at retail in roughly a year.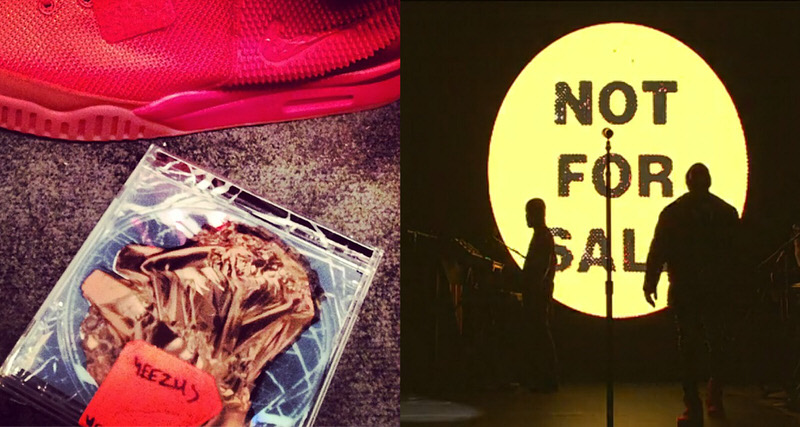 Only months after would rumors become reality.
Prior to Kanye West's May 18, 2013 SNL performance to promote Yeezus – an abrasive (and at that time unfinished) album amplified by unrest in the fashion industry with a promo run and tour fueled by smoke directed at Nike – Kim Kardashian would share on IG a photo of the album's artwork next to an all-red Yeezy 2. View this post on Instagram
#Yeezus #RedYeezy's #SNL #Tonight #NewSlaves #YeezySeason #Donda #June18
A post shared by Kim Kardashian West (@kimkardashian) on May 18, 2013 at 8:15pm PDT
West would wear the bright shoe under dark lights for even darker performances of "Black Skinhead" and "New Slaves," setting the tone for the album to come and leaving the world to wonder what these shoes exactly looked like in full.
In the weeks to follow, said-to-be-sample shots surfaced igniting the "Red October" flame even more. The shoes shared by @jsusneaks featured a style code on the inner-tagging, adding retail reality to what was originally a pipe dream PE.
All this of course was good. But knowing Nike, it's not official until they say it's official. Well only days after the sample surfaced, Nike PR director Heidi Burgett took to Twitter to announce Nike's plans to release a new colorway of the Yeezy 2 later that year.
While a June release had been unofficially suggested due to the impending launch of West's new album, Burgett's tweet served as the only official information shared by Nike at the time.
Release date for the new colorway of the Nike Air Yeezy 2 is not June 16th. We're planning to release it later this year.

— Heidi Burgett (@heidiburgett) May 30, 2013
Now an almost certain retail release and no longer relegated for just Kanye and his camp, West wore the "Red Octobers" on stage at Governors Ball in New York in June of 2013.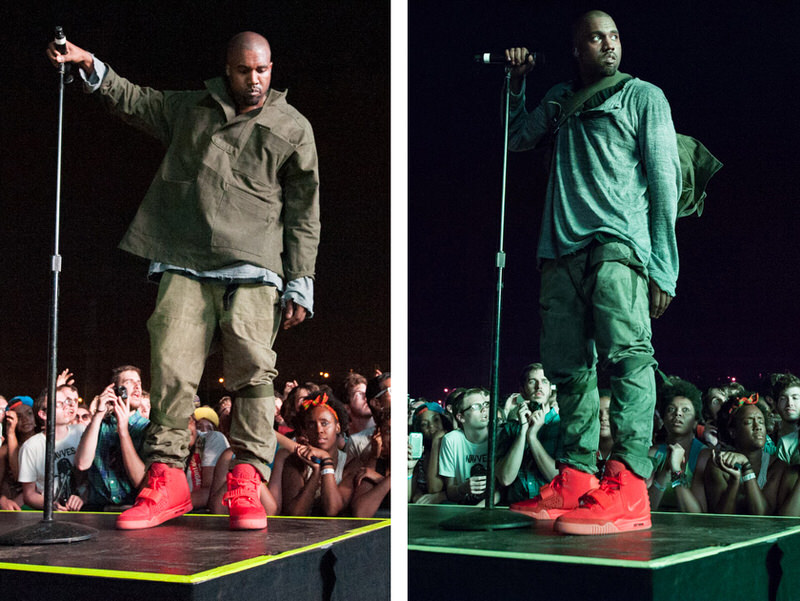 On June 22nd, 2013, Kanye West announced on Twitter an exclusive contest run via his website, kanyewest.com, in which 50 pairs of the sought after sneaker (with a stated approximate retail value of $245) would be given away.
West would later be seen rocking the "Red Octobers" on the regular with fans both salivating and salty that potentially only 50 pairs would be produced.
On August 16, 2013, 24 winners of the "Red October" Yeezy 2s were announced on Kanye's website to the joy of few and dismay of many. Kim would later post a pair on IG, showing the world in clear-cut detail what a pair of "Red Octobers" really looked like. View this post on Instagram
Special delivery!!! Kanye is rehearsing for his tour so I can't bug him right now…hmmmm what should I do with these? #Yeezys #RedOctobers
A post shared by Kim Kardashian West (@kimkardashian) on Oct 13, 2013 at 10:05pm PDT
With 2013 nearing an end and no official release date in sight, things were looking dim for the bright sneakers.
Essentially putting the red light to the "Red Octobers," Kanye West sat down for an interview with Angie Martinez on Hot 97 in November of 2013, discussing the state of the "Red October" Yeezy 2s and announcing that he would be partnering with adidas.
The Three Stripes later confirmed the deal, all but silencing any possibility of a "Red October" release.
Because of both his departure from Nike and lack of self-designed product on the market from adidas, Kanye often wore Visvim FBT Folk Boots, the Balenciaga Arena and the Maison Martin Margiela Future both on the move and on stage.
All three models offered high-level luxury as he prepped his ascent through the glass ceilings of high-brow fashion while also appearing with minimal branding as an 'F-U' statement to the establishment, allowing Ye to provide shape and texture to his outfit without endorsing a logo.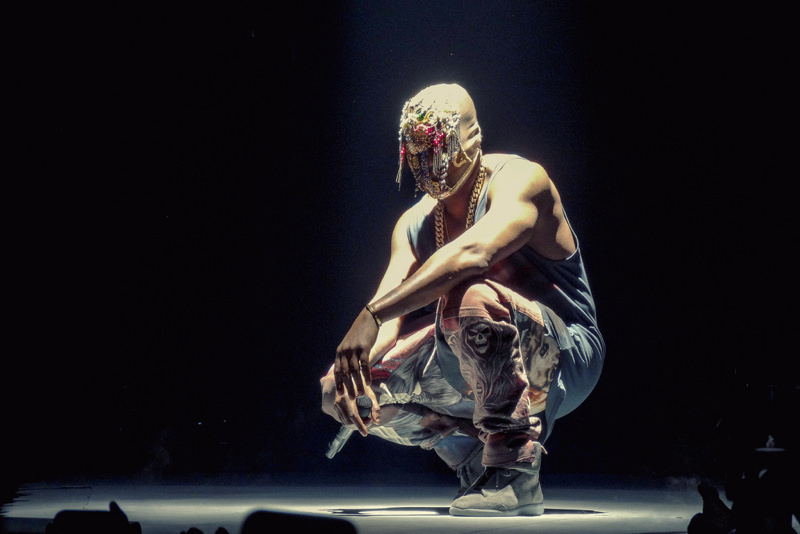 With the Yeezus Tour in full tilt and Kanye departed from Nike, any hopes of a "Red October" release seemed bleak. However, just when the Yeezy 2 saga seemed certainly at a stall, it appeared a Christmas miracle might be in store.
Days before the holy day, an updated Foot Locker launch calendar featured the "Red Octobers" as releasing on December 27th. This made some sense, with many assuming Kanye's Nike deal was expiring at the end of the year.
Shortly after the hoopla, Foot Locker announced that they would not release said sneaker.
And then on February 9, 2014 that all changed
The Nike Air Yeezy 2 is now available http://t.co/B9D2BtBQRx

— Nike.com (@nikestore) February 9, 2014
Thought to be long gone, Nike Store shocked the sneaker world by releasing the "Red October" Nike Air Yeezy 2 via a Twitter link on a Sunday.
The shoes sold out immediately, with wear from West himself all but finished.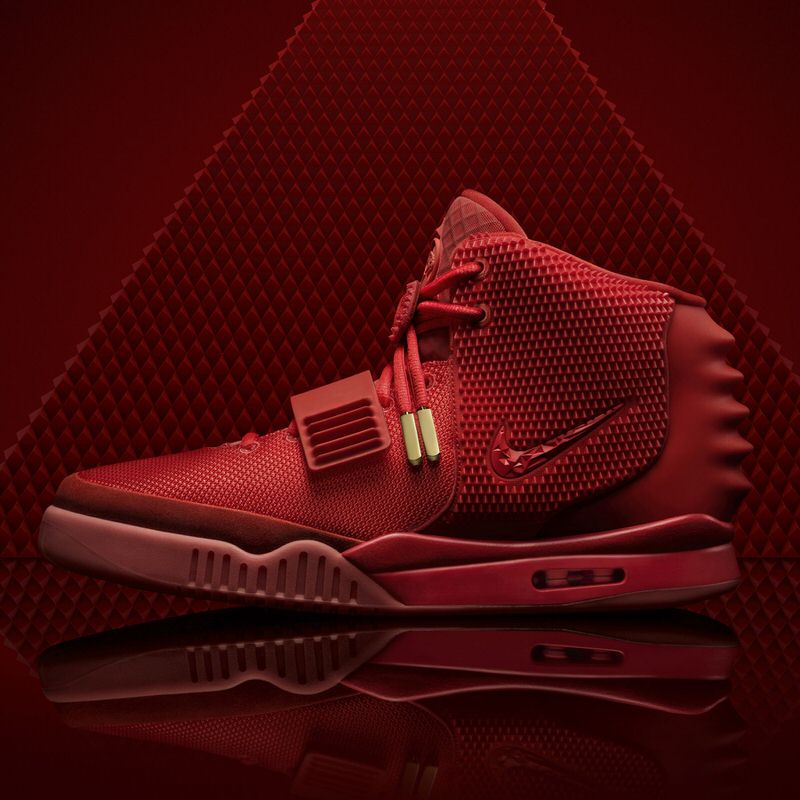 While Kanye wasn't wearing them anymore – despite one random occasion – it didn't stop anyone and everyone who could get or afford them from rocking them regardless.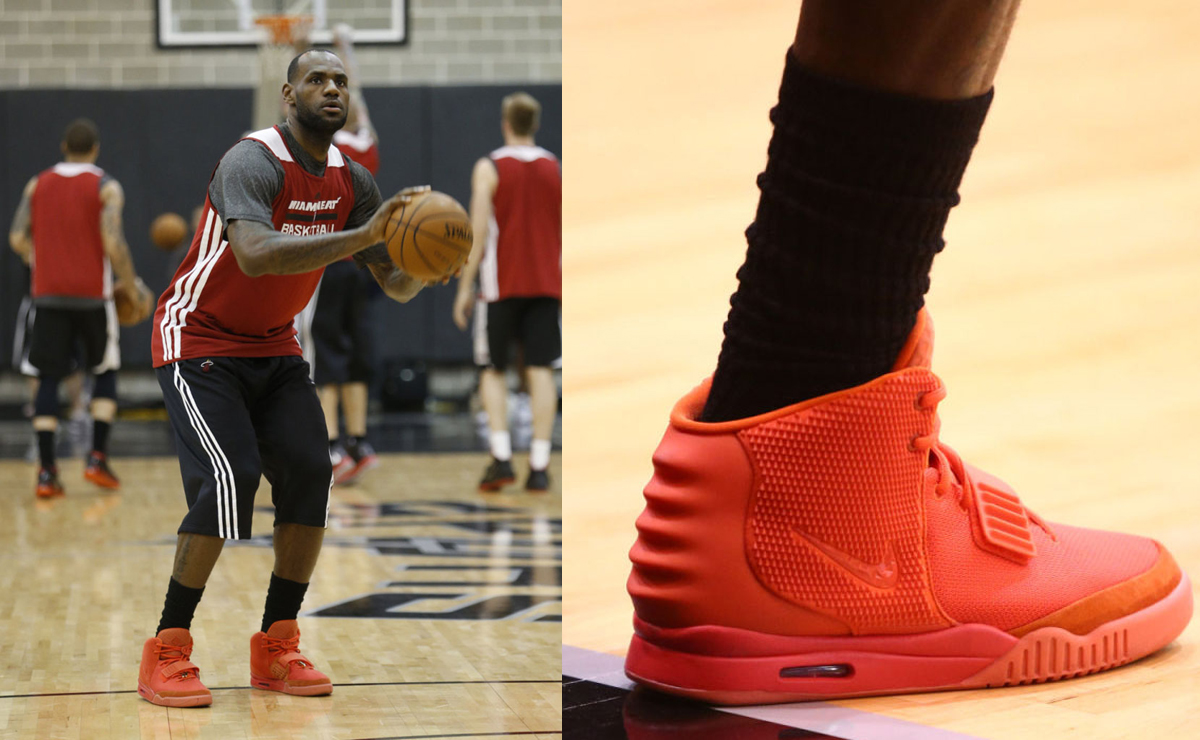 Worn in shootaround by LeBron James and in game by PJ Tucker, the "Red October" Yeezy 2 both then and now is a certified stunt shoe in the world of NBA style.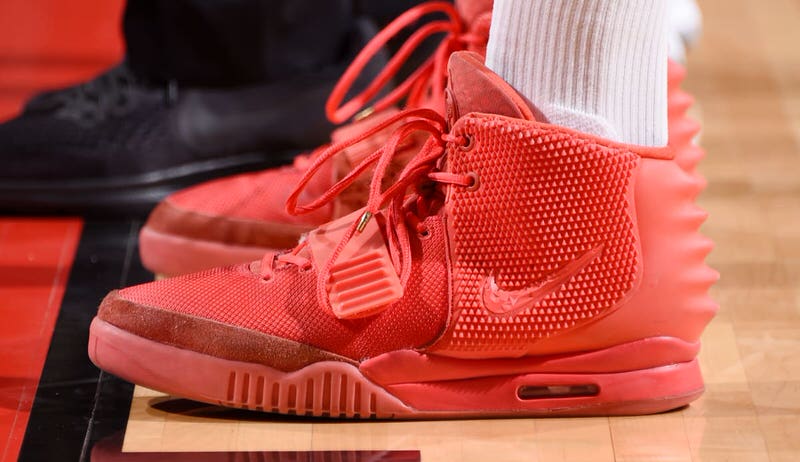 Hip-hop never gave up on the shoes either, with a young Kendrick Lamar wearing them for his NBA All-Star Game halftime performance and a red-hot Macklemore throwing his pair into the crowd when he performed at New Year's Eve in Time Square.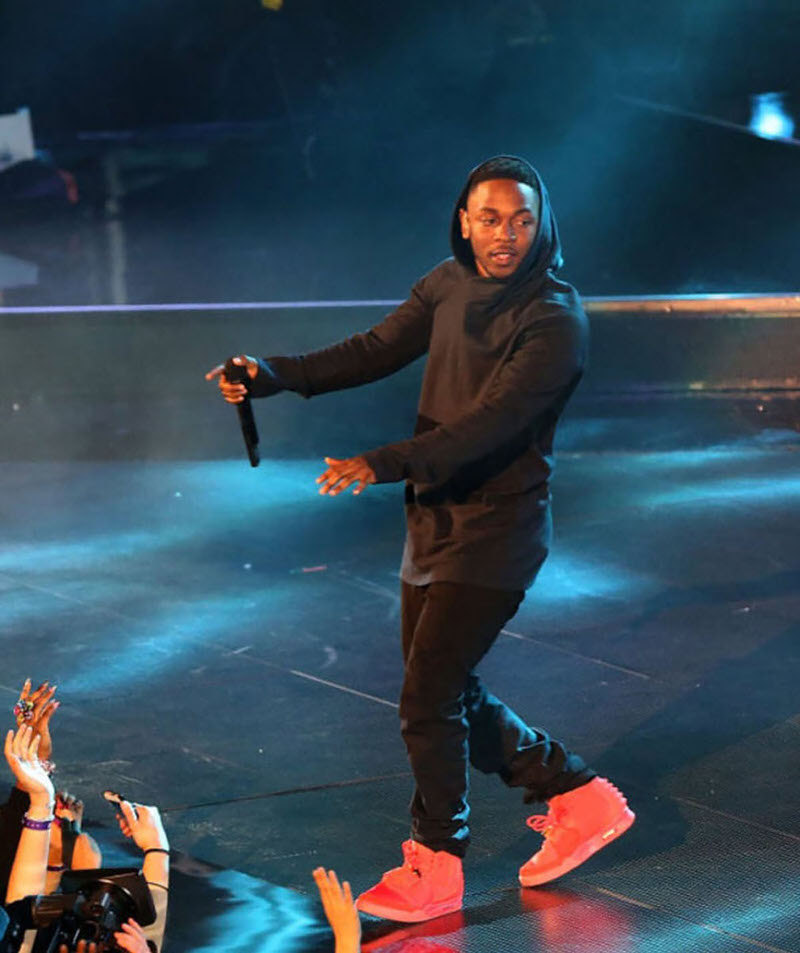 So, how about sneaker culture?
Despite Kanye leaving Nike for adidas or how wearers may go back-and-forth about West or his work, the "Red October" Nike Air Yeezy 2 shoe, story and release are all defining moments of sneaker culture.
Perhaps the pinnacle of hype, perhaps the peak of Kanye's cache on what was then still somewhat of a sub-culture, the "Red October" ripple effect may have made for a billion all-red releases to follow, but the shoe that led Kanye to leave Nike still serves as priceless for all who remember and all involved.