Born and bred in Queens, New York, Theodore "Teddy" Santis is an emblem of the American Dream. Teddy's parents immigrated to the USA from Greece and taught Teddy how to forge a path of his own from the very beginning. Teddy would wake up at 6AM to work with his siblings and help his parents run their diner on 89th Street in NYC. These early mornings developed Santis' work ethic and helped him to later launch his own streetwear label, Aimé Leon Dore.
Initially Santis had plans to name the brand "Aimé," meaning "Loved" in French. After being denied trademark rights to the word, Santis was forced to find a new name. Taking "Leon" from his father's childhood nickname and "Dore" from the second-half of his first name, Santis was able to move forward with Aimé Leon Dore. Santis has said that Ralph Lauren serves as a big inspiration for ALD, which can be seen in the brand's chic approach to streetwear. Yet the gritty and assertive nature of Queens still remains the biggest influence for ALD. In an interview with Ssense, Santis describes his love for New York and explains how neighborhood basketball games have inspired ALD saying, "I grew up playing ball all my life. It's a huge part of our brand and my whole style. Pick-up ball in New York is like nowhere else in the world. It's its own society. As terrible as it sounds, if you show up to play ball in Queens looking like a dweeb, you're not going to play. I don't care how good you are."
Since Aimé Leon Dore's beginnings in 2014, Santis has established himself as a force within New York and men's fashion at large. Despite not having a formal background in fashion or design, Santis has always been championed for his tasteful eye and gravitational pull towards poise. With Aimé Leon Dore's polished colors and refined aesthetics, it only makes sense that New Balance would approach Santis with an opportunity.
What started out as a collaborative series between Aimé Leon Dore and New Balance has turned into a full blown partnership, with Teddy Santis being named the new Creative Director for the New Balance Made in USA line. This feels like a full circle moment for Santis as his humble beginnings have allowed him to take on one of the biggest brands in the world.
 "I was drawn to New Balance for the way it has built a business founded on values such as integrity and authenticity, rather than passing hype," said Santis. "I see a tremendous opportunity to tell authentic stories with real people at the forefront, creating global campaigns that connect our core values with the world."
With 2022 marking the start of Santis' role as Creative Director of New Balance Made in USA, Nice Kicks breaks down the timeline of Teddy Santis' New Balance takeover.
2019
Santis' relationship with New Balance began in 2019 with the release of the Aimé Leon Dore x New Balance 997. This sneaker was met with much anticipation as sneakerheads fell in love with the vibrant colors paired with the tonal grey. Right away Santis showed us he knows how to balance color and add a refined finish to anything he touches.
Just before 2019 ended Santis closed out the year with a follow-up release, the Aimé Leon Dore x New Balance 990. This time around Santis offered two different colorways in complementary shades of heather grey, washed navy, and emerald, with hints of yellow. Ultimately this sneaker pack would serve as a foreshadow for what was to come next for Santis and New Balance.
2020
By the beginning of 2020 Santis was starting to get his footing at New Balance as he released another sneaker pack using a new silhouette, the Aimé Leon Dore x New Balance 827 Abzorb. Taking things a step further, Santis was given the opportunity to create three different colorways for this silhouette. Yet again he excited us with his clever use of color as he elevated classic primary hues.
The second half of 2020 Santis would release another duo of sneakers with two colorways of the Aimé Leon Dore x New Balance 1300. Using monochromatic suede uppers with an aged midsole, white laces, and accent New Balance branding, Santis proved that he could make any silhouette look good.
Santis would bring it home for 2020 with a third and final sneaker pack for the year, the Aimé Leon Dore x New Balance P550 Basketball Oxford. This release is when things started to shift not just for Santis, but for New Balance as well. Together it felt like the duo had revived New Balance's archives by offering chic colors on classic silhouettes.
2021
Two years later from the date of his first ever collab with New Balance, Teddy Santis was announced as the new Creative Director for New Balance Made in USA. This subdivision focuses on New Balance's heritage by offering premium sneakers and quality design. Given Santis' East Coast upbringing and appreciation for American classics, it was evident that the ALD-designer was the perfect fit.
With the success of their first NB550 launch, it only made sense to do it again and do it better. By now sneaker fans had accepted Santis and New Balance as a regular thing – and were hyped about it too. The second pack of Aimé Leon Dore x New Balance P550 Basketball Oxfords featured four new colorways, all given an aged finish through Santis' vintage-inspired lens.
The Aimé Leon Dore x New Balance 993 showed us the darker side of Santis as he paired black midsoles with shades of brown, purple, blue, and green. The campaign for this sneaker pack nodded to Santis's love for New York as the ads displayed graffiti and the lookbook featured Action Bronson and Mordechai Rubenstein.
2022
To kick off the year to come Teddy Santis dropped a first look at his upcoming New Balance Made in USA 990 Series. The photo revealed a massive lineup of 990s with seemingly 16 different pairs already in the works. Based on the teaser, it looks as though Santis is ready to walk us through the complete NB990 lineage as he dresses a variety of its different versions in sumptuous colorways.
For Santis first release of 2022 we see him take on a high silhouette for the first time with the Aimé Leon Dore x New Balance 650R. While simple in essence, this sneaker pack came through on Santis' promise to deliver excellence and uplift authenticity.
This New Balance 990v2 Made in USA release kicked off Santis' official debut as the Creative Director for the line. This inaugural sneaker was equal parts casual and contemporary as it was constructed with white mesh, grain overlays, aged details, and grey accents.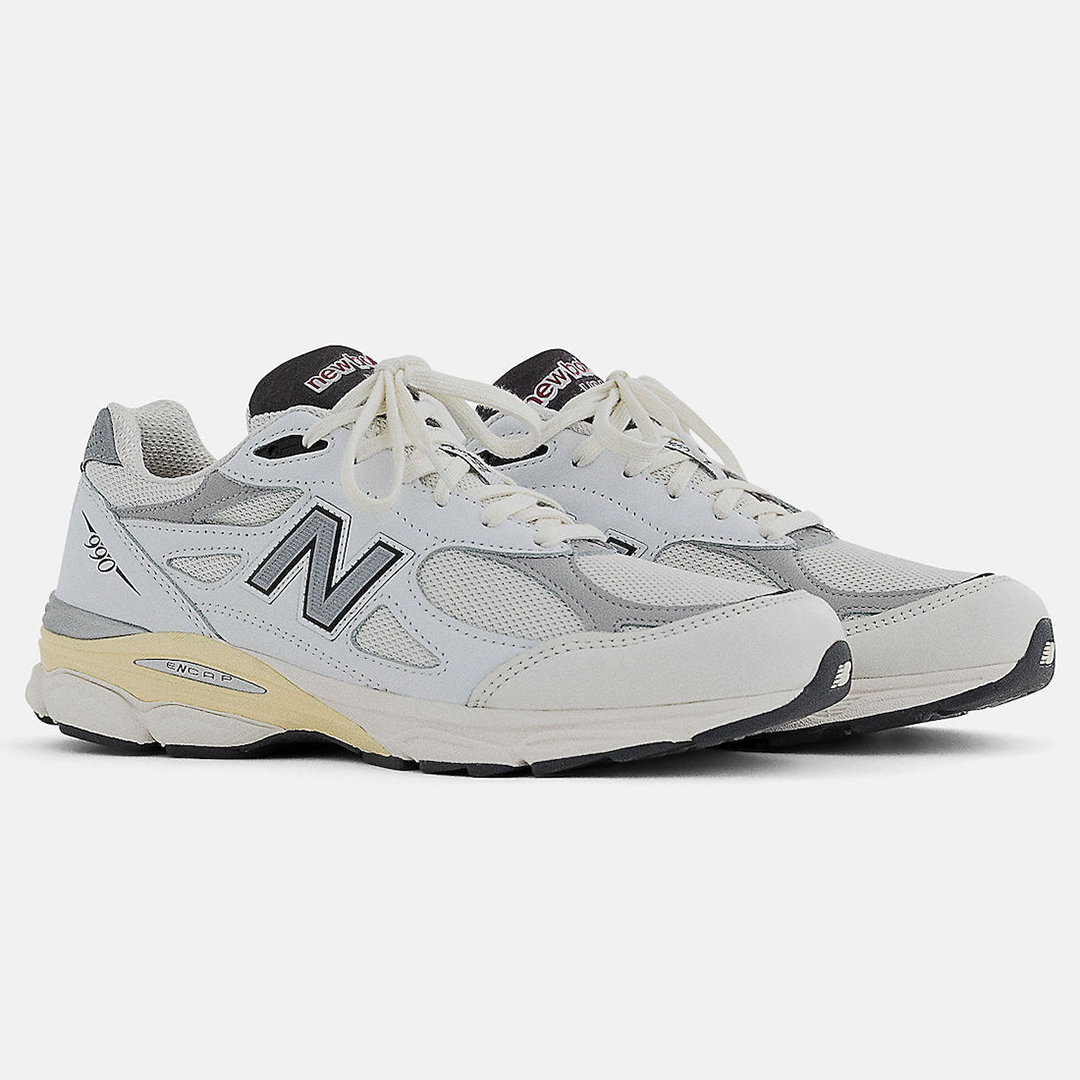 In almost no time Santis followed up his first NB Made in USA release with the New Balance 990v3 Made in USA "Sea Salt." This colorway dropped just days after the first pair, signifying that the floodgates are officially open and that we have a lot to lookout for. This New Balance 990v3 uses sea salt leather with navy and red accents atop an aged midsole.
Although Santis is now being recognized as the Creative Director for New Balance Made in USA, that doesn't mean that the momentum stops for Aimé Leon Dore. Santis reminds us of his beginnings with New Balance as he drops another collaborative sneaker pack between NB and ALD. This duo comes ready to wear in Tan and Grey colorways, both finished with Olive Green highlights.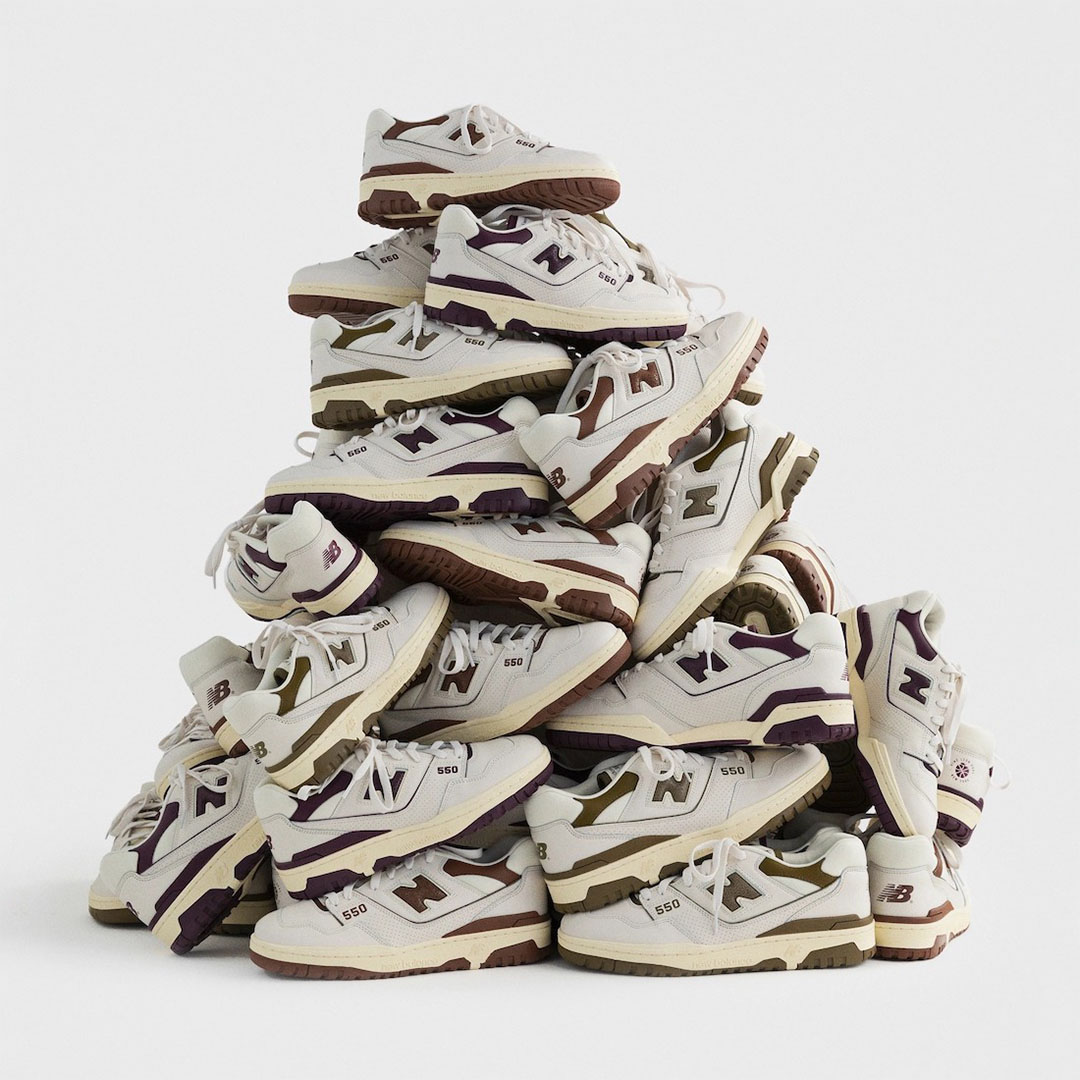 As 2022 continues to unfold, talks of another Aimé Leon Dore x New Balance 550 is on the way. Of course we have an entire line of Made in USA 990s coming too, with an Aimé Leon Dore x New Balance 990v2 expected to drop later this year as well.
Keep it locked on our Sneaker Release Dates page for all the latest info on upcoming kicks from Teddy Santis and New Balance. For more sneaker news and updates, follow @NiceKicks on Instagram.