There's a week left of games before the NBA All-Star Weekend tips-off in Charlotte, North Carolina as Buzz City prepares itself to host a star-studded itinerary.
With that in mind and the trade deadline officially over (shoutout to Woj and Shams), the NBA regular season is nearing its end. Nonetheless, the sneakerheads from across the league weren't messing around.
We saw A LOT of vintage Kobes this week along with some staple BHM colorways. Take a look at the 10 best Kicks on Court from the week below. Be sure to let us know on social media which one was your favorite.
10. Nike Kobe 9 Elite High "Christmas"
+ The Nike Kobe 9 Elite High "Christmas" released alongside the KD 7 "Christmas" and the LeBron 9 "Christmas" back in 2014
+ The Nike Kobe 9 Elite High was created with an array of innovative materials  such as Flyknit, Flywire and Lunarlon
9. Nike Kobe 8 "Year of the Horse"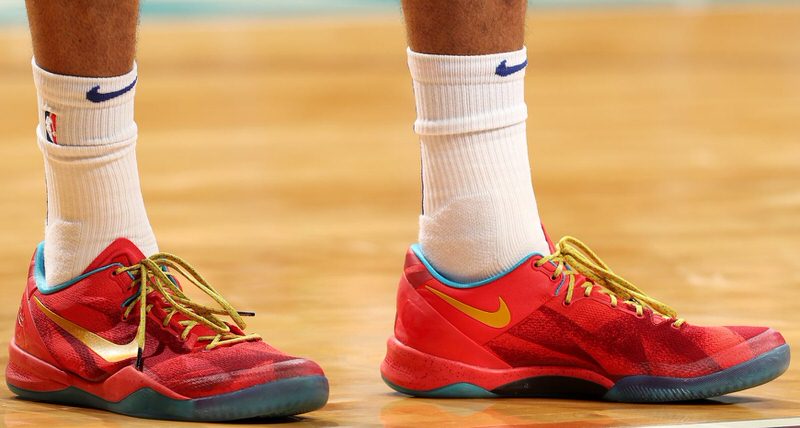 + Aside from the Nike Kobe 8 "Year of the Horse" that released in 2014, the Kobe 8 also received the "Year of the Snake" treatment
+ As the newest member of the Philadelphia 76ers, Harris looks to continue his trend of rocking the Kobe line in the city of brotherly love
8. Nike Zoom Kobe IV "Gradient Home"
+ The "Gradient Home" iteration featured a white and purple upper with a white Swoosh and gold accents as the "Gradient Away" colorway had a black and purple upper with a gold Swoosh
+ The Nike Zoom Kobe IV was the first low-top in the history of Kobe sneakers as Nike and the Mamba took a risk that has paid dividends to this day
7. Nike Zoom Kobe V "Miles Davis"
+ The colorway pays homage to the famous American jazz trumpeter Miles Davis and his album "Kind of Blue" that released on April 22, 1959
+ The pair released famously at Kicks/HI back in 2010. You can read more about the shoe here
6. Nike Kobe IV Protro "Draft Day"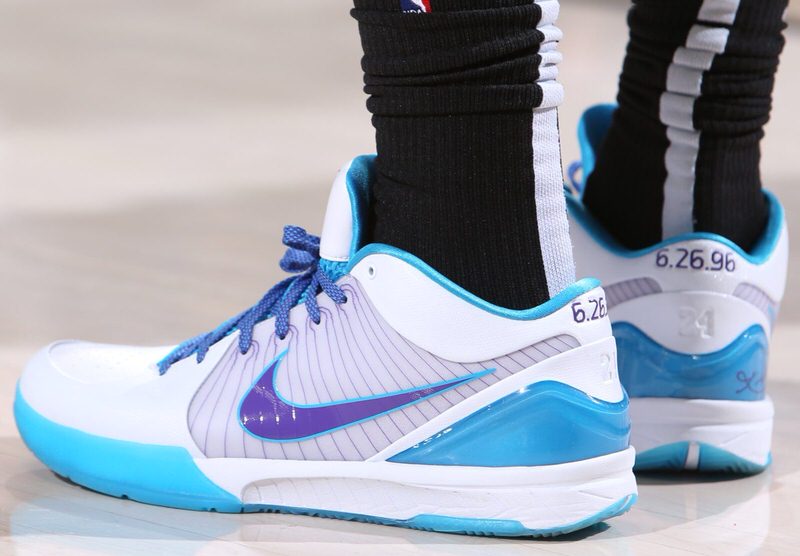 + The "Draft Day" iteration of the revolutionary Protro pays homage to the moment in which the Mamba was drafted by the Charlotte Hornets. You can learn more about the shoe and its history leading up to its release here
+ DeRozan went off for 35 points, 6 rebound and 6 assists for the Spurs as they took on the Portland Trail Blazers
5. SoleFly x Air Jordan 23 "Marlins"
+ The colorway is inspired by the OG uniform of the Florida Marlins who won the World Series in 1997 with its iconic teal and black uniforms
+ The Air Jordan 23 is a more luxurious member of the Jordan family with its stitched upper and sleek design that goes beyond performance
4. Nike Kobe 6 "BHM"
+ The 2011 "BHM" collection featured the Kobe 6 as well as a multitude of sneakers including the Air Max Hyperdunk 2010, the Air Max Fly By, the Nike Shox BB Pro, the Air Max Hyped, the Zoom Hyperfine, the Zoom Hyperfine Low and the Zoom KD III
+ De'Aaron Fox has been on a mission for the Sacramento Kings as they sit a game behind the 8th seed in the West
3. OG Nike Kobe 1 "USA"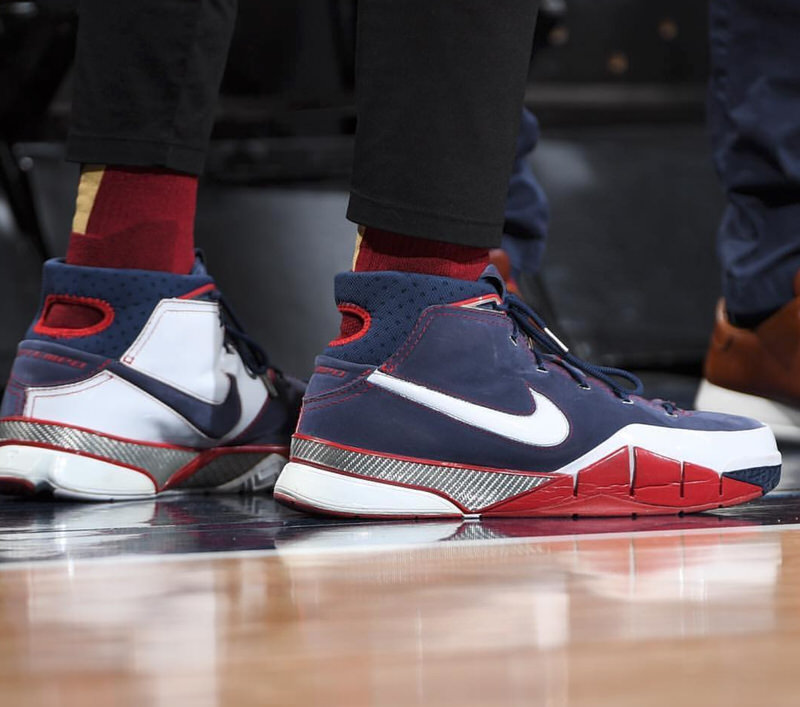 + Kobe Bryant and Nike Basketball teased the Nike Kobe 1 "USA" during a trip in South Korea
+ The Kobe 1 was Bryant's first signature shoe with Nike after leaving adidas in 2003. As we all know, the rest is history
2. Nike Zoom KD 4 "BHM"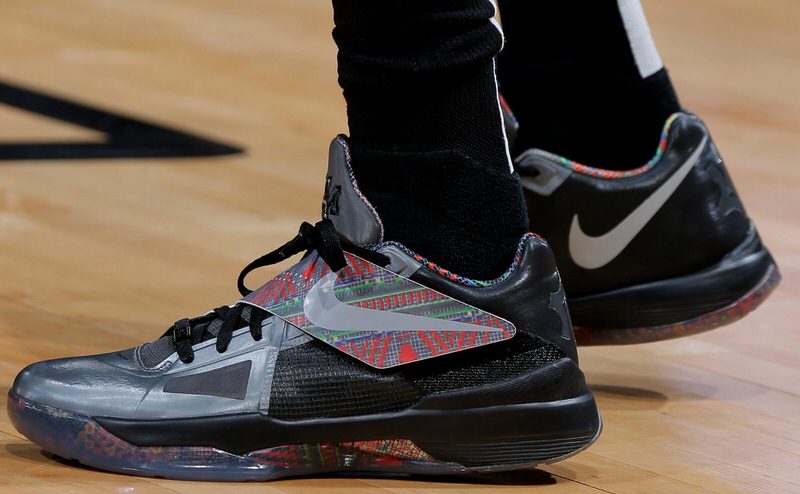 + The 2012 Nike "BHM" collection featured a handful of signature shoes such as the Zoom KD 4,  Nike Kobe 7 System Supreme and the LeBron 9
+ De'Aaron Fox put in work with a loaded stat line of 20 points, 6 rebounds and 6 dimes in 127-112 win over the San Antonio Spurs
1. Nike Zoom Kobe III "All-Star" China Exclusive
+ The Mamba rocked this red and gum Kobe III for the 2008 All-Star Game hosted in New Orleans as the East beat the West by a score of 134 to 128
+ If you haven't kept up with the reigning Kicks On Court Champion's heat, we've documented every shoe PJ Tucker has worn here