Birthday Cents.
Welcome to a special birthday edition of Nice Kicks' Throwback Thursday. Today, we pay tribute to an iconic '90s NBA guard who turned 47 yesterday. The man who flipped the script on style and swag, who had straight urban mass appeal, one the most iconic Nike basketball athletes in history, the man who helped put the Magic in Orlando and the 901 and Shelby Drive on the map: Anfernee "Penny" Hardaway.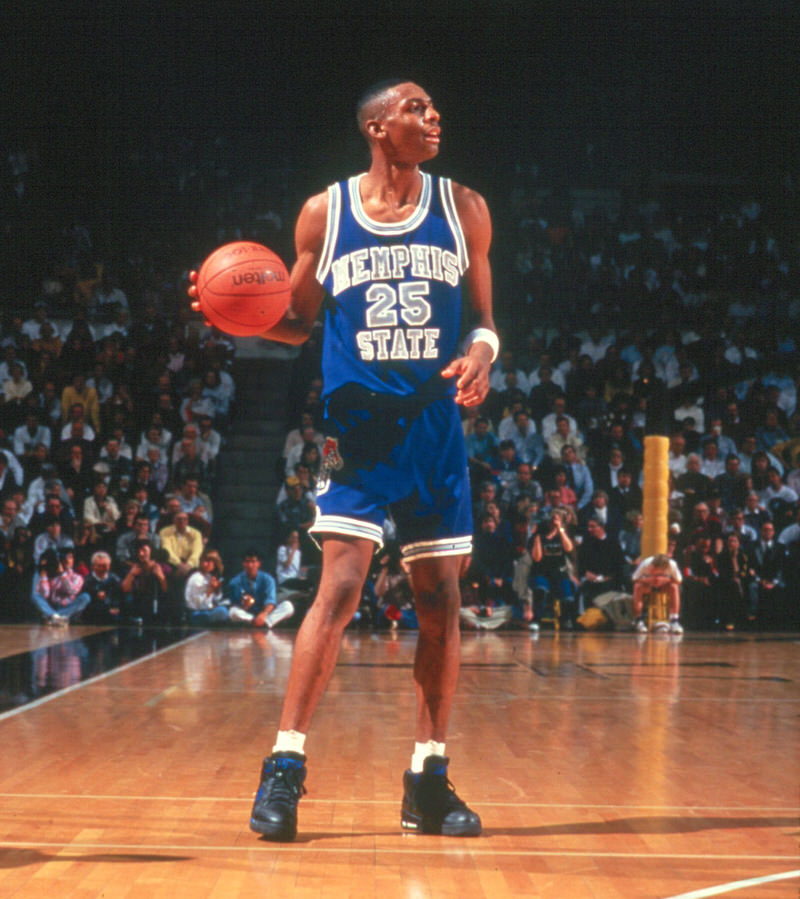 Originally selected by the Golden State Warriors and traded to the Orlando Magic on draft day for Chris Webber, Penny took the NBA by storm and made an immediate impact on Central Florida basketball culture. Prior to Penny's arrival, the Magic were a team in transition, anchored by their big man, Shaquille O'Neal. The team struggled without a true leader and solid ball-handler. Penny Hardaway was, simply put, "heaven cent" changing the basketball culture in Orlando and turning the franchise into a winner. During his rookie season, the Magic set a franchise record with 50 wins and clinched a playoff berth for the first time in franchise history. The legacy of Penny was born as a result of his beautiful and selfless style of play. Penny filled the void Jordan had left in the wake of his retirement, bringing a sense of hip-hop, mass urban and stylish appeal and swag to the game, coupled with a touch of Southern hospitality and a style of play that was reminiscent of a young Magic Johnson – the type of player with superb athleticism, quickness, and a supreme basketball IQ who could simply do it all. Penny emerged as a pass-first guard who posed as the ultimate triple threat. As a rookie, Penny posted averages of 13.3ppg/5.1rpg/5.5apg and 2.3 steals per game, 5th best in the league. In a guard-dominant league during the small-ball era filled with the likes of Gary Payton, Mookie Blaylock, John Stockton, Jason Kidd, and forward Scottie Pippen, Penny carved out his own piece of the pie and made himself a household name. The NBA was officially put on notice.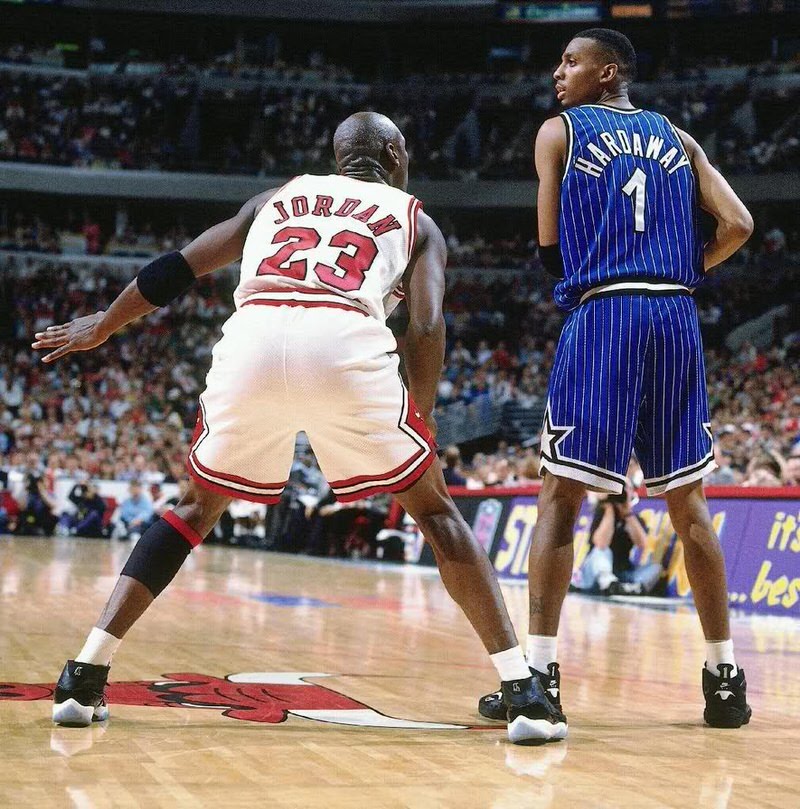 Penny's basketball legacy remains twofold: his personality and his iconic kicks. While his sneaker history is perhaps most synonymous with the 1997 Foamposite One, Penny rocked several other classic Nike models on court as well, namely the 1994 Nike Air Swift, 1994 Nike Air Up # 1 PE and the 1995 Nike Air GO LWP. Worn by a plethora of NBA players during the 1993/1994 and 1994/1995 NBA seasons, the Air Swift, Air Up and Air GO LWP were part of Nike's Flight series, known for their lightweight design made specifically for guard-style play (LWP stands for Lightweight Performance). Featuring a lightweight phylon midsole, visible heel air sole unit, and a Huarache-like inner boot, both the Air Swift and the Nike Air GO LWP are two of the lightest basketball models ever created by Nike and served as the perfect instrument for the quintessential 90s guard who played at sea level and above the rim. While the Air GO LWP received the retro treatment in recent years, it paled in comparison to the quality and construction of the OG version. Additionally, and while not formally a part of the Penny signature line, the 1994 Nike Air Up is an early Penny PE model and remains a classic and iconic mid-90s basketball model that strikes a personal chord with die hard Penny fans.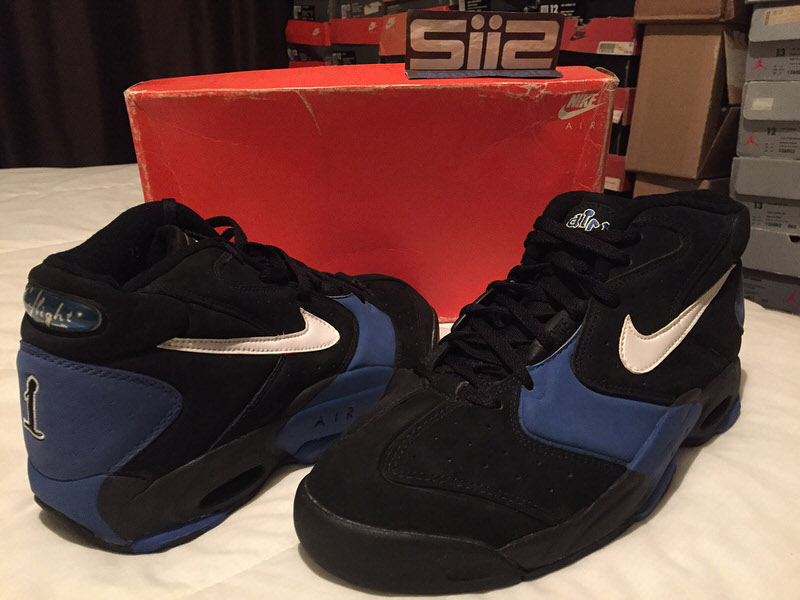 Ranked by Complex Magazine in 2012 as the 4th greatest Penny Hardaway Nike sneaker of all-time, the Nike Air Up evokes feelings of nostalgia not only among old school basketball enthusiasts and Penny fans but, interestingly, has gained popularity with the younger generation as well. Featuring beautiful blue suede panels and his signature #1 on the heel, the Air Up remains an iconoclastic 90s Nike basketball artifact, a truly special piece that has yet to see a proper retro. Other silhouettes worn by Penny throughout the early part of his career include the 1993 Nike Air Force Mid, two special PE colorways of the 1994 Air Jordan IX, 1994 Nike Air Pound, 1994 Nike Air Prevail #1 PE, 1995 Nike Air Lambaste, a model worn by Penny during the 1995 NBA All-Star Game in Phoenix, and the 1995 Nike Air Flight One worn throughout the 1995 NBA Finals.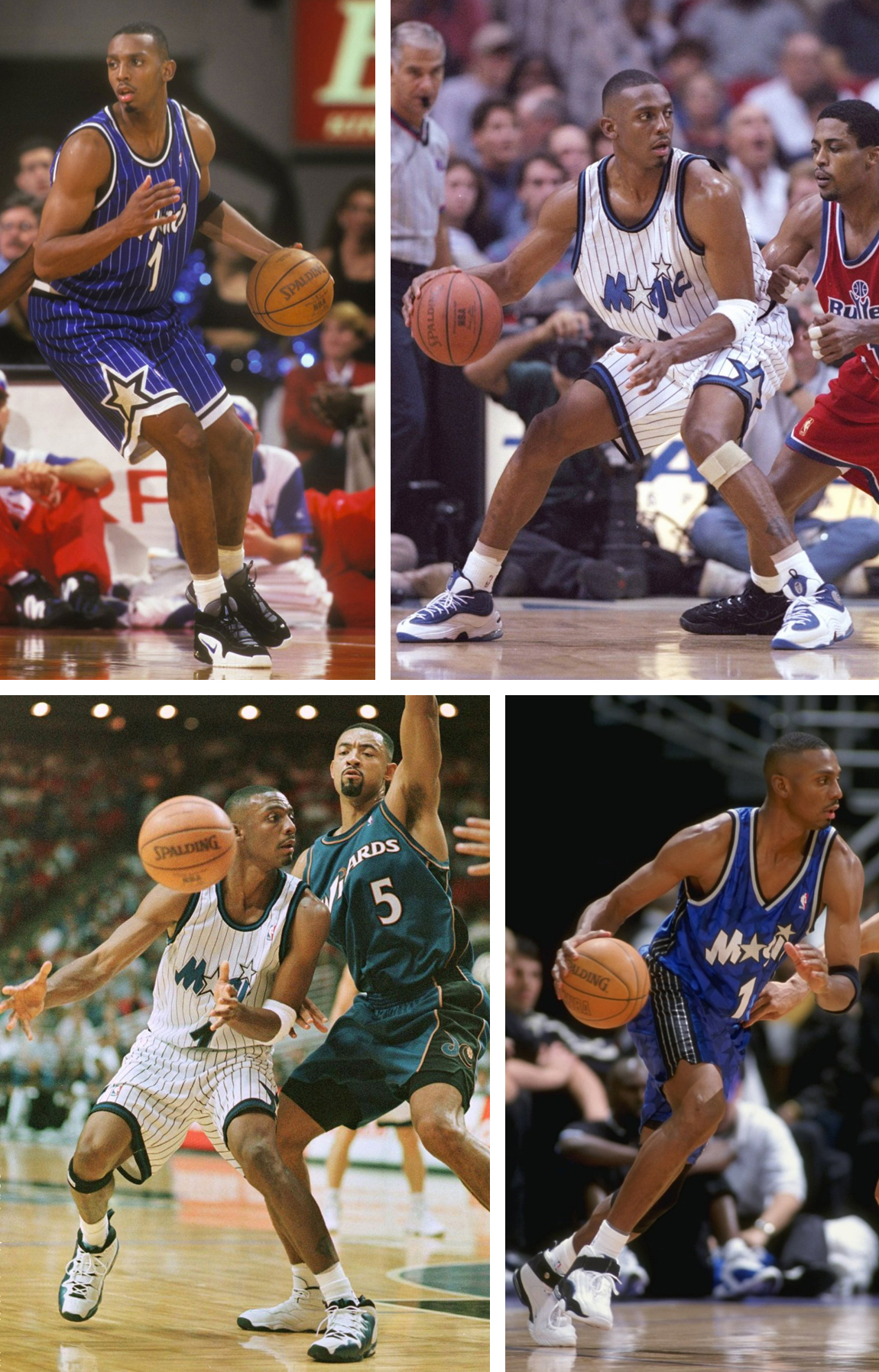 Penny finally received the Nike signature sneaker treatment with the debut of the Air Max Penny in 1995. Considered one of the "20 Designs That Changed the Game" by Nike, the Air Max Penny aka Penny 1 is regarded as one of the most successful and popular Nike signatures in history, arguably second only to Air Jordan. One of the pioneering basketball sneakers to utilize both a Tensile Air forefoot with a Max2 heel air sole unit, the Air Max Penny was certainly ahead of its time. In the summer of 1996, Penny opted for the Nike Air Zoom Flight '96 #6 PE, worn by Penny during the 1996 Olympic Games in Atlanta. The following year saw Penny debut the Foamposite One, another pioneering and trailblazing model which used blow-molded foam construction and took inspiration from the beetle for its toughness, durability, and aggressive-looking appearance. Penny took his game to the next level during the 1997 NBA Playoffs against the Miami Heat when he posted back-to-back 40-point performances to tie the series and force a Game 5. While the Magic ultimately lost the series in 5 games, Penny lost in style, elegance, and with grace. Due to the uniform policy which mandated that a player's sneakers match the team uniform, Penny used a black magic marker and created a series of black lines on the upper of his Foamposite One kicks, later known as the "Sharpie Foamposite," a trendsetting model which has maintained its relevancy in the sneaker game today, twenty years after its original debut.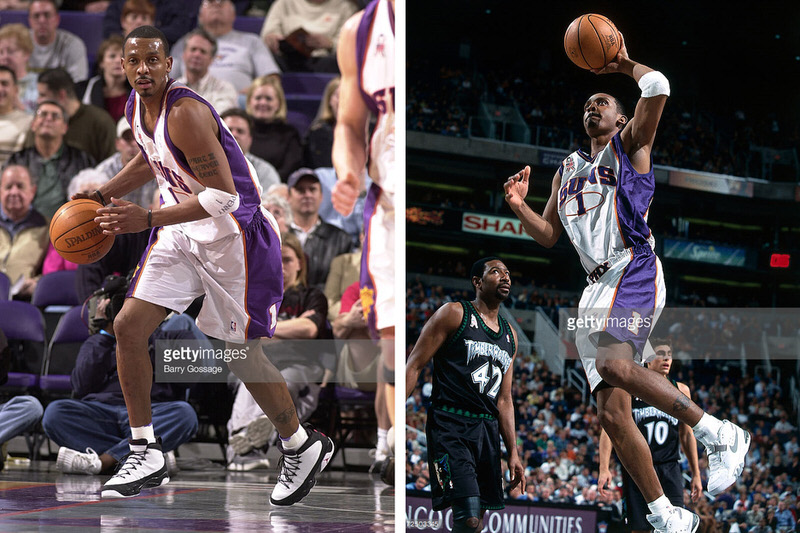 During the latter part of his career in Phoenix as a member of the Suns, Penny nonetheless made a positive contribution helping lead Phoenix to an improbable first-round playoff upset over the higher-seeded San Antonio Spurs in the 2000 NBA Playoffs while wearing the Nike Air Determination, another underrated 90s sneaker, while also rotating retros before it was the norm.
What truly transcends father time is the innovative Nike marketing campaign featuring Lil' Penny played by comedian, Chris Rock, which played a significant role in helping establish and solidify Penny's long-lasting legacy and timeless effect. Since his retirement from the game, Penny's sneaker legacy continues to remain strong, illustrated by several special edition collaborations which took place over recent years including an extremely rare sample version of the Penny II in a black/anthracite/volt colorway in honor of Sole Collector Magazine's 5th Anniversary in 2008; as well as the Sole Collector Magazine x Niketown Las Vegas Penny Signature Pack which featured several Penny models in a limited edition colorway complete with the Sole Collector logo branding available by raffle only and sold out instantly at a retail price of $1000.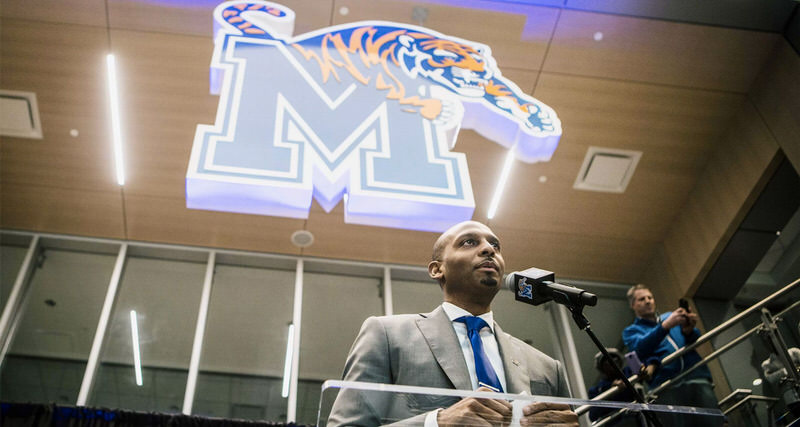 Earlier this year, Penny was hired by his alma mater, Memphis State, as head coach of their men's basketball team, a fitting move and appropriate gesture to the former Tiger who at point served as the centerpiece of their program. Coming full circle, Hardaway now serves as teacher and mentor to the next generation, adding to his legacy as a basketball figure and leader in his hometown community.
Despite the fact he was injured for a portion of his career which hindered his game and affected his true athletic genius and talent, Penny Hardaway's swag and athletic ability on court, coupled with his signature legendary sneakers, completely redefined sneaker technology by literally changing the way sneakers were created, molded, and formed. Whenever one sees the colors black and royal, much like Pavlov's dog, one immediately thinks of the legendary 90s Point God who was truly Heaven Cent. So, look alive like Shelby Drive, take the hard way, and rock the Air Penny, one of the greatest, most significant, and influential basketball signature lines of all-time, worn by one of the most guards in the modern era.
Then again, that's just our two cents.