Glory be, the funk's on all of us in this week's Throwback Thursday. After news broke that the Nike SB Dunk Low Rayguns Tie-Dye Pack is set to release, it was a great reminder of just how lit nostalgia can be when its unexpected and unscratched. It's also a great reminder that though the Rayguns theme came to sneaker fame on the Nike SB Dunk Low, much like its muse it started in basketball.
Coming to life in the early 2000s, basketball as a whole and Nike Basketball to be specific were in an odd but interesting space. Michael Jordan was making his official and final exit from the game, signature steeze was sliding the way of Allen Iverson, and though innovation was somewhat booming with tech like Shox, Posite and Alpha Project designs, fashion on court was celebrating heritage and the throwback wave.
Enter the Roswell Rayguns. The fictional franchise from New Mexico played upon UFO inspiration and '70s style, hosting the likes of Vince Carter, Jerry Stackhouse, Paul Pierce, Jason Williams, Baron Davis and Jermaine O'Neal to name a few.
Hopping off the bus in fur coats, wearing headbands and short shorts, the team's house band of Bootsy Collins, Snoop Dogg and George Clinton made for some of (read: all of) the best Nike Basketball ads in the short but unique post-"Freestyle"/pre-LeBron era.
At first, being a Rayguns fan was fun, but tough. The good part was you never knew when a commercial would pop up but you always knew it was going to be awesome. To show your support though in the early days, you'd best live by a NikeTown as they were the only place to buy the then-limited and now shameless (but also smartly and perhaps needed) fakes that flood eBay. To no surprise, Fabulous had a Vince Carter Rayguns jersey back in 2002 and some creative 2k players have even remade them in the digital realm.
While basketball would birth the Rayguns, skateboarding would truly bring them to retail. Lacking their endorsers but still seeing the same story and steeze, Nike SB would put out the likes of Dunk Lows, sweatbands and sweatshirts also sporting the alien identity and team tones.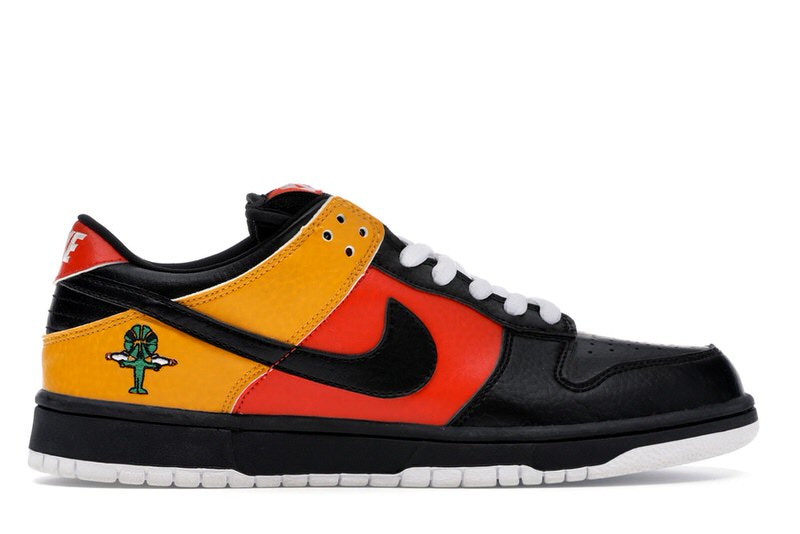 Spending the latter parts of the late 2000's in outer space, the Rayguns theme would return to both earth and retail for All-Star Weekend in 2013 for the Area 72 collection. A timely followup to the Galaxy theme the year before, signature and retro sneakers would carry the logo as would apparel, however the black, orange and yellow tones would take a holiday.
Finally back on the Nike SB Dunk Low, would you like to see the Rayguns ads and jerseys return?
By now you should already know our answer, but let us know how you feel in the comments section and on social.