Ever since Kyrie Irving entered the league he's captured the attention of everyone. From his mesmerizing dribbling to his flashy lay-up package, Uncle Drew knows how to perfect his craft and continues to refine it season after season.
Similar to his game, Irving's signature shoe line has been a masterpiece to witness. From the Nike Kyrie 1 to the rollout of the Nike Kyrie 6, the progression of his shoe mirror Irving's own — an ascendence of excellence focused in on the details.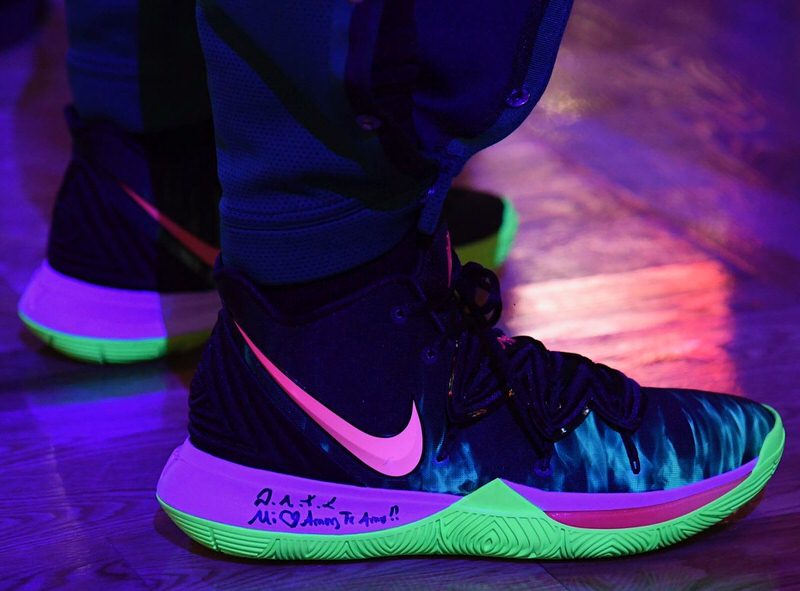 Last season, we saw how Nike and Kyrie cooked up some of the best colorways we've seen in tandem with the overall performance of the Kyrie 5 that has completely dominated the game in more ways than one.
Now? He's onto the Kyrie 6.
As Kyrie and the Swoosh just unveiled the next chapter, we sat down with Brooklyn's finest to discuss the design of the Kyrie 6 what to expect in regards to colorways and much more.
Hear what Uncle Drew had to say below.
Originality Shining on the Nike Kyrie 6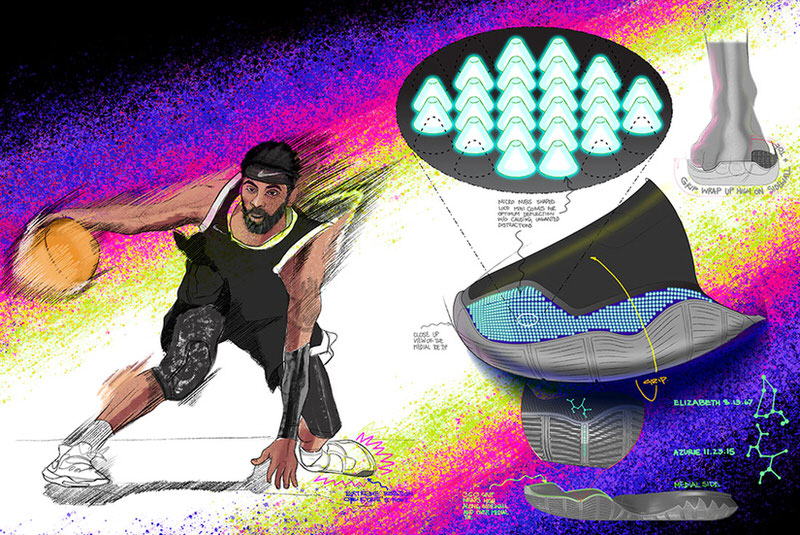 Nice Kicks: The Kyrie signature shoe line is arguably the strongest signature series the Swoosh has right now. What do you like most about the Nike Kyrie 6?
Kyrie Irving: It's the originality of it man. It's a pillar in the shoe design game. Myself and Ben Nethongkome did a great job of starting in Seattle and getting into the basis of what shoes were and what were really appealing aesthetically.
It started in a small room in Seattle and then become a great creation that I'm very proud of.
Staying Creative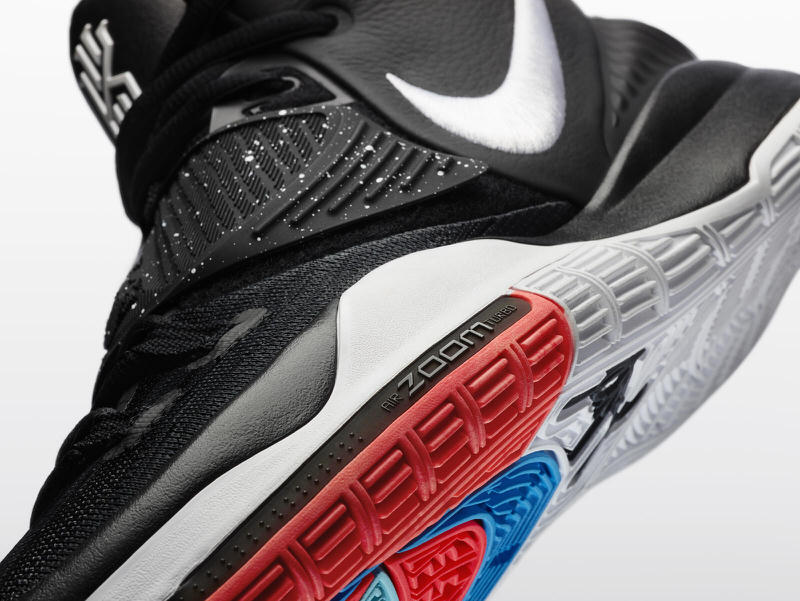 Nice Kicks: You're very intentional about the details and colorways that go into each of your models. What's it like to have such a creative and supportive Nike team in your corner?
Kyrie Irving: It's incredible man. When you have that type of platform to create what you like, you know you have a responsibility to pay homage to the culture that came before you and being a pillar in it now. It's about respect.
Like I said, I pay a lot of respect to the OGs, the shoe designers who came before me and really set the precedent of a lifestyle shoe versus a basketball shoe. Trying to stay youthful with what I create and what's great for the culture.
SB Inspiration & Upcoming Colorways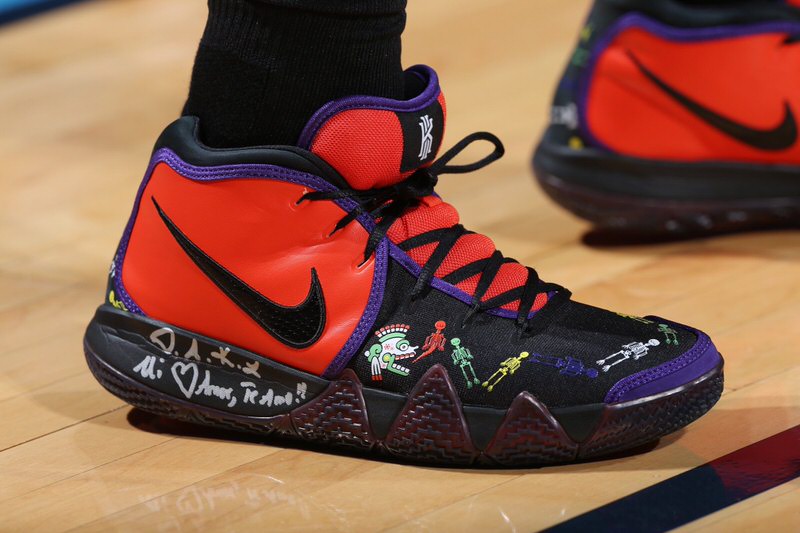 Nice Kicks: We've seen the Kyrie line really evolve with collabs and colorways. What's in-store for the Nike Kyrie 6 following that same momentum?
Kyrie Irving: Just look forward to it man. I took my time to really develop myself into the process of what it takes from the first design and idea to scrap it out a few times. Now, two and a half years later, it turns into the Kyrie 6. I'm really happy about it.
I've always done my signature shoe in packs. 1, 2 and 3. Now, 4, 5 and 6. To end my second trilogy is an opportunity that lets me be grateful to pay homage with collaborations like the Kyrie 5. In the Kyrie 6, it's all about things that have always meant something to me deep in my heart. I'm looking forward to those stories.
The Kyrie Line Getting Love Across Basketball
Nice Kicks: From the WNBA to the NCAA and all across the League, the Kyrie line has become a player's favorite. What does that mean for you and how is that reflected on your newest model?
Kyrie Irving: I come from that. I come from the playground. I come from showing respect to a lot of the great individuals who are both in and outside the game of basketball. I wanted it continue that and that's why I designed the 6 the way I did.
Cultural Inspiration on the Kyrie 6
Nice Kicks: When it comes to showing respect, what models or sneaker lines inspired the Kyrie 6?
Kyrie Irving: I paid respect to old Yeezys, old Air Jordan 11s, old Nike SBs in terms of the colors and the aesthetics. The all seeing eye on the strap, Zoom Air on the forefoot.
I really took my time to understand what the details mean beyond just creating a shoe. This is like my baby. My other shoes have really taken time. I took the most time with this one in terms of getting out of the frame of just being a basketball aesthetically pleasing shoe.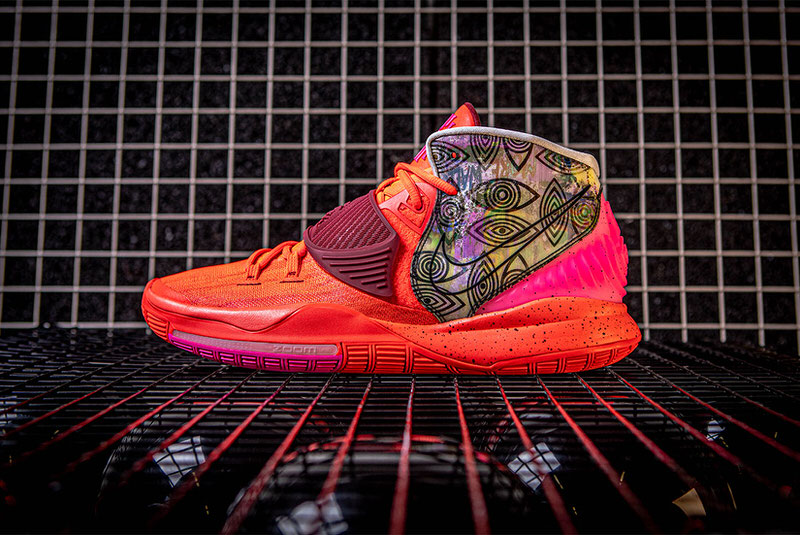 Be sure to take a look at every sneaker Kyrie Irving wears this season here as more colorways make their way to the Brooklyn Nets PG. Keep it locked here on Nice Kicks for all of your Kicks On Court needs. From interviews to weekly recaps, we got you covered.