words // Nick DePaula:
Over time, the 1992 and 1996 US Olympic teams have certainly lived on as iconic and transcendent rosters, and while often overlooked, the 2000 team that also earned Gold at the Sydney Olympics certainly lived up to the expectations of the dominant USA Basketball program.
Headlined by a prime-era Jason Kidd, Kevin Garnett and the explosive dunks of Vince Carter, the 2000 team faced a few challenges throughout the tournament as the world was soon catching up to its level of play, unlike the cruising 40-point wins of the two teams before it.
Nike was just launching its Shox column cushioning platform, which couldn't have had a better introduction thanks to Carter leapfrogging a 7'2″ human on the global stage. In addition to VC, we also saw JKidd, Allan Houston, Antonio McDyess and Shareef Abdur-Rahim each wear the new Shox BB4.
Jordan brandmates Ray Allen and Vin Baker each wore Retro VIs throughout the tourney, showing love to the era of Michael's '92 Dream Team. A mini-fro sporting Gary Payton wore several clean white and navy editions of his signature Zoom GP II, and even painted the toe tip gold down the stretch of the medal rounds.
While GP may have customized his pair, the 2000 Olympics were influential for Team USA in that it was the first Olympics that Nike created special edition Gold Medal game sneakers. At the time, it was undeniably, incredibly arrogant. Regardless, Vince and the crew took the floor in a Navy / Gold colorway of the Shox BB4, and KG donned an awesome Navy / Gold Flightposite II.
Check out all of the 2000 US Olympic team's best Kicks On Court below in our latest Classic edition, along with a look at a classic all-gold Jason Kidd photoshoot. Stay tuned for a look at the much scrutinized 2004 team tomorrow.

Antonio McDyess — Nike Shox BB4
_____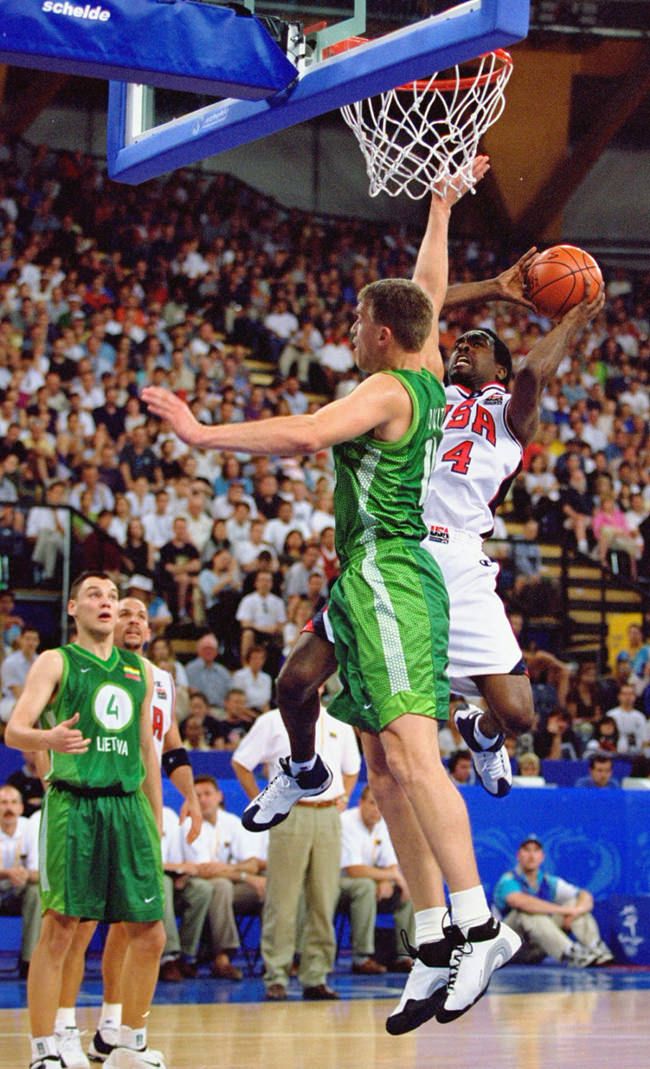 Gary Payton — Nike Zoom GP II
_____

Allan Houston — Nike Flightposite 1
_____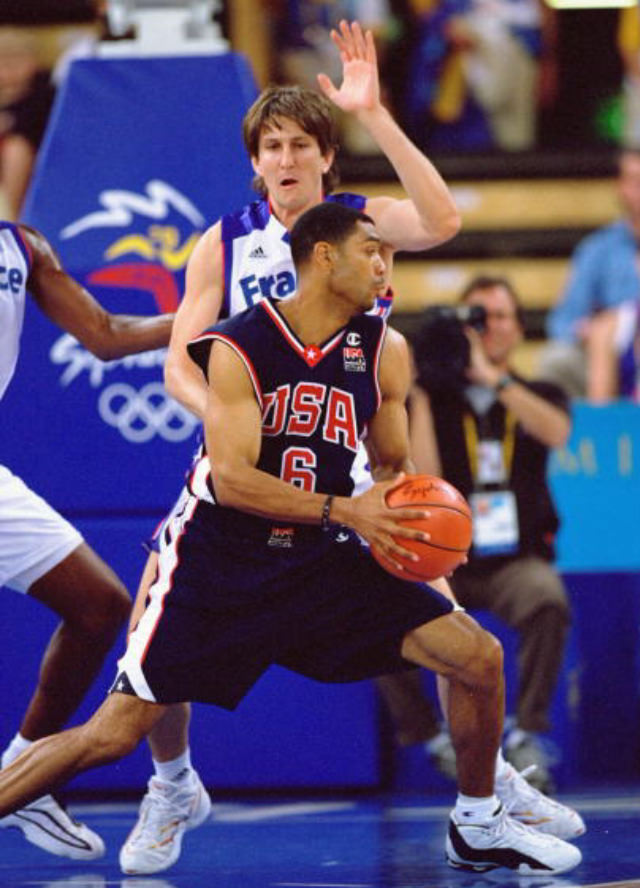 Allan Houston — Nike Shox BB4
_____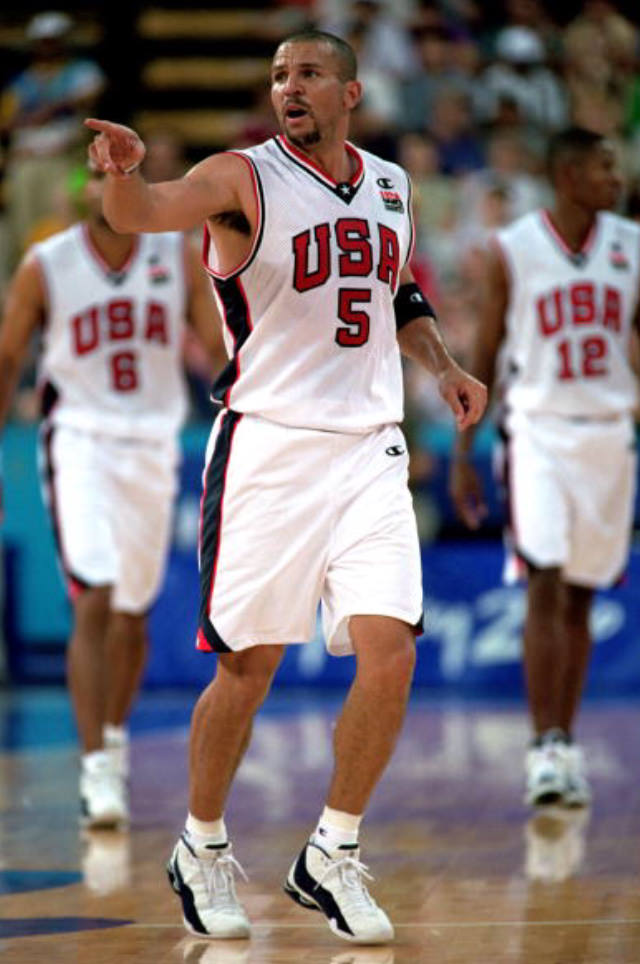 Jason Kidd — Nike Shox BB4
_____

Jason Kidd — Nike Shox BB4 "Gold Medal"
_____

Jason Kidd — Nike Flightposite 1
_____
Kevin Garnett — Nike Air Garnett 3 prototype
_____

Kevin Garnett — Nike Flightposite II "OBF"
_____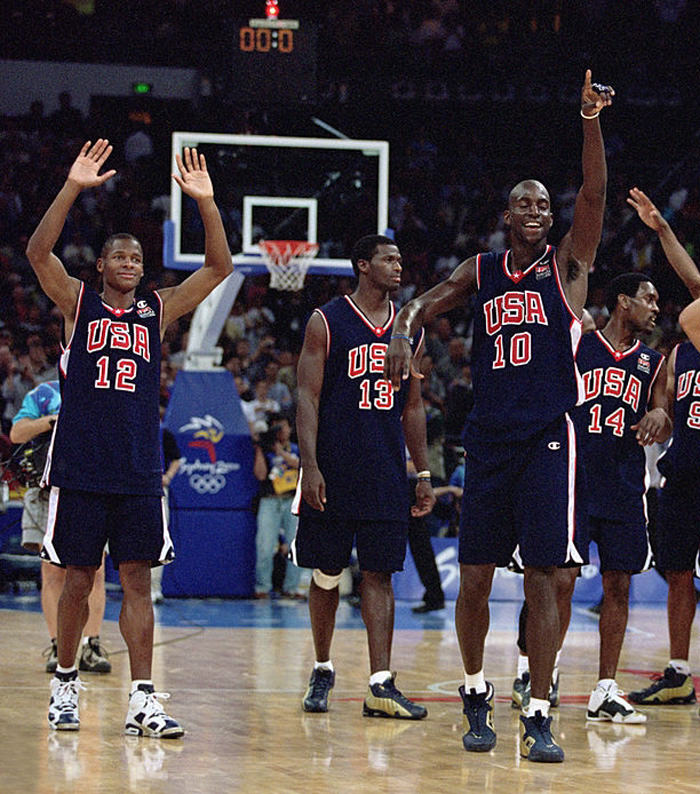 Kevin Garnett — Nike Flightposite II "Gold Medal"
_____

Ray Allen — Air Jordan Retro 6
_____

Shareef Abdur-Rahim — Nike Air Force Carbide
_____
Shareef Abdur-Rahim — Nike Shox BB4
_____

Shareef Abdur-Rahim — Nike Shox BB4 "Gold Medal"
_____

Steve Smith — Reebok Exchange DMX
_____

Tim Hardaway — Nike Air Force Carbide
_____
Tim Hardaway — Nike Air Garnett III PE
_____
Vince Carter — Nike Air Force Carbide
_____
Vince Carter — Nike Shox BB4
_____
Vince Carter — Nike Shox BB4 "Gold Medal" 
_____

Vin Baker — Air Jordan Retro 6
_____

Vin Baker — Jordan Camp 23
_____
Alonzo Mourning — Nike Air Force Authority
_____