Being Hardaway isn't easy.
Welcome to this week's Nice Kicks' Throwback Thursday. Today, we reminisce about one of the most avant-garde and transcendental late 90s Nike basketball sneakers, the 1998 Nike Air Zoom T-Bug Flight, signature sneaker of legendary former Miami Heat guard, Tim Hardaway.
The 1990s was a truly memorable, timeless era, filled with a plethora of NBA legends during their athletic primes, as well as sneakers that pushed the envelope of design and technology. In addition, the NBA style of play was also quite different than that of today, centered around tough, physical play.
In a game of giants, there stood several guards who changed the game and ushered in a new style of playground basketball. One such player is the original king of the crossover dribble aka the UTEP 2-step, Tim Hardaway. Hardaway was properly laced by Nike throughout his entire NBA career, playing in such models as the 1993 Nike Air Bound and later, the 1997 Nike Air Bakin.
However, Timmy was not given the Nike signature sneaker treatment until the 1997-1998 NBA season with the debut of the T-Bug Flight. There is a saying that patience is a virtue, and that all good things come to those who wait. The Zoom T-Bug Flight is an excellent example of this assertion as this silhouette, when released, had as much character, pizzazz, and flare as the point guard's style of play.
The T-Bug Flight pushed the design envelope of basketball sneakers of the time by virtue of its advanced technology which included molded tooling, "Monkey Paw" ankle support panels, and a full-zippered upper which concealed the shoelaces underneath providing a custom, tailored, secure fit meant for guard play. The T-Bug Flight continued the rich history and legacy of the Nike Flight Dimension, as it was both an extremely lightweight and responsive sneaker, incorporating both a phylon midsole as well as encapsulated heel and forefoot Zoom Air cushioning.
Two OG colorways were released including white/black-metallic silver and a black/metallic silver-white-citrus Miami Heat colorway. Also of note, Tim's custom Player Exclusive (PE) version shown here features his # 10 and MEE, his grandmother's initials, on the heel tab, while the general release version featured a Nike swoosh on the front pull tab and the word "Zoom" at the heel. A special custom PE tag can be found on the inside of the tongue which reads "BEM191-M14-C1-980225".
Nearly 20 years after its original debut, the T-Bug Flight's place has been firmly cemented among Nike's all-time greatest lightweight basketball sneakers and remains a timeless, classic, and underrated model that hopefully will once again grace the hardwood in an updated, retro form.
The 1998 Nike Air Zoom T-Bug Flight: the job of the Nike Fun Police is never done.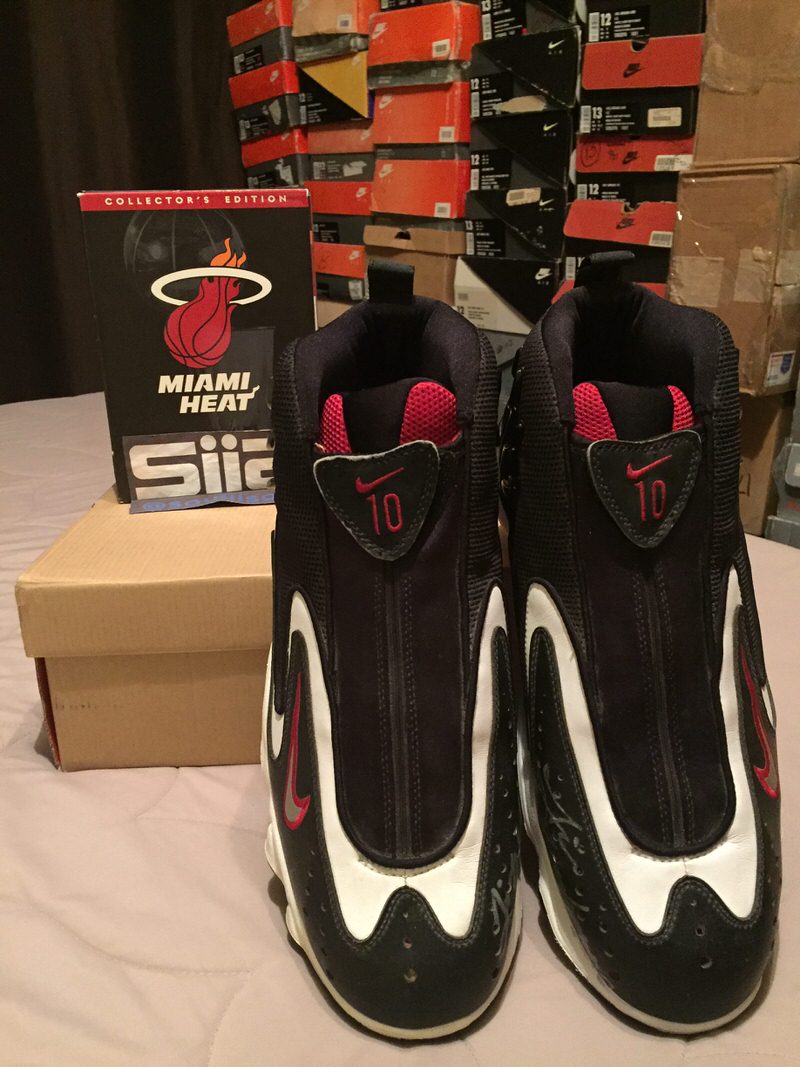 in-hand photo courtesy of @nostalchris