This is what they want.
Welcome to the latest episode of Nice Kicks' Throwback Thursday. Coming on the heels of Roger Federer's unprecedented 20th Grand Slam Single's Title including his 6th Australian Open win, today's post pays tribute to a vintage Nike tennis silhouette and the player, myth, and tennis legend who originally wore them over a quarter century ago: Andre Agassi and the 1991 Nike Air Tech Challenge IV Low.
Within the tennis collecting circle, there remains a select few models which have truly withstood the test of time, not only in terms of an athletic performance and aesthetic perspective, but from a larger cultural standpoint as well.
One particular model which signified the early 1990s era is the Air Tech Challenge line, the signature sneaker series of 8-time Grand Slam Champion, Andre Agassi. Winner of the prestigious Career Golden Slam – all four Grand Slams plus a Gold Medal – Agassi's trademark style, flare, and brash personality were fully depicted and captivated in his tennis sneakers which through the early part of his career featured loud, bright, bold, non-traditional colorways and patterns.
One such pair which has achieved grail status for Agassi enthusiasts and collectors today is the 1991 Nike Air Tech Challenge IV Low.
With an original production date range of 1-3/92 (inside tag reads 920103ST), this model was worn by Agassi and another old school tennis icon and rebel – Jimmy Connors – throughout the 1991 US Open including his legendary performance as an aging underdog against the younger, higher-seeded Krickstein.
The sneaker featured the very best of early 90s Nike technology at the time including visible heel and encapsulated forefoot air sole units, phylon midsole, Durathane outsole, the trademark flaming Challenge Court tennis ball on the tongue, and most importantly, a beautiful, multicolored gradient heel shank plate.
Aesthetically pleasing to the eye, the Air Tech Challenge IV came in both low and mid versions with each featuring a slightly different toe box design. Multiple colorways released with colors bright enough to illuminate a dark, desert sky on a moonless Arabian night.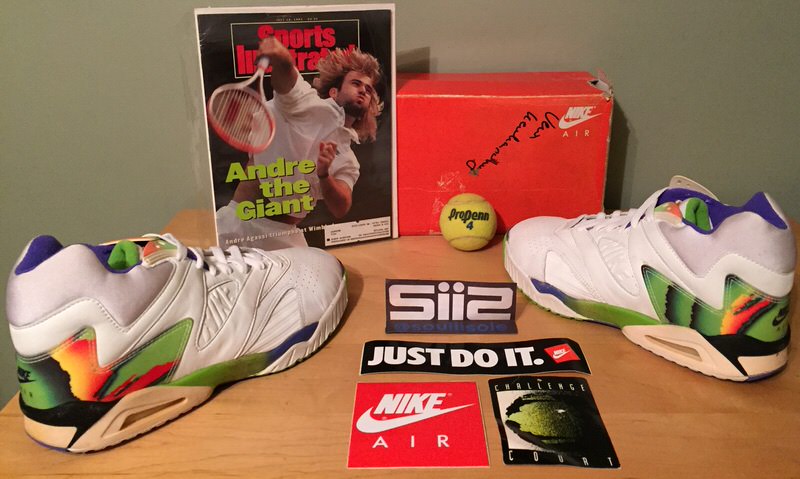 The Tech Challenge IV received a retro treatment first in 2000 in the original kiwi colorway as well as more recently in several new colorways as well as the original Cerise colorway, the latter a European exclusive, much to the dismay of Agassi fans stateside.
All other OG ATC IV colorways including the white/Persian violet-black seen here remain locked away inside Nike's archives and hardcore collector's closets.
Agassi truly was a rebel, trendsetter and a pioneer; however, one cannot help but notice a small part of Agassi's flare and style in Federer, particularly in his apparel worn on court.
Challenge Court and Rock-N-Roll tennis lives on.