Big socks not included.
Welcome to today's Nice Kicks' Throwback Thursday, where we once again reminisce, remember, and pay tribute to another '90s basketball gem, a silhouette that has yet to receive a proper retro from Nike: the 1993 Nike Air Force High.

Everything seemed bigger and bolder in the '90s: more Air, longer shorts, darker socks, and high-top basketball sneakers which rival the Burj Khalifa in terms of height, appearance, and presence.
One particular early '90s statement piece which surprisingly has not received its proper due is the 1993 Nike Air Force High. A cousin of the 1993 Nike Air Sheer Force, the Air Force High is a highly aggressive, rugged, and sturdy model, able to withstand the tough, physical game characteristic of '90s basketball.
With an aesthetically pleasing design, the Air Force incorporated the most advanced sneaker technology of its time including a Dynamic-fit inner sleeve made of neoprene, high quality leather upper, and interlocking straps — the latter design attribute which was also seen on the Air Jordan 8, Air Force Max CB, and Air Raid.
What further defines the Air Force is its strong on court presence, worn by a multitude of players at both college and NBA levels including guards Mark Price and John Stockton, and big men Charles Oakley, David Robinson, and Alonzo Mourning.
Also of note, Horace Grant of the Chicago Bulls and Richard Dumas of the Phoenix Suns wore the Air Force High throughout the 1993 NBA Finals. Additionally, Donyell Marshall of UConn and Jalen Rose of Michigan wore the Air Force during their collegiate careers as well, illustrating the versatility and popularity of the shoe across multiple levels.
Many colorways were released including black/white-lapis, white/black, white/kelly green, white/fire red, and white/black-black orchid which allowed the Air Force to be a fully customizable team sneaker.
In 1993, Nike created a comic series which featured several prominent basketball models including the Nike Air Bound, Air Force Max, Dynamic Flight, and the Air Force High, the latter which featured Alonzo Mourning and David Robinson sporting the Air Force in both mid and high versions, respectively, forever capturing the true aggressiveness and durability of the sneaker as the footwear of choice in a sport of legends and giants.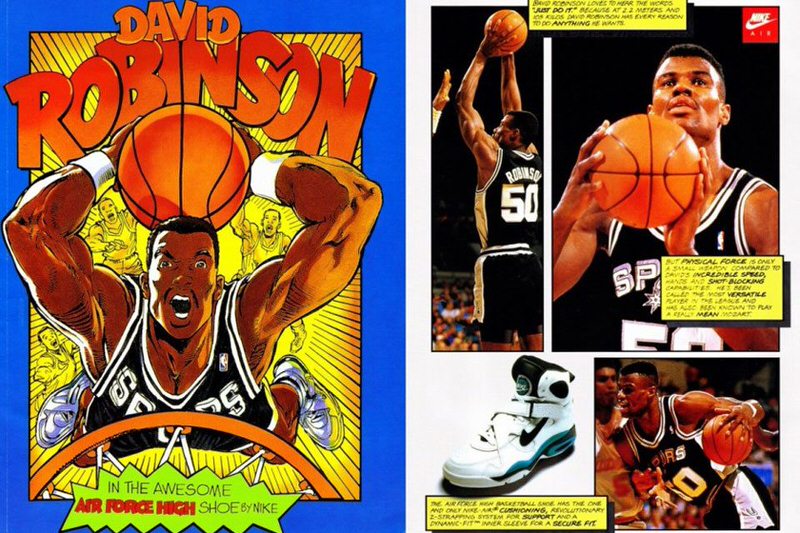 The 1993 Nike Air Force High: a memorable, timeless classic, whose legacy and presence has withstood the test of time.