Ten years ago, a shoe hit the market that very truly changed the game.
It was a decade ago that the Eggplant Foamposites released for the first time ever.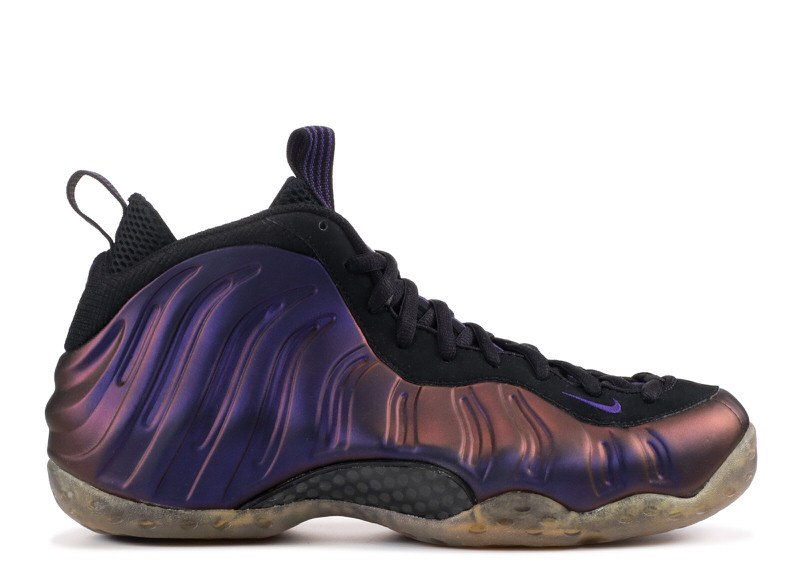 Truth be told, July 29th is more of a place marker than a hard calendar launch for the '09 drop as in that time any shoe not likened to Mike was without a firm release date. In actuality, the Eggplant Foams were popping up on Pick Your Shoes and at celebrated boutiques in major markets in a window much wider than a singular day.
So, why were the Eggplant Foamposites such a major moment? While we'll explore a plethora of reasons, one factor stands out more than all: they made the Foamposite One a modern lifestyle staple.
Before we dive into 2009, let's rewind back to 1997.
Penny Hardaway was now without Shaq and he was the man in Orlando. The poster child for Nike's next generation, his signature shoes were coveted by kids that rocked pinstripe #1 jerseys and band-aids on their cheek pre-Nelly. When considering Penny's following and fanfare as a whole, his main audience was still that of young hoop fans that actually played basketball and mostly bought basketball shoes to do so in. To be fair, only Mike had truly crossed over to casual wearers both off court and of all ages.
Leaning into Penny's core category of players while taking a major retail risk, Eric Avar presented Hardaway the Nike Air Foamposite One after the charismatic combo-guard guilted the designer to take the mystery shoe out of his magic bag. Some say the shoe was never meant to release, others suggest it was rendered in red with original intentions for Scottie Pippen. Regardless, the shoe was to be marketed by and debuted by Penny Hardaway.
But it wasn't.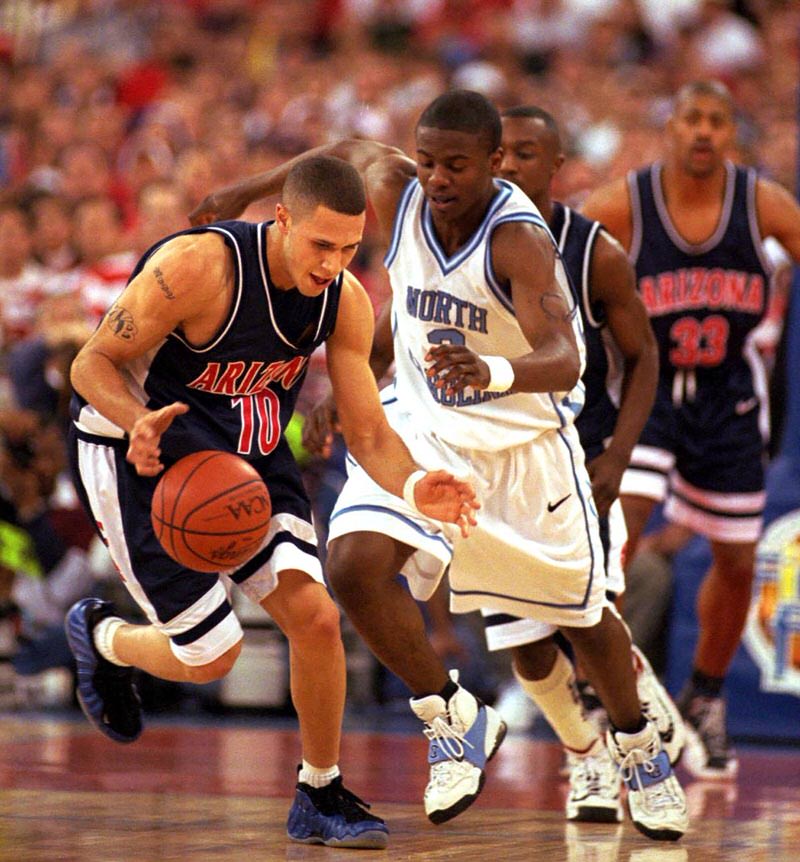 Making the most of their Nike connections, the University of Arizona was seeded the Nike Air Foamposite One days before the rodeo that was the NCAA Tournament. Underrated and over talented, the guard heavy Wildcats roster was led by freshmen point guard Mike Bibby – son of UCLA legend Henry Bibby – who never let rank slow his roll. Rather than wait for the embargo date on the royal blue shoes that didn't even match his jersey, Bibby debuted the Foamposite One en route to an NCAA Tourney run that saw his Lute Olson coached squad cut down the nets.
While Lute was for sure pleased about his freshmen point guard's performance in his bright blue dancing shoes, Penny was likely pissed. Stealing the thunder from Hardaway's formal debut — which would take place at Madison Square Garden right before the playoffs — Bibby's March Madness endorsement would upstage Penny's April unveil. Not crying over spilled milk or cut nets, Penny would rock the Foams for the first time on an NBA hardwood in the Mecca followed by a second wear very prophetically in DC.
Like Mike, the league would not like Penny's blue shoes that differed drastically from his team's black footwear in the postseason. While Avar and company wouldn't cook up a blacked-out pair of Foamposite 1s for about another decade, Penny would prove ahead of the custom game by blacking out the indents on the shoe with a Sharpie.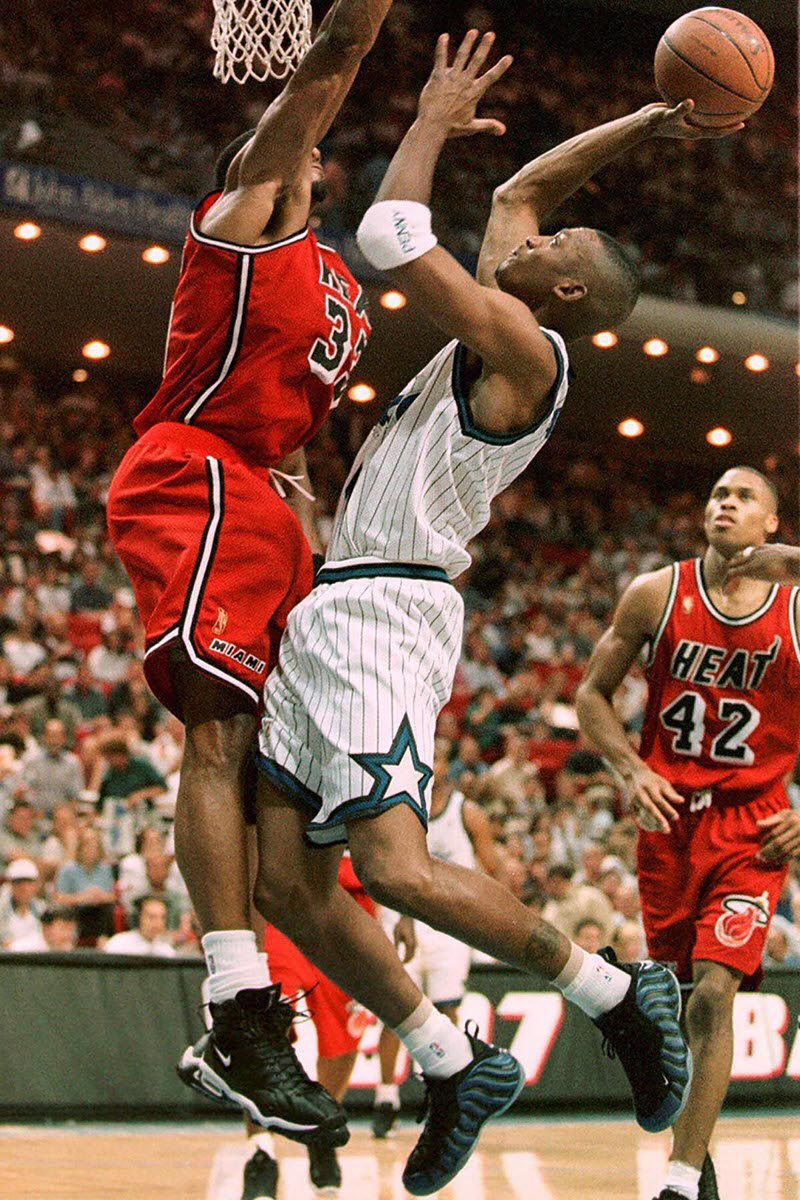 For those in love with Arizona basketball or Penny's mix of flash and fundamentals, the Foamposite One was AMAZING: a basketball breakthrough that was truly ahead of its time.
The problem for Nike? It was truly ahead of its time.
The heavy shoes came in at an even heavier $180 which was absolutely insane in 1997. Factor in that Penny's core fan base was kids and high schoolers. Sure, kids have clout at convincing their folks to buy them things, but there was no way anyone could fool their mom into dropping $200 after tax on some hoop shoes for a child with growing feet. Just the same, grass didn't grow fast enough for any youngin' to mow enough lawns in one summer to cop these.
Though Bibby bringing home a trophy to Tuscon was enough to have the Foam Ones live in college basketball lore, it would've taken Penny bringing a title back to Orlando in said sneaker to lift the $180 shoes off the shelves.
Due to an early exit, Penny would only play in the Foams for about two months, later launching the liquid Foam assisted Air Penny 3 the following season.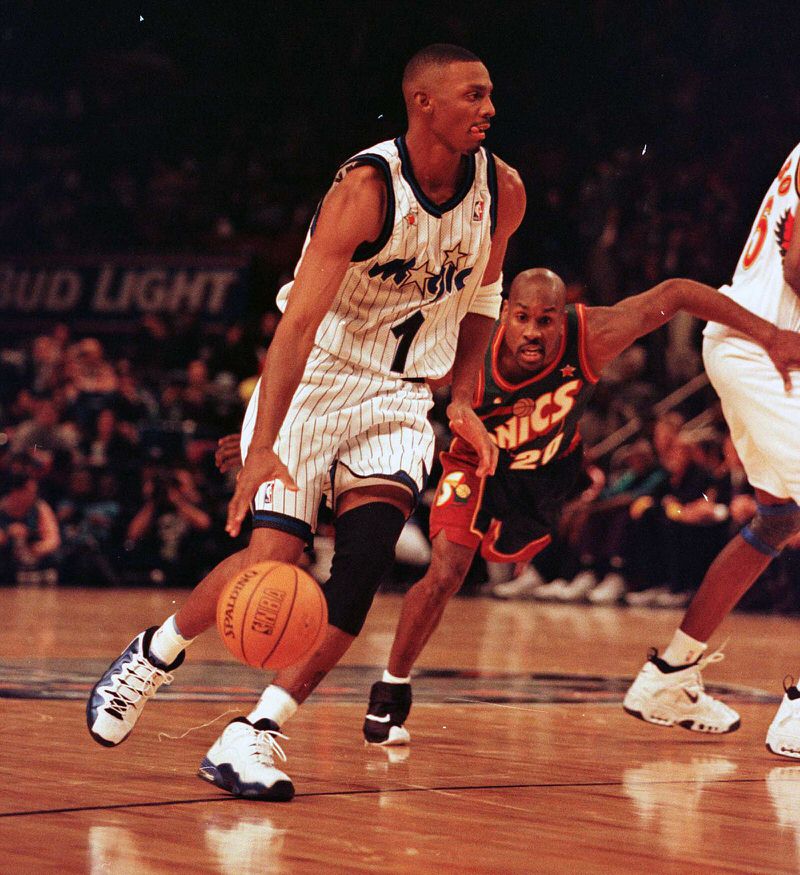 So, for fans of the Foamposite One years after 1997 the model lived more so in folklore than actually on their feet. Part of this was its lightning in a bottle run, part of it was its oddity appearance, but maybe a lot of it was the ultimate 'everyone wants what they can't have' price point.
Sadly, the key parameters – short run, crazy price point – kept Nike away from retroing the model in OG form during the bringback boom of the early '00s. While NikeTalkers and DC residents clamored for a formal return of the "Dark Neon Royal" drop, those seemingly more in the know near Beaverton claimed the original molds for the shoe had been destroyed and a true to form retro would never happen. Essentially, it would once again prove not just too expensive to make but also too expensive to sell.
Then in 2007, it finally happened. The Nike Air Foamposite One "Dark Neon Royal" returned.
And about 500 people cared.
Granted, those 500 people, really, really cared. And if we're being respectful to the District of Columbia, it was much more than 500 people based on the nation's capitol alone. Still, this number alone wasn't enough to move the needle of the masses which was presumably not enough to move Nike.
Regardless, whether they'd planned ahead expecting more fanfare or were conscious of how undercurrents heat up the culture and market as a whole, the Foamposite One rolled out in a slew of black based colorways that catered to everyday city wear as a strong foil to boots. Sadly for purists, they neglected to carry over the ever-so important translucent sole. Essentially, DC cared, NYC cared and House of Hoops lovers liked them. Outside of that? Much more cult, much more quiet.
Then it all changed.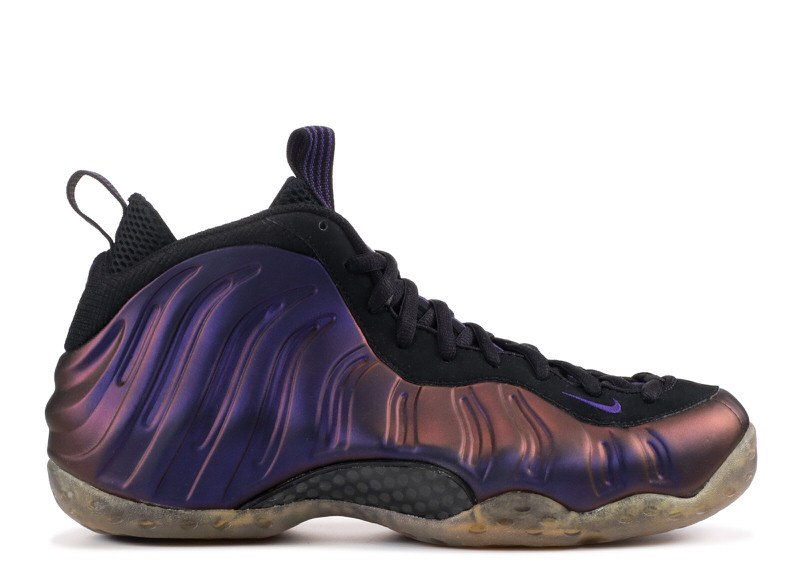 In 2009, the Nike Air Foamposite One "Eggplant" released. As stated above, some sites report the shoe releasing on June 29, 2009 while even our own site has it once pegged as a February launch that same year. As we said, release calendars were not as firm or rigid as they've since become. In actuality, hindsight and memory suggest the shoe hit boutiques in February with more pairs flown into the States come June.
In theory, the "Eggplant" Foams were an homage to the model's informal follow-up: the Nike Air Flightposite One in the purple shade likely designed with Hardaway in mind but more often worn by Backcourt 2000 teammate Jason Kidd in Phoenix.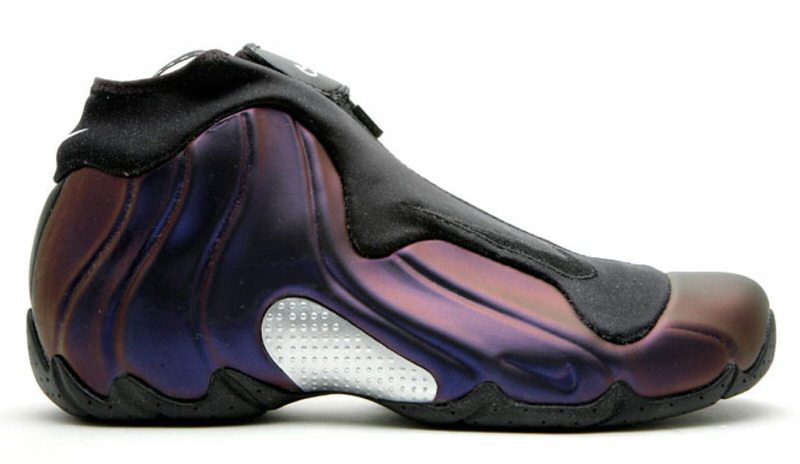 While Penny and Bibby were historically the two men most married to Foamposite, it would be another one-name wonder that would continue the shoe's history of youthful upstage: Wale.
At the same time as the quietly bubbling Foamposite resurgence at retail, the DC rapper was gaining a buzz beyond his birthplace for his city-centric style of go-go sound and technical sportswear meshed with an other-worldly sense of word play and streetwear.
Over the course of 2008 and 2009, Wale was unintentionally making the Foamposite One his in the same way Tyler the Creator would later reinvent Vans by rocking them the same way his city and scene had been for years.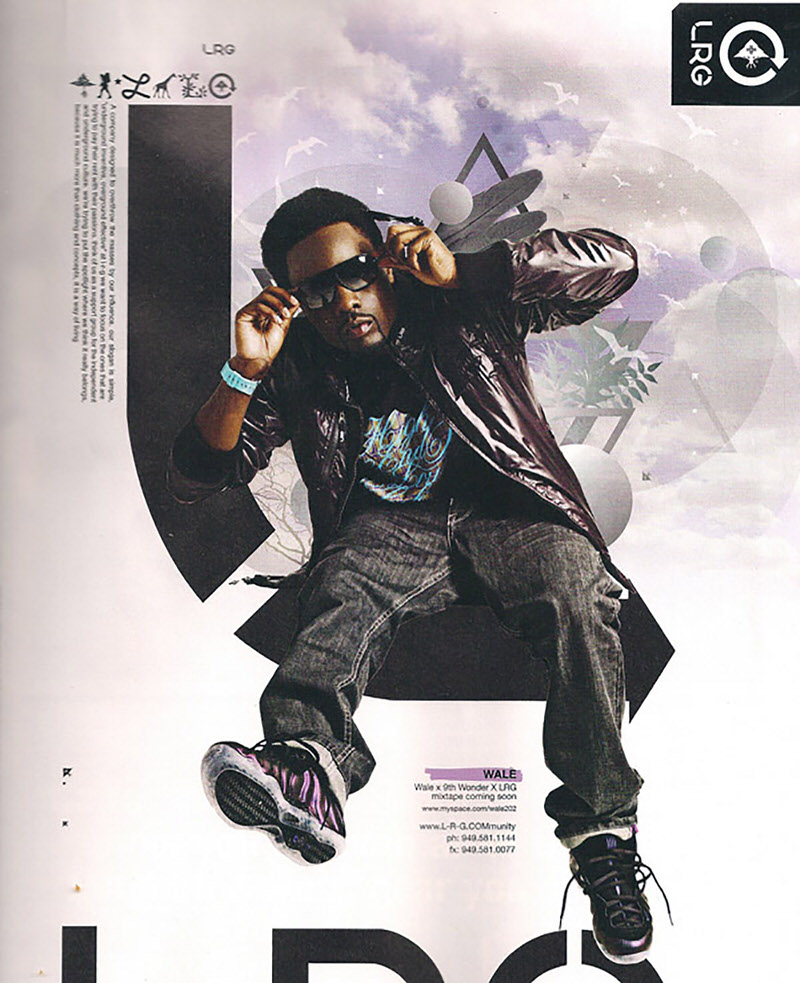 Wale Folarin – a rapper half Phife Dawg in fandom and half Kanye in fashion – would propel the Foamposite One and all its shelled peers far past the shell of DC and the Northeast. Rocking the "Eggplant" Foams in an LRG ad that would appear in magazines back when 'urban' was still a word used to define markets, the swaggy print spread would spread across the booming blog scene on the web and make noise on the still flourishing forums.
As much as the 'who' and 'what' mattered, it was perhaps the 'when' that set it all off as Wale rocked the shoe in said ad in October 2008 in the ad seen in Dime Magazine – months before they released, debuting the shoe to world as a whole. A sample size 9, an in the know Nike employee was sending Wale shoes early with the Eggplant Foamposites proving most important.
Suddenly, the Foamposite One was not only back, it was bigger than ever.
Just how big? The "Eggplant" Foamposite One was such a hit that Nike doubled down and brought them back one year later in 2010 said to be cited as pressure from Foot Locker. Can you imagine a cult classic like the Nike Air Jet Flight coming back in 2019 in a non-OG colorway only to restock a year later? Yeah, probably not.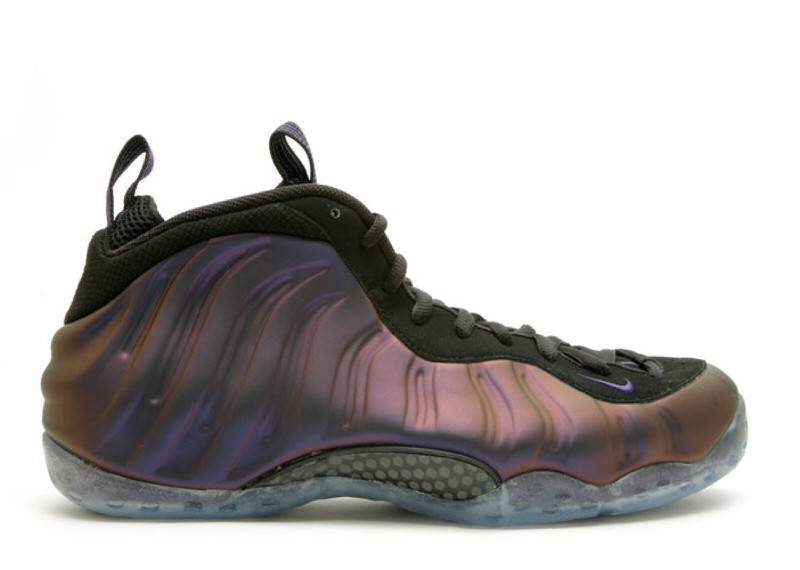 Not only would the "Eggplant" Foamposite One lead a reckless run of Foamposite releases, it would also unleash the "Eggplant" colorway on anything Foam and everything Penny.
Heck, it would basically redress anything NSW and completely propel Penny retros and hybrids following very mild sales on Anfernee bring backs earlier that same decade.
On top of making the material, the player and the color story a hit, it would cement Wale as a true influencer in the sneaker space long before influencer was a self-appointed Instagram bio title and long before artists were actually getting paid to rock sneakers.
This was perhaps "Artistic Integrity" at its purest form as Wale was the same guy posting pics of SBs right around the time Lupe Fiasco was performing "Kick Push" and rocking Supreme long before bots were ruining Thursday drops. More importantly? He wasn't getting paper or props for doing both of those things at that time. Conversely, he was getting hated but he stayed true. Yes, the cream does the rise to the top.
Essentially, guys like Wale, DJ Clark Kent and Trinidad James were hip to the forums, regulars at shops and hawking eBay before it was cool or a paying hobby. While all have gone on to have continued success in both the music and the sneaker space many of their contributions are criminally uncompensated when it comes to actual currency.
So, like Andre 3000 explained the course of hip-hop and jazz music in "Hollywood Divorce," the Foamposite One like any good thing made marketable would eventually get ho'd out. It wouldn't be all bad of course. For Day 1 fans, their grails were actually back and some of the new colorways – like the "Eggplants" – would actually be really good and even rival the OGs.
Wild "Weatherman" pairs would piss off the elders and excite the youth just like history intended, while "Metallic Red," "All White" and "Stealth" stories would bring all the Photoshops we had in our minds to life. Maybe most importantly for Nike, it would condition consumers to buy shoes for north of $200 with both excitement and regularity.
As alluded to though, most would feel Foamposite fatigue. In 2014, our founder Matt Halfhill expressed this very eloquently in an opinion piece. Suddenly, any kid on NikeTalk that once couldn't understand why their elders were so butthurt about "Mad Hectic" Air Force Max drops or "Mocha" Air Jordan 3s suddenly knew what it felt like to have their childhood favorite flipped over and over again beyond recognition and far fetched from its origin.
In many ways, we could blame the "Eggplant" Foamposites for all of this, but really we shouldn't.
This unexpected hit revitalized a cult classic to the point where any kid born after Penny's prime suddenly knew a little bit about the Memphis product that was equal parts Magic and Michael. No longer was it just Tinker Hatfield's discography that scored the streets, cities and suburbs of America, but also the tunes of Eric Avar that were making noise.
Like any good story, the details can be disputed. But, if the calendar didn't matter when it happened we won't let it matter now. Today, we celebrate ten years of the "Eggplant" Foamposite One.
Thank you Penny, thank you Eric, thank you Jonas from LRG and thank you Wale.