Official Block Family.
Today's Nice Kicks' Throwback Thursday pays special tribute to one of the greatest and most popular Nike athletes and basketball players of the 90s NBA era, Kevin Garnett, and his 2000 Nike Air Flightposite KG.
Only a handful of players have had such an immediate, heartfelt impact not only on an NBA franchise, but an entire region as well. Following the North Stars' departure from Minneapolis in 1993, the Land of 10,000 Lakes was in dire need of a new sports star to help elevate the city and region as a winning sports destination. In the Fall of 1995, a tall, skinny kid originally from South Carolina by way of Chicago's Farragut Academy helped transform the city and its struggling basketball franchise from a perennial loser and into a playoff team.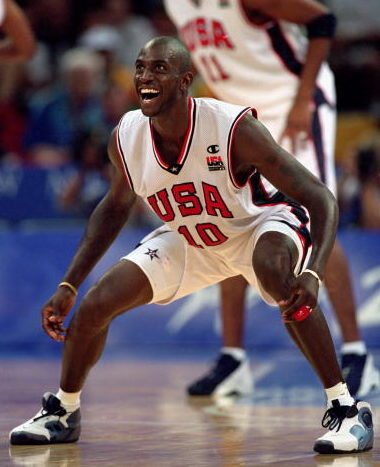 How fitting a team mascot and logo, as KG's heart, soul, and sprit animal can be compared to that of the wolf: hungry, intense, team-oriented, agile, respected, and highly intelligent.
In addition to Mike Modano and Kirby Puckett, KG's impact on Minnesota sports culture cannot be discounted. One of the game's all-time great power forwards as well as one of only a select few to average a double-double for his career, KG captivated the hearts and minds of both diehard as well as casual sports fans throughout the upper Midwest region as a result of his spectacular style of play, his personality, charisma, flare, determination and tireless work ethic.
KG also helped revolutionize sport fashion as well including wearing his signature KG21 armband, a rubberband on his wrist and writing on his ankle tape and kicks. Also of note is KG's extensive kicksology which reads like a who's who and includes the 1995 Nike Air Jordan XI, 1995 Nike Air Max Uptempo, 1995 Nike Air Way Up, 1996 Jumpman Pro, 1997 Nike Air Flight Max, 1997 Nike Air Max Uptempo 3.0, 1998 Jumpman Team, and others. In 1998, KG was finally granted the signature treatment by Nike with the debut of the Nike Air Garnett.
As KG's game continued to evolve, so too did his sneakers, culminating with one of the most memorable signature models in his line, the 2000 Flightposite KG. Part of Nike's Alpha Project, the Flightposite KG employed a multitude of advanced sneaker technology including Foamposite construction, low profile Zoom Air, and a carbon fiber shank plate.
Several details pertaining to KG's life can be found on the sneaker including "Garnett" on the heel pull tab and along the front lateral aspect and the letters "OBF" on the front tab, a tribute to his Beachwood Drive crew in Mauldin, SC.
The Flightposite KG debuted in several colorways including white/white-midnight navy, an all-black version, black/midnight navy, and a black/obsidian-orion blue colorway. Of special note, KG wore a special navy/gold makeup throughout the 2000 Olympics in Sydney en route to winning the Gold medal.
Unfortunately, due to copyright issues, many of these details were omitted in the retro release. KG would later leave Nike and went on to wear other sneaker brands throughout his legendary career; however, several of his classic Nike basketball silhouettes are regarded as a few of the most memorable throughout the '90s decade outside the Jordan and Penny signature lines.
The Flightposite KG: a fully integrated basketball weapon, just like the player himself.