LeBron James and the Los Angeles Lakers were the main topics of conversation during the 2018 offseason as The King joined the Lakers in an effort to bring back what Los Angeles was in search of — a  basketball superstar.
Although the Lakers (and LeBron himself) were decimated by injuries and fell short of their goal to clinch a playoff berth in a rigorous Western Conference, the Nike LeBron 16 exceeded expectations.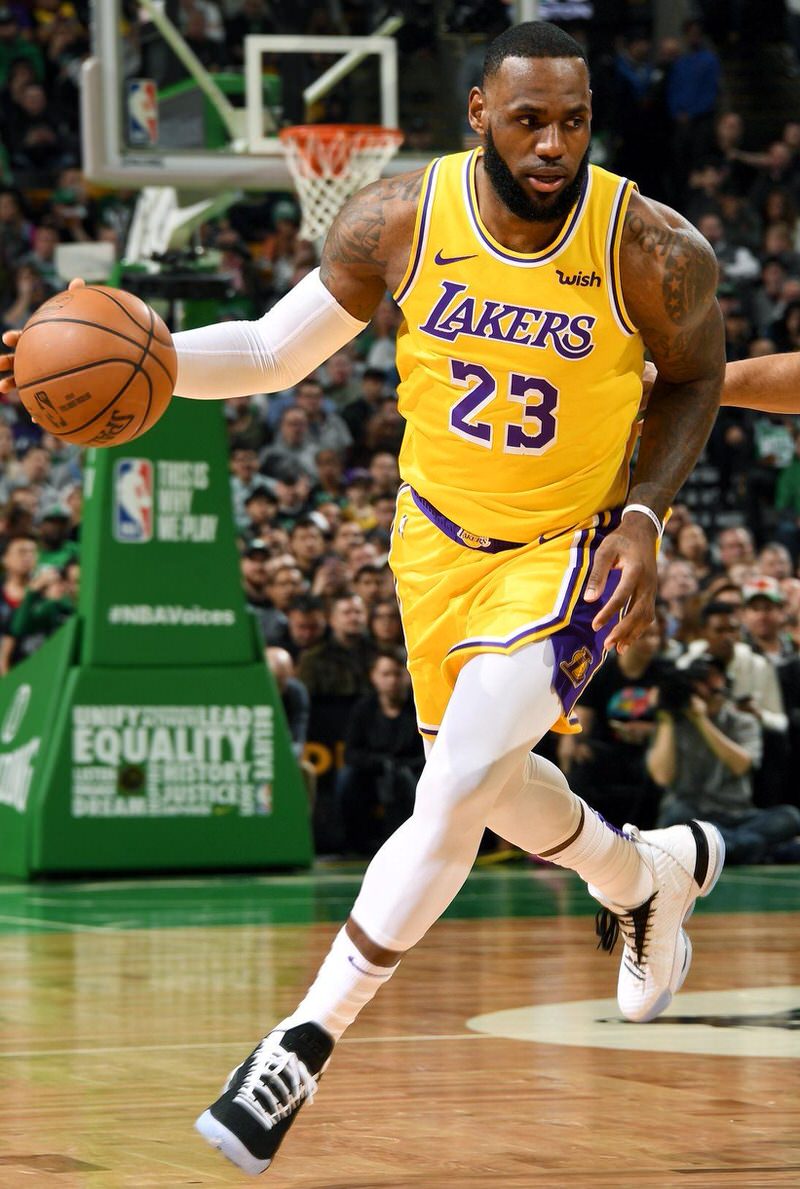 The LeBron 16 is a masterpiece due to the diligent craftsmanship of Jason Petrie who took over the LeBron signature line starting with the LeBron 7.
The LeBron 16 features a modified upper from the LeBron 15 known as BattleKnit 2.0 for more foot security and functionality. Its low collar is the perfect complement to LeBron's quickness. In addition to that, Max Air cushioning perfectly brings the shoe together.
The shoe is an ideal canvas for creative freedom especially due in part to the newest rule that granted players to wear any colored shoe on-court. With that being said, LABron brought all kinds of heat to Staples Center this season.
Take a look below at the 23 best colorways 'Bron rocked on-court during the 2018-2019 season. You can take a look at every shoe LeBron wore throughout the season here.
23. Nike LeBron 16 Hypercolor PE
+ The contrast on the black upper with the yellow lace combo and hyper-violent accents definitely make this PE pop
22. Nike LeBron 16 Cool Grey PE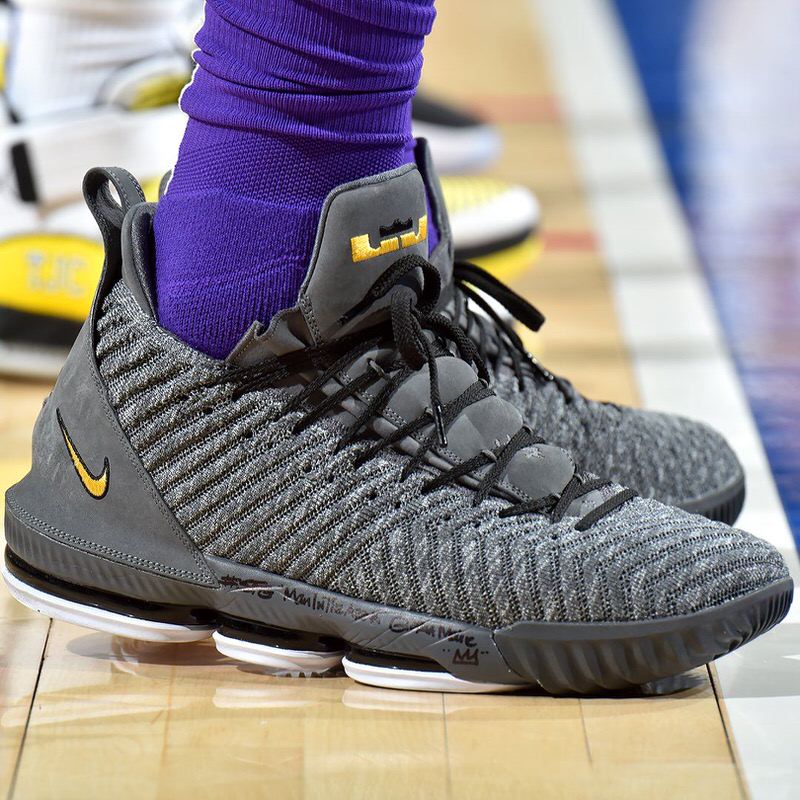 + The all-grey PE is a subtle look from The King with a hint of yellow to grab your attention
21. Nike LeBron 16 "Buzz Lightyear"
+ The colorway is inspired by "Toy Story" character Buzz Lightyear. To infinity and LeBron!
20. Nike LeBron 16 Purple/Marble PE
+ The marble-esque outsole is a tough look alongside LeBron's legendary lion logo
19. Nike LeBron 16 "King Court"
+ One of LeBron's funkiest colorways definitely deserves to be on this list
18. Nike LeBron 16 Home PE
+ The Max Air unit in purple with gold speckles is a perfect balance with the clean silver and white upper
17. Nike LeBron 16 Sail PE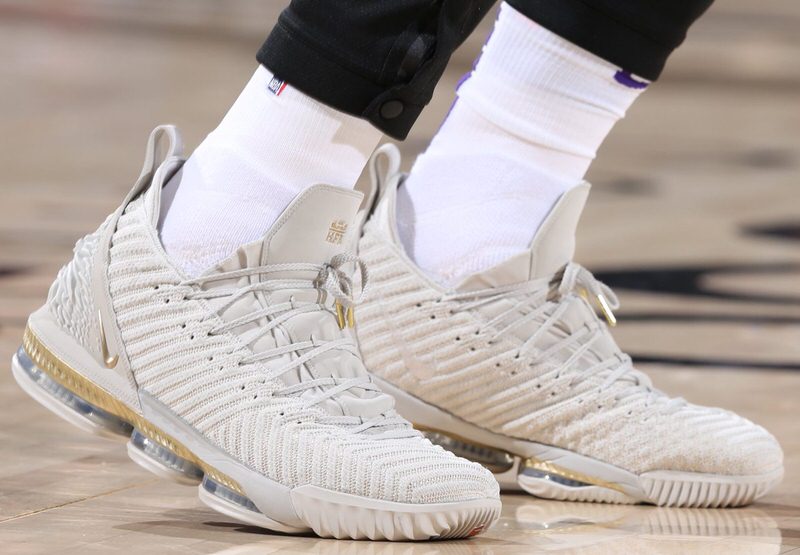 + The sail upper with gold accents is definitely an underrated colorway. Wish we saw more of these from The King
16. Nike LeBron 16 Yellow/Leopard PE
+ Purple and gold never looked so good alongside the leopard print found on the back part of the shoe
15. Nike LeBron 16 Black/Gold PE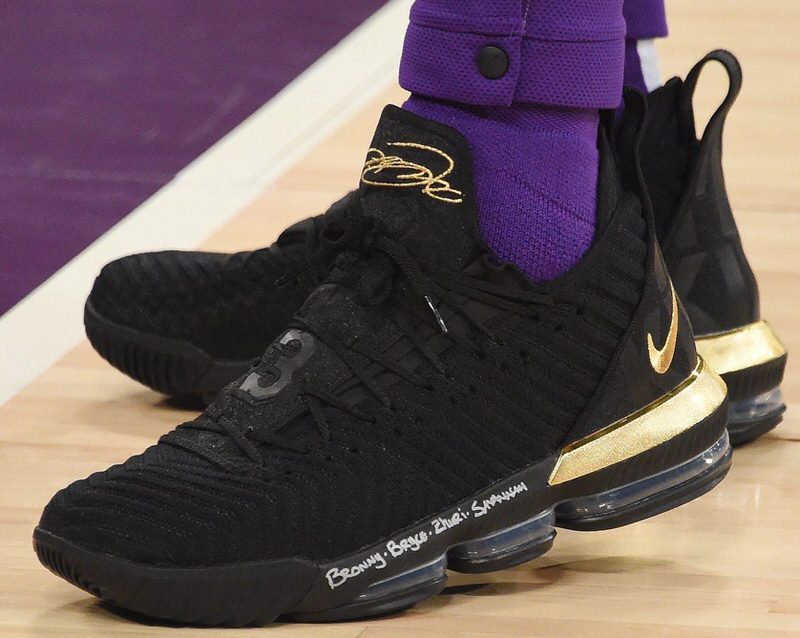 + All-black with a touch of gold is a straight flex
14. Nike LeBron 16 "SuperBron"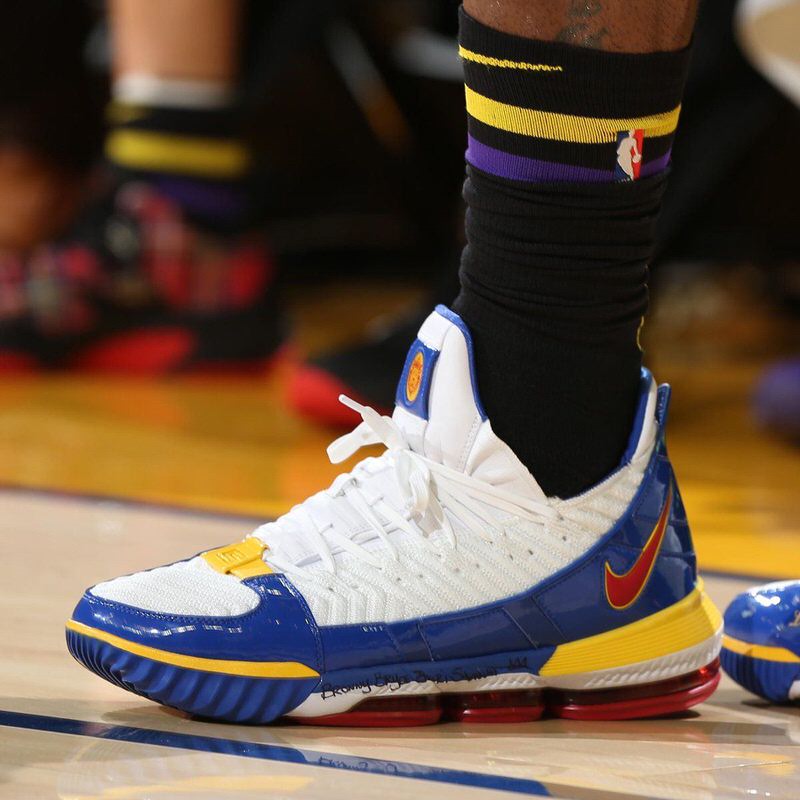 + The colorway pays homage to the Nike LeBron 3 "Superman" with the patent leather placement and similar color blocking
13. Nike LeBron 16 "I Promise"
+ The shoe draws inspiration from James' I Promise charter school he recently opened back in Akron, OH
12. Nike LeBron 16 White/Black-Gold PE
+ A shoe fit for a king with a metallic gold finish found nearly at every part of the shoe paired with a simple black and white look
11. Nike LeBron 16 Mismatch PE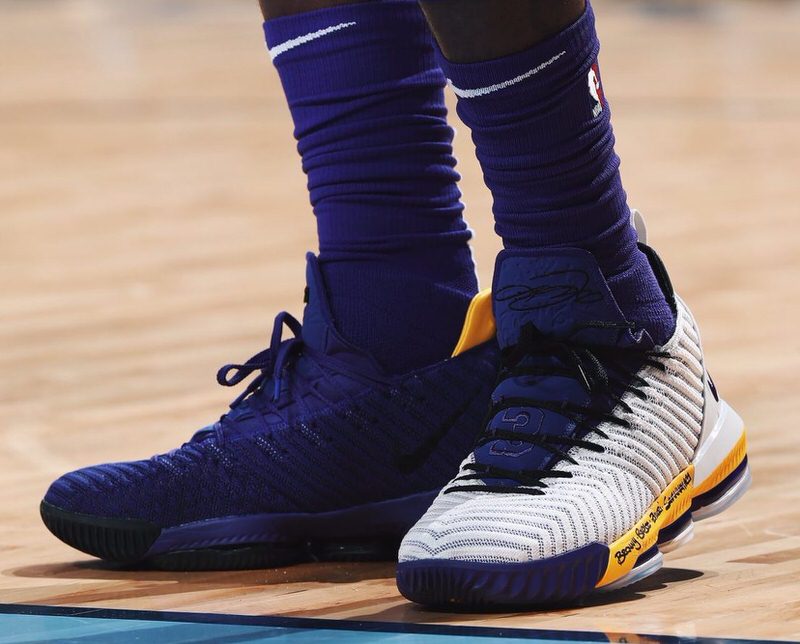 + This mismatched 16 is so fire. Bron was really in his bag with this color combo
10. Nike LeBron 16 "Martin"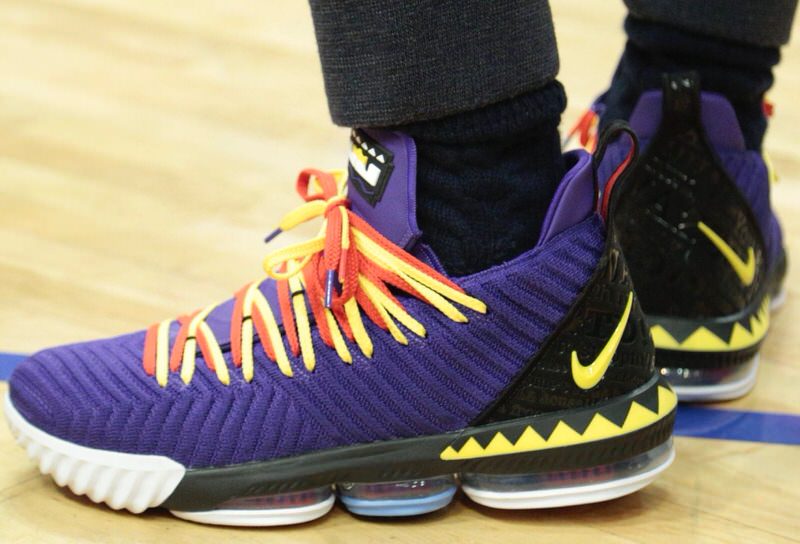 + The shoe is inspired by LeBron's favorite '90s sitcom. You can read more about the shoe here
9. Nike LeBron 16 "SuperBron Blue"
+ The alternate colorway of the Nike LeBron 3 "SB" inspired shoe features patent leather and a cool suede finish
8. atmos x Nike LeBron 16 Low "Safari"
+ The colorway is an ode to the famed atmos x Nike Air Max 1 "Safari" that released in 2002
7. Nike LeBron 16 "EQUALITY"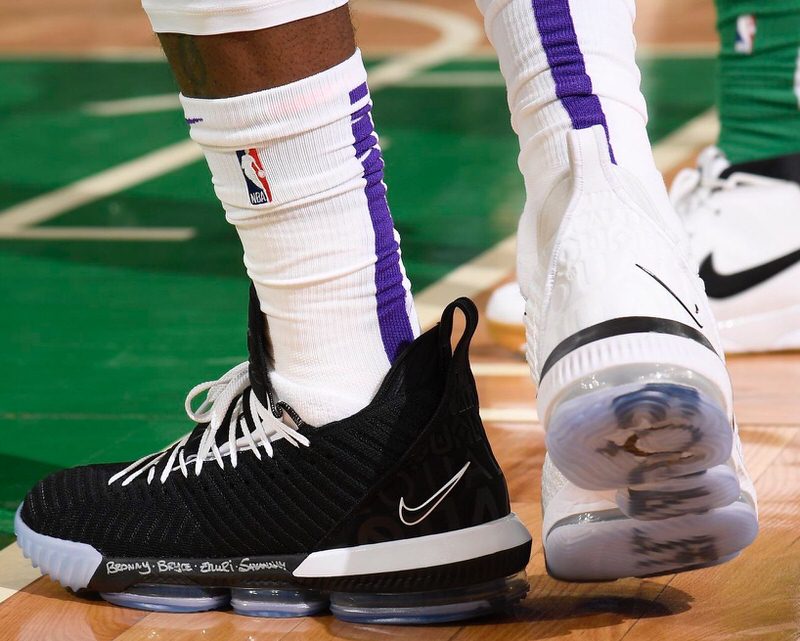 + The mismatched pair is a continuation of LeBron and Nike's mission for equality as one the league's most vocal players advocates for fair treatment of all
6. Nike LeBron 16 PE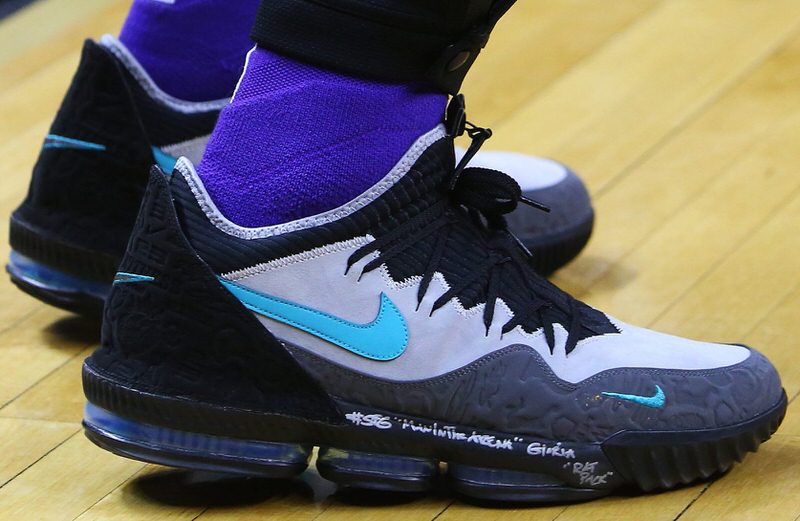 + The shoe pays unusual tribute to the Teal and elephant print atmos x Nike Air Max 1. A legendary colorway on a legendary player
5. Nike LeBron 16 "Remix"
+ It looks as though the LeBron 3 was a huge favorite as the LeBron 3 "Remix" inspires this colorway
4. Nike LeBron 16 "Medicine Ball"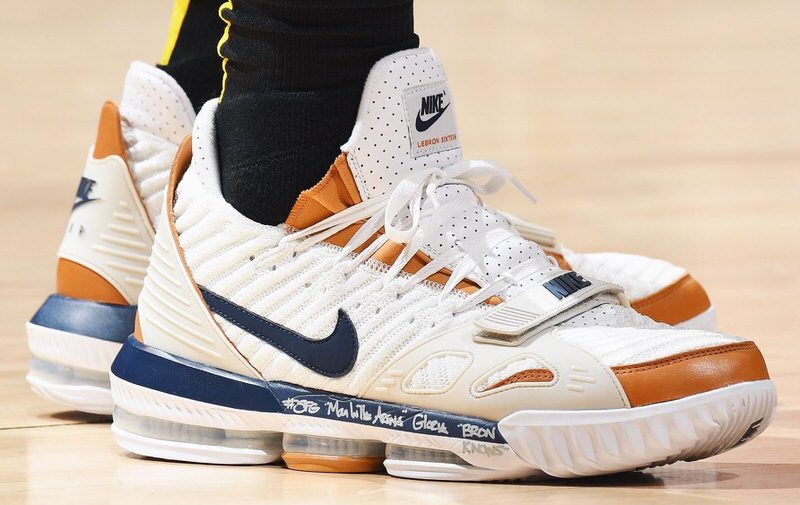 + The "Medicine Ball" colorway of the 16 was part of the #LeBronWatch campaign as the shoe gave its proper shine to Bo Jackson and his Air Trainer 3. See the complete history of "Medicine Ball" Nikes
3. Nike LeBron 16 "Watch The Throne"
+ Look familiar? This LeBron 16 is strikingly similar to the Nike LeBron 9 "Watch The Throne" which tips its hat to the legendary joint album between Jay-Z and Kanye West
2. Nike LeBron 16 "Glow in the Dark" PE
+ This colorway is a must-have for sneaker historians as it mimics the unreleased Nike LeBron 3 "Glow in the Dark"
1. Nike LeBron 16 PE
+ The Air Jordan 3-inspired colorway was worn when The King passed Michael Jordan on the NBA All-Time Scoring list. It references both MJ's Air Jordan 3 and Kobe Bryant's PE colorway of said model