Five years ago today, Kanye West made jaws drop and eyes light up with his debut of new music and new sneakers on Saturday Night Live. That sneaker as we now know, would be the infamous "Red October" Nike Air Yeezy 2 — West's last shoe with the Swoosh.
Never before seen on Kanye, the shoe was subject of rumors for months leading up to its on-foot debut which served as an appetizer for the West's most abrasive sonic effort yet, Yeezus.
Taking to the SNL stage, West appeared a man possessed or at least enraged, playing for the first time the single that would set off his upcoming solo effort. Scarier than "Monster" or "Hell of a Life" before, the Marilyn Manson-resembling "Black Skinhead" opened up to images of dogs barking and the sound of Kanye screaming, revealing a rage never before displayed on record by the multi-faceted artist.
The loud and aggressive new sound was matched by his shoes of the same volume. Triple-red, the dark tone of both the lighting and the music would cast a shadow over the sneakers, allowing just enough of a glimpse to prove they did in fact exist. Fortunately for fans still in the dark, his partner Kim Kardashian posted a shot of both the shoe and the original album artwork that night prior to the performance.
Later in the show, West would perform "New Slaves" with a more stoic but equally serious disposition. He would remain in the shoes while the internet would erupt and bloggers in both the sneaker and music space would rush to get their coverage live.
As history would play out following that night, the most mysterious Yeezy 2 would prove the most coveted. Whether fact or fan fiction, word of a Willy Wonka inspired giveaway spoke to the concept of 'golden tickets' packaged in physical copies of the Yeezus album, a move that would've increased the album's 327,000 copies sold in the first-week exponentially. This, of course, did not happen. Around the same time, rumors would run rampant about a release date with Nike's Heidi Burgett taking to Twitter to dispute a summer '13 drop but also alluding to a launch later that year.
Release date for the new colorway of the Nike Air Yeezy 2 is not June 16th. We're planning to release it later this year.

— Heidi Burgett (@heidiburgett) May 30, 2013
A month after Kanye's SNL performance, Yeezus would release with the shoes being further immortalized in the lyrics to "Hold My Liquor." Days after the album drop, West would announce on Twitter an exclusive contest to win the "Red October" Yeezy 2s with 50 pairs being given away on kanyewest.com. This would confirm a retail price of $245, with 24 winners announced shortly after in August.
Come the actual month of October, the sung about shoe was seen on the feet of Kanye, in photos from his family and few other places. High hopes for a holiday release were in serious doubt when Ye started slamming Nike on stage and on the media run for his heralded Yeezus Tour. As it would go, Kanye would stop wearing the "Red Octobers" to perform, switch to Margielas on stage and eventually announce a deal with adidas.
With Kanye gone from Nike there proved one last hope — a Foot Locker tweet reporting an online only release on December 27, 2013. This proved misinformation, but as Twitter taketh Twitter giveth, with Nike out of nowhere dropping the shoe via said platform months later — on a Sunday of all days — on February 9, 2014.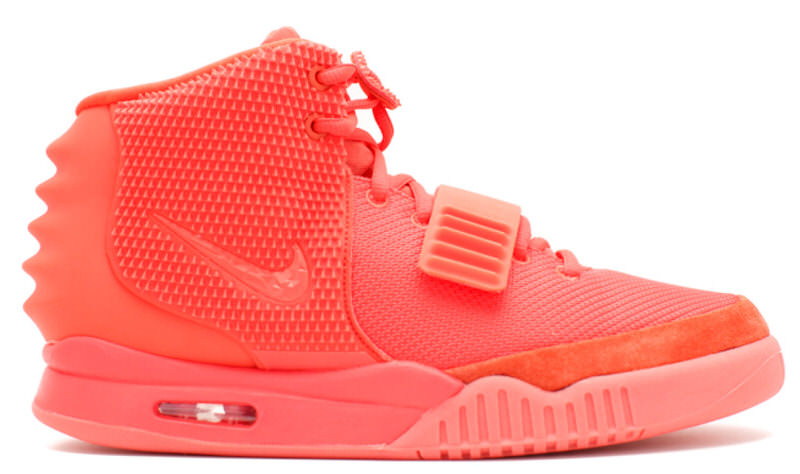 Pairs sold out instantly and still prove sought after today.
The shoe that proved to be the peak of Kanye at Nike, and also the end of said era, all debuted in official fashion five years ago today.
Select imagery via Speak Into My Good Eye