On January 13, 1999 – exactly 20 years ago today – Michael Jordan walked away from the game of basketball for the second time and from the Chicago Bulls forever.
While Michael Jordan had previously shocked the world and retired in 1993 following his third straight NBA Championship and the death of his father, his second retirement was a bittersweet day for the basketball community but far more expected.
For the previous two seasons, Mike had been hinting at retirement as the press pestered him. For a guy with four championships — and two more to come in '97 and '98 — he had simply done it all.
With the media monkey constantly on his back, front office drama and uncertainty surrounding the potential of Phil Jackson and Scottie Pippen dipping out, Mike was in no mood to rebuild the Bulls after all he'd constructed in Chicago.
With a lockout looming and politics never being the game Mike played, he closed out the 1998 NBA Season in true storybook fashion.
Switching shoes in The Finals from the Air Jordan 13 to the never-before-seen Air Jordan 14, Mike made history by hitting the famed "Last Shot" against the Utah Jazz. In one moment, MJ sunk Salt Lake City for a game-winner that culminated in his second three-peat and 6th Larry O'Brien Trophy.
Following the trophy and champagne parade, the Fall of 1998 was still cloudy for all involved in Chicago. With Phil's future on hiatus and rumors that the Bulls wanted to trade Pip for a chance to draft high school standout Tracy McGrady, it was officially time for Money to call it quits.
On January 13, 1999, the Chicago Bulls re-retired Mike's #23, sending his famed numeric figures into the rafters as Mike addressed the media with both sadness and certainty in his eyes.
ESPN would be all over the coverage as the sports world waited to see just who would fill MJ's shoes once the NBA was back on and running.
Speaking of shoes, Nike was savvy enough to have and ad prepped that played Mike's career in reverse to celebrate the most illustrious player the game had ever seen.
With basketball in the background, Jordan had time to focus on other things.
During his first year of retirement, Mike would rock cleats more than sneakers, competing in a host of golf tournaments and undoubtably playing a lot on his own with friends, family and business partners.
Though Mike would never rock black and red for the Bulls again in official action, he would stop by the team's training camp that following fall to play Chicago rookie Corey Benjamin one-on-one at practice.
To no surprise, even at 36, he still had it.
While the 1998-99 NBA Lockout was owner-induced, Mike's retirement as a player became the perfect jumping off point for his ascent into the front office. On Janury 19, 2000 — a year and change after leaving the Bulls — Michael Jordan was announced as a part owner and president of the Washington Wizards.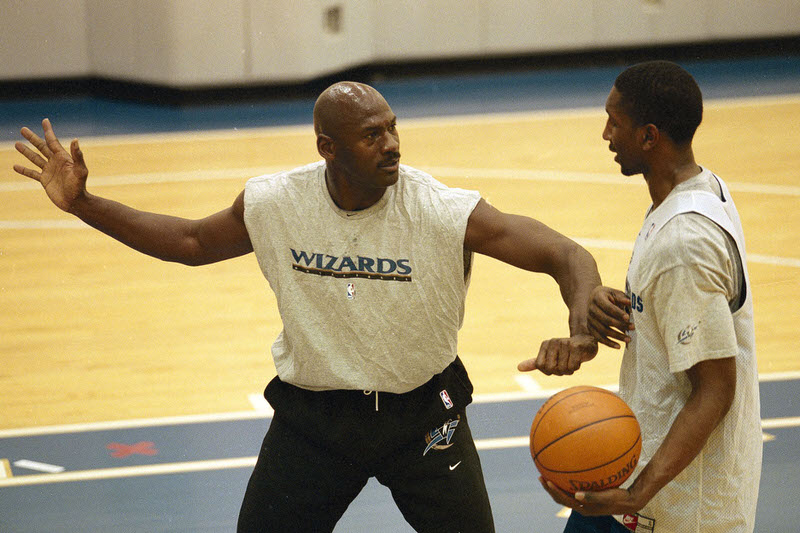 Popping up at practice and having final say in personnel matters, Mike cleaned house on expensive contracts but didn't get Washington on the fast-track to the team's wanted winning ways.
Could he comeback as a player….again?
By the summer of 2001, comeback talks were already rampant following friend Mario Lemieux returning to hockey. Summers spent training and the hiring of his former coach Doug Collins in DC dug up comeback discussions even more.
By April 14, 2003, Mike was back in the league and wearing a totally different jersey – not just number – for the first time ever.
Back in action, things were familiar but not the same. Though Mike's playing days with the Wizards weren't that of his time in Chicago, he did manage to make memories and history with his accomplishments.
However, the Wizards did not make the playoffs in either of his two seasons.
Perhaps if Mike were able to draft Duke's Jay Williams as he desired or was able to court Kobe Bryant to the nation's headquarters things would've been different?
Winning aside, Mike still did big things in DC. In his first year on court with Washington, he donated his whole season salary to victims of 9/11. From a business standpoint, he recharged his siganture shoe series with on-court wears of the Air Jordan 16 and Air Jordan 17, followed by next year's send-off in the Air Jordan 18.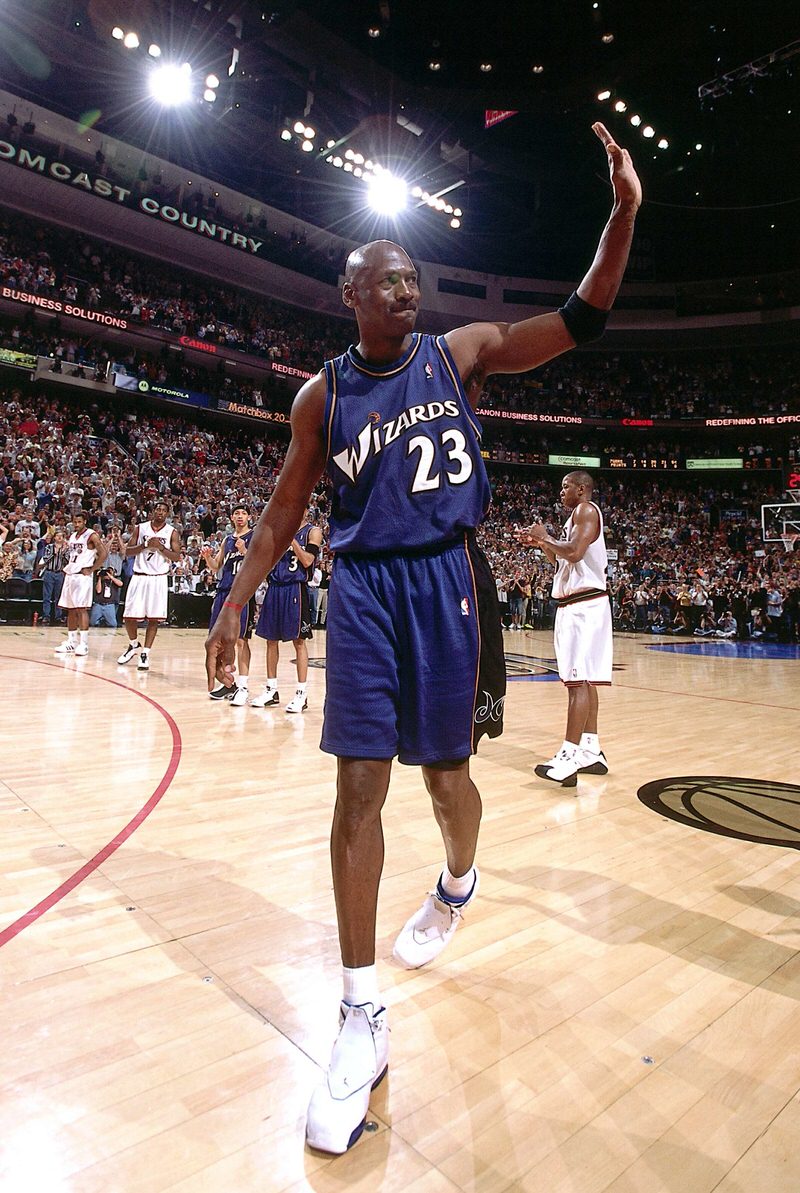 On top of that, Mike would rotate retros from his flagship series and even lace up the occassional Team Jordan model.
Michael Jordan currently resides in Charlotte, North Carolina where he serves as an owner of the hometown Charlotte Hornets. He's basketball's best-known billionaire, widely regarded as the greatest to ever play the game and a business mogul with his own sub-brand in Nike, Inc. which you may have heard of.
While he's inspired millions with his on-court heroics, business endeavors and sneaker series, he's also stepped up his philanthropy game as of late. Mike has been active in his efforts, giving back locally in North Carolina, individually to fans in need and donating to social causes tied to both sides of violence involving law enforcement.
Simply put, he's a living legend.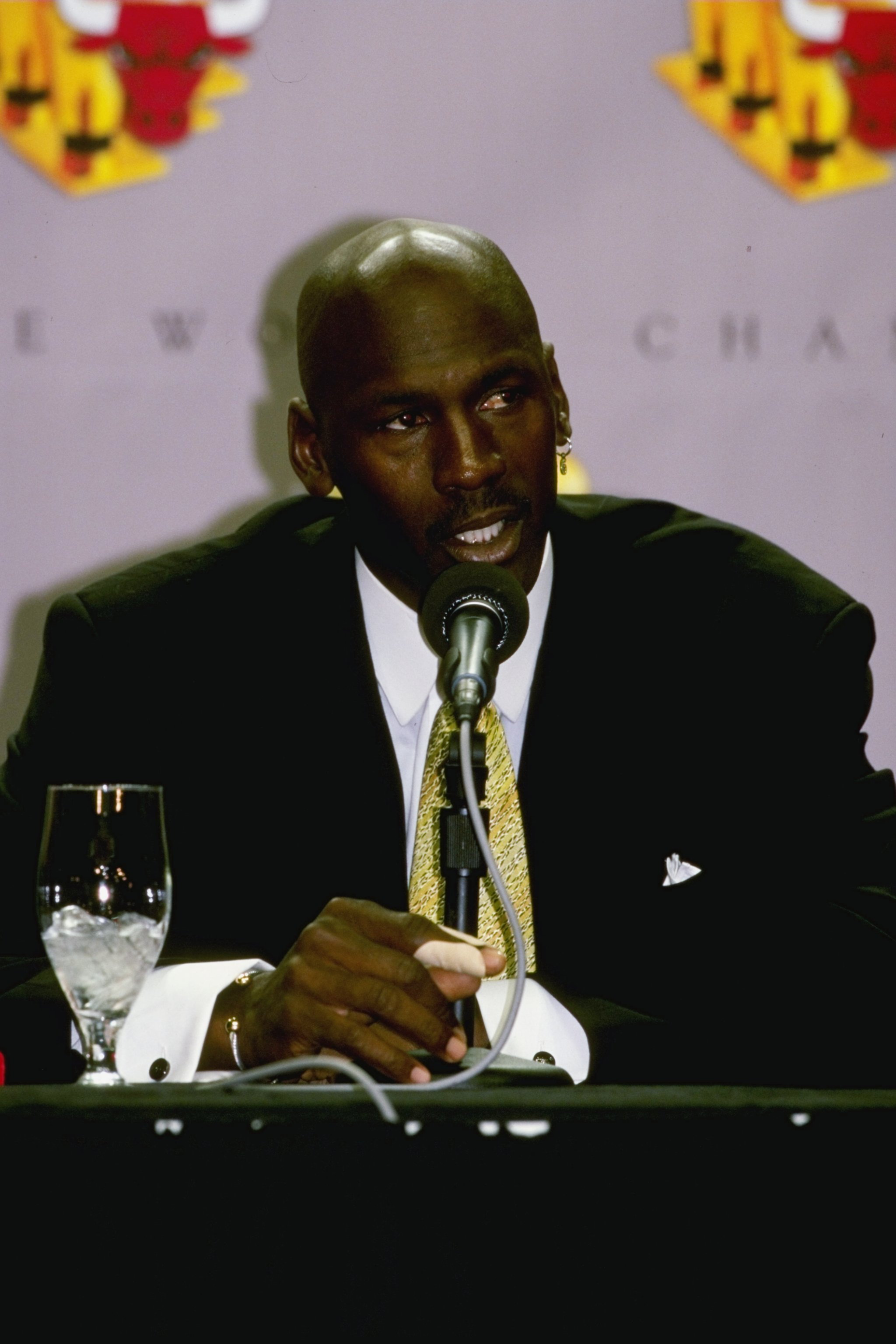 However, it was this day 20 years ago when he stepped away from the Bulls and #23 soared back into the rafters.
Thanks, Mike.