After signing a four-year contract with the Lakers, LeBron James wasted no time adjusting his wardrobe palette to align with the laid-back Los Angeles conditions.
Continuing to spark inspiration for what sneakers are cool, he's also been a relevant conversation in the style space as well, pairing fashion and footwear together to form some of the most compelling combos as far as the social media conversation goes.
What's even more relevant though is the fact that LBJ's style continues to evolve, proving that he's not only king on court as well, but also king (or at least one of the top contenders) in the fashion/footwear realms by consistently showing off some of the most affluent pieces in menswear.
Cali Cool
When it comes to the subject of what's cool in California, it's often forgotten that the trends happening elsewhere don't necessarily apply. Not that trends around the globe aren't popular or prevalent, it's just that they aren't always practical for Southern California's easy-going weather forecast.
Prior to any official project with the LA based John Elliott label, LeBron James had been consistently wearing the most iconic pieces from JE's street meets luxury entity for the past few NBA seasons. And now King James is spending half the year in an environment where these wardrobe staples actually have a purpose, wearing signature offerings, like the brand's Riders Jacket, Cast 2 denim, and vintage inspired hoodies.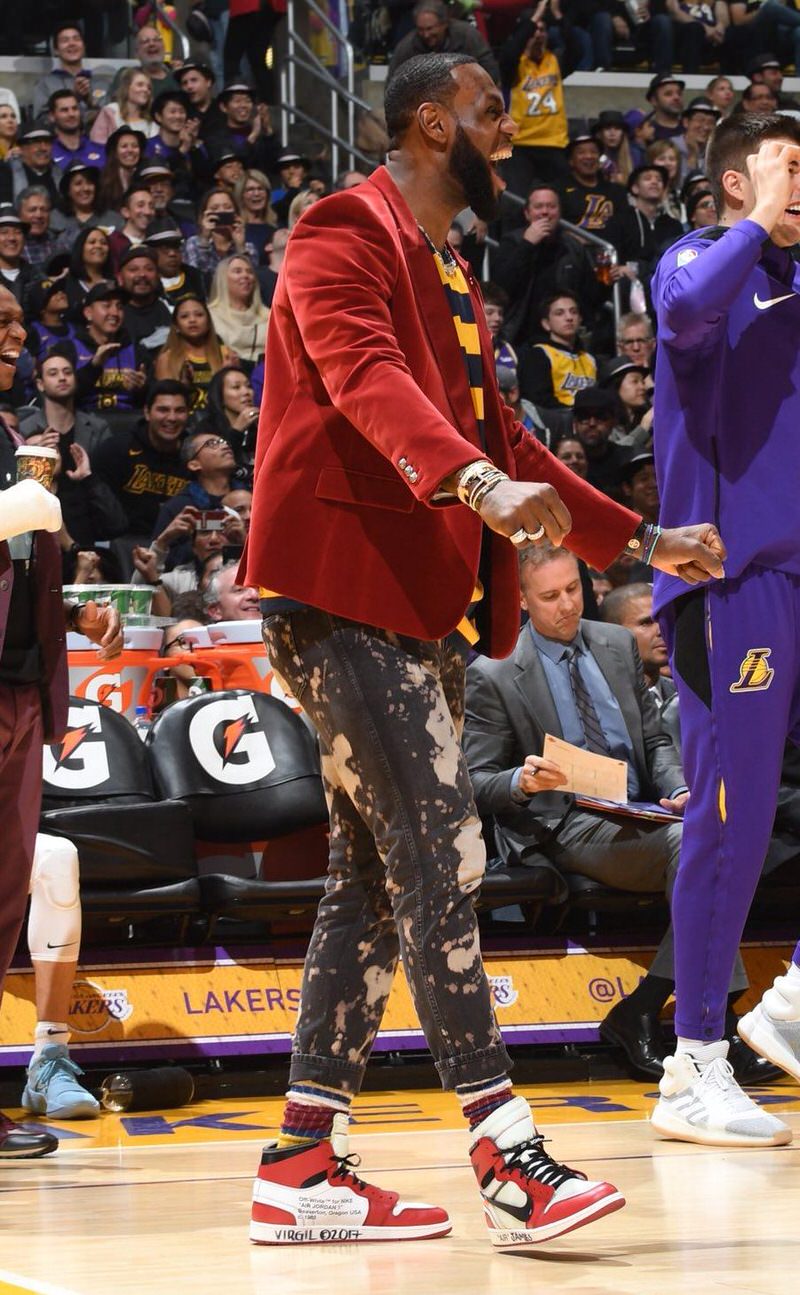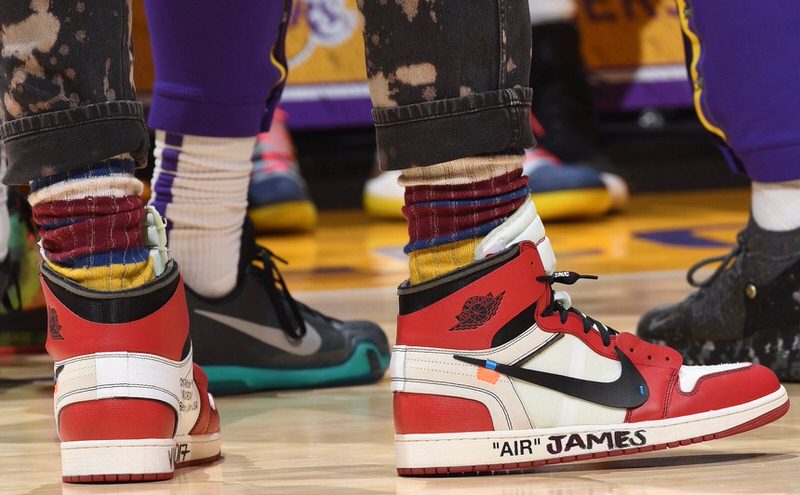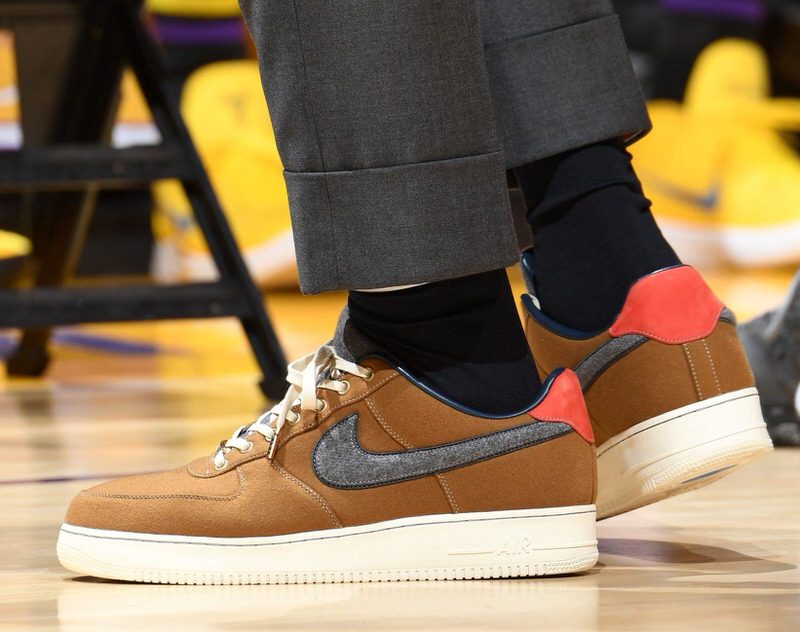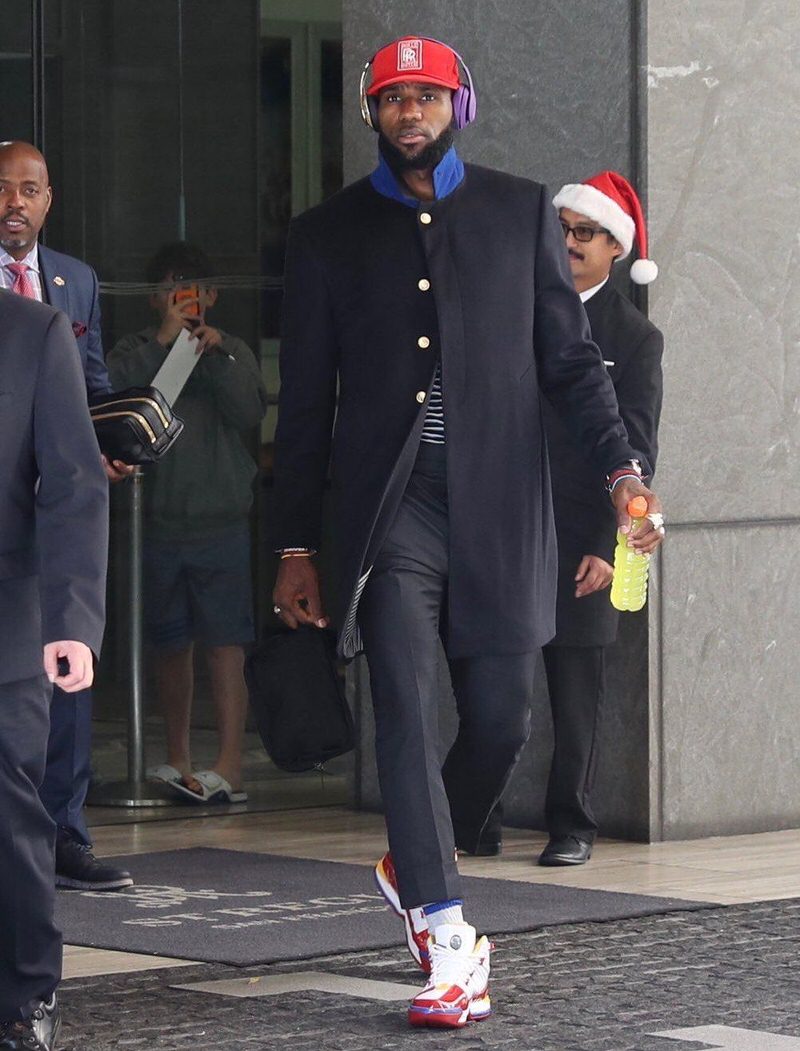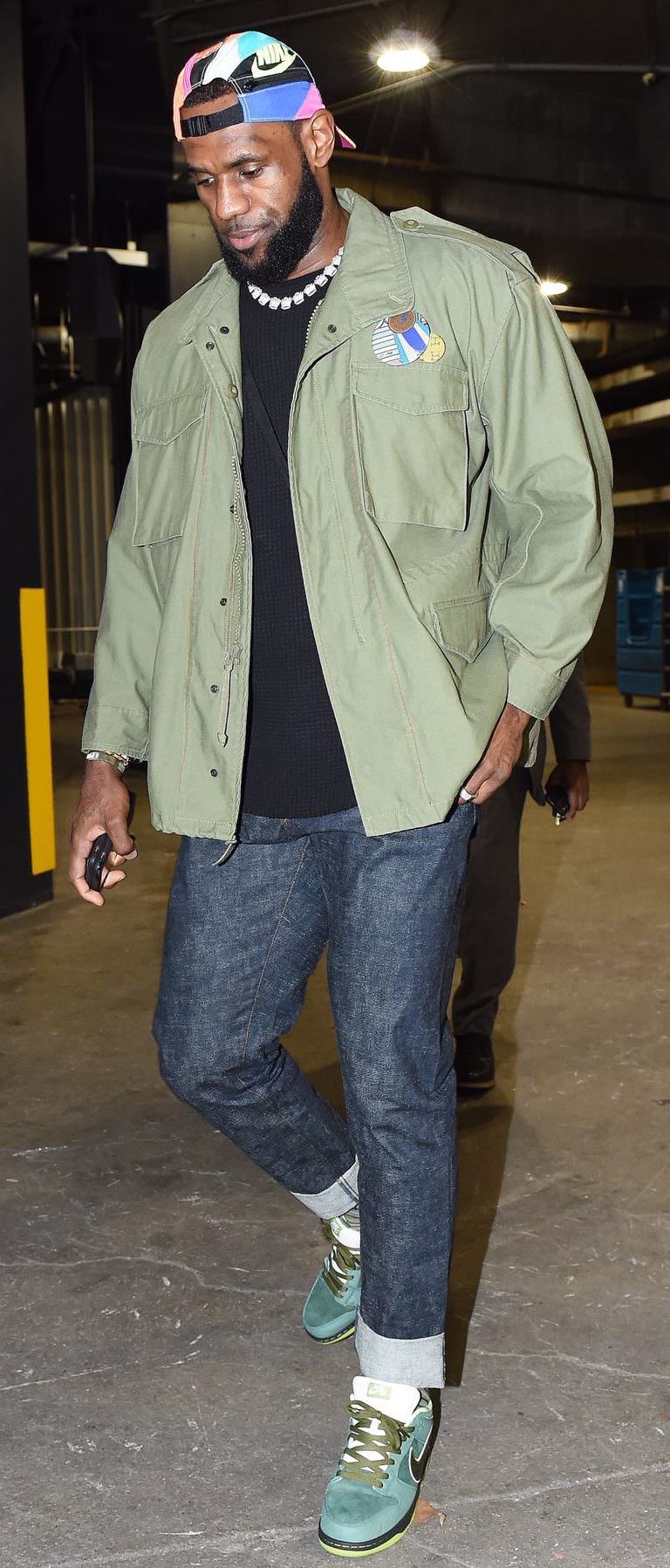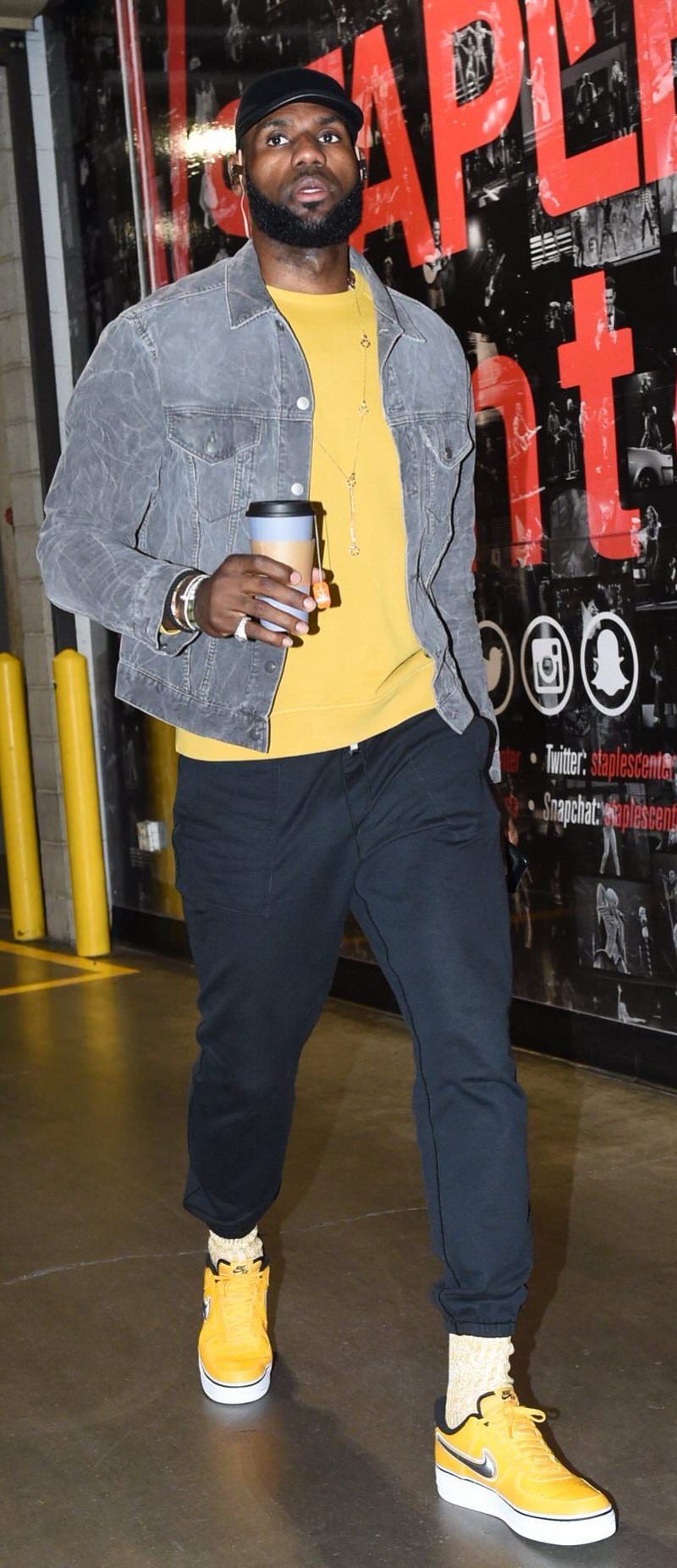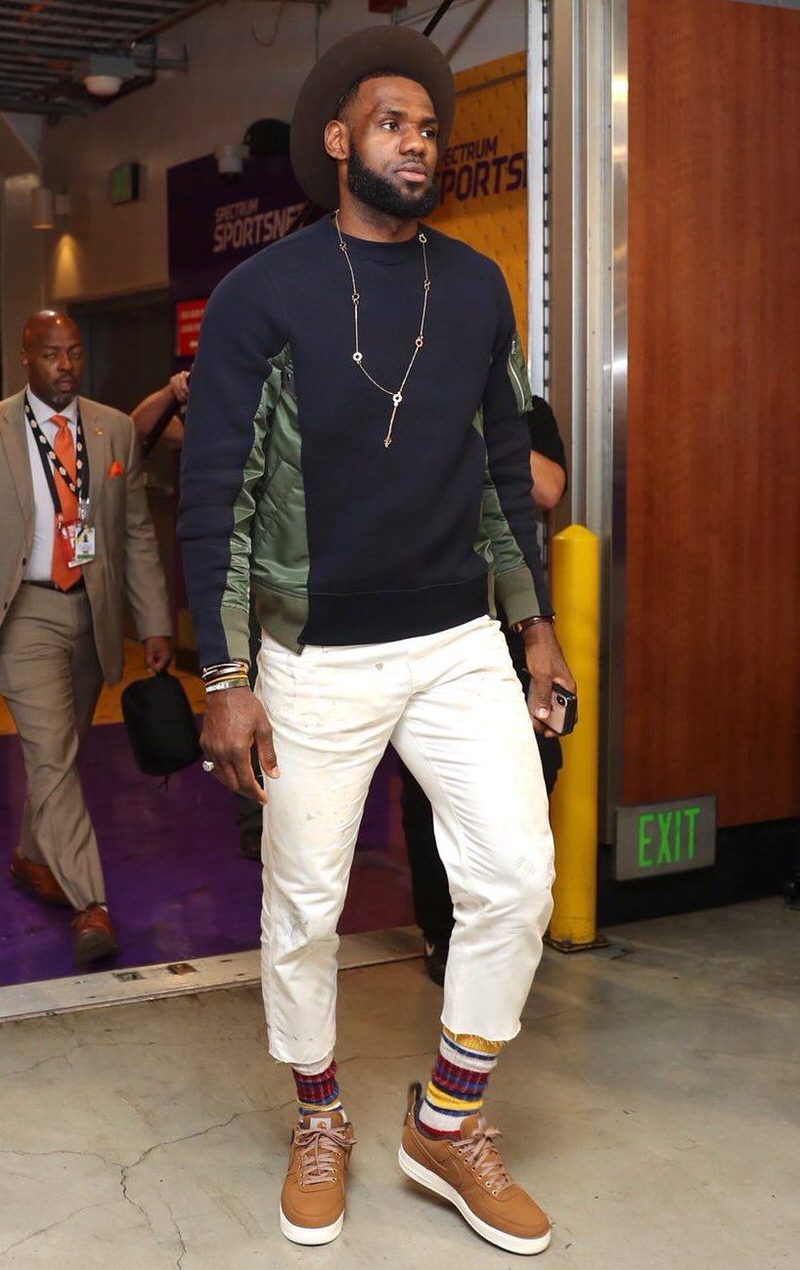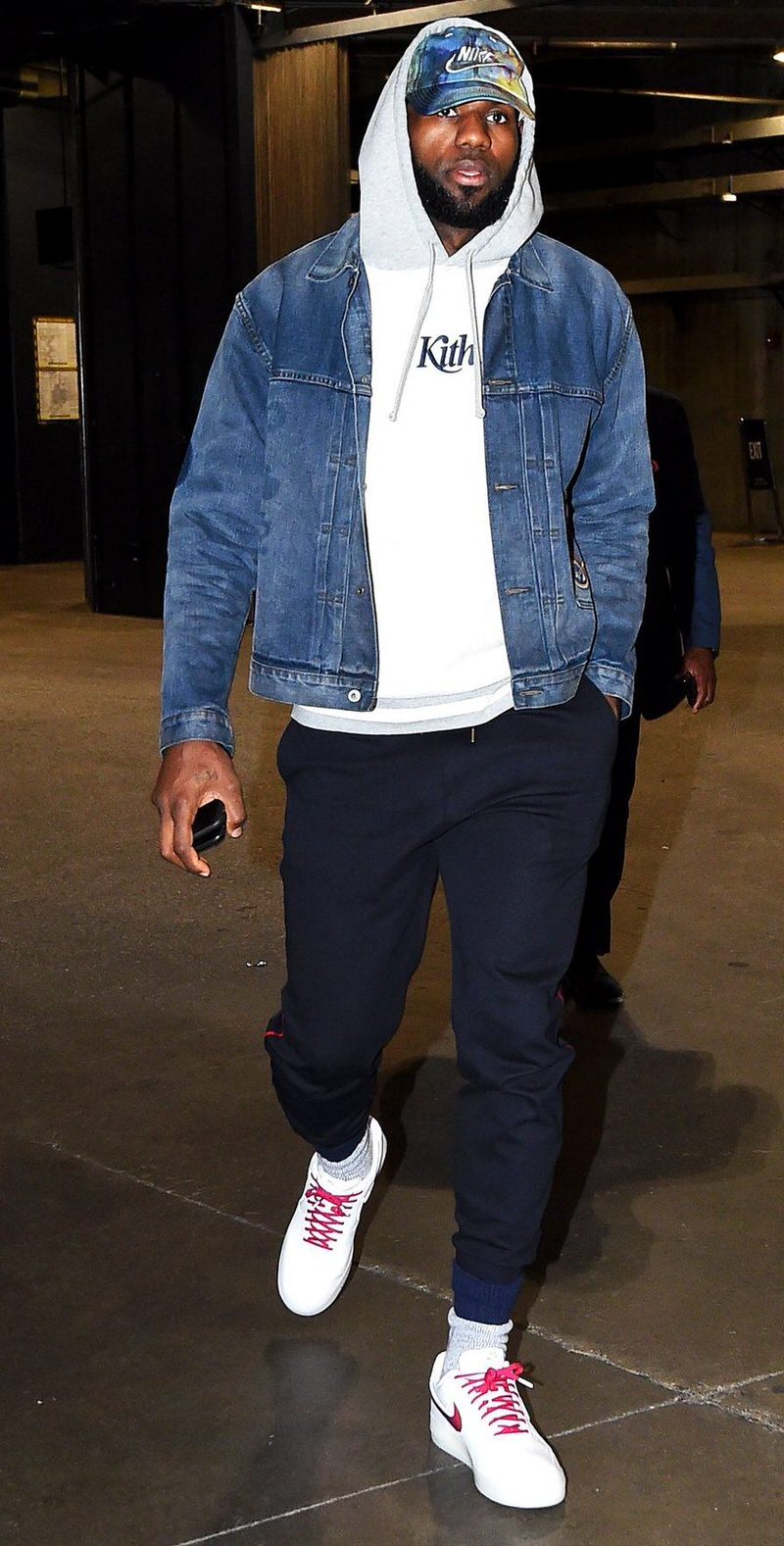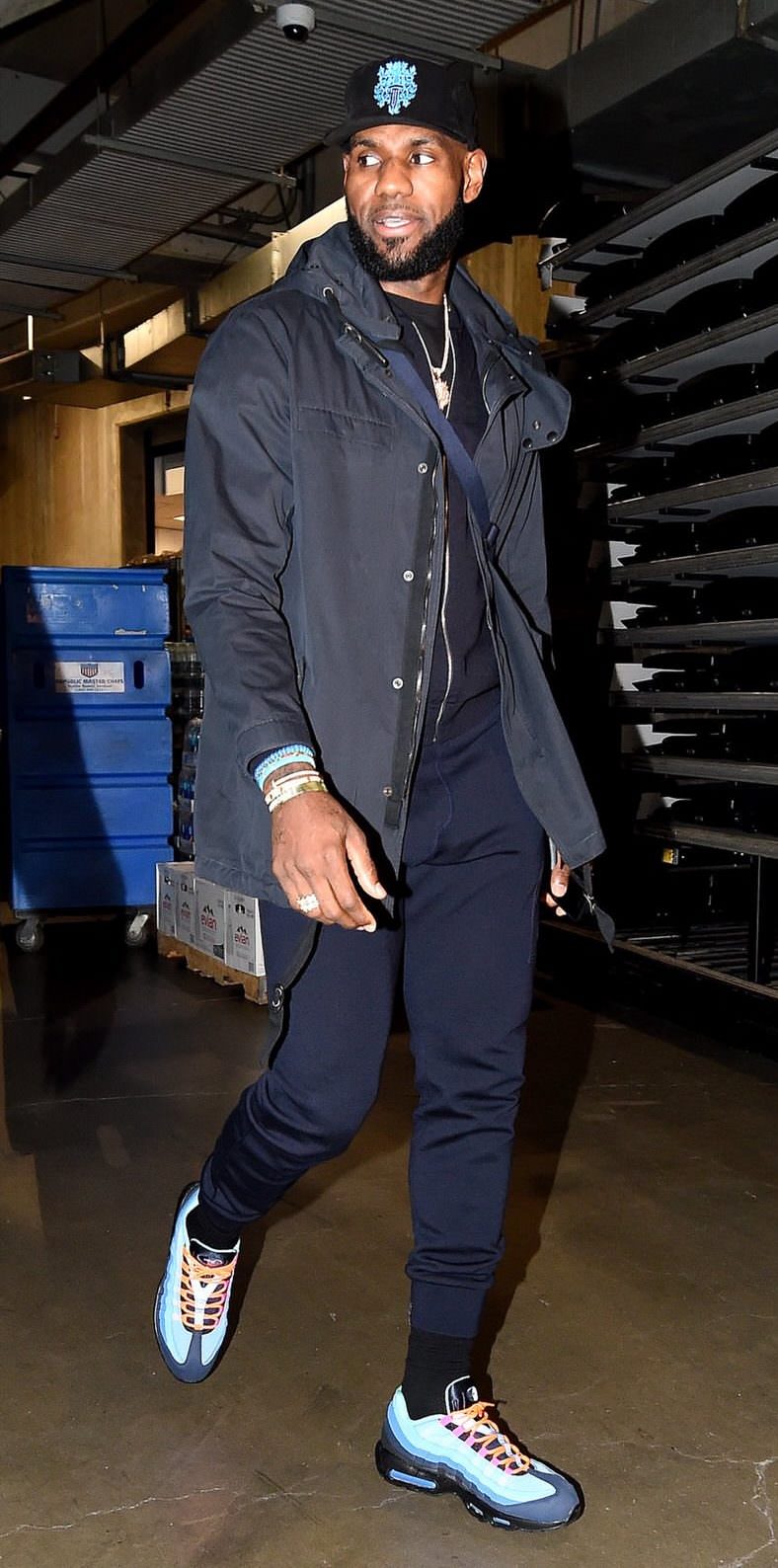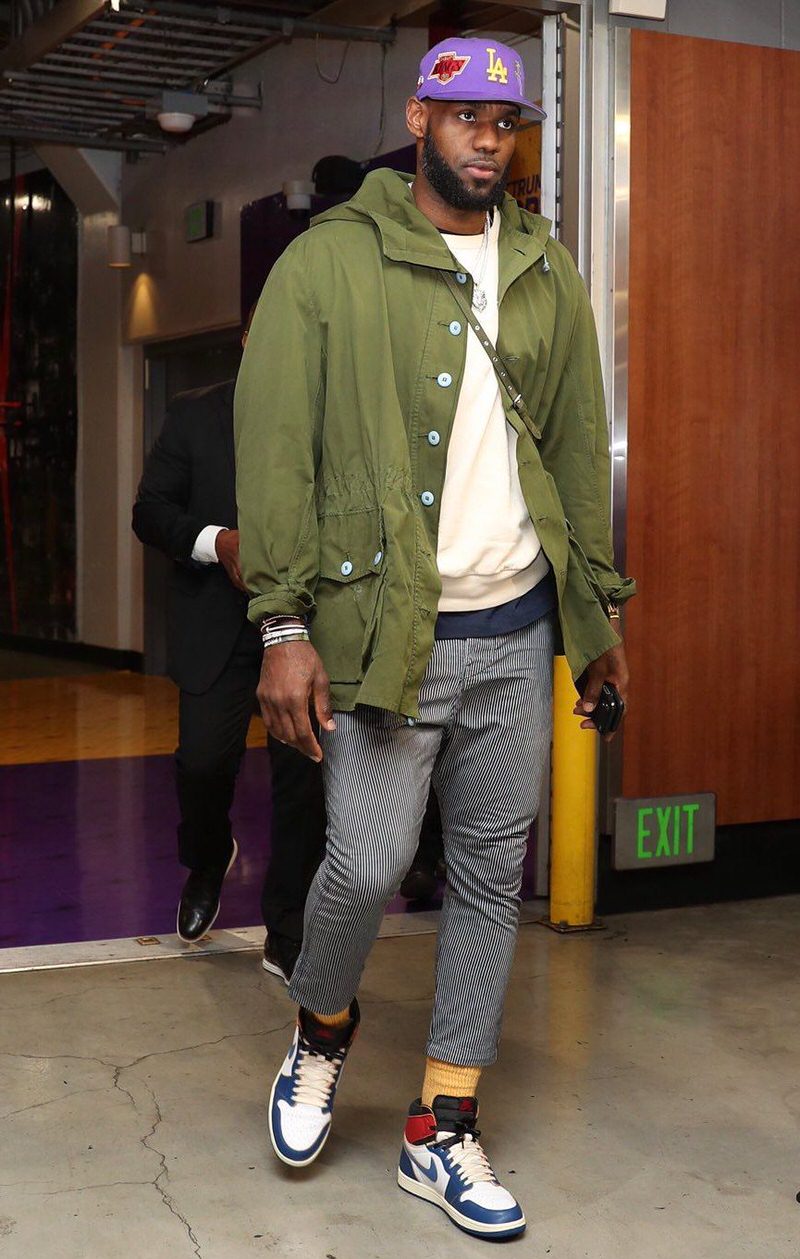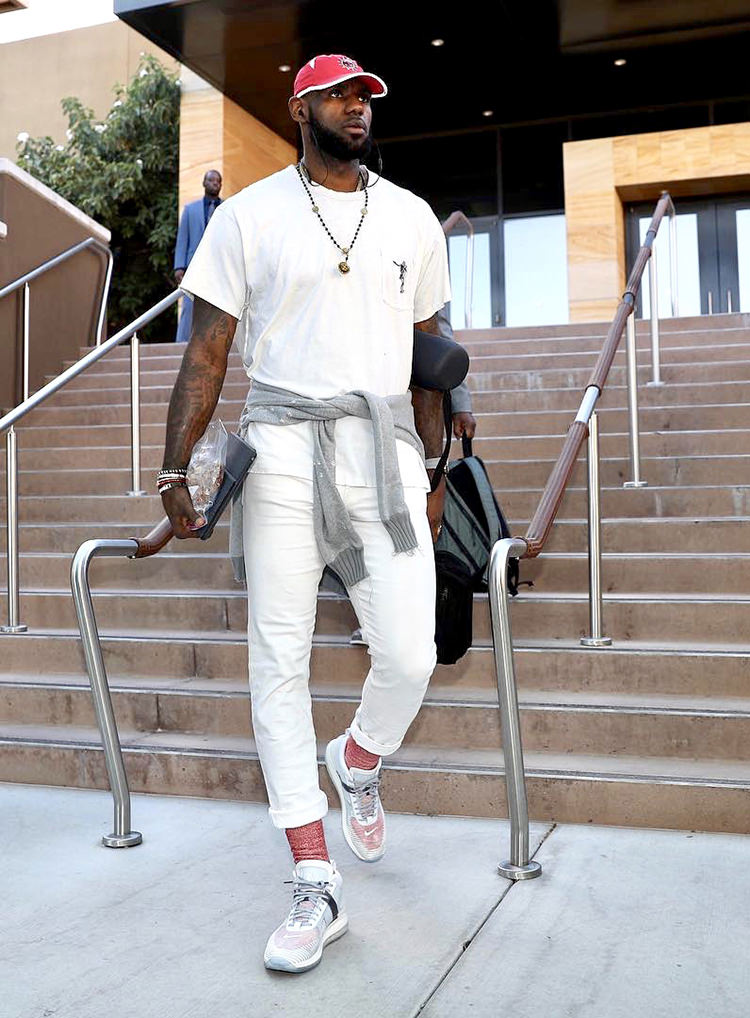 Captain Kith
It's no secret that the All-Star Game's team captain is an advocate of Kith and is known for sporting the brand's classic Williams Hoodie pre-gametime. LBJ has also sported the Captain Kith New Era cap from Ronnie Fieg's collaboration with legendary cereal company, Cap'n Crunch a number of times to complete his notorious streetwear looks. Coincidence that the capital "C" logo also stands  for Cleveland Cavaliers? Probably not.
King James not only consistently represents the NYC menswear brand, but makes it look like a slam dunk with the rest of his wardrobe too. So well in fact, that Ronnie Fieg and himself recently teamed up for an exclusive collection within Kith's Fall/Winter collection, which entailed three renditions of LBJ's signature shoes. From the brand's cozy essentials to winter ready statement makers, there's no doubt that LeBron James is picking out all the right Kith classics to accent his wardrobe.
Typically making his most noteworthy appearances right before game time, Bronny has a knack for layering. And with elevated basics from Kith's fleece program, it makes it pretty easy for these pieces to standout – even if they aren't the most "hyped" item. Lastly, with the duo's first collaboration already in the books, LeBron has already been seen wearing the various renditions of his signature shoes from the project on numerous occasions. They're neutral, yet unique design elements make it easy to pair with an assortment of minimalist essentials, just as the king himself does.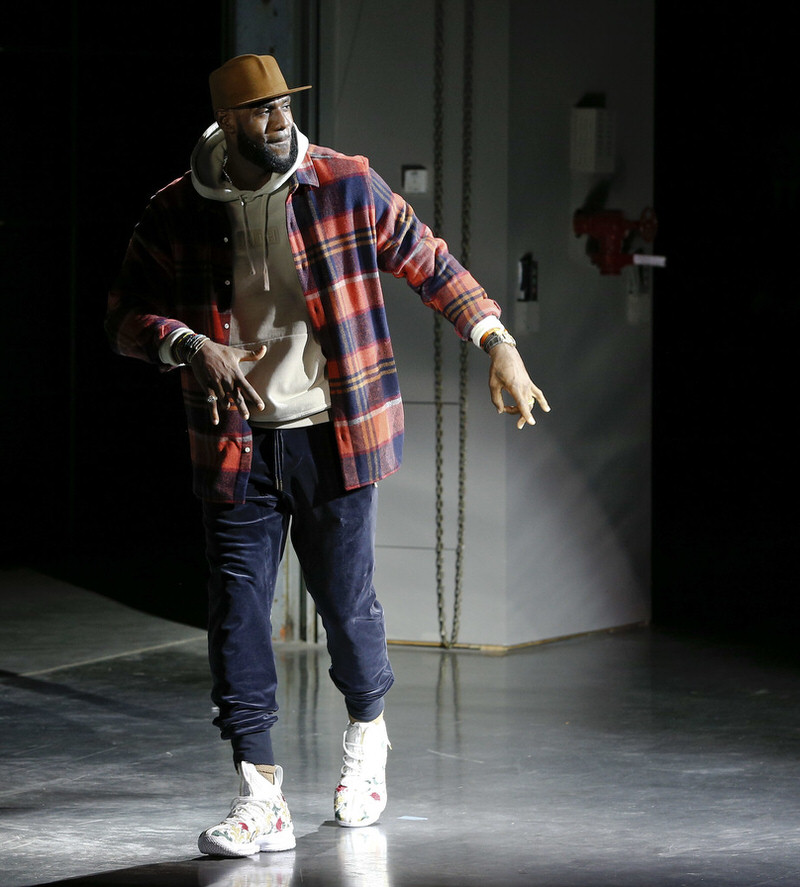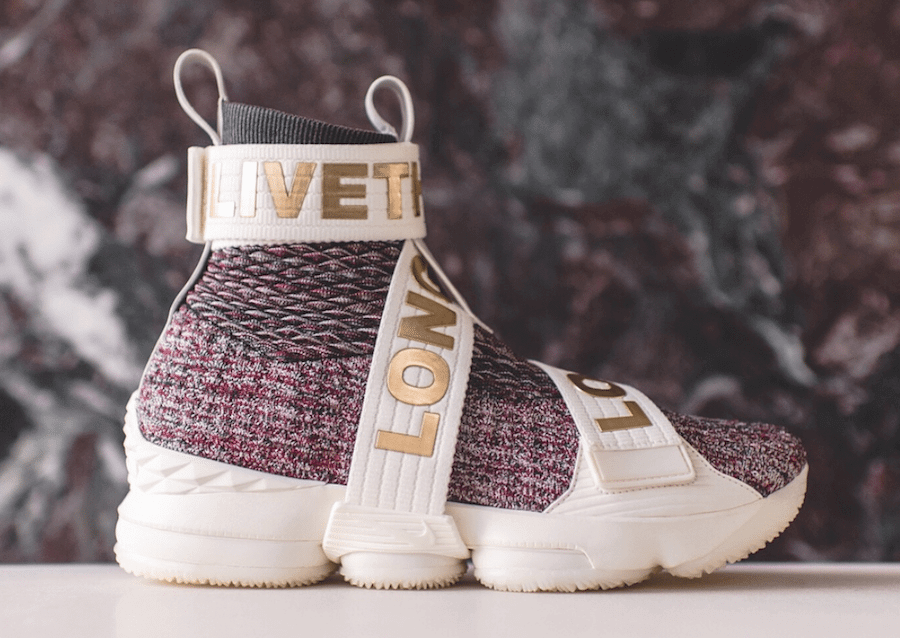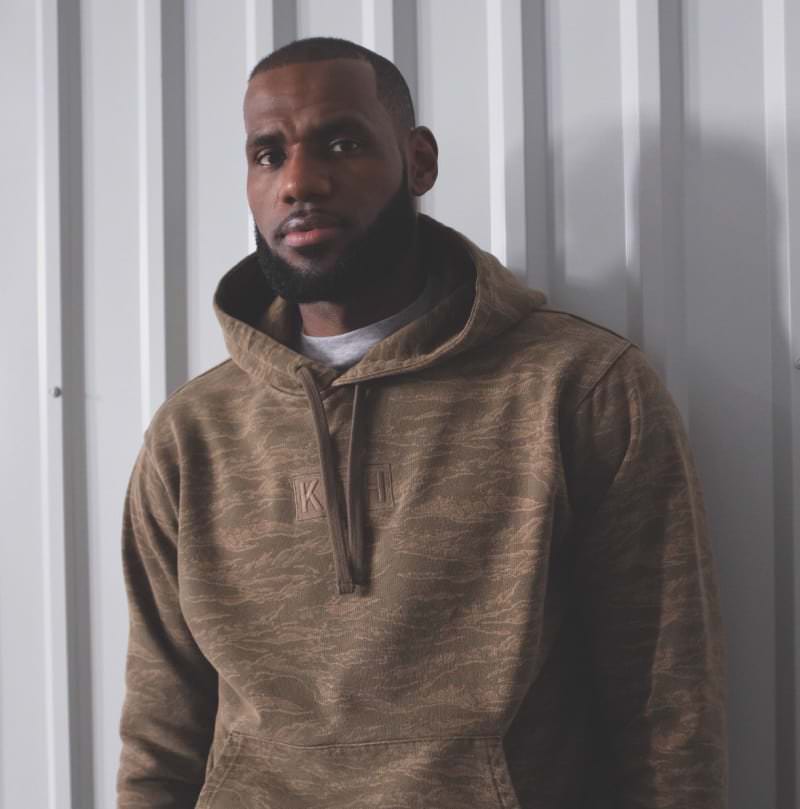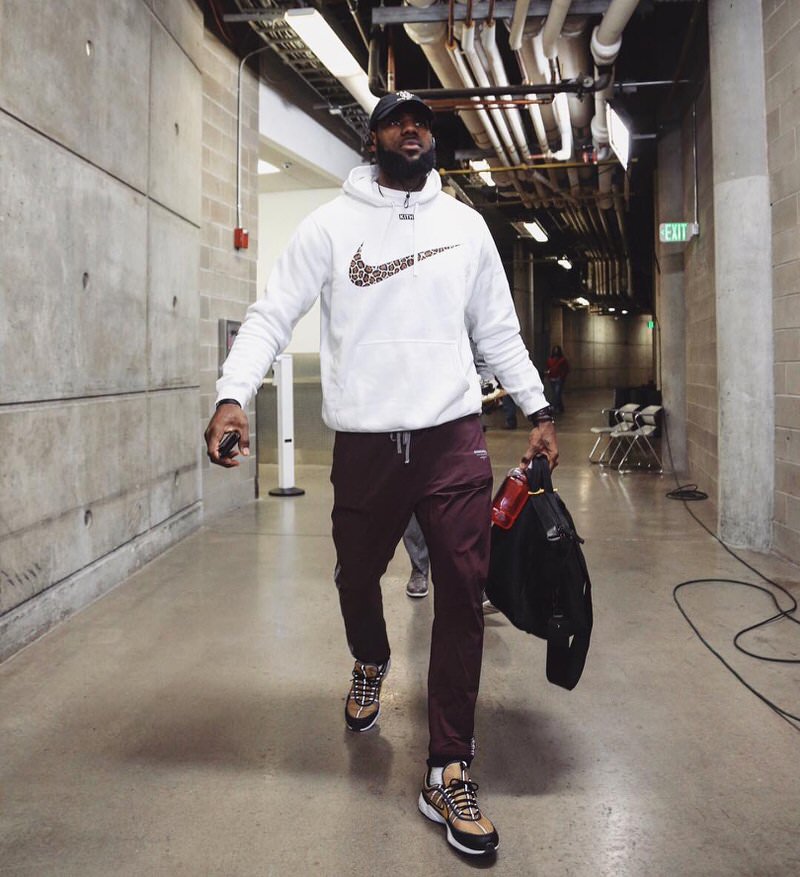 LeBron Elliott
You can only imagine what streetwear designer John Elliott's reaction was the first time he saw LeBron James wearing an assortment of his line's product on national television right before tip-off. And now it's almost a regular occurrence, as he is more often than not sporting JE's Cast 2 denim, the Riders Jacket, and even the co-branded NikeLab Vandals.
Just like John Elliott's minimalist approach to design, King James also keeps it simple when incorporating these articles into his own style, which is why he's commonly spotted wearing the brand's core black, white, and grey color palette.
Aside from the NikeLab Vandals, LBJ has also been pairing an assortment of Jordan 1's, Air Force 1's, and even a variety of some of his archived silhouettes, such as the LeBron 7's with his John Elliott essentials.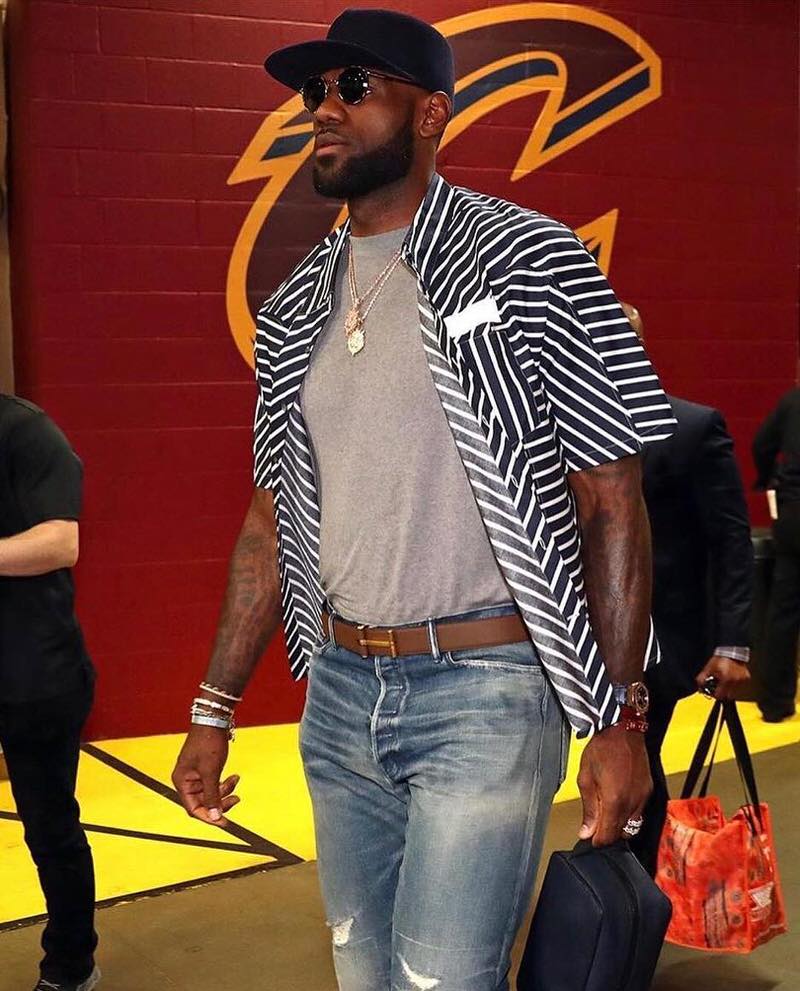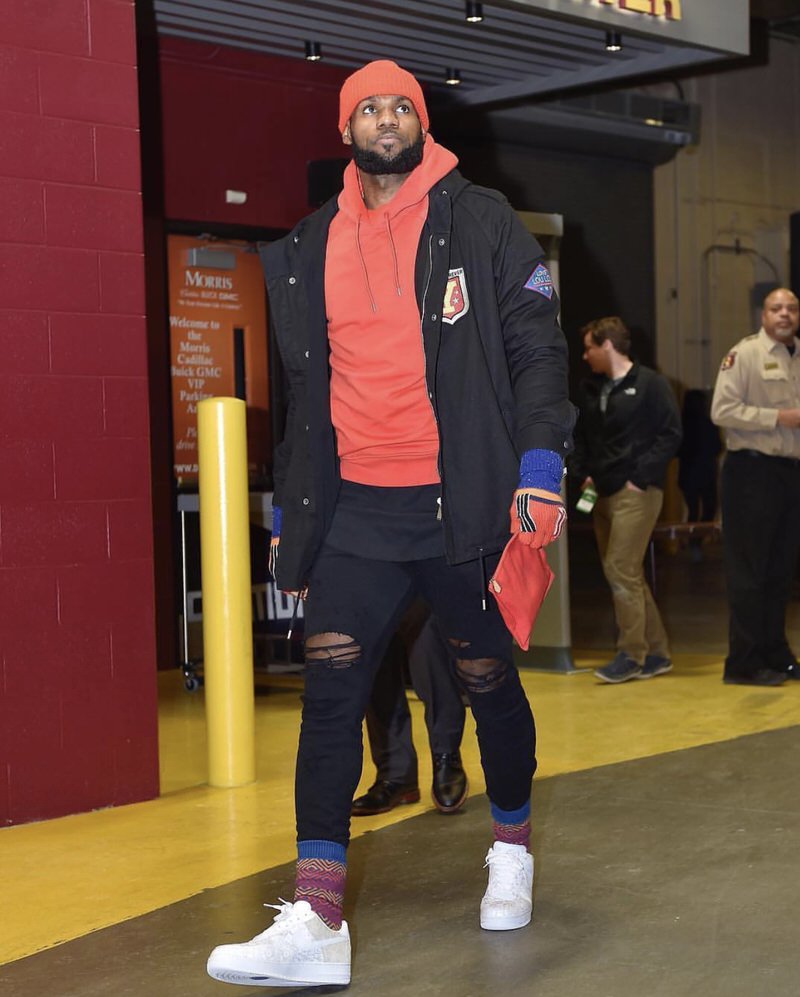 Fit for a King
Wearing high-end brands like Saint Laurent, Tom Ford, Rick Owens, and OFF-WHITE further verifies his style is that of an actual king. Spotted wearing an assortment of wardrobe staples from these labels, including: cropped trousers, suede bomber jackets, and even acid wash denim from Gucci ensures that he always keeps the audience listening, while still keeping it simple. Even when he's at his most casual, sporting a pair of Them Browne sweatpants (Sprite commercial) that run north of four figures would chew up the definition of laid-back, spit it out, and turn it into a luxury essential that's fit for a king.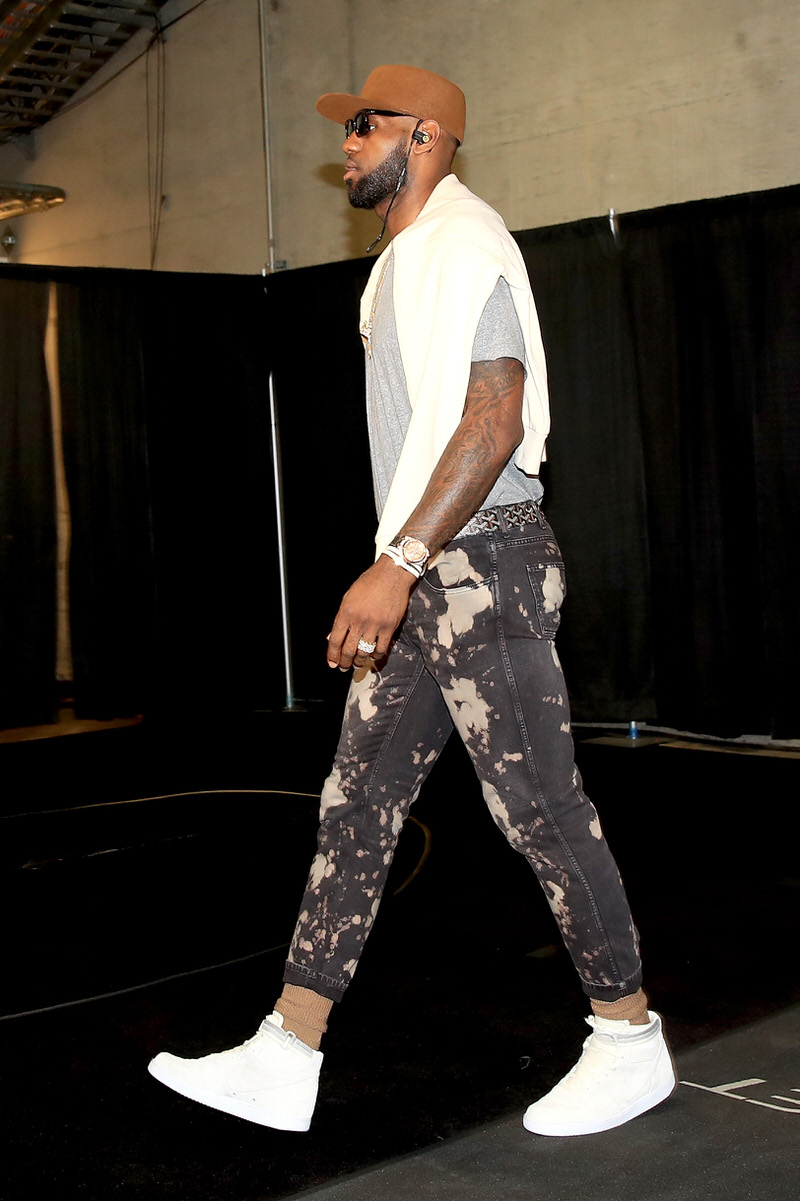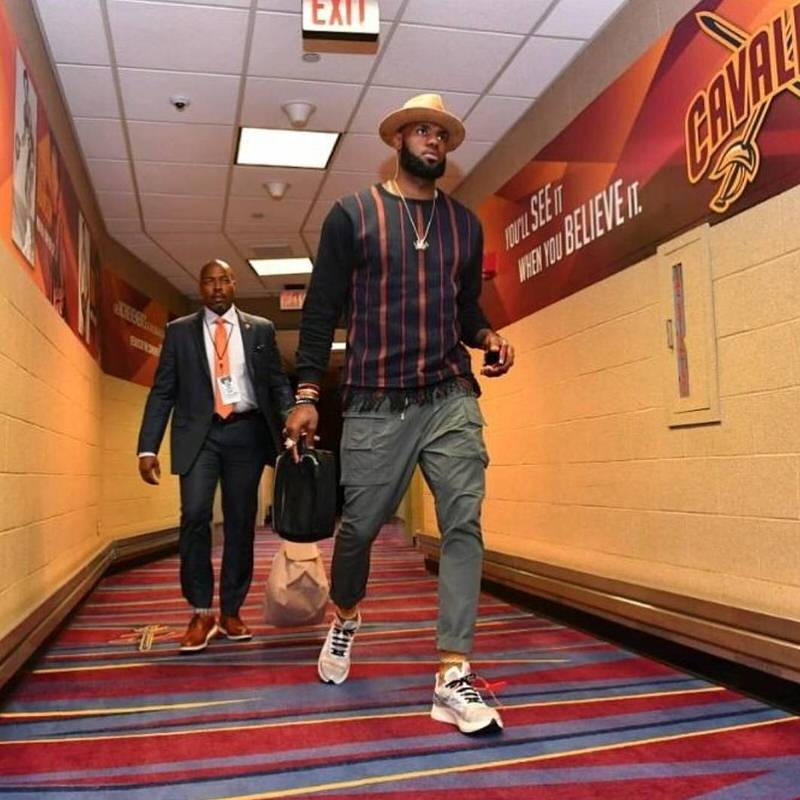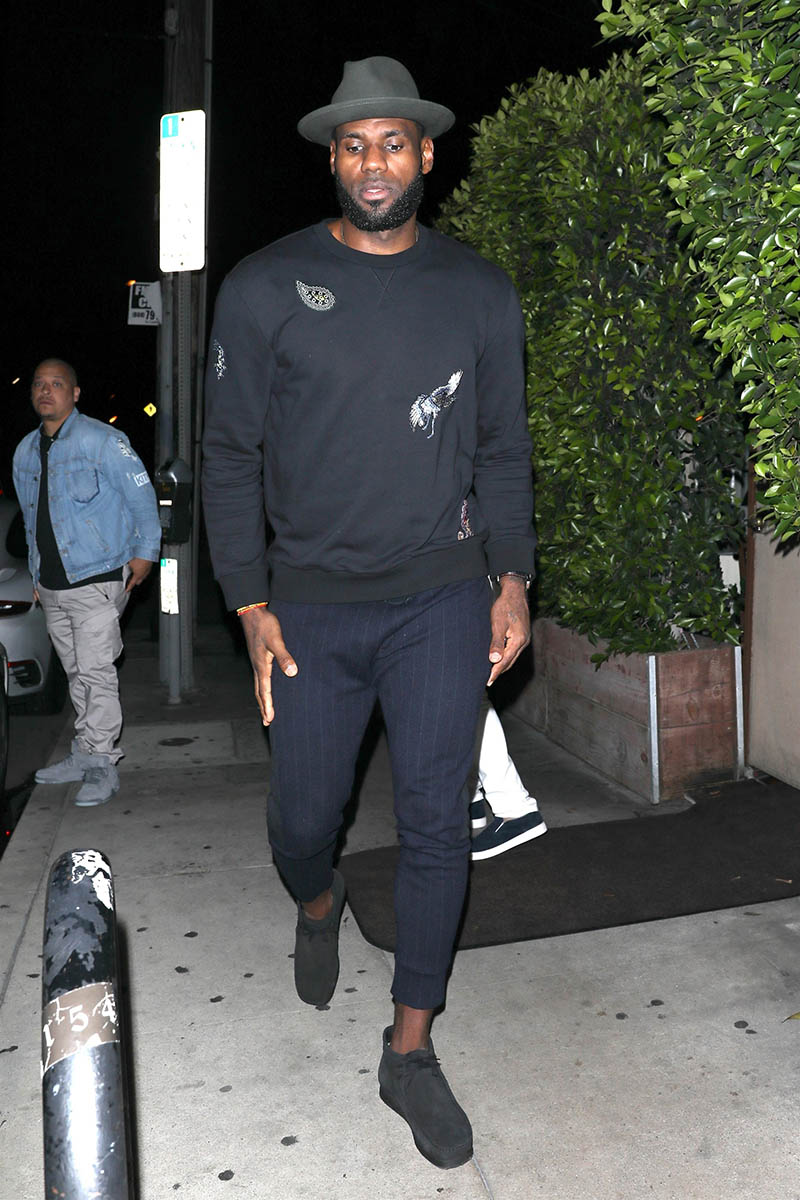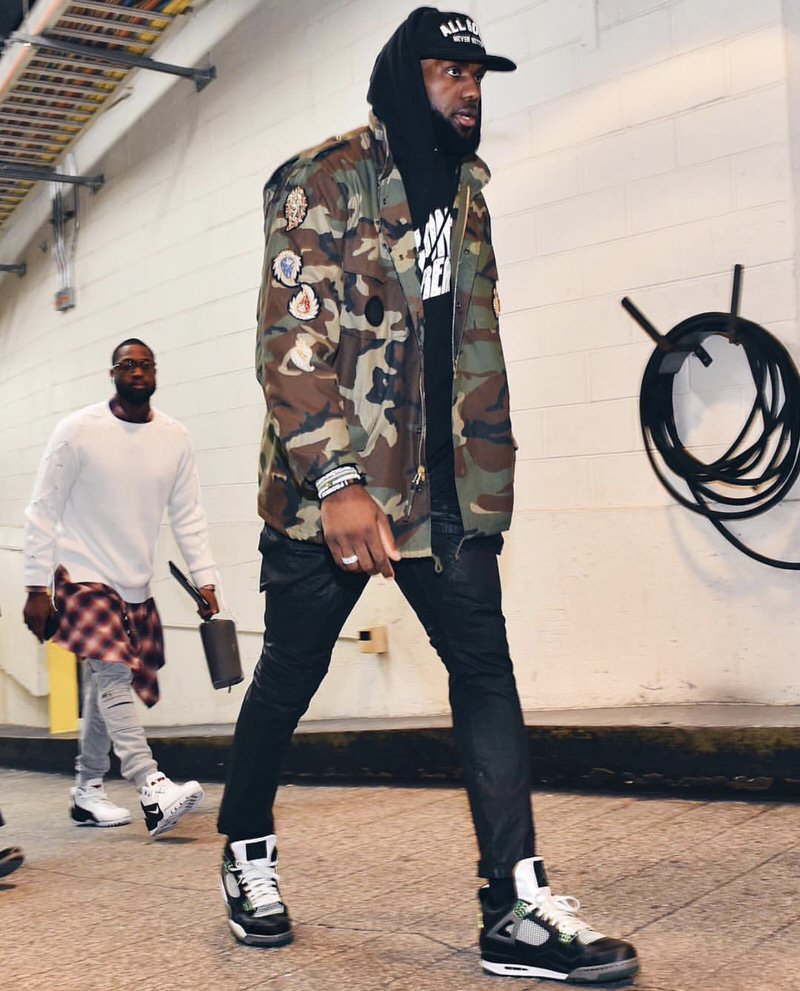 Signature Sneakers, Signature Style
Being signed with Nike since you were right out of high school and getting a signature shoe gives your some major credibility on the court, but having 15 signature shoe? Well, that's something that transcends off the court and into the world of fashion. LeBron even breaks out some of his early classics now in then to pair with his everyday wardrobe, especially since we've already witnessed several reissues as of late and are expected to see more. Potentially questionable for how you might wear them with items in your wardrobe when just looking at a photo of the shoe by itself, but take a few pointers from Bronny's styling and it's a layup for upgrading your own style.
The fact the designers, such as the two above are taking action to collaborate on modern day performance basketball sneakers also enables the consumer with a visual of how they can pair them with their own wardrobe and potentially even find inspiration from the neutral offerings of inline releases – like a number of the LeBron 15s.