Summer is here and we're officially on the back half of the year.
Thus far, 2019 has seen many of the top trends of past years continue or ramp up. Off-White, Supreme, Yeezy, Jordan and Travis continue to matter most to modern sneakerheads while Air Max, One Star and AJ1 prove to be the classics that remain relevant in collaboration and general release form.
While each weekend is littered with drops, we've looked back at the last six months and picked our 25 favorites of the year thus far. Check 'em out below and let us know what's overrated and underrated on our social.
25. Supreme x Air Jordan 14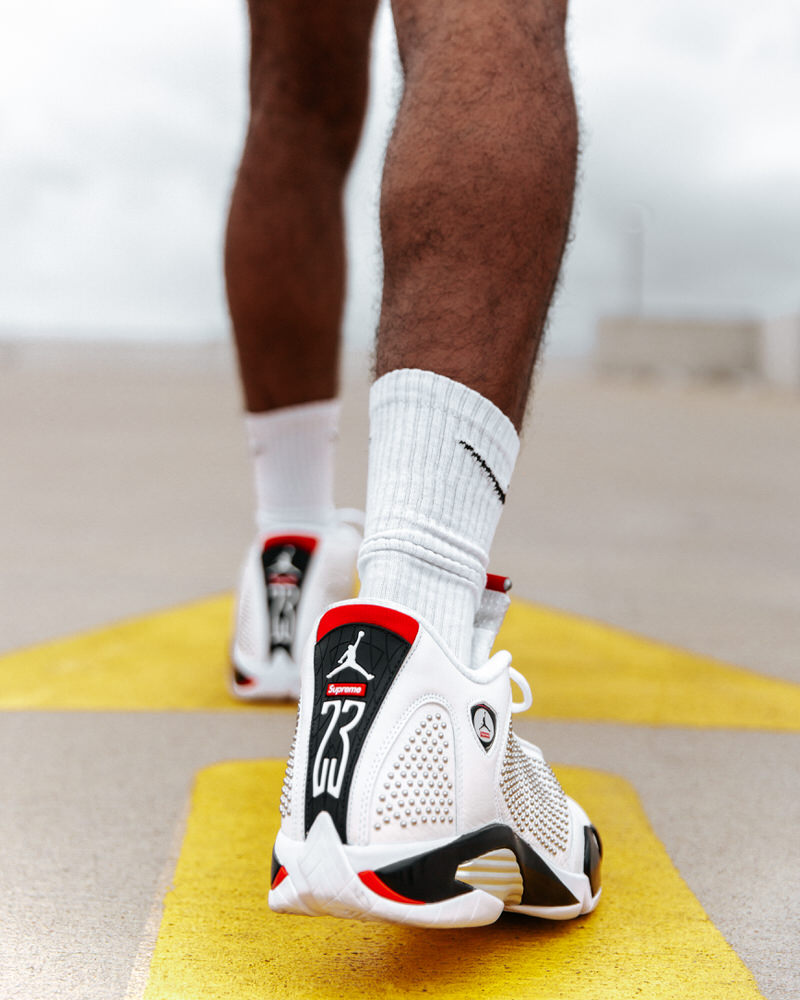 Supreme: masters of unarchiving the obscure or touted as trolling the masses? This conundrum was on full display with the leak of their Air Jordan 14 collab.
Redressing the Last Shot silo rather than a beloved AJ from the '80s, the bedazzled studding and too close for comfort Bulls and Magic colorways had purists cringing and even robocoppers scratching their heads. However, as history often shows, better imagery, on-foot adaption and a rare photo of Mike in a gaudy leather jacket had these not only looking cooler but also validating what seemed like a wild idea.
So, did you get them or did they get us again? – Ian Stonebrook
24. Brain Dead x Converse One Star
The Converse One Star was most tied to Kurt Cobain in the '90s but Tyler the Creator has owned it in the last few years.
While Golf le Fleur collabs have impressed in 2019, Brain Dead takes the cake for the best One Star so far this year.
Split styling and animal uppers make the otherwise simple sneaker striking while midsole messaging appeals to those who like their odd nuances not so subtle. On all accounts, these are not so subtle at all, effectively flipping the One Star to five star reviews. – Ian Stonebrook
23. Off-White x Nike Zoom Terra Kiger 5
Virgil Abloh: still pretty good at this sneaker thing, right?
While "YES" is the obvious answer, Virgil quieted some critics by doing the not-so obvious in 2019. Departing from the inside-out irony of The 10, Virgil did something different and even more ironic. He sold fashion types on a sneaker with spikes.
Part Prefontaine, this trail take proved far riskier and less runway than anyone could've guessed, giving Virgil the lead once again on the race to what's next. – Ian Stonebrook
22. Trophy Room x Air Jordan 5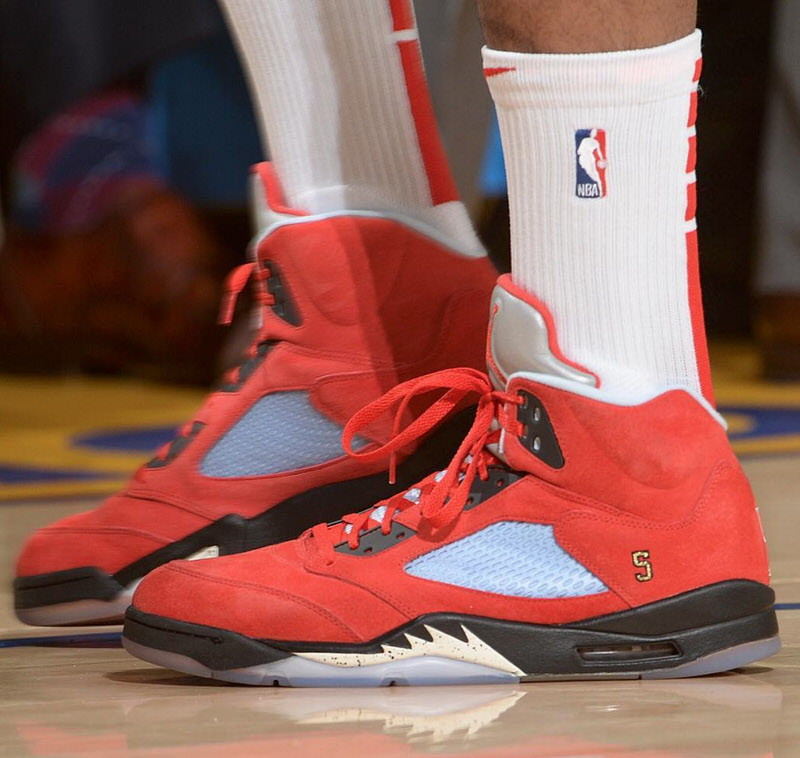 You can say you don't like the Trophy Room x Air Jordan 5s, but are you really turning down a pair if you have the chance?
Resale rates aside, these rare retros not only unarchived Raging Bull vibes, they also had one of the cooler unveils in recent memory thanks to PJ Tucker debuting each colorway during the Rockets playoff push.
The Trophy Room 5s might not be seen much outside of the NBA hardwood or Marcus Jordan's Florida friends, but trust, these will prove a neck-breaker when spotted in 2019 and beyond. – Ian Stonebrook
21. Nike Air Max 90 "BETRUE"
The Nike "BETRUE" collection has become a tradition from the Swoosh that not only empowers the LGBTQIA+ community through contributions and campaigns but also celebrates the community with Pride Flag-inspired colorways.
The Nike Air Max 90 might be the best one from the collection that hit retail as the stitched layered Swooshes recreate the Pride Flag and the rest of the sneaker has the rainbow found all over it. – Luis Torres
20. Nike LeBron 16 "Watch the Throne"
The Nike LeBron 16 "WTT" recreated the PE that captured a legendary moment in rap history as the colorway is a continuation of the never-released Nike LeBron 9 "Watch The Throne."
The floral and gold accents found across the shoe in addition to the lacelock do a tremendous job of taking us back in time to when the greatest rappers of our generation joined forces and dropped a late-summer classic. – Luis Torres
19. Nike SB Dunk High "Dog Walker"
SBs back in 2019? Well, yes and no.
To those tied to the skate series, SBs never left like those that religiously rocked retro Jordans or Air Force 1s to varying fanfare. Still, support from influencers far removed from the halfpipe had many thinking the SB Dunk would own the masses in 2019, replacing retro Jordans or Air Maxes as the top dog for casual wear.
It hasn't happened yet. Still, this "Dog Walker" SB Dunk High was best in show for the category that could still grow as the year continues. – Ian Stonebrook
18. Aleali May x Air Jordan 6
Releasing a fire collab isn't the measuring stick for design dominance, it's dropping a coveted GR that truly proves who has the juice.
Aleali May, dressing herself, others and Air Jordans better than just about anybody over the last few years, proved her staying power to any doubters with the GR drop of her Air Jordan 6 collab.
Defying gender despite sporting the tone most used to marginalize, May matters more in the style space than just about anyone in fashion right now. Understanding street culture and able to put together runway ready looks, she added another Air Jordan collab to her resume in 2019 that everyone wanted even when everyone had a chance at it. That's taste. – Ian Stonebrook
17. Off-White x Nike Air Max 90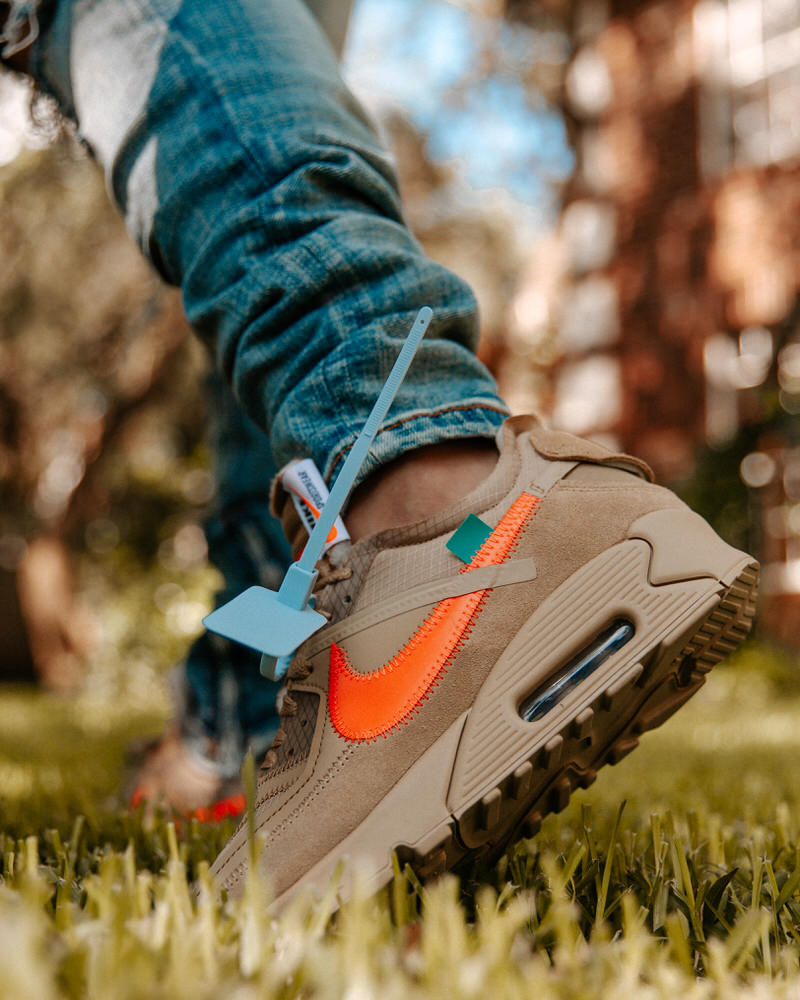 Virgil Albloh is undeniably the most hyped designer in our culture right now and he's solidified his name in the sneaker world with his on-going collaborations with Nike. Taking a classic sneaker like the Air Max 90 and bringing a fresh and new look to it is no easy task, but Virgil handled it with class.
Reconstructing the upper and adding in some unconventional colors makes this shoe a staple in sneaker culture today with timeless appeal. While releasing in limited quantities, the Off White x Nike Air Max 90 has sky rocketed in resale value and has hit grailed status. – Rob Mata
16. Nike Air Max 97 "Shanghai"
Baby blue is a color we haven't really seen on an Air Max 97 and man does it work. From ON AIR winner Cash Ru, the young creative layered the upper three times over while still making them translucent. Adding in a milky outsole and some red hits, the Shanghai Air Max 97 is perfect for any season.
Dropping exclusively on the SNKRS app, only a selected few were able to cop and if you did, you are one lucky person and we all envy you. There was lots of heat that dropped from this ON AIR collection such as the Seoul 97s, NYC 98s and the Tokyo 1s. However, the Shanghai Air Max 97 tops them all and lands on a spot on our Top 25 list. – Rob Mata
15. Nike Zoom VaporX NEXT%
Ever since Nike Running nearly did the impossible by engineering specific shoes to complete a marathon under 2-hours, a handful of top-caliber racers have come to the forefront of Nike Running. The ZoomX VaporFly NEXT% is the latest chapter in the saga as the shoe is peak performance.
The ZoomX foam in the forefoot creates an undisputed energy return to keep you moving while the carbon-fiber plate under it creates a sensation that feeds your runner's high. The all-new traction pad and VaporWeave upper are tailored for any run. – Luis Torres
14. Aime Leon Dore x New Balance 997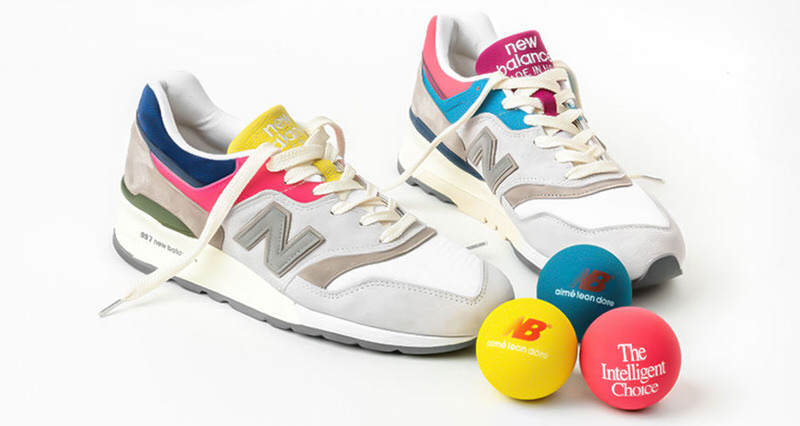 Queens brand Aimé Leon Dore has caught the attention of streetwear enthusiasts with their remarkable collabs and constant apparel drops. The New Balance 997 is no exception as the runner-turned-lifestyle-silhouette features a subtle pastel makeover with a pebbled leather tongue, mesh and suede layers all on top of that ultra-comfortable ENCAP midsole.
The marketing and execution of the shoe draws on the '90s nostalgia with its color-blocking and two different pastel renditions creating a unique collab with luxury and comfort as its foundation. – Luis Torres
13. adidas Yeezy Boost 350 V2 "Glow"
Miss the old Kanye? While certain songs have given us that College Dropout feel in regards to soul sampling and soul searching, the "Glow-in-the-Dark" Yeezy Boost 350 V2 is the closest thing we've had to Graduation in years.
Mixing modern innovation with childhood nostalgia, this Yeezy drop proved by far the most loud and fun release since his work with Nike. Now that's something to smile about. – Ian Stonebrook
12. Tom Sachs x Nike Mars Yard Overshoe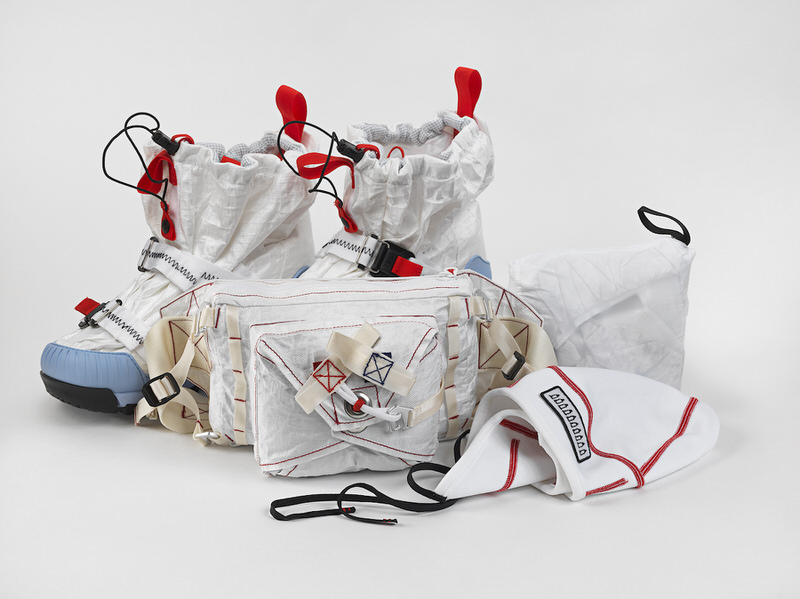 What do we say about the Tom Sachs x NIKECRAFT collab?
Coming off the last few years where the two biggest trends have been running collaborations into the ground and everyone trying to out-weird each other, this Tom Sachs reunion with Nike did both while avoiding the obvious.
Performance art? – Ian Stonebrook
11. adidas Yeezy Boost 700 V2 "Vanta"
Thanks to David Letterman and GQ, we now know Kanye West has a very minimal and modern home.
But what's his garage like? The modern father of the modern dad shoe has moved the market from lawn-mowing Monarchs to high-priced hybrids of designer fashion with EQT DNA. Pulling another 180, he's gravitated to the most un-high fashion clothing category in the world: work wear.
Donning Dickies and upping the ante on minimalism through depth, the "Vanta" Yeezys see Kanye hammering against norms that he once took the nail for making normal. Got a wrench? – Ian Stonebrook
10. Nike Air Fear of God Raid
Who deserves more credit: Jerry Lorenzo for making a modern, luxury basketball shoes full of '90s nostalgia or Nike allowing him the clearance to do so?
While most high profile collabs are made to popularize inline favorites, the recent Fear of God Nikes have essentially created a new category.
Bringing rock and roll to the basketball court like Kelly Oubre's punk tats, Jerry and Nike get where the game is going while still being able to pay tribute to its past without living in it. – Ian Stonebrook
9. BAPE x adidas Ultra Boost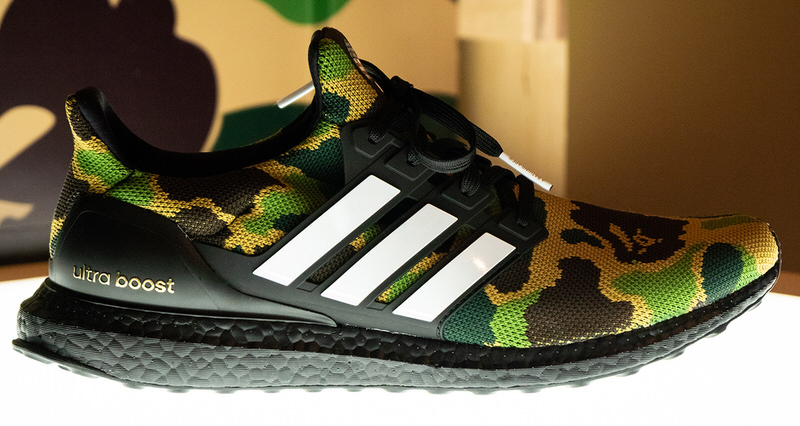 BAPE might not mean as much in 2019 as it did ten years back. Just the same, the Ultra Boost might not mean as much as it did two years back.
However, when the two titans came together this year they both proved to have the power to be just as good as ever. The BAPE x adidas Ultra Boost sees the most influential brand in international streetwear colliding with the most important modern running shoe. Far removed from Air Force 1 inspiration, these are both progressive and nostalgic, making for an instant classic. – Ian Stonebrook
8. adidas Yeezy Boost 700 "Inertia"
How much momentum did Yeezy have going into 2019? It was tough to call.
Coming off shoes sitting on the shelves for the first time ever in the latter end of 2018 and controversy that might not have helped, it would be easy to expect a lackluster 2019 for the shoe line.
Well, expect the unexpected from Kanye. We should know this by now, right? The "Inertia" 700s proved Yeezy isn't slowing down and it was truly the infrastructure that was needed. Hate it or love it, props are due. – Ian Stonebrook
7. Cactus Plant Flea Market x Nike Air VaporMax 2019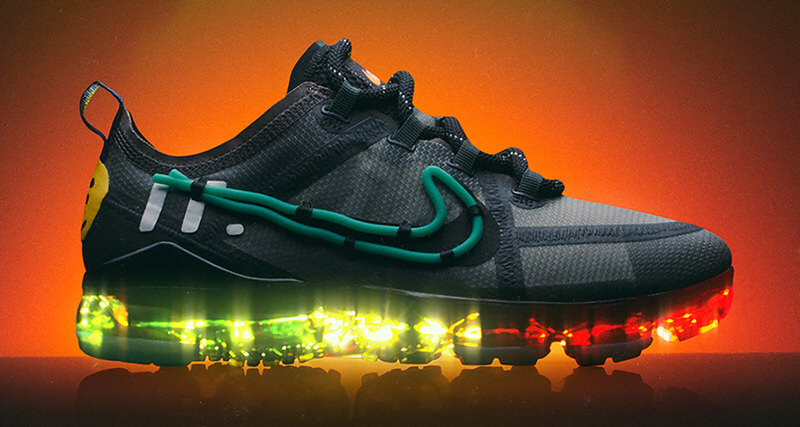 The brand most tied to Pharrell linked with the brand most opposed to adidas and boy did they knock it out of the park.
Consider this: because of contractual reasons, Skateboard P never rocked the Cactus Plant Flea Market Air Max collab but anyone with the clearance to do so definitely did. On top of that, who honestly cares about VaporMax at this juncture in its run? Not many.
Despite being best known for a smiley face more than a famous one and lacking any classic qualities that propelled other Air Max Day designs, the CPFM x Nike Air VaporMax 2019 defied the odds and outraced its peers. – Ian Stonebrook
6. adidas Yeezy Boost 350 V2 "Black Static"
Kanye West and adidas have been dropping new Yeezy releases almost every weekend this year. The "Black Static" Yeezy 350 V2 is a palette we haven't seen in a long time, pulling inspiration from the highly coveted "Pirate Black" colorway that originally released in 2015. Essentially, the "Static Black" 350 V2 is the upgraded version of an OG.
Releasing in two renditions, the reflective laces will make you shine when those camera flashes come around. – Rob Mata
5. Nike SB x Air Jordan 1
SB Dunks might not have ruled the world like we predicted in 2019 but the SB Air Jordan 1s sure mattered to everyone.
Skaters, and more so style mavens, flocked to their SNKRS App, Eastbay and local hardware shop to cop both pairs of '85s that shift shade when worn.
Better than the first SB x AJ1 collab and more unique than the Lance Mountains, Nike SB and Jordan Brand nailed it on this dual drop. Maybe this should be an annual thing. – Ian Stonebrook
4. Air Jordan 4 Black/Red
Dropping an OG with Nike Air on the heel sounds like a lay up but it doesn't always work like that.
For every Black/Cement 3 there's a Maroon 6 or Black/Silver 5 that we find out we didn't want quite as much as we thought we did.
The Black/Red 4s though? Smash hit. While most shoes lose their luster when everyone has it – sorry, it's true – the shoe worn in "The Shot" has simply not. A classic in every sense, the Air Jordan 4 still proves fresh and fashionable, iconic and versatile 30 years after its debut. – Ian Stonebrook
3. Nike Adapt BB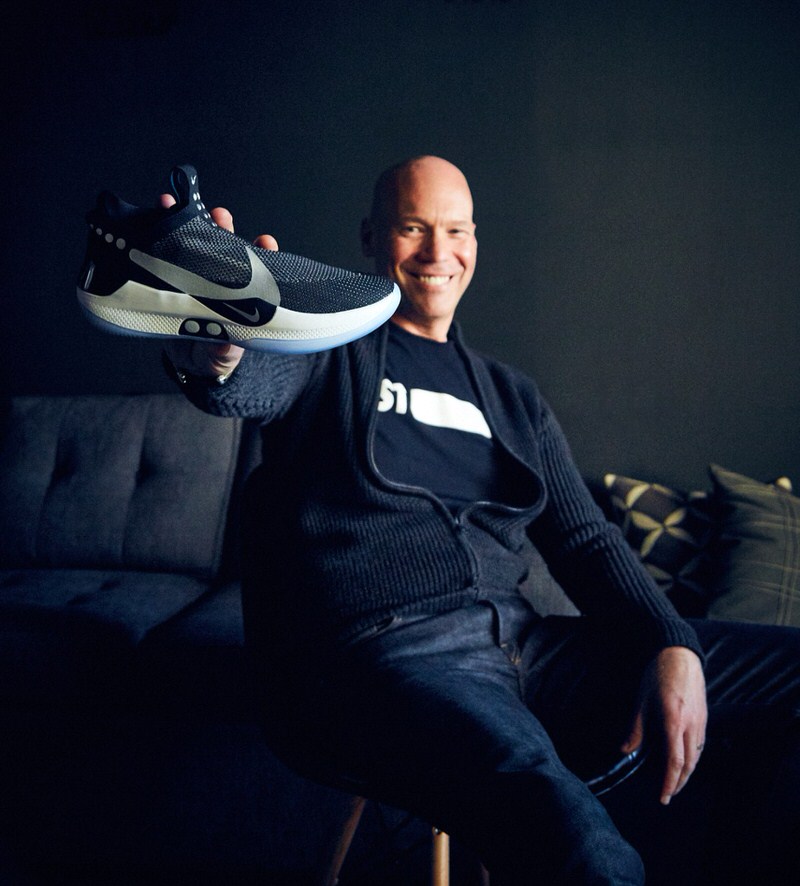 Retros are cool, but as we all know, living in the past gets you nowhere fast.
If the Nike Adapt BB isn't the future of basketball, or sneakers in general, it's still a major a step forward.
Bringing in the big dogs in Beaverton, the best the brand has ever had in innovating did their due diligence to make a more technically advanced hoop shoe than we've ever seen. They delivered. Is the price high? Sure. Is the app maybe a bit much? Perhaps. Regardless, Nike brought basketball shoes forward and put the pressure on the rest of the market. The future is looking bright. – Ian Stonebrook
2. Sacai x Nike LDV Waffle
The sacai x Nike LDV Waffle easily became the center of attention when it debuted during last year's Paris Fashion Week. While the release date always seemed to get pushed back, the shoe proved well worth the wait.
The sacai collab proves that everything comes better in twos with the double Swoosh, laces, stacked midsoles and nylon tongue. The mesh panel upper paired with suede accents rest on top of a waffle outsole pioneered by the Nike OG himself Bill Bowerman back in 1971. – Luis Torres
1. Travis Scott x Air Jordan 1
ASTROWORLD released last year but trust, 2019 still belongs to Travis Scott.
Moving the needle more than anyone in our space, Trav is selling out shows, shirts and now sneakers.
Last year's Air Jordan 4 was just the beginning, this year's Air Jordan 1 has Travis playing at his peak. – Ian Stonebrook