How bout them Heels? Looking for revenge all summer 16 after a last shot upset at the hands of Villanova in last season's NCAA Championship game, redemption was on the University of North Carolina's mind last night as they beat a very strong Gonzaga Bulldogs squad.
While cutting down the nets is nothing new for UNC, wearing sneaker heat certainly isn't either. Following last night's big win in retro Jordans and CP3 exclusives, we dug through the history books to countdown the best basketball shoes made for Chapel Hill's finest.
25. Air Jordan XX1 PE
The retail world got the Air Jordan XX1 in Carolina colors, only in low top form. Those lucky enough to play for Roy Williams, like Spurs shooting guard Danny Green, saw their own PE pairs in smooth, mid top fashion.
24. Jumpman Team One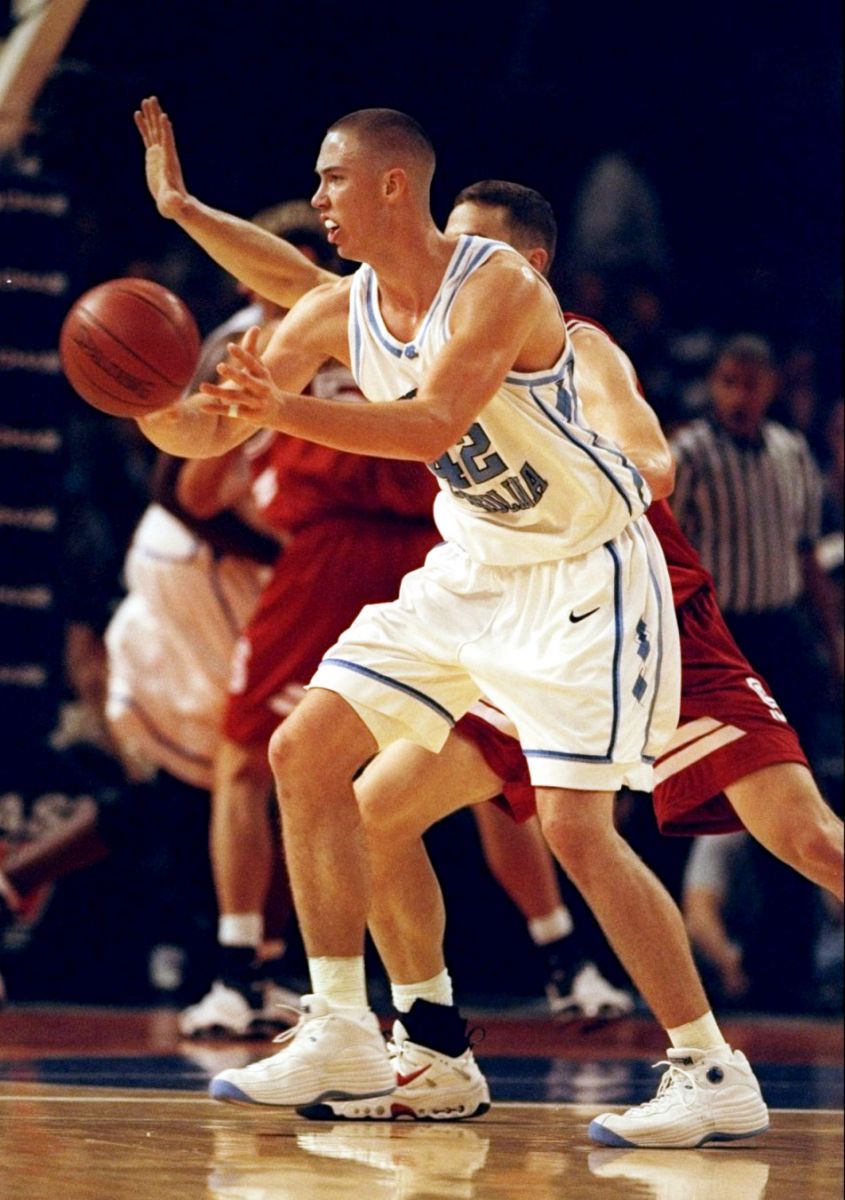 You'd think it would be hard selling Jordan models when the athlete wearing them isn't named Michael. Despite hoards of All-Star talent, it was schools like North Carolina, Michigan and Cincinnati that made the Jumpman Team One hot. While these don't break the internet when they release in retro form, the Carolina colorway still does reasonably well and evokes good memories.
23. Air Jordan 2009 PE
Ultra angular, the Air Jordan 2009 was almost like a new age Air Jordan 14, which we're not sure many people were looking for. Still, this UNC PE is for sure the smoothest and swaggiest, as it never released at retail but did grace the feet of NBA-ready Tar Heels like Ed Davis.
22. Nike Air Uptempo 3.0 PE
File these under very rare. While Kevin Garnett fans hit up Eastbay and their local mall to score these in Black/White and White/Black tumbled leather fashion, Dean Smith's six-starter lineup got these in their own colors too. Wow.
21. Air Jordan XX2 PE
The Air Jordan XX2 PE gets love in Cal and Georgetown fashion, but let's not sleep on the UNC makeup. Donned by Ed Davis and a host of Heels, this low profile team take is arguably better than any of the retail versions — even the OG take and basketball leather variation.
20. Air Jordan 2011 PE
The Air Jordan 2011 is slept on with capital ZZZZZZs. Clean in color blocking and modular in technology, yes these were understated but they were also underrated. This Carolina colorway worn by stellar pro John Henson during his college days speaks to such.
19. Nike Air Afterburner Flight
Joseph Forte in the Nike Air Afterburner Flight High
Made famous in the NBA by JKidd, TBug and Mighty Mouse, the Nike Air Afterburner was a midtop shoe for the shifty point guard. Oddly enough, it saw high top placement on Joe Forte — one of the best pure scorers to ever wear powder blue — in team tones just the same.
18. Nike Air Force Strong
Probably not the Air Force model Rasheed Wallace is most known for, the Nike Air Force Strong helped usher in a wave of team takes brought to the Heels by Nike. While the Maestros also deserve due props, anyone who remembers the Air bubble in these realize why they rank so high.
17. Air Jordan XV
Joseph Forte in the Air Jordan XV (photo via
Sole Collector
)
If the Air Jordan XV is your favorite Jordan, odds are you have a personal story that goes with them or just possess really unique taste. I for one love this shoe because of the former, but as a kid that rocked an elbow wristband in youth basketball because of Joe Forte, this retail release has strong steeze.
16. Nike Shox VC II & III PEs
Looking at pics of Vince Carter four feet above the rim in college is just silly. Sure, everyone knows about his springs in Toronto and New Jersey, but he was just as bouncy in college, as any ACC fan will tell you. His team-inspired PE takes on his signature Shox are near impossible to find on the internet, and even harder in real life.
15. Air Jordan XX9 UNC PE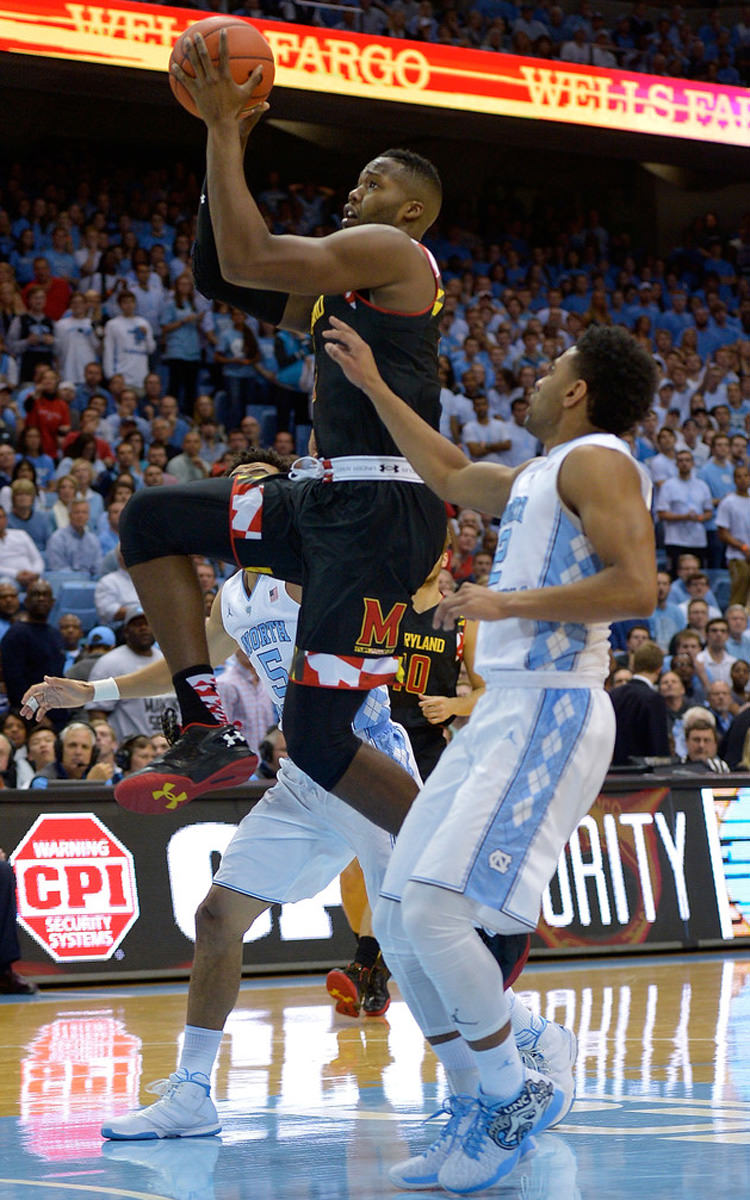 From a visual standpoint, the options on the clean slate Flyweave canvased Air Jordan XX9 were seemingly endless. Perhaps no pair better capitalized off that potential than the North Carolina PEs. Heaters in home and away takes, using the old school logo was a strong look on this new school model.
14. Air Jordan 1 High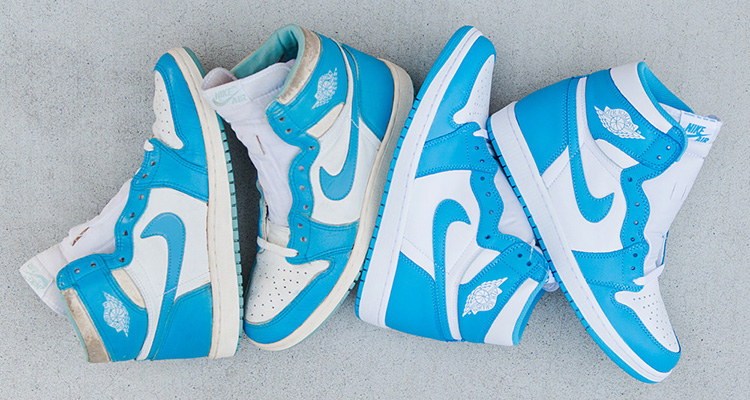 Just off being an Air Jordan 1 alone, the UNC colorway should be higher up on the list. Well, UNC wasn't a Nike school when they first dropped, so they never got burn in the '80s and rocking the retros on court in the '10s is probably a good way to get hurt. Nevertheless, these are the OG that tribute the OG.
13. Air Jordan 17 Low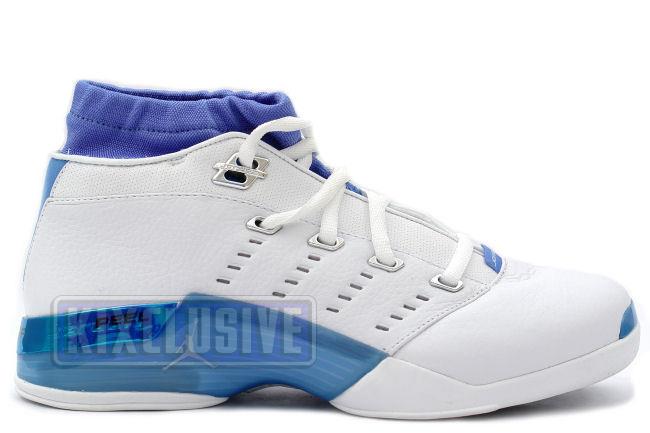 Dropping in the spring/summer season, it's hard to remember anybody for UNC actually lacing this pair up on court. That's a shame. Hey JB, why don't you retro these so we can see that change? We're definitely here for that, with our cash or credit ready.
12. Air Jordan 4 UNC PE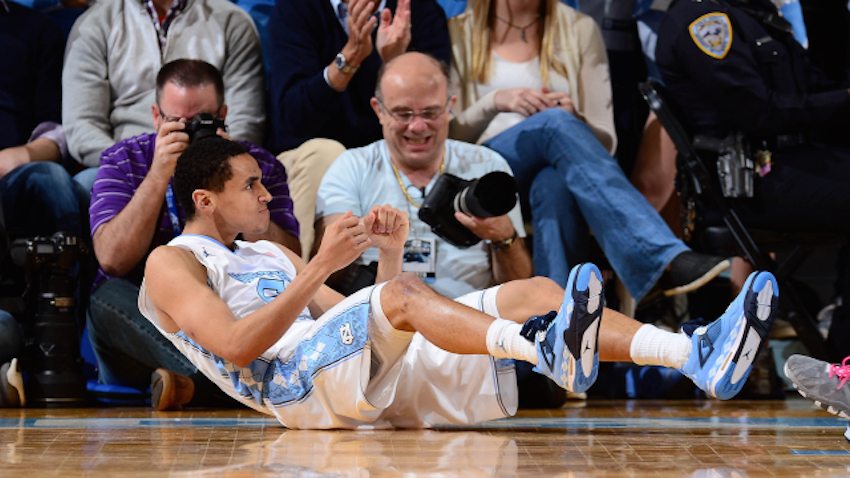 Meshing up UNC and the Air Jordan 4 is a tall task in regards to pleasing everyone as, well, just about everyone likes the school and that silo. Playing with argyle print previously seen on their XV SE release, these are for sure cooler, but get even more points after Marcus Paige hooped in these on Senior Night.
11. Nike Air Force 1 Sheed PE
It would've been dope to see Brendan Haywood or Julius Peppers pay respect to #30 in this Nike Air Force 1 High PE, but hey, I wouldn't want to risk my ankles or knees on the big stage in some Forces either. Fortunately, Rasheed Wallace is more fearless and OG than all of us, and this tribute pair to his college days is among his best releases.
10. Air Jordan 18 PE
Sean May in his Air Jordan 18 PE (photo via
Sole Collector
)
Dear Sean May, please do a March Madness Memories with us next year. While the force in the paint has since become a leader on the sideline, he was both on-foot during his playing days in Chapel Hill. Certainly not a size 9 but securing many a sample, this Air Jordan 18 PE for Mr. May was a rarity then and hopefully a retro eventually.
9. Air Jordan XX3 "Titanium"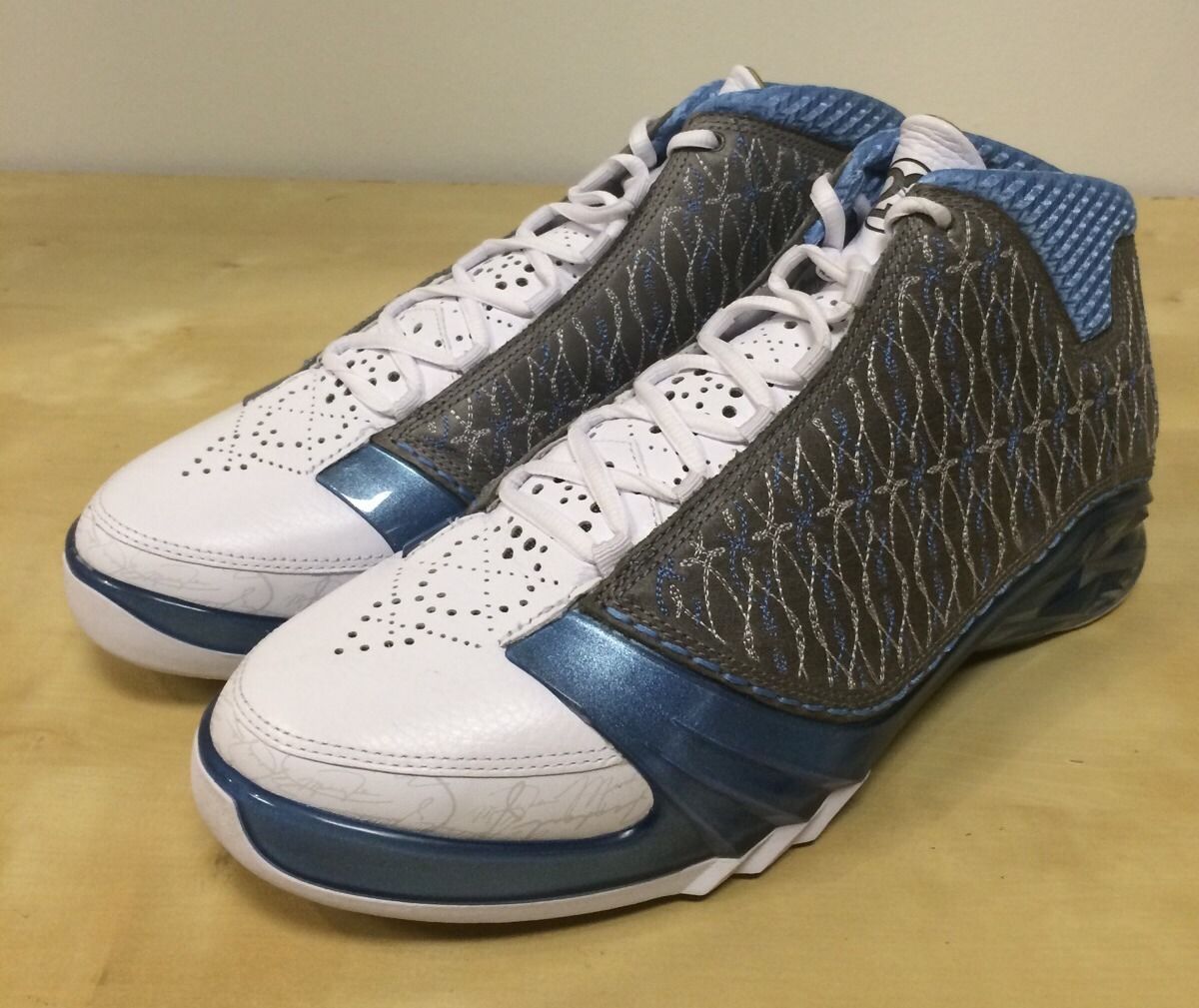 The Air Jordan XX3 was ahead of its time. Will it ever cause lines during the holiday season like the 11? Probably not, but as fashion catches up to this shoe, so will its popularity. Releasing in an array of colorways that paid tribute to the many stops on Mike's Hall of Fame career, this Raleigh rendition is among the best.
8. Air Jordan 12 "Melo"
Sean May in the Air Jordan 12 "Melo"
The Air Jordan 12 "Melo" may have made its way back to retail in GS sizes recently, but it was a tough shoe to chase all along. Worn by Carmelo as a Nugget and then released in ladies sizes, big guys like Sean May had the inside scoop on these, as they would later release in big sizes for the fellas long after the center was wearing them on court.
7. Air Jordan 10 "Powder Blue"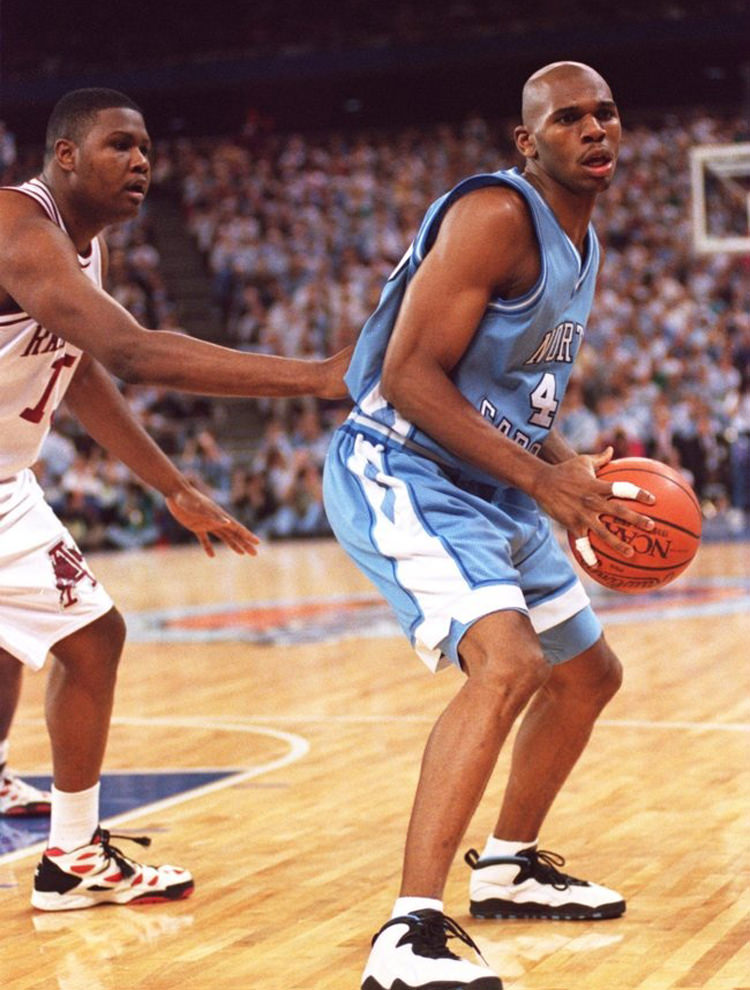 Do yourself a favor and watch Jerry Stackhouse and Rasheed Wallace play together at UNC. Un-fair. While one and dones like Derrick Rose, Michael Beasley and OJ Mayo outclassed the competition as underclassmen, these dudes were literally men against boys, with Stack sporting MJ's haircut, frame and signature shoes.
6. Nike Air Modify Force / Nike Air Adjust Force
Vince Carter in a Nike Air Modify Force PE (AP Photo/Eric Draper)
Team shoes generally hold the stigma of being wack, but ask anybody that grew up on college hoops in the '90s and they'll tell you real quick how they feel about the interchangeable strapped Nike Air Adjust Force and Nike Air Modify Force. Amateur in aim and angling off collegiate charisma, these were a hot commodity on Eastbay for prep athletes all over the nation but it was Dean's teams that made them cool.
5. Air Jordan 9 "Powder Blue"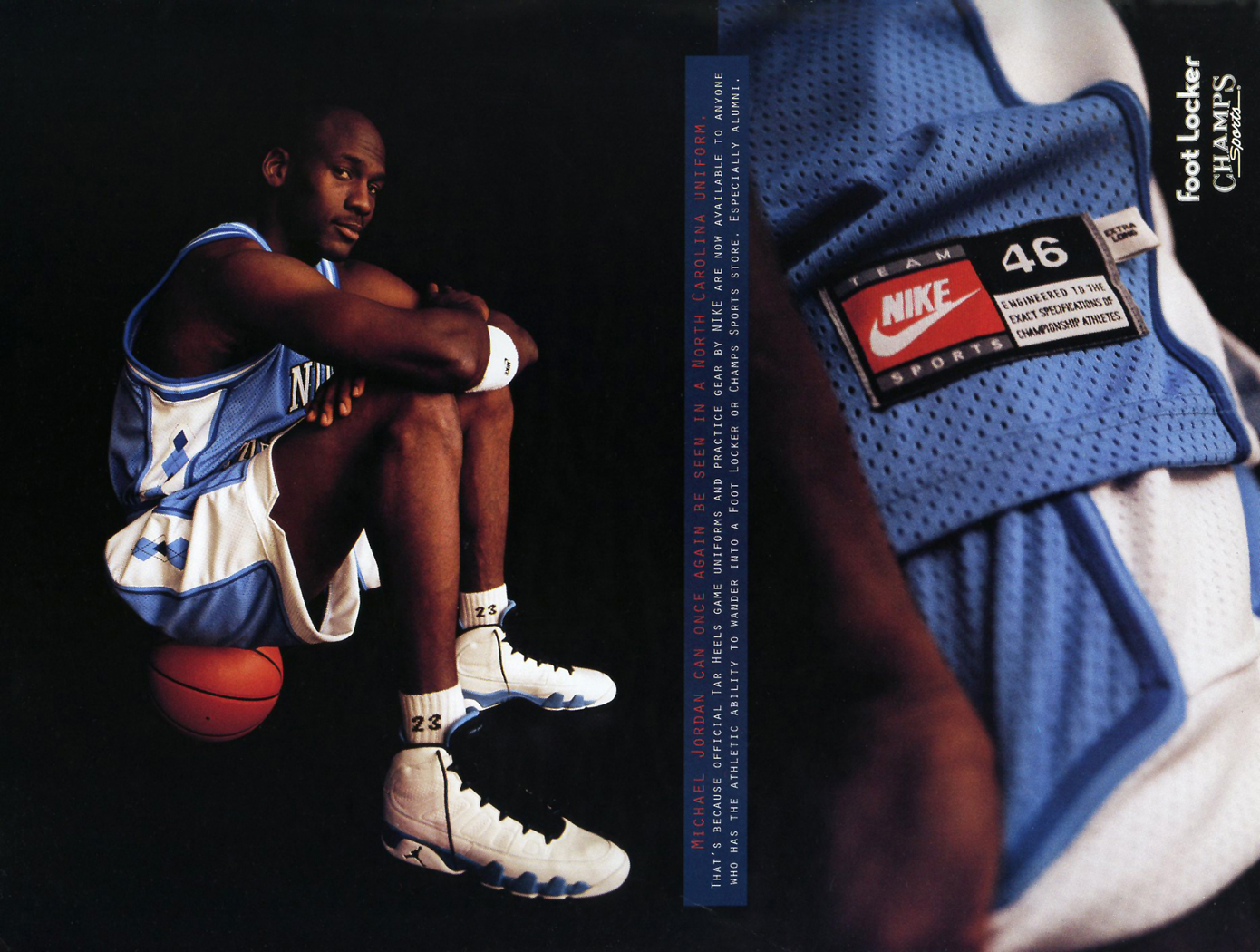 Back to school like Billy Madison, it's hard to tell if the Air Jordan 9 "Powder Blue" was part of MJ's early retirement plan or Nike's notice at the growing market for college fan gear. In either event, they started a trend in signature Air Jordans released in alma mater makeups.
4. Air Jordan 13 PE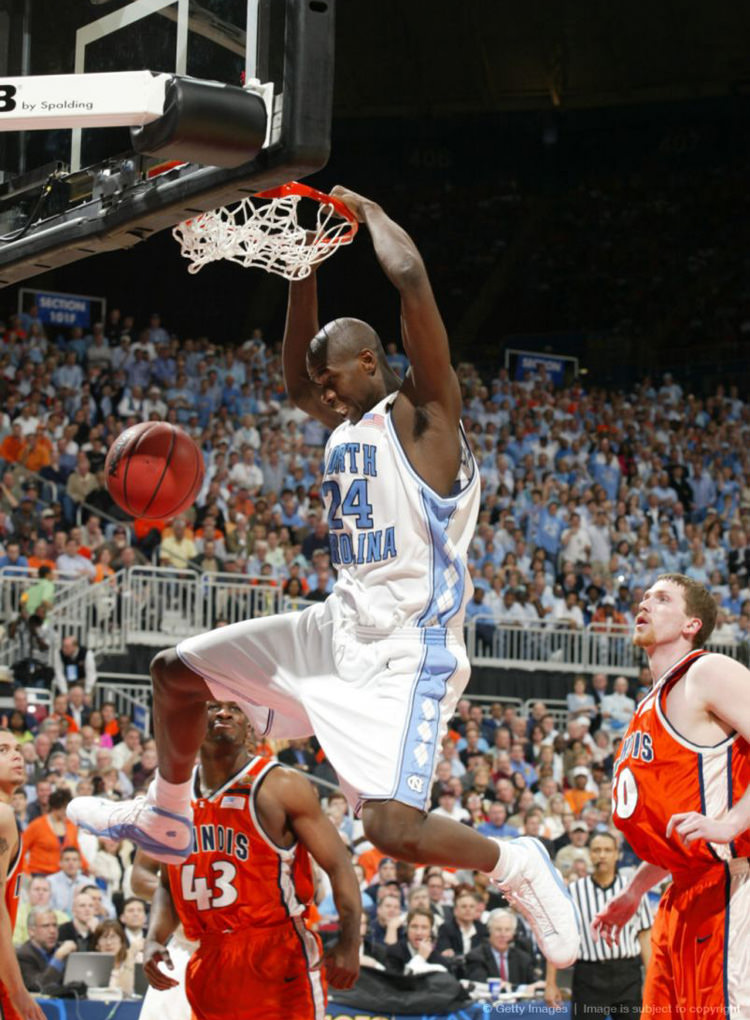 Being Jordan Brand has its perks. Case in point: the Air Jordan 13 UNC PE. Never released at retail, but worn by the likes of Marvin Williams when their loaded squad bulldozed college basketball, this rarity ranks high on styling and stamping alone.
3. Converse Pro Leather
Michael Jordan in the Converse Pro Leather (photo via
Pintrest
)
The Converse Pro Leather might not rank high in the resale column, but it sure has its footing in basketball history. Worn by MJ in his iconic "First Shot," this pair of team issued kicks is literally the things stars are made of.
2. Air Jordan 14 Mid PE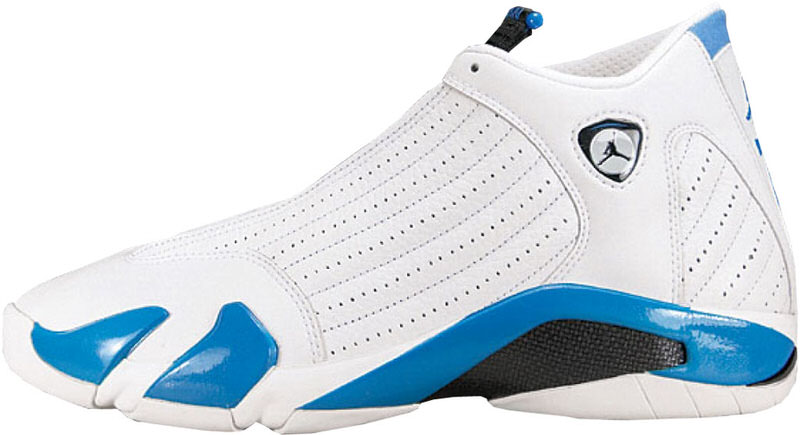 A unicorn of a sneaker if there ever was one, the Air Jordan 14 Mid PE for North Carolina has a story all its own. Made for the team and eerily similar to the low top (unribbed) pair that hit retail, a small batch of mostly big sizes hit Eastbay randomly, with fans having a quick shot at copping the kicks made for basketball's elite.
1. Air Jordan 11 "Columbia"
Simply the best. Rocked by the likes of Jeff McInnis and Antawn Jamison in Chapel Hill and brought to life by Michael Jordan in the Alamodome, the Air Jordan 11 "Columbia" is simply as good as it gets. Clean cut like a Dean Smith program, but wildly athletic like the recruits he pulled in, these are good in any era.
Lead image by Grant Halverson/Getty Images via Zimbio