Pure Insanity.
Welcome to today's Nice Kicks' Throwback Thursday. In light of a legend announcing he will play his last season, we pay tribute to and reminisce about Puma's legendary trademark athlete and 1999 Rookie of the Year, Vince Carter, and his first signature sneaker, the Puma Vinsanity.
Puma has a deep history and tradition centered around style, flare, and street appeal. Puma established itself as a major player in the sneaker game and fashion trendsetter in New York City in the early 1970s by virtue of signing New York Knicks legendary All-Star point guard and NBA Champion, Walt "Clyde" Frazier to a lifetime contract whose signature sneaker, the Puma Clyde, was named in his honor.
How fitting for a sneaker company and its signature athlete to have taken center stage in the biggest basketball media market in the world. Ranked as one of the most iconic basketball sneakers ever created, the Puma Clyde maintains an everlasting influence on local street culture, particularly due to its multitude of bright colorways and stylish, interchangeable laces. Sneaker customization and personalization was born, and Puma helped usher in this new trend in a world where individuality served as the prevailing, guiding metaphor.
Fast-forward to the late 1990s and the post-Jordan NBA era. Following the NBA lockout, a bright, energetic, cool, up-and-coming star by the name of Vince Carter literally jumped his way onto the basketball scene and into living rooms throughout North America.
The 5th pick in the NBA draft, VC was drafted by the Warriors but then traded to the Toronto Raptors, ultimately becoming the face of the Raptors' franchise and single-handedly helping transform the GTA from a hockey town into a legitimate basketball city and recognized sports destination. Similar to Clyde, VC15 had a stylish and larger-than-life personality which appealed to the masses. A gravity rebel and highlight hog, VC took the NBA by storm his rookie season, helping lead the NBA into the new millennium while in the process, becoming the new face and future of Puma.
In 1999, Puma created a commercial with VC wearing his new Puma Vinsanity, dunking to the beat of Korn's song, "Freak on a Leash." The commercial showed Carter performing a plethora of acrobatic dunks and ball-handling moves, setting the stage for the Vince Carter show that would soon unfold.
Featuring Puma Cell technology, the silhouette was rather basic and subdued from a design standpoint and debuted in black and white colorways, a stark contrast to VC's bright personality and flashy on-court disposition. Of note, Vince's custom PE version featured his #15 stitched on the heel pull tab.
A trendsetter in the sneaker and fashion community for 70 years, Puma recently signed DeAndre Ayton, Marvin Bagley, and Michael Porter, Jr. to contracts as well prior to their rookie seasons, further enhancing their basketball portfolio.
Furthermore, in a separate strategic move, Puma introduced a new model, a modernized update to the original Puma Clyde made with a knit construction and current sneaker technology.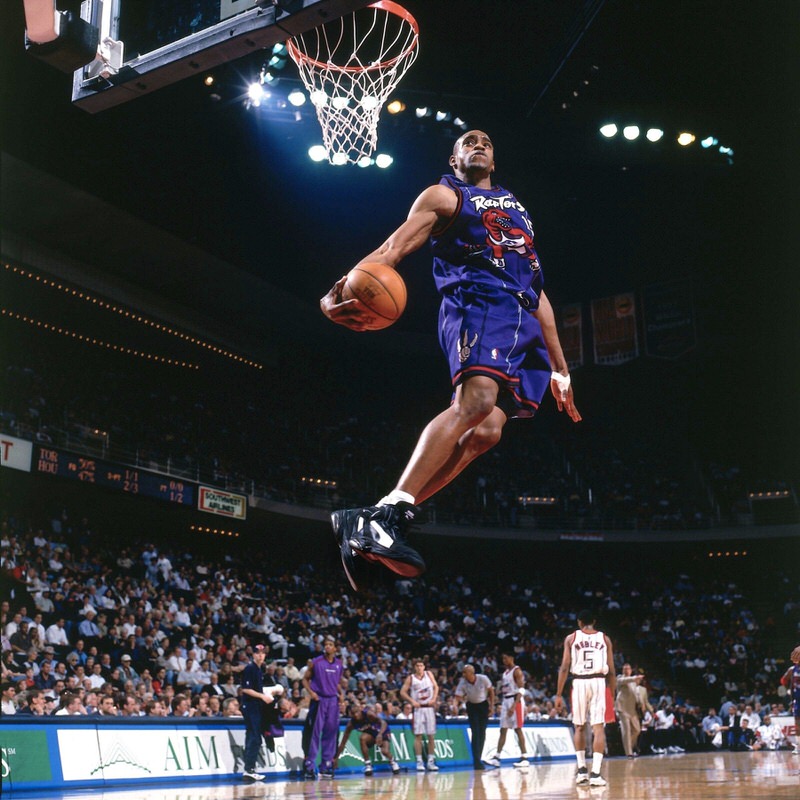 While the vast majority of VC's career accomplishments and highlights were performed in other brands following his departure from Puma, the Vinsanity and its Cell technology, nearly two decades later, have finally returned to center stage.
The greatest show in Canada, and on planet earth.