When PJ Tucker isn't receiving crisp passes from Chris Paul, joking off with James Harden or being gifted archival PEs from Kobe Bryant, you can find him on the Internet just like us doing, well, exactly what we do: meticulously searching for sneakers.
Reading up, researching and reaching out, PJ Tucker has risen to the ranks as not just one of the most famous sneakerheads but also one of the most well rounded. Growing up with an Eastbay in his hand and embracing every era of sneaker culture since, Tucker appreciates a pair of passed-on Penny IIIs the same as sold-out Tom Sachs.
Flashy on the foot but not afraid to do the dirty work on the court, Tucker's look good, play hard approach ain't far off from another basketball playing North Carolina native known for footwear. Just the same, his ability to go hard in heat is probably one of the reasons why grail-rocking rager Travis Scott saw it fit for Tucker to debut his "Cactus Jack" collab.
High priced shoes, high stakes games, it's obvious PJ takes our honors as this year's Kicks on Court Champ — you saw all the pairs he wore, right? — but he also got the nod from his peers as the NBPA Player's Voice Sneaker Champ. We caught up with the seasoned sneakerhead to talk about his KOC roots as an amateur, how many pairs he pulls in a season and what he's eyeing for the 2018-19 season en route to repeating.
The champ is speakin', best to listen.
Nice Kicks: First off congrats on winning the NBPA Player's Voice Award for The Sneaker Champ, well deserved. When did you first hear that you won and what was your reaction to winning?
PJ Tucker: They called me and told me actually! It's always cool to be recognized by your peers, that's like the biggest thing as the NBA players voted on it. I just love shoes bro.
Nice Kicks: As for The Sneaker Champ award, you've been killing things on foot in the league for years now. Take me back before that to your high school days and tell us about what you were wearing then and how it all grew.
PJ Tucker: Man, it was a bit of everything. Especially back then not having as much. Kids hit me up all the time and it was the same thing for me back then: I literally bought shoes to play with on court with every dime I had. In high school, that's when Jordans were huge and being able to get them and wear them on court was everything. I was wearing everything I could get my hands on and it didn't matter if it matched! [Laughs] It was just about getting the heat. When I was in high school, "Space Jams" were the biggest thing ever. When they dropped for the first time that was huge. I hooped in those as soon as I got them. Even the "Concords," I played in those. Really, everything that came out from '99 to '03 and even some of the stuff earlier that I already had because I was wearing a 14 since 7th grade! [Laughs] I've been cool with having shoes for a long time.
Nice Kicks: So, when it was time to play ball for the University of Texas did you bring your high school heat?
PJ Tucker: Of course. Everything I had from high school came down to college with me. When I left home for school my mom would joke that 90% of my bag was shoes and 10% was everything else. [Laughs] My shoes were going to make the trip no matter what.
In college, I got into LeBrons, Air Max Uptempos and different things. I always had a love for shoes but even more loving to wear my shoes on court has always been huge for me. It's something I've done my entire life. Me and LaMarcus Aldridge rocked everything, like Retro 3s and Wheat 13s. Those 13s were heaven sent when they dropped while we were in school. They weren't really our colors but they looked good with our uniforms when we wore the orange. That was like the biggest hit in college, being able to wear those 13s.
Nice Kicks: You spent a good chunk of time playing overseas and in the G-League. How did your relationship with sneakers change or evolve?
PJ Tucker: It actually made my relationship with sneakers bigger. I had so much time on my hands over there that I would literally be online 24/7 buying shoes and making connections over there because there are a lot of guys over there that are huge into shoes. It was always about shoes, it never stopped. From being here to going there to coming back it was part of my life. No matter where I'm at or what I'm doing my shoes have always been a reflection of my personality and how I feel. They've always been part of me and part of my life.
Nice Kicks: In 2012 when you came back to the league with the Suns it felt like it was officially on as far as Kicks on Court. Since becoming a fixture in the league, do you set a budget on how much you spend a year on shoes?
PJ Tucker: No, my shoes have never really had a budget. It all depends on the shoe, what you want, when it came out, what they're worth and going for with the resale market and other variables. But it's really about if it's a shoe I need for my collection or want to hoop in — then it's just about if I really want them and I'm gonna get them anyways. [Laughs]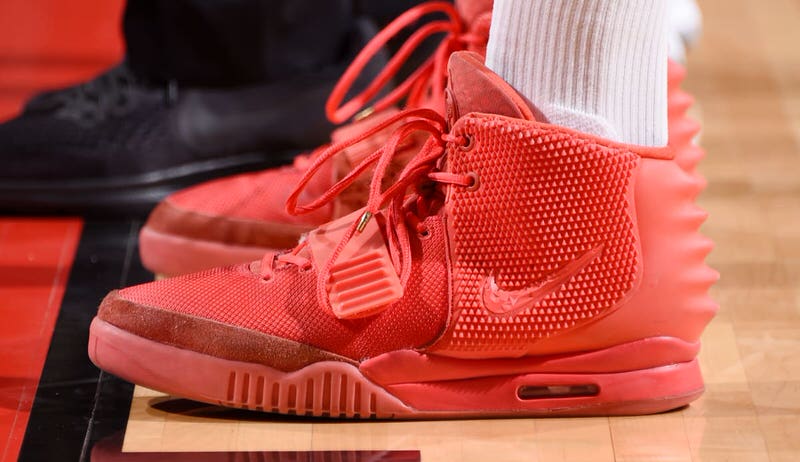 Nice Kicks: When copping kicks for the season, do you have a favorite city or shops to buy shoes in?
PJ Tucker: Obviously the ones everybody knows like Flight Club, Stadium Goods, RIF and Index. All those guys are my guys and I have a great relationship with all of them. But honestly, the bulk of my stuff comes from relationships outside of stores. I probably get twice as much of my collection from connections in the sneaker game. Honestly, people that are hoarders! [Laughs] That's the best word, they've got all the old stuff. Guys that can get their hands on anything and you don't ask questions. I deal with them more on a daily basis and that network is big. These guys are in the most weird places you'd ever hear.
Nice Kicks: About how many pairs of shoes a year do you buy or bring in?
PJ Tucker: We were trying to count and we lost count early on, but I would say that we probably got just during the season — from September/October to now — I would estimate over 500 pairs total. Not all of them make it on the court. I'm huge into Air Maxes, so you can chalk half that number up to that. I double and triple on my favorite Air Maxes, even more on some of them. Also, I get a lot of SB Dunks. Then, the Nike Epic React is like my favorite shoe, I wear those every day. Kids will see me and be like, "Man I thought you'd have some heat on!" [Laughs] It's always the funniest thing ever, it's always like a kid at Target asking where the heat's at. I wear regular shoes, too, so it's not all the crazy stuff. I just really enjoy sneakers.
Nice Kicks: Do you get hit up for sneakers a lot?
PJ Tucker: Oh my, God. [Laughs] You can only imagine, it's insane. I give away a ton of shoes. Some days I'll just load up my car and ask people what size they wear and just give them away. I'll do giveaways on Instagram for hyped pairs like Off-Whites from my personal collection. I try to give shoes away as much as I can.
Nice Kicks: You wore A LOT this season, but do any shoes stand out to you as your personal favorite?
PJ Tucker: It's gotta be the "Legends of Summer" 3s because of how hard I worked to find them. I got word that there were only three pairs of size 14s in the world. I finally located a pair and I always talk about wearing my shoes and that I buy shoes to hoop in but that's the first shoe I ever thought about not hooping in because I didn't know if I could get another pair. So, I then I actually hooped in them and two weeks later I found another pair! That basically reminded me why I do this. It doesn't matter if I find another pair or not, I'm hooping in them. 3s are my favorite shoe so that was big for me.
Nice Kicks: Just the same, were there any shoes you purchased and wanted to wear but proved unwearable?
PJ Tucker: Oh, I go through that on probably 30% of them. They're blown out, they're too old, the glue is coming off, I go through that a lot. There are so many pairs of shoes I wanted to wear over the last few years that I haven't gotten fixed yet. There are some guys who are really good at fixing them so they're still good to play in. But yeah, at least 30% of them. It's crazy.
I'm with Nike so they send a ton of shoes, but I'll always hit them up on the older stuff to ask if they'll hold up and my reps are like, "No way!" It's so funny, a lot of those shoes are like 10+ years old. Some will last but others with just blow out — like my OG Air Zoom Generations, I wore those for practice. We were in shooting drills and I took off to run and they just completely came apart. [Laughs] The whole front half of the shoe came off, it was so crazy. OG 16s, too. Those things break like crazy.
Nice Kicks: When a shoe blows out in practice, what's the reaction from your teammates, your coaches, the training staff?
PJ Tucker: They all already know. They love it and think it's the funniest thing ever.
Nice Kicks: In that situation, would you ever consider doing a sole swap?
PJ Tucker: Yeah, I've seen it. I haven't done it but I always wanna hoop in OGs. It's just my thing, I always like the original ones rather than the retros but I always consider a little bit of everything.
Nice Kicks: In line with sole swaps, we saw you rock customs in the playoffs in the form of your "Red October" take on the Off-White x Nike Hyperdunk 2017 by The Shoe Surgeon. Customs were widespread throughout the league this year, what's your take on the current custom trend?
PJ Tucker: Customs are crazy man! I've seen a lot of customs this year, guys with Dragon Ball Z on their shoes and all types of wild stuff. Customs have never really been my thing, I've never really been a customs guy. I never owned a pair of customs until this year, but the idea came to me when I was watching something that showed a bunch of shoes in red. I started thinking that it would be crazy to do an all-red pair of Off-Whites since red's my favorite color.
It was an idea I came up with, so I hit up one of the best if not the best guy doing it: The Shoe Surgeon. He was all in from the beginning and to see the process and how they came out the way they did was insane. For a person that doesn't really love customs he made me a total lover of them.
Nice Kicks: Going back to the brand side of things, how has your relationship with Nike changed as your star in the league and with kicks risen? They seemed to hook you up with LeBron 15 PEs this year.
PJ Tucker: My relationship with Nike has always been great. I've been with Nike since I was young and they've always taken care of me. I've had a relationship with pretty much everybody that works with Nike [Laughs] and it's pretty cool because they always take care of guys. It's always fun getting boxes. They're so innovative and on top of their game, so it's always fun, they always make it fun.
Nice Kicks: I noticed over the regular season you wore Jordans the two times you played against the Cavs. Do you have a stance in regards to wearing signature shoes against the guy?
PJ Tucker: That's a no-go. I can't line up against him and wear his shoes. I love LeBron, that's my man, it's all good, but you know it's a thing when we're battling on the court. I respect him and love the LeBron 15 — it's one of my favorite hoop shoes this year and maybe my favorite LeBron yet. Big ups, but it's just one of those things as competitors.
Nice Kicks: In regards to modern performance signatures, LeBron and Kobe seem to be your go-to. Do you have a preference between the two lines?
PJ Tucker: There's no doubt about it: Kobes are the best hoop shoes to me maybe ever made. Kobes 4, 5 and 6 are to me the grails of hoop shoes as far as playing and actual performance. Top to bottom, they're the best hoop shoes ever made to me. The comfort, the weight, how durable they are, the grip, and then the colorways and look of the shoes all three are great. Even down the line, I love the Kobe 1 and the Kobe 3. I've always been a big fan of Kobe and his shoes. My Westchester Kobes were actually from Kobe so that was dope to get those from Kobe.
Nice Kicks: Stepping away from signature athletes, let's talk artists. How did debuting the Travis Scott x Air Jordan 4 come about?
PJ Tucker: That was crazy. I had talked to Trav a little bit before and I didn't say anything about the shoes because I didn't know about them. Shortly after, that blurry picture that surfaced online from like a FaceTime screenshot hit and I thought they were crazy. I just wanted to see them so I hit him up to see them and he was like, "Yo, where you at? I'm about to bring them to you so you can hoop in them." I'm like, "What?! Dog, no way!." He literally brought me the shoes and I played in them that night, literally.
It was nuts man, like for real. I've never in a game had people calling me out asking me what my shoes were. But the actual sneaker is dope so it wasn't just wearing something that nobody had ever seen but more like this is actually a really dope shoe.
Nice Kicks: Does wearing a blue shoe like that in the playoffs get you fined?
PJ Tucker: Nah, we got new rules now. Back in the day you would get fined for sure for wearing different colors but this year they let you wear whatever you want in the playoffs. It's pretty cool being able to do whatever I wanted. Before, there was a lot of threats for fines, a lot of emails with pictures saying not to wear this or that all the time. I think Nike helped out to get the rules looser with the league and letting guys get creative with what they want to wear.
Nice Kicks: Chris Paul recently told us how impressed he is with your kick game. Looking across the league through the course of your career, whether it be teammates or opponents, whose kick game do you enjoy or respect the most?
PJ Tucker: There's been quite a few people. Nate Robinson always had a lot of heat and wore it on court. I always liked Tony Wroten. Tony always had a nice collection and wore good shoes.
Tony would wear stuff that people forgot about, kinda like the lost sneakers, and I always liked that. You could always tell that Tony wore sneakers that he liked and it wasn't about the hype of the shoe, he would wear something that he liked and I always liked that. Then Nick Young always has different stuff and is creative with what he wears. There's been quite a few people. It's always fun to see other people that enjoy wearing different shoe and wearing different stuff.
Nice Kicks: Did you happen to catch what Nick Tweeted saying that the Kicks on Court Champ/Sneaker MVP Award should be named after him?
PJ Tucker: That was funny. Nick's hilarious, he's funny man. That's Nick! If you know Nick he's always saying crazy, wild outlandish stuff. [Laughs]
Nice Kicks: You've pulled out a lot of past PEs from former legends. Which players or PE wearers from the past stand out as your favorite?
PJ Tucker: Ooh, that's a good one. Fred Jones has always been my favorite. He's one of my good friends, we played together and Fred used to have crazy PEs. It used to drive me crazy everytime he'd come to games. He'd have crazy stuff with shipments of stuff I'd never seen. Obviously, Ray Allen is probably the best. His collection is probably the best because he's been with Jordan Brand longer than anybody. From top to bottom to Seattle days to Milwaukee to whatever, Ray's had the craziest collection. And we wear the same size so he's always been one of my favorites just off that.
Nice Kicks: You seem to have rocked it all, but what's a shoe you can't find?
PJ Tucker: Oooh, that is a great question. I'll say something recent because I could say some old stuff, but recently trying to find the "Korea" 3s. Those have been the hardest shoe to find. They're like non-existent. Only the Korea National Team got them outside of a size 10 or 11. It's something crazy. Trust me, I've researched it and had my top guys on it. That one has been recent and really hard to find. That release kinda went over a lot of people's head because it didn't release in the States at all. I think that went over people's heads on how rare they are right now. Even in the resale market you can't find size 10 or up.
Nice Kicks: Looking ahead to 2018-19, do you have a theme in mind for next season or pairs you're still hoping to track down?
PJ Tucker: I don't man, I just keep doing me! I probably get asked the most what I'm going to do next and I don't know. I never know! I didn't plan on wearing the stuff I wore this year, it just kind of happened. I go through my collection and find the stuff that I like and my guys find stuff and stuff comes at me. This year my guys found a lot of the Oregon stuff and I love the Oregon colorways. It's so funny, people ask me why I wear Oregon colors if I didn't go there or high school PEs. They're sneakers! They're just shoes. People wear shoes to express themselves and how they feel that day. I've never understood otherwise.
In terms of where I'm going next? The University of Houston is about to be a Jordan Brand school and I'm sure they're going to get some crazy PEs in their colorway. I'm excited to see that and that's where I'm going next. There's always stuff changing, old stuff coming up that you haven't seen in a while, so it's just non-stop everyday emails, text messages and DMs about shoes. Me, I'm always going to be around shoes. It's just what I do and it's a part of my life.
Lead image by Bill Baptist/NBAE via Getty Images