What a season for PJ Tucker. The reigning Kicks On Court Champion was able to up his averages in the box score while still proving far above average for those keeping score of sneaker boxes.
Playing in 99 games this regular season and postseason combined, PJ pulled out everything from "Red October" Yeezys to vault Kobes to PE Jordans. The Rockets forward was on another level, simply put.
Often wearing two different pairs on a given night, see every shoe rocked on court by PJ this season in the photos and game-log below.
Game 1: Nike LeBron X Elite
October 17, 2017 @ Warriors
Game 2: Nike Kobe 6 "All-Star"
October 18, 2017 @ Kings
Game 3: Nike LeBron 9
October 21, 2017 vs Mavericks
Game 4: Nike Kobe 6 "Fade to Black" & Nike LeBron 15 "Ghost"
October 23, 2017 vs Grizzlies
Game 5: Air Jordan 9 "Silver Anniversary"
October 25, 2017 @ Sixers
Game 6: Air Jordan 8 Rip Hamilton PE & Air Jordan 7 "Bin 23"
October 27, 2017 vs Hornets
Game 7: Air Jordan 9 "Silver Anniversary" & Air Jordan 7 "Bin 23"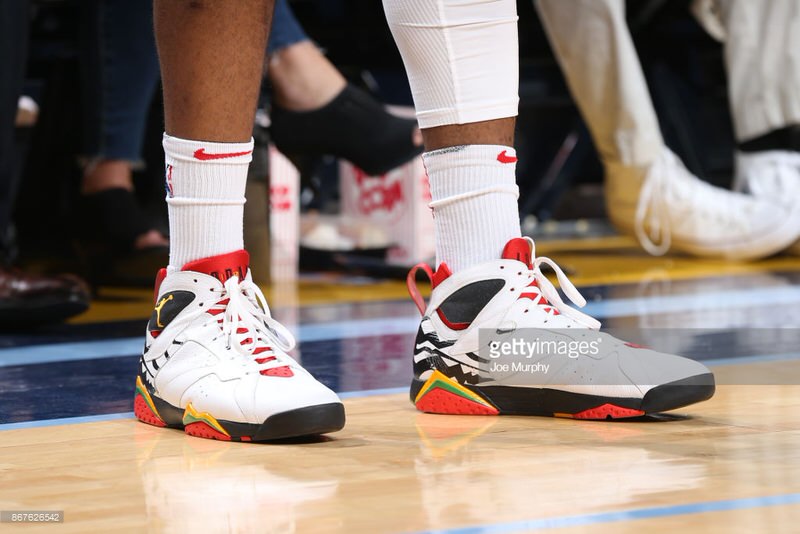 October 28, 2017 @ Grizzlies
Game 8: Nike Kobe AD
October 30, 2017 vs Sixers
Game 9: Air Jordan 9 "Motorboat Jones"

November 1, 2017 @ Knicks
Game 10: Nike Kobe AD
November 3, 2017 @ Hawks
Game 11: Nike Kobe AD Mid
November 5, 2017 vs Jazz
Game 12: Air Jordan 10 CDP & Air Jordan 16 CDP
November 9, 2017 vs Cavs
Game 13: Nike Kobe 6 "3D"
November 11, 2017 vs Grizzlies
Game 14: Nike Kobe AD Mid
November 12, 2017 @ Pacers
Game 15: No photos of PJ
November 14, 2017 vs Raptors
Game 16: Air Jordan 9 "Charcoal" & Nike Kobe AD Mid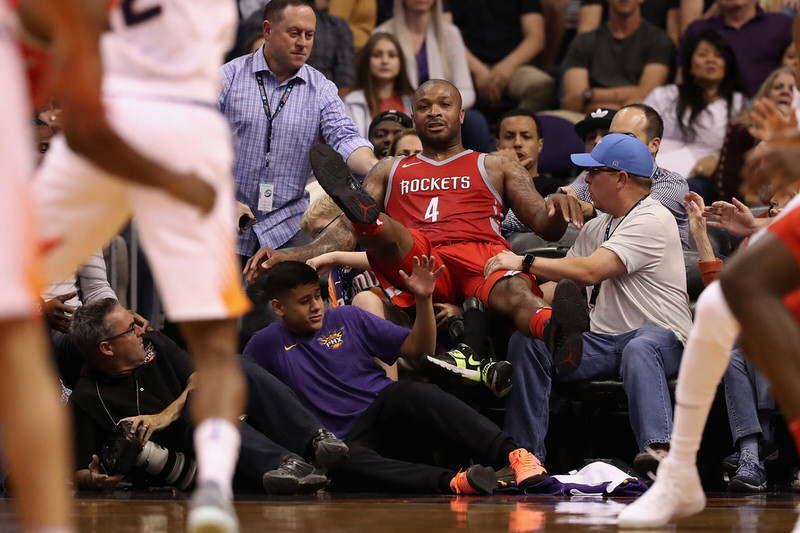 November 16, 2017 @ Suns
Game 17: Air Jordan 9 "Charcoal"
November 18, 2018 @ Grizzlies
Game 18: Off-White x Nike Hyperdunk 2017
November 22, 2017 vs Nuggets
Game 19: Nike Air Yeezy 2 Black/Solar Red & Air Jordan 13 Black/Red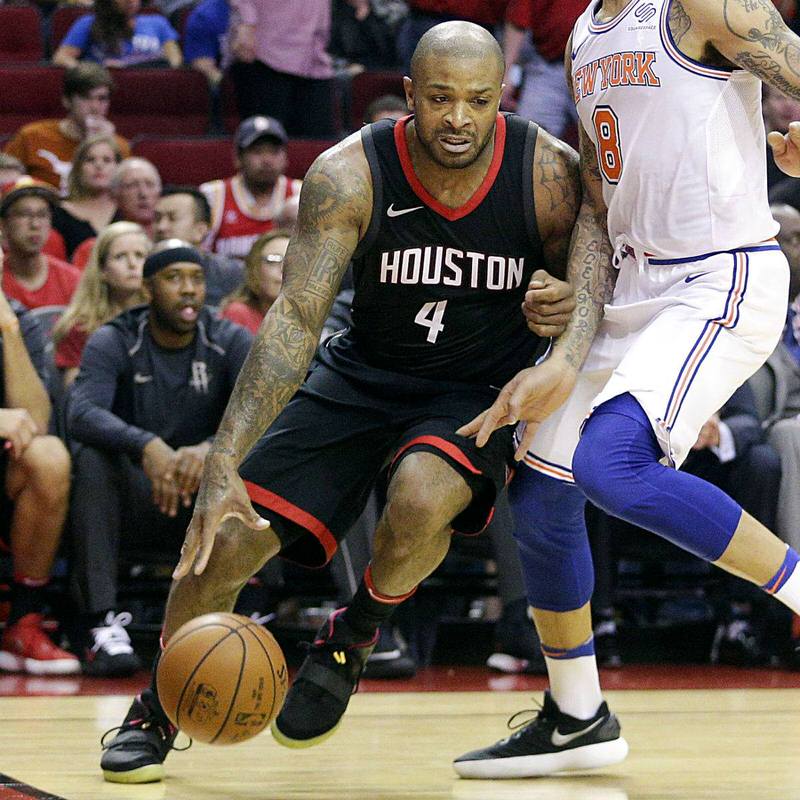 November 25, 2017 vs Knicks
Game 20: Air Jordan 11 "Win Like 96"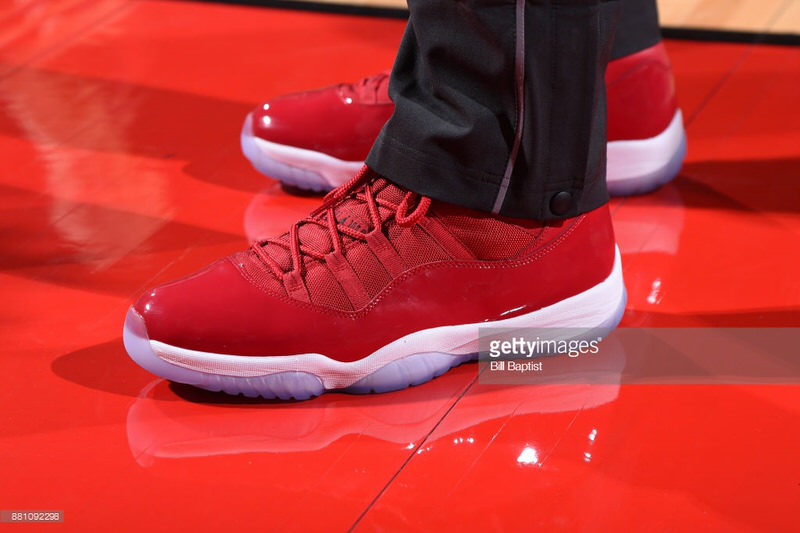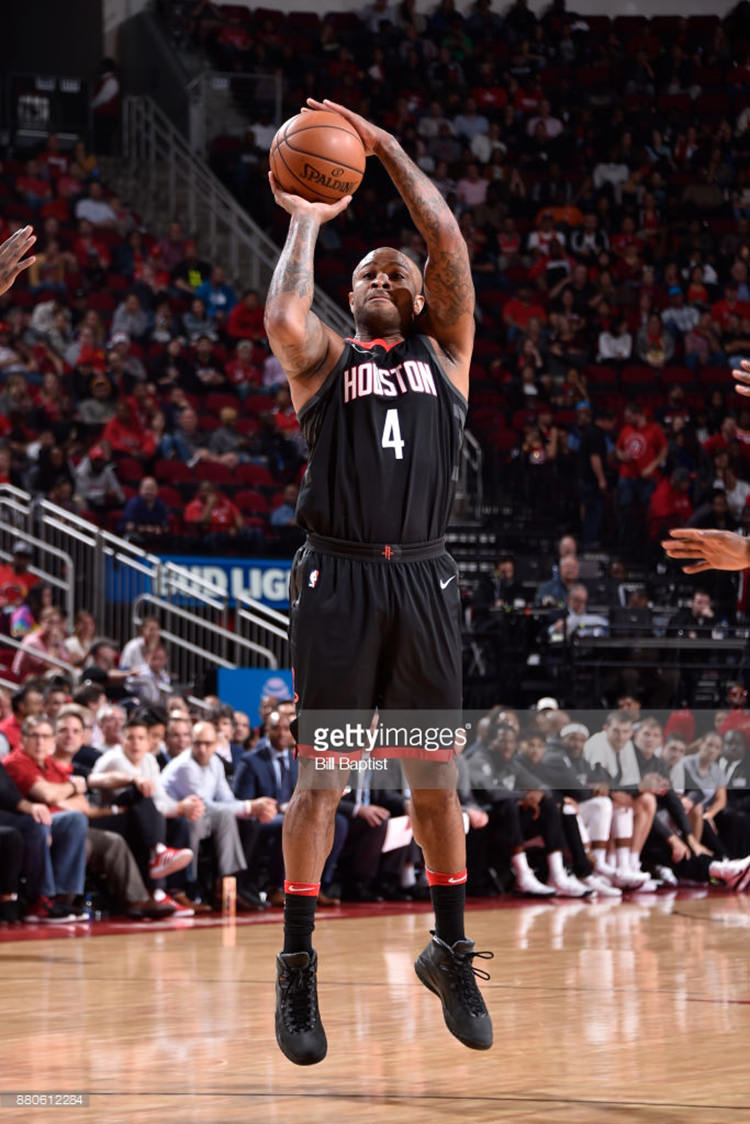 November 27, 2017 vs Nets
Game 21: Air Jordan 11 "Win Like 96" & Air Jordan 10 "OVO"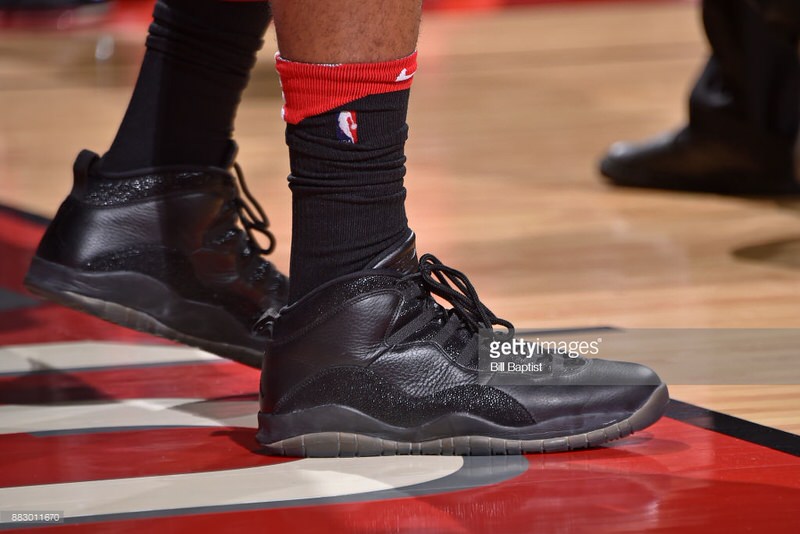 November 29, 2017 vs Pacers
Game 22: Off-White x Air Jordan 1 "Chicago"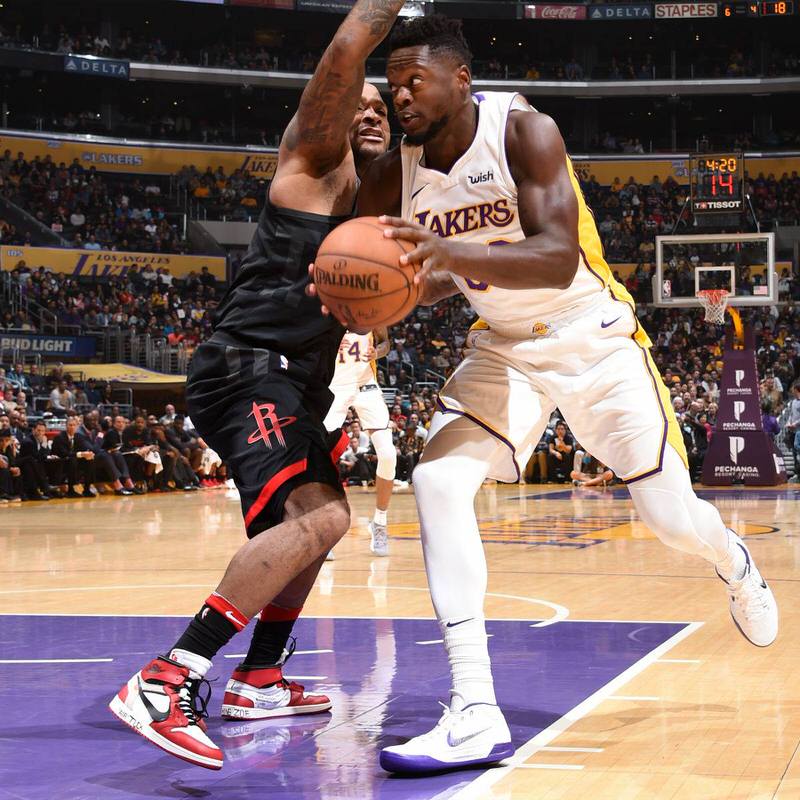 December 3, 2017 @ Lakers
Game 23: Nike Kobe 5 "Aston Martin"
December 7, 2017 @ Jazz
Game 24: Nike Kobe 5 "Aston Martin"
December 9, 2017 @ Blazers
Game 25: Air Jordan XX3 & Air Jordan 10 CDP
December 11, 2017 vs Pelicans
Game 26: Nike LeBron 4 & Air Jordan 10 CDP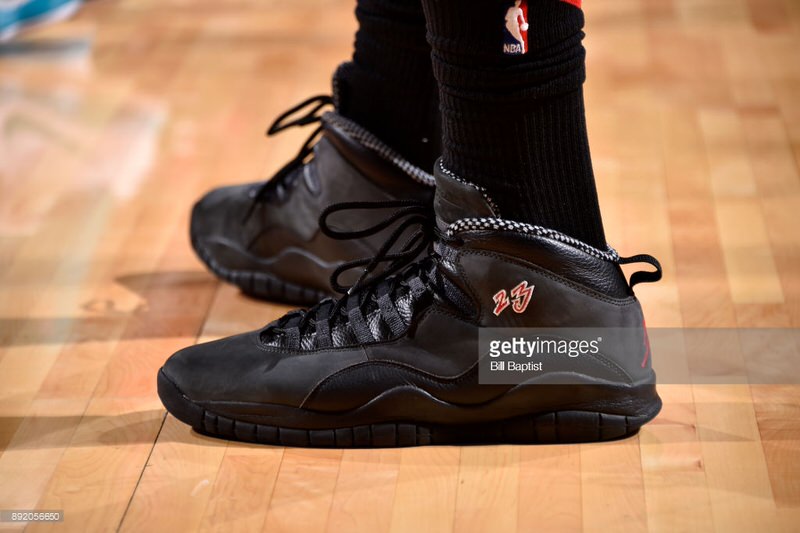 December 13, 2017 vs Hornets
Game 27: Nike Kobe AD & Air Jordan 10 CDP
December 15, 2017 vs Spurs
Game 28: Nike Kobe AD Mid
December 16, 2017 vs Bucks
Game 29: Nike Hyperdunk "Aston Martin"
December 18, 2017 vs Jazz
Game 30: Air Jordan 14 Oregon PE & Nike Kobe AD Mid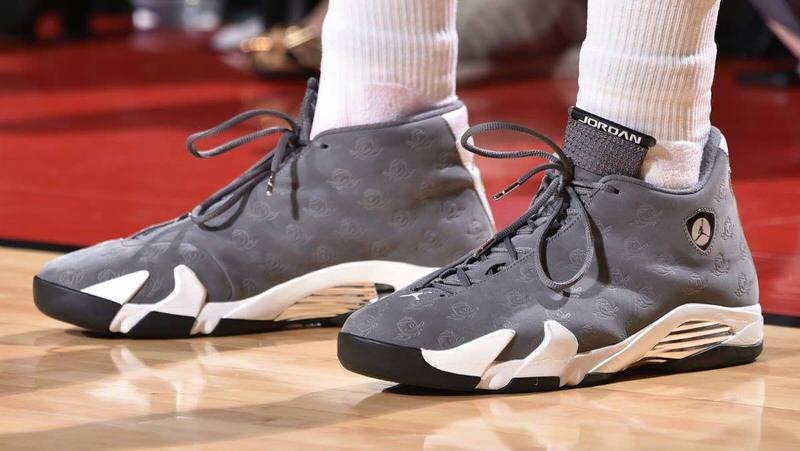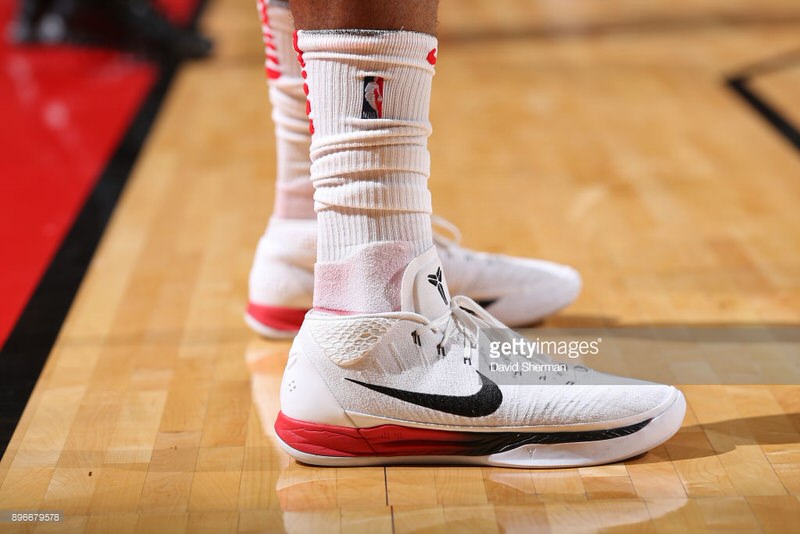 December 20, 2017 vs Lakers
Game 31: Nike Kobe AD Mid & Nike LeBron X Low
December 22, 2017 vs Clippers
Game 32: PSNY x Air Jordan 10
December 25, 2017 @ Thunder
Game 33: Nike Kobe 9 Elite Low
December 28, 2017 @ Celtics
Game 34: Nike Kobe 11 Elite
December 29, 2017 @ Wizards
Game 35: Nike Kobe 9 Elite Low
December 31, 2017 vs Lakers
Game 36: Air Jordan 13 Black/Red
January 3, 2018 @ Magic
Game 37: Nike Kobe 7 "BHM" & Air Jordan 13 Black/Red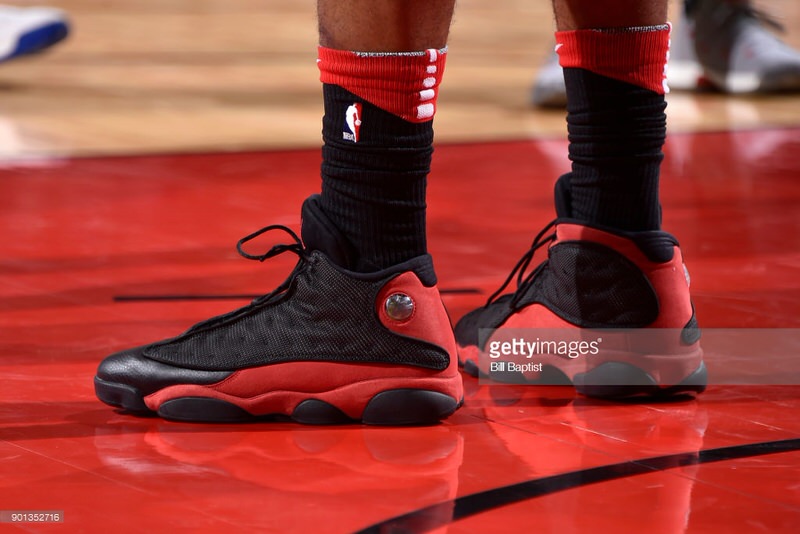 January 4, 2018 vs Warriors
Game 38: Air Jordan 10 "Doernbecher"
January 6, 2018 @ Pistons
Game 39: Nike Kobe 4 "Philly"
January 8, 2018 @ Bulls
Game 40: Air Jordan 13 "Grey Toe"
January 10, 2018 vs Blazers
Game 41: Nike Kobe 4 "Gold Medal"
January 12, 2018 @ Suns
Game 42: Nike Kobe 4 "MLK"
January 15, 2018 @ Clippers
Game 43: Nike Kobe 4 "Fade to Black"
January 18, 2018 vs Timberwolves
Game 44: Air Jordan 2 Rip Hamilton PE & Nike Kobe 4 "Fade to Black"
January 20, 2018 vs Warriors
Game 45: Air Jordan 10 "Chicago"
January 22, 2018 vs Heat
Game 46: Air Jordan XX3 "Chicago" & Air Jordan 14 White/Red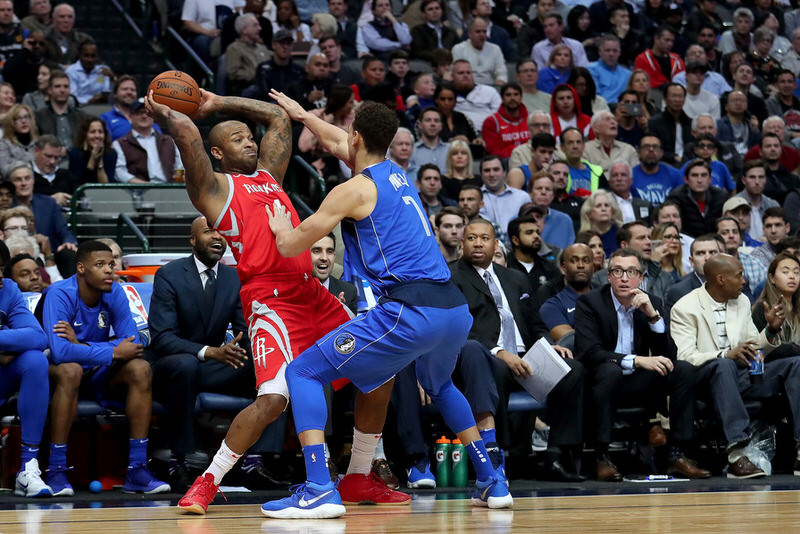 January 24, 2018 @ Mavericks
Game 47: Air Jordan XX3 "Chicago"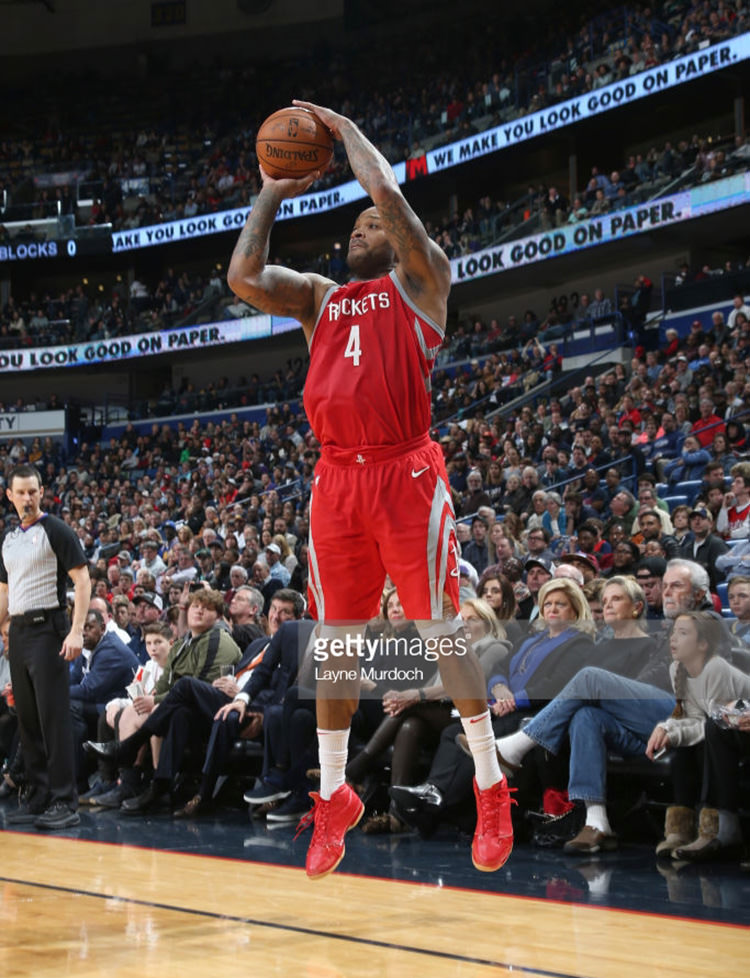 January 26, 2018 @ Pelicans
Game 48: Nike Kobe AD Mid
January 28, 2018 vs Suns
Game 49: Air Jordan 4 "Fire Red"
January 30, 2018 vs Magic
Game 50: Nike Air Zoom Generation & Air Jordan XXX2
February 1, 2018 @ Spurs
Game 51: Air Jordan XXX2 & PSNY x Air Jordan 12
February 3, 2018 @ Cavs
Game 52: Air Jordan 9 Low
February 6, 2018 @ Nets
Game 53: Air Jordan XXX2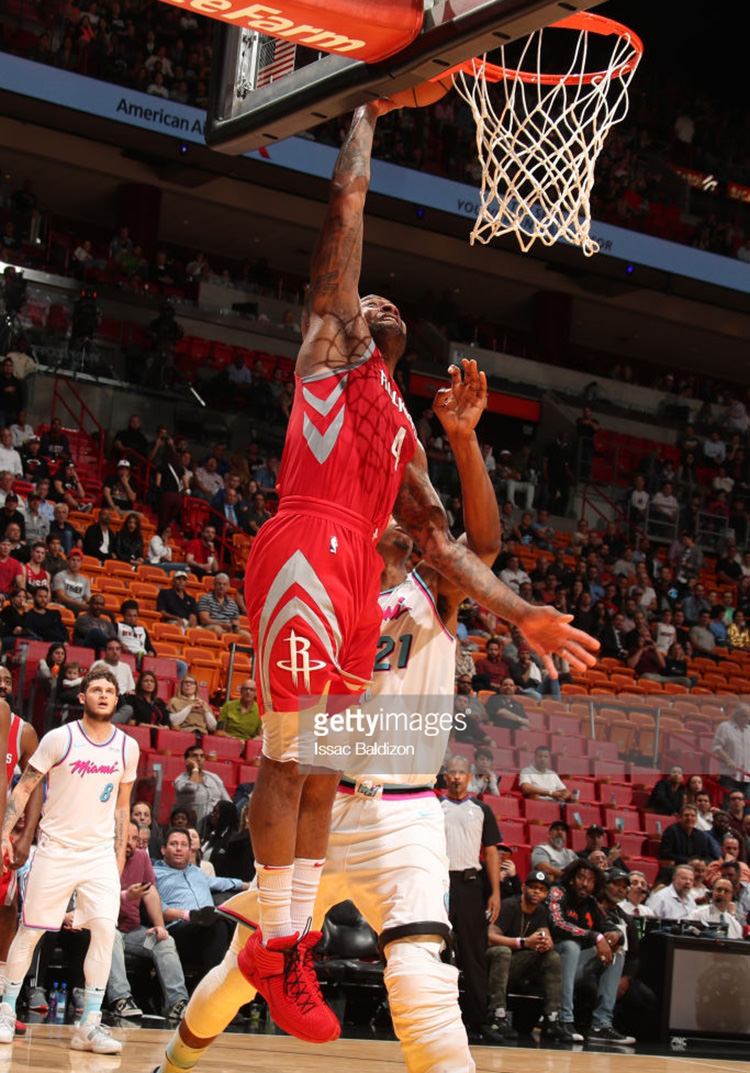 February 7, 2018 @ Heat
Game 54: Nike Air Zoom Generation & Nike Kobe 4 "Fade to Black"
February 9, 2018 vs Nuggets
Game 55: Nike KD V
February 11, 2018 vs Mavericks
Game 56: Air Jordan 3 "Legends of the Summer"
February 13, 2018 @ Timberwolves
Game 57: Air Jordan 3 "Doernbecher" & Nike Kobe 4 "Fade to Black"
February 14, 2018 vs Kings
Game 58: Steve Wiebe x Air Jordan 10
February 23, 2018 vs Timberwolves
Game 59: Air Jordan 3 "JTH"
February 25, 2018 @ Nuggets
Game 60: Air Jordan 2 White/Red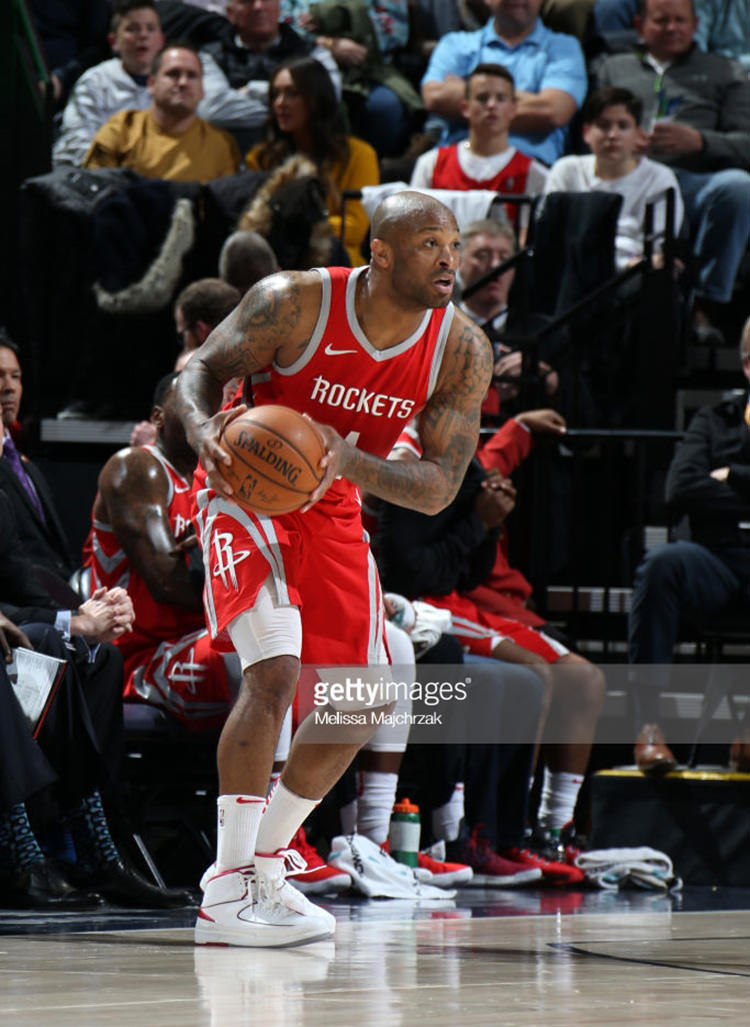 February 26, 2018 @ Jazz
Game 61: Nike LeBron X "Red Suede" & Air Jordan 3 "Tinker"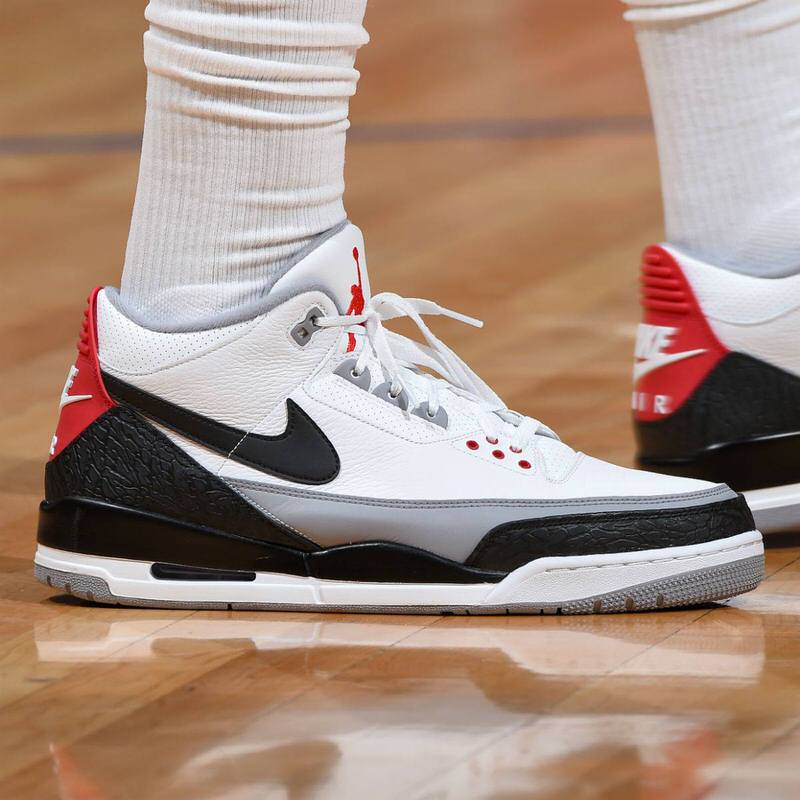 February 28, 2018 @ Clippers
Game 62: Nike Zoom Run the One James Harden PE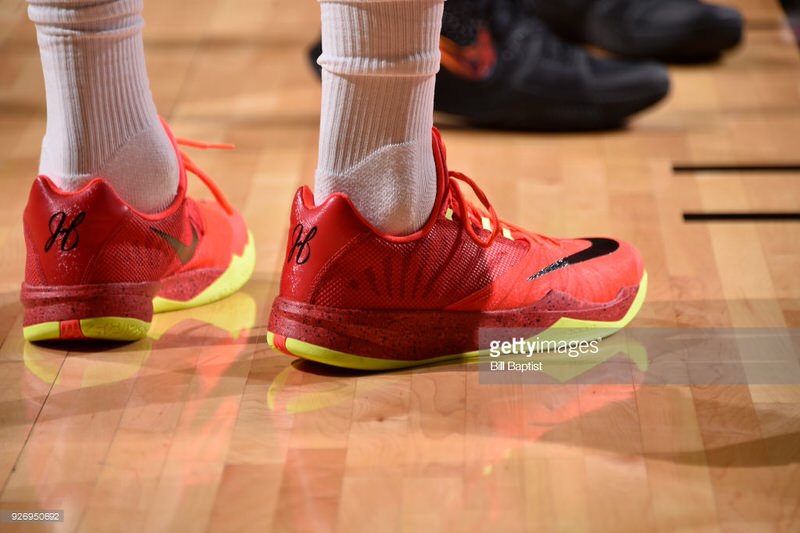 March 3, 2018 vs Celtics
Game 63: Nike Air Penny 4 & Air Jordan 7 "Miro"
March 6, 2018 @ Thunder
Game 64: Nike Air Max LeBron 7 "USA" PE
March 7, 2018 @ Bucks
Game 65: Nike Kobe 6 "Barcelona"
March 9, 2018 @ Raptors
Game 66: Jordan 6 Rings & Nike Kobe 6 "Barcelona"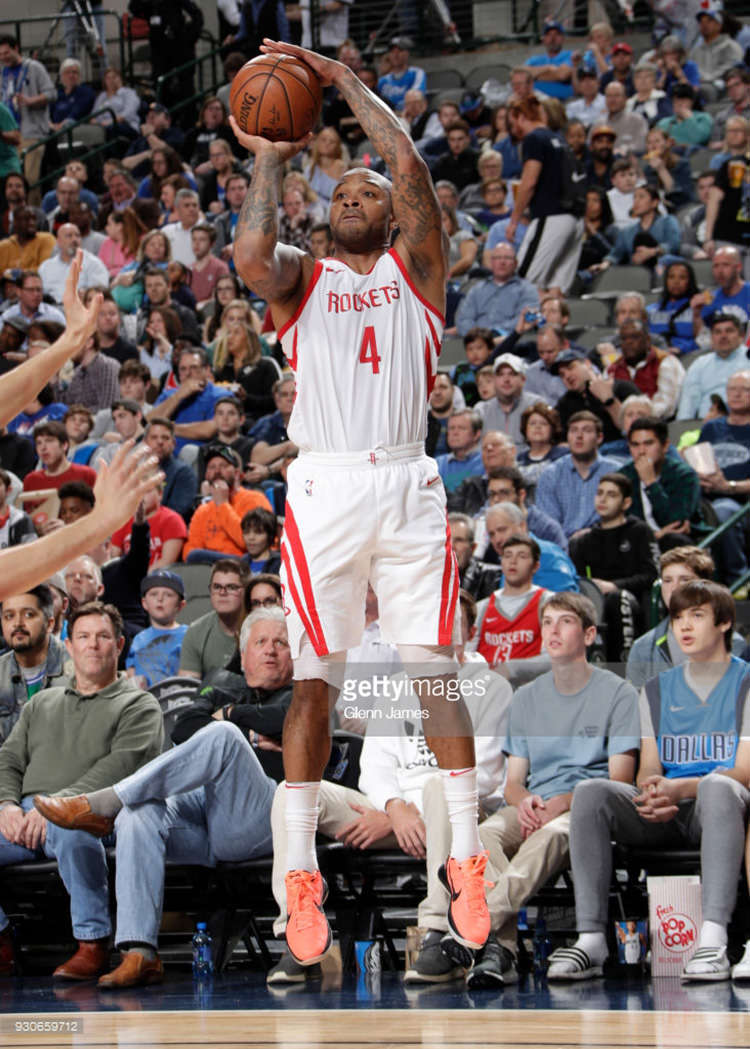 March 11, 2018 @ Mavericks
Game 67: Nike LeBron 7 "CavFanatic" & Air Jordan 7 "Year of the Rabbit"
March 12, 2018 vs Spurs
Game 68: Nike Air Yeezy 2 "Red October" & Nike Kobe 4 "Fade to Black"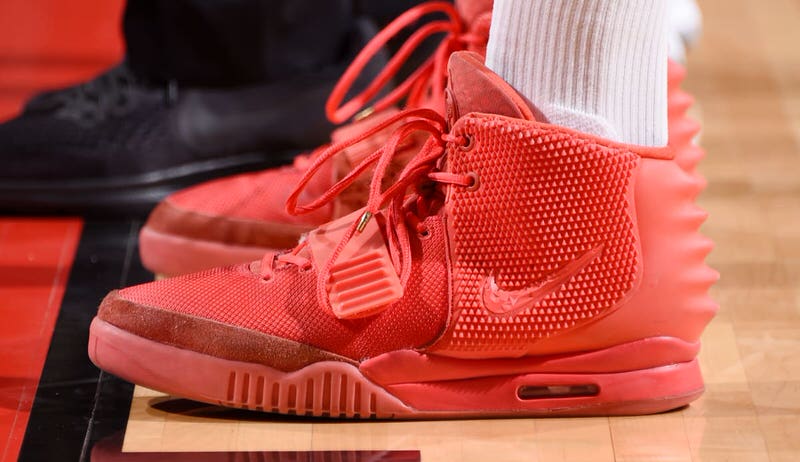 March 15, 2018 vs Clippers
Game 69: Nike Air Penny 3 & Nike LeBron 20-5-5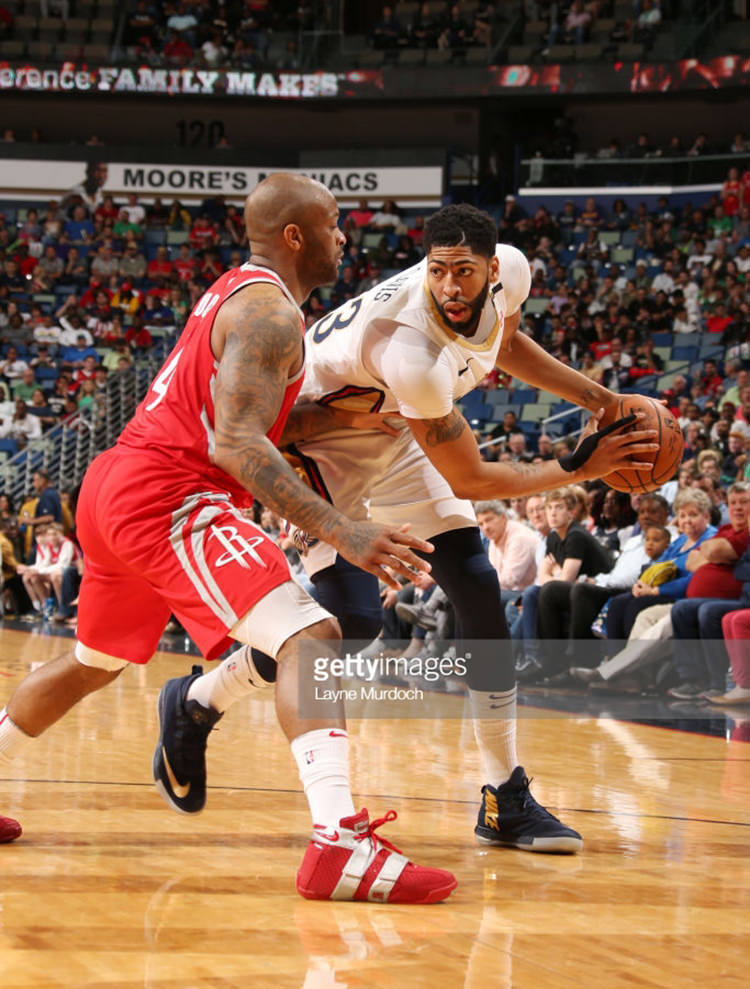 March 17, 2018 @ Pelicans
Game 70: Air Jordan 3 Georgetown PE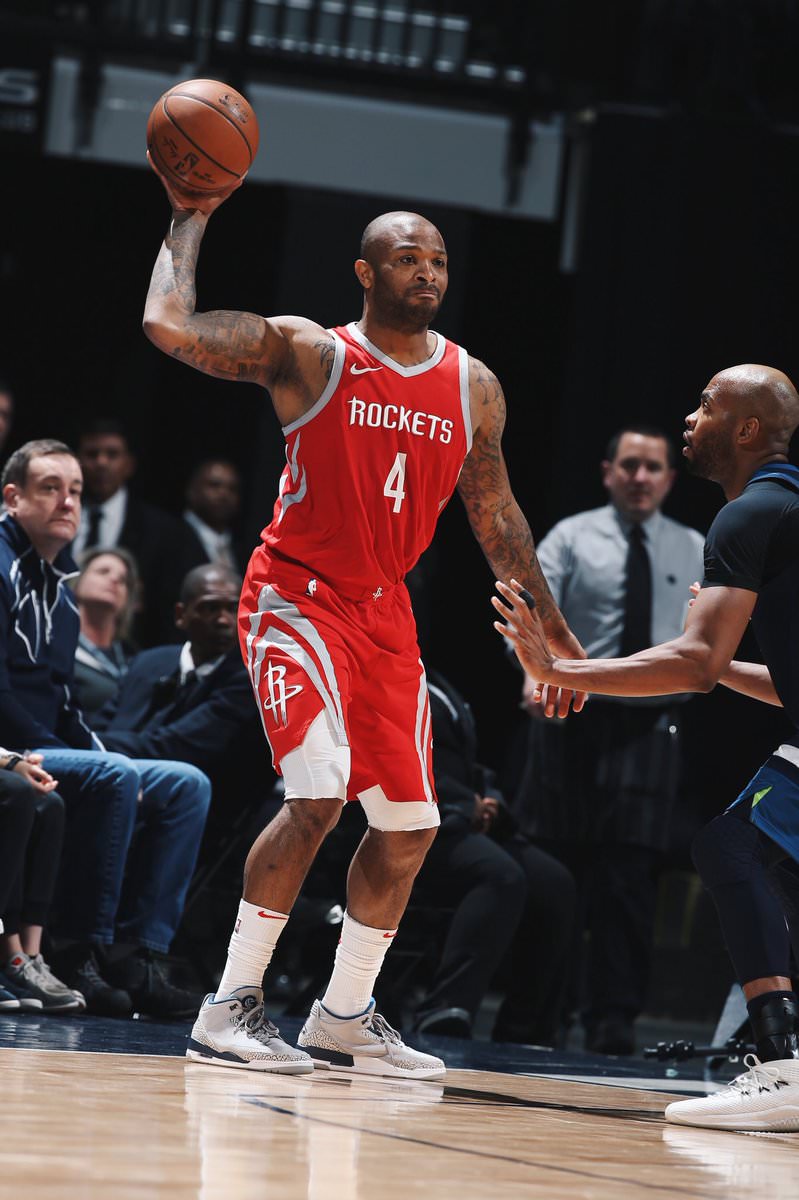 March 18, 2018 @ Timberwolves
Game 71: Nike Kobe 5 "Bruce Lee" with custom tongue
March 20, 2018 @ Blazers
Game 72: Nike LeBron III
March 22, 2018 vs Pistons
Game 73: Air Jordan 10 "I'm Back"
March 24 vs Pelicans
Game 74: Nike LeBron 6 "Big Apple" & "Business"
March 25 vs Hawks
Game 75: Air Jordan XXX1 Low
March 27, 2018 vs Bulls
Game 76: Nike Kobe 4 "Fade to Black" & Air Jordan 3 Black/Cement
March 30, 2018 vs Suns
Game 77: Air Jordan 3 Marquette PE & Air Jordan 10 "Cherry"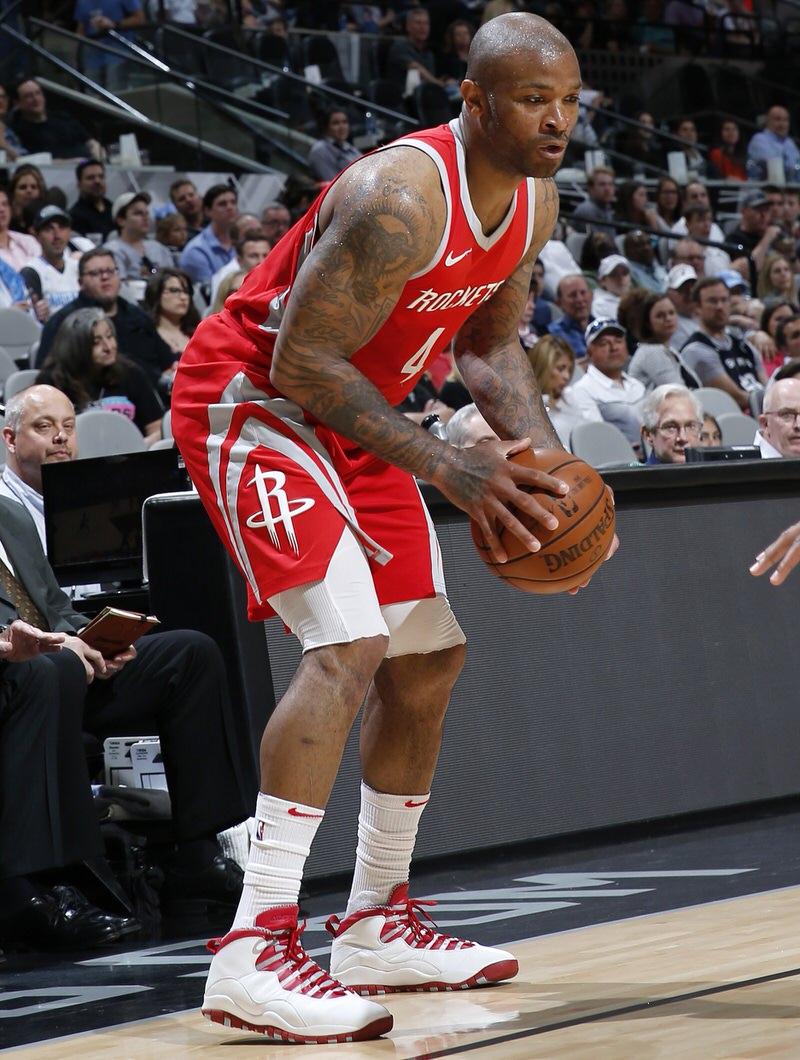 April 1, 2018 @ Spurs
Game 78: Air Jordan 6 "Doernbecher"
April 3, 2018
Game 79: NIKEiD Air Trainer SC High & Air Jordan 5 "Toro Bravo"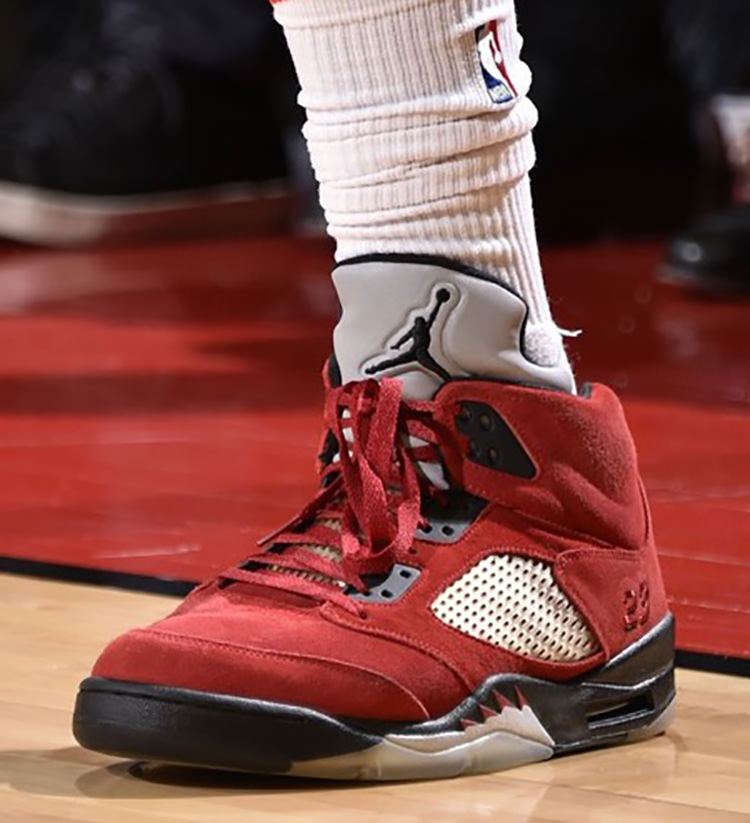 April 5, 2018 vs Blazers
Game 80: Nike Air Max CB 94 "Derrty" & Nike LeBron 15

Aril 7, 2018 vs Thunder
Game 81: Nike LeBron III "Oilers"
April 10, 2018 @ Lakers
Game 82: Air Jordan 2 "Candy Pack" Red
April 11, 2018 @ Kings
Game 83 (Game 1 of NBA Playoffs): Air Jordan 3 "Stealth," Nike LeBron III Low & Air Jordan XXX2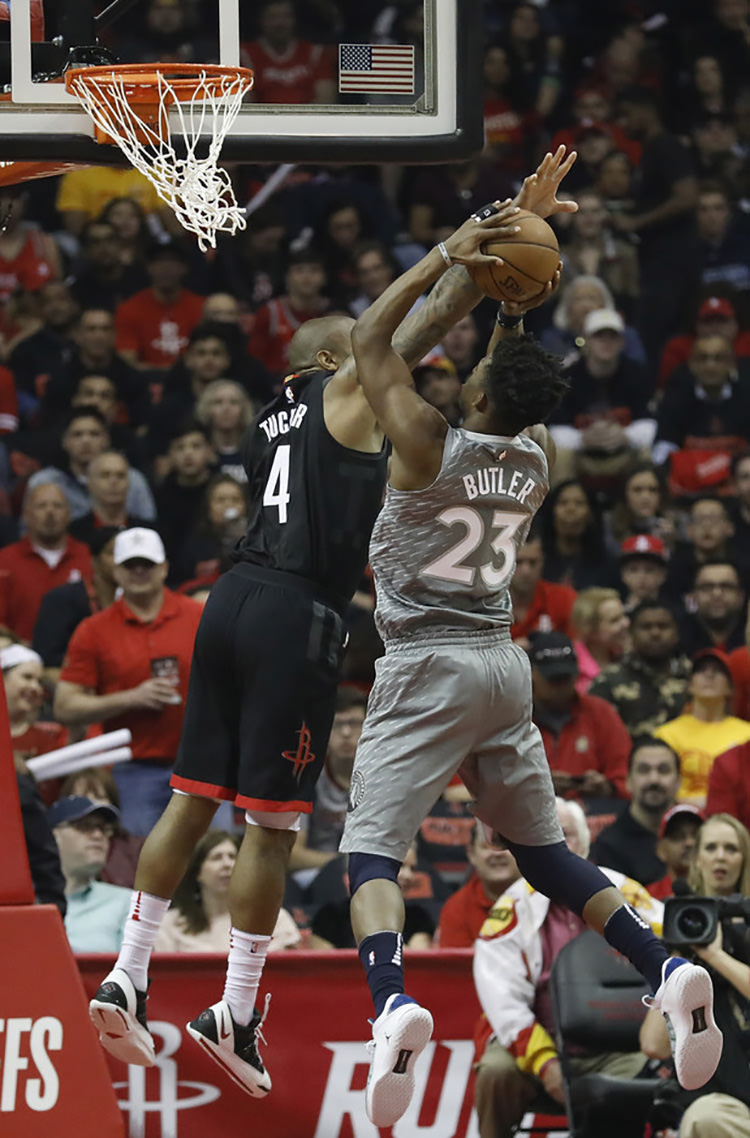 April 15, 2018 vs Timberwolves
Game 84 (Game 2 of NBA Playoffs): Travis Scott x Air Jordan 4 "Cactus Jack" & Air Jordan 13 "Playoff"
April 18, 2018 vs Timberwolves
Game 85 (Game 3 of NBA Playoffs): Air Jordan 11 Custom & Nike Air Maestro II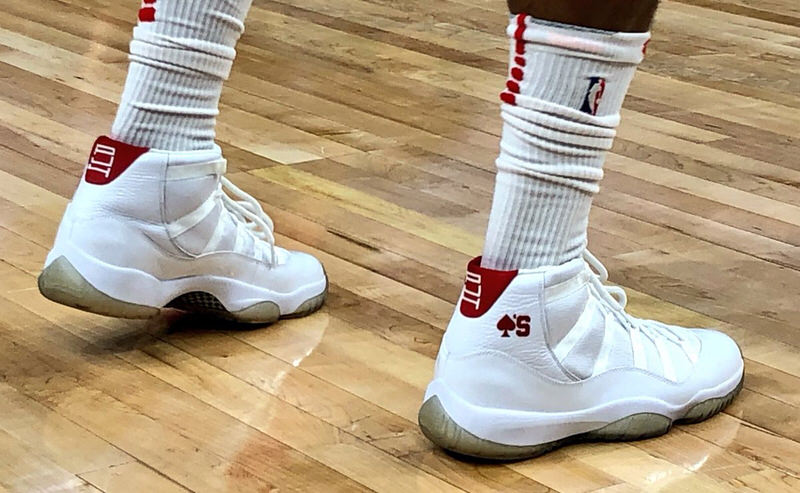 April 21, 2018 @ Timberwolves
Game 86 (Game 4 of NBA Playoffs): Nike LeBron 12 Low
April 23, 2018 @ Timberwolves
Game 87 (Game 5 of NBA Playoffs): Air Jordan 10 "Shadow" & Air Jordan XXX2 JBC PE
April 25, 2018 vs Timberwolves
Game 88 (Game 1 of Western Conference Semifinals): Nike Kyrie 1
April 29, 2018 vs Jazz
Game 89 (Game 2 of Western Conference Semifinals): Air Jordan 5 Oregon PE & Steve Wiebe x Air Jordan 10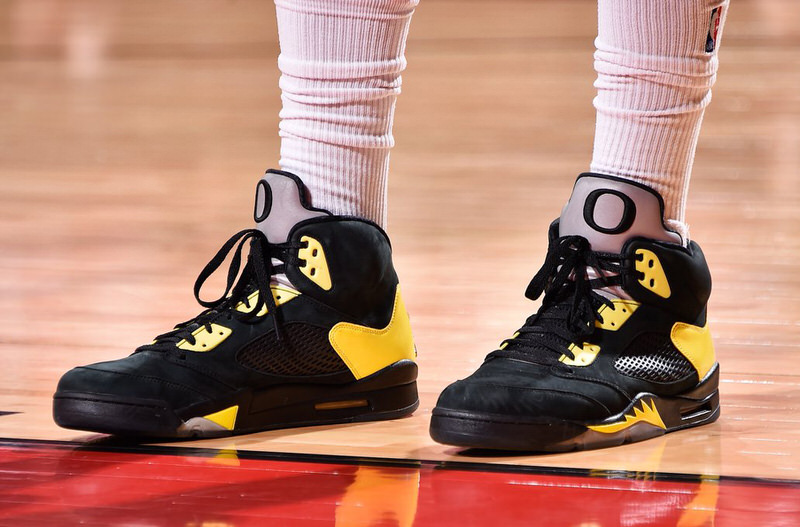 May 2, 2018 vs Jazz
Game 90 (Game 3 of Western Conference Semifinals): Nike Kyrie 4 "Chinese New Year"
May 4, 2018 @ Jazz
Game 91 (Game 4 of Western Conference Semifinals): Nike KD 6 "Pre Heat"
May 6, 2018 @ Jazz
Game 92 (Game 5 of Western Conference Semifinals): Nike LeBron 8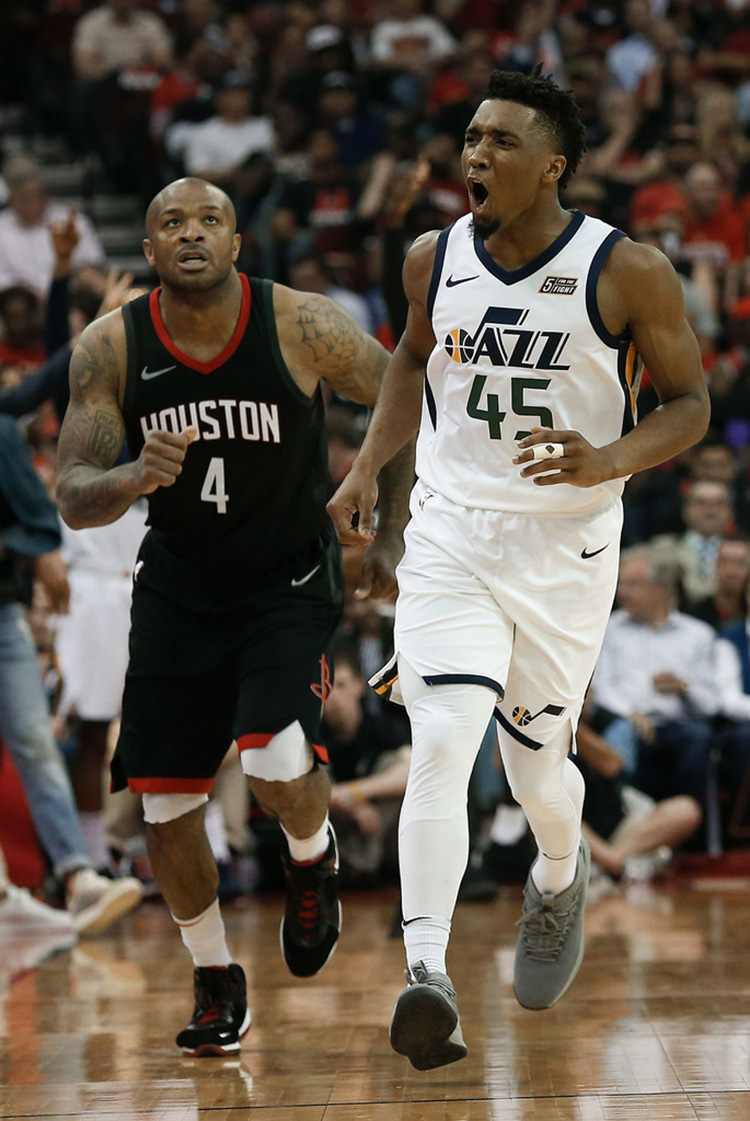 May 8, 2018 vs Jazz
Game 93 (Game 1 of Western Conference Finals): Nike Kobe III
May 14, 2018 vs Warriors
Game 94 (Game 2 of Western Conference Finals): Nike LeBron 15 Ohio State PE
May 16, 2018 vs Warriors
Game 95 (Game 3 of Western Conference Finals): Nike Kyrie 4 "Yellow Lobster"
May 20, 2018 @ Warriors
Game 96 (Game 4 of Western Conference Finals): Off-White x Nike Hyperdunk 2017 Custom by The Shoe Surgeon & Nike Kobe 5 "Fade to Black"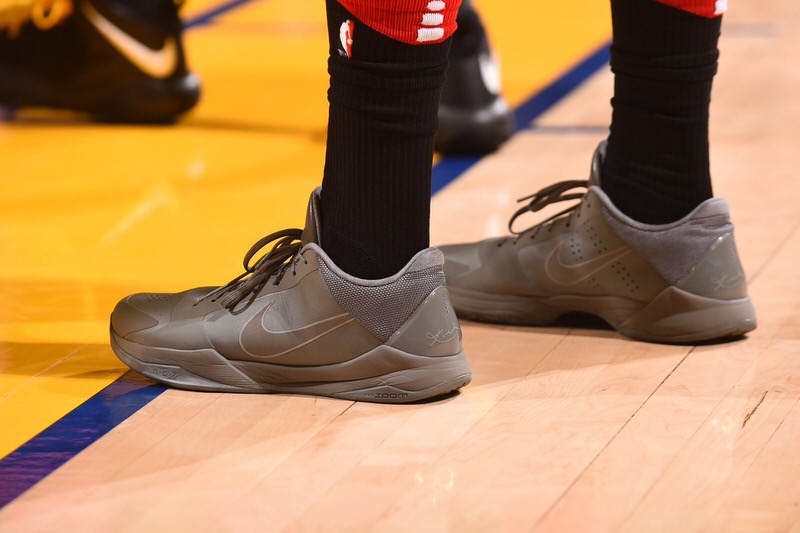 May 22, 2018 @ Warriors
Game 97 (Game 5 of Western Conference Finals): Nike LeBron 15 Oregon PE "Black"
May 24, 2018 vs Warriors
Game 98 (Game 6 of Western Conference Finals): Nike LeBron 15 Oregon PE "Green"
May 26, 2018 @ Warriors
Game 99 (Game 7 of Western Conference Finals): Nike Kobe 4 "Del Sol"
May 28, 2018 vs Warriors
Select photos via Getty Images, Zimbio, Sole Collector & BR Kicks