Land of the Rising Osaka.
What a year it's been for tennis' newest and brightest rising star, Naomi Osaka. Ranked outside the top 60 in the world a year ago, Naomi embraced the role of underdog and rose up against Serena Williams – Nike tennis' ambassador and face of the sport for the better part of the past two decades – en route to an impressive 2018 US Open win in Flushing Queens.
Earlier this year, Osaka flip-turned the Land Down Under upside down and won the Australian Open – her second Grand Slam Women's Singles Title – while in the process securing the world's #1 rank.
To top it off, last week, in a bold and surprising move, Osaka abruptly left Adidas and signed with Nike, signifying the de facto passing of the torch from Serena, illustrating Nike's slogan, "it's only crazy until you do it." In light of Osaka's incredible and defining year in tennis, we not only give Naomi and women's tennis players around the world a nod of respect but also pay tribute to women's tennis sneaker history.
Tennis in the 90s was largely dominated by the sport's two biggest stars – Andre Agassi and Pete Sampras – whose fierce rivalry, classic Nike kicks and innovative ad campaigns helped launch the sport into mainstream American consciousness even among casual fans.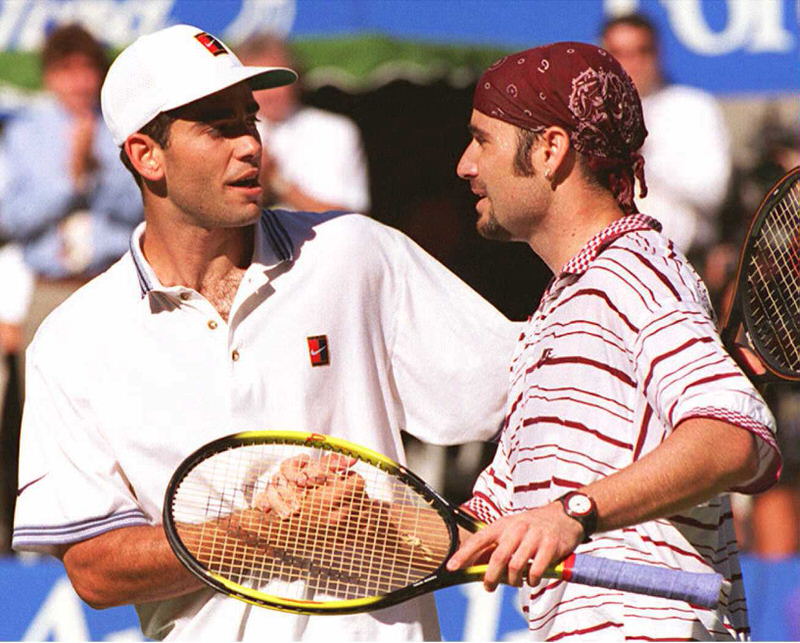 While Astounding Andre and Pistol Pete battled it out in the men's circuit, there were several women who guided women's tennis throughout the 90s and into the new millennium, many of whom rocked men's pairs on court during a time when it was socially acceptable and commonplace to do so.
One such 90s Nike women's tennis athlete who has been lost in the discussion and deserves recognition today is Lindsay Davenport. A three-time Grand Slam Champion, 1996 Olympic Gold Medalist alongside male counterpart, Andre Agassi, and former #1-ranked player, Lindsay played the baseline well and did so with style, brute force, and stylish appeal, rocking a plethora of Nike kicks throughout her professional career.
In the early 90s, Lindsay rocked the Nike Supreme Court Low, a model made for Jim Courier with a modified outsole made for the grass courts at Wimbledon.
In the mid-90s, Lindsay followed the "more is more" movement and sported the 1998 Nike Air Max Astound with its dual-pressure chamber visible heel Air Max2 unit which offered superior protection on the hardcourt.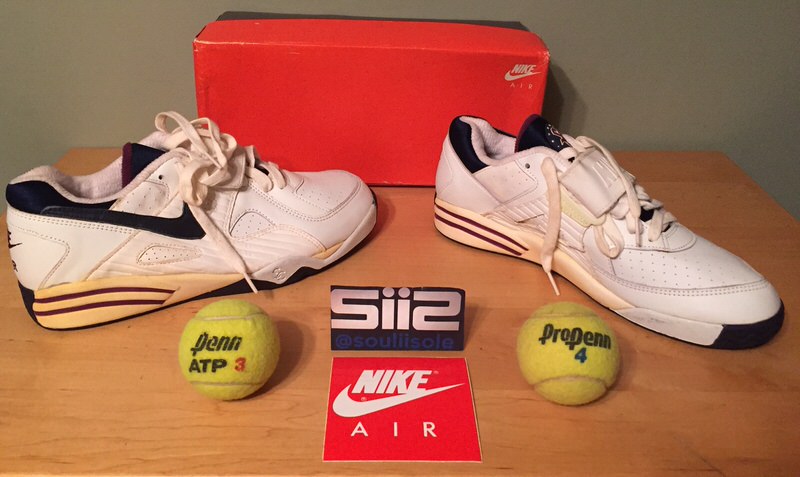 Finally, in the late 90s, Lindsay, along with Federation Cup teammate, Monica Seles, sported the underrated Air Court Motion in Palo Alto – a model she also wore at the US Open that same year, punctuating a long and successful career with the Swoosh brand as one of women's tennis' most dominating players of the decade.
Another memorable women's tennis star in the 90s era was Monica Seles, winner of nine Grand Slam Singles Titles including four Australian Open Titles, three French Open Titles, and two U.S. Open Titles.
Prior to her unfortunate attack suffered on court in 1993, Monica was the darling of women's tennis, at the time the greatest challenge to Steffi Graff, widely considered the greatest women's tennis player of all-time.
Seles helped women's tennis shed its mundane, boring, and dull demeanor as she oftentimes loudly grunted when returning a serve or executing an explosive backhand, showing fierce competitiveness, drive, determination, and aggression, possessing Rocky Balboa's "eye of the tiger," a trait also observed in contemporary counterpart, Naomi Osaka.
While on court, Seles was properly laced in myriad of Nike sneakers including the 1995 Nike Air Resistance, the 1999 Nike Air Court Motion alongside Federation Cup teammate, Lindsay Davenport and most notably, the 1996 Nike Air Haze, a model which appeared on a Nike phone ad characteristic of the 90s era, a silhouette which remains one of the most underrated and under-appreciated sneakers in modern history.
Inspired by Seles' love of Jimi Hendrix, the Air Haze featured a guitar along the outsole and guitar picks on the lateral aspect of each shoe, and visible heel air sole unit, a beautifully-crafted, high performance, stylish sneaker with superb technology and overall aesthetics which has yet to receive a retro treatment, much to the dismay of men's and women's fans of 90s tennis.
A final women's tennis staple from the classic 90s era who deserves a shout-out is Jennifer Capriati, also a former world #1-ranked player, 1992 Olympic Gold medalist and three-time Grand Slam Champion including two Australian Open Titles and a French Open Title in the early part of the millennium.
Jennifer, like her female counterparts, occasionally rocked men's kicks on court including the 1995 Nike Air Interior, 1996 Nike Air Zoom Challenge – signature sneaker of Andre Agassi, designed by Wilson Smith with its unique and highly distinctive psychedelic outsole pattern inspired by Salvatore Dali impressionist art.
The girl many old school 90s heads had a crush on, "Cap" also rocked the 1998 Nike Air Max Astound, a popular court model also worn by fellow 90s rival, Lindsay Davenport.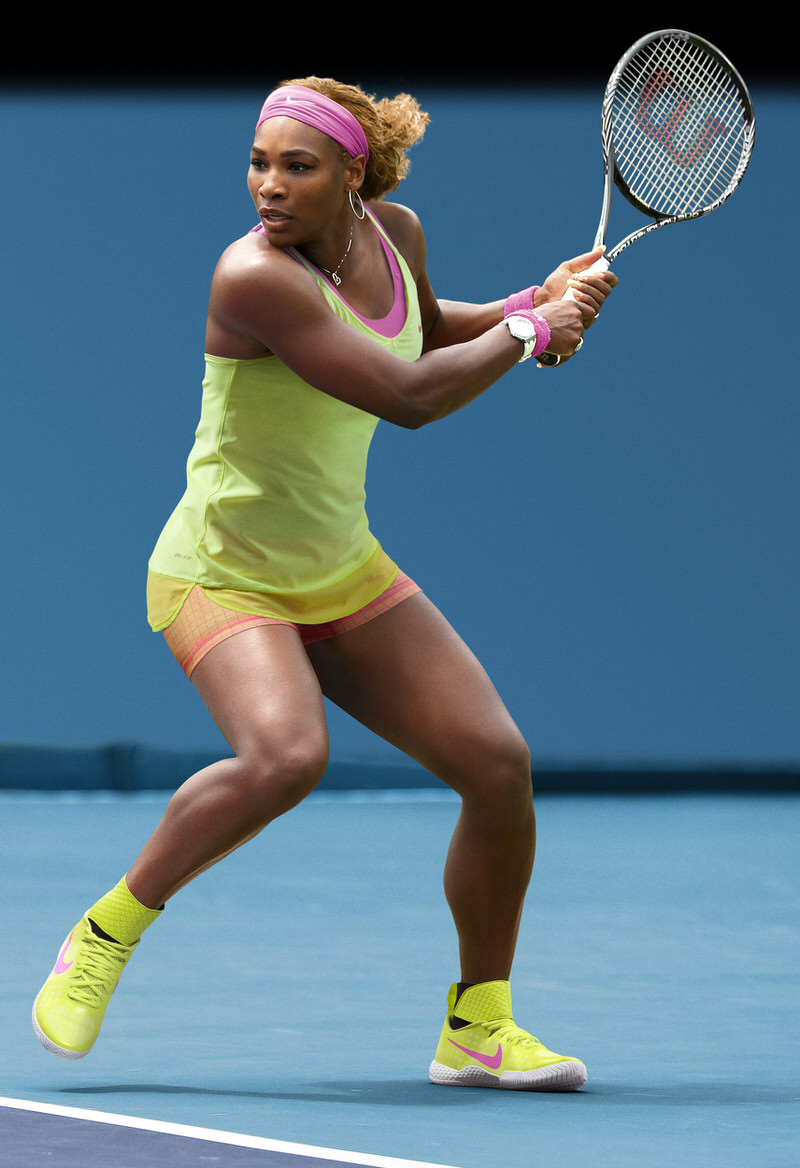 Women's tennis, particularly Nike women's tennis, has not been in a better place or time in its history, a moment where consumers and fans of the game and its branded athletes can rejoice and celebrate the career of Serena – the face of the sport – while at the same appreciating the injection of new blood and talent in the pool as the sport and brand look towards the future, to the next generation led by the game's newest, brightest, and youngest shining star – Naomi Osaka – a multicultural, talented, hard-working, and humble young woman originally from the Land of the Rising Sun, a role model not just for women but for people everywhere, a fitting reminder that anything is possible.
Game, set, match, Osaka, the heir apparent to Serena Williams and future of Nike women's tennis. No argument needed.