Editor's Note: A longtime sneaker collector who counts Air Max 1s and now-vintage Dunk SBs at the top of his extensive stash, Josh Swade is an acclaimed storyteller and documentary producer, including "One & Done," following Ben Simmons' lone college season before the NBA. With the "Pigeon" Dunk SB release celebrating its 14th anniversary this week, Josh wanted to take a trip down memory lane and share his first-person account of the launch. (And seriously, he really loves the Air Max 1.)
words // Josh Swade:
It's hard to properly explain the Nike SB Dunk craze of the early 2000s to newcomers in the game today. It wasn't anything like the old Jordan craze, or this retro Jordan tape loop that exists today. This wasn't some Time Square-Indoor Mall-Footlocker shit. This was some mom-and-pop-skate-shop shit. This was a boutique barrage the likes of which sneaker culture has never seen and will never see again.
The name of the SB game was locking in pairs of new drops the minute you could. Whether you had a connect at a shop in a big city or in a small college town, it made no difference. All that mattered was the status of that shop's SB account and how many pairs they'd let you buy.
There were no apps back then and very few trustworthy blogs, so part of the battle was knowing when new kicks were dropping. Most of us congregated on the message board, Niketalk. It was on Niketalk where I found out about the Pigeon SB Dunk.
The Pigeon Dunk SB, designed by Jeff Staple, would be hitting a select few shops in New York City. After seeing pictures, I really thought Staple killed the design. The sneaker had a little Pigeon stitched on the lower side panel and the colorway of the entire shoe emulated that of the bird synonymous with NYC: grey uppers with a reddish pink sole. A very clean but effective concept.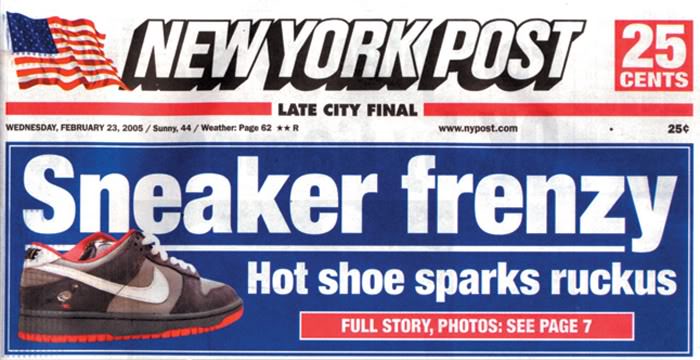 Then the news hit that Staple was dropping the shoe at his shop, The Reed Space, on the Lower East Side. The other pairs to hit NYC would obviously be very rare. But the Reed Space ones were going to be numbered 1 through 30 and therefore extra collectable. Word was they were dropping on a Tuesday, so of course, the Friday before, people started camping out — in dead of winter, freezing conditions.
Now being relatively young, trying to do things like pay my rent and eat food, I couldn't start camping on a Friday for a Tuesday release. I had a job working at a midtown talent agency where I had very little juice. I couldn't possibly miss multiple days of work to cop this sneaker. And even if I could, the thought of weathering freezing temperatures down on the lower east side was not appealing to say the least.
But fuck man, I had to have this sneaker.
Tuesday, February 25th, 2005 rolls around. I knew, at the very least I had to be down on the L.E.S. to scope out the scene. So, I dipped out of my midtown office on an early lunch break. I figured I had two hours max before the bosses would start questioning my whereabouts.
When I stepped off the subway and turned the corner onto Allen Street, I couldn't believe what I was seeing. It was a war zone. Complete pandemonium. There was no semblance of any order whatsoever. There were at least two hundred people pushing for position in front of Reed Space. Whatever camping line had once existed had turned into survival of the strongest.
And this sneaker had brought out the thugs – dudes who didn't give two shits about the shoe, SBs or anything other than turning a profit. They had seen the non-numbered pairs already selling in the thousands on eBay. It didn't take a genius to understand that the numbered pairs were going to be at least double or triple that amount.
Standing there, it occurred to me that the numbers didn't add up. If Reed Space had 30 pairs, and was keeping, let's say, 10 for employees, then 200 people were fighting for 20 remaining pairs. Upon this realization, I should have done the smart thing and gone back to work.
Instead, I sat there for a moment and thought, "Fuck it."
This was such a shit show, there was no line to speak of, I figured I had nothing to lose, and maybe I'd get lucky. So, I fought through the crowd and tried to find my way to the front.
Moments later the NYPD showed up in full force. The cops started working with Reed Space employees to re-build the line that had once existed. I stood there not flinching, hoping some good luck would fall in my lap.
Apparently, at some point prior to my arrival, tickets had been handed out to the first people in line. The police insisted that anyone without a ticket had to leave the premises. Over the course of the next forty-five minutes, those without tickets reluctantly began to leave. However, I stuck around.
Finally, the cops then announced that anyone remaining without a ticket in their hand still would be arrested and taken to jail. I stood there, at the back of the line, knowing I should do what many of the others had done, and leave the line.
Then, the lead police officer moved through the line checking each person's ticket. He announced that once again, anyone without a ticket would be arrested. And once again, I remained in line, thinking, "This guy aint gonna arrest me."
"Where's your ticket?" the cop glared.
"I'm not sure," I replied.
"You're not sure?" He said.
"Yeah, I don't know where it is." (I mean… I didn't.)
I was definitely not expecting what happened next. This cop handcuffed me on the spot, once again announcing out, "Anybody that doesn't have a ticket is getting arrested!"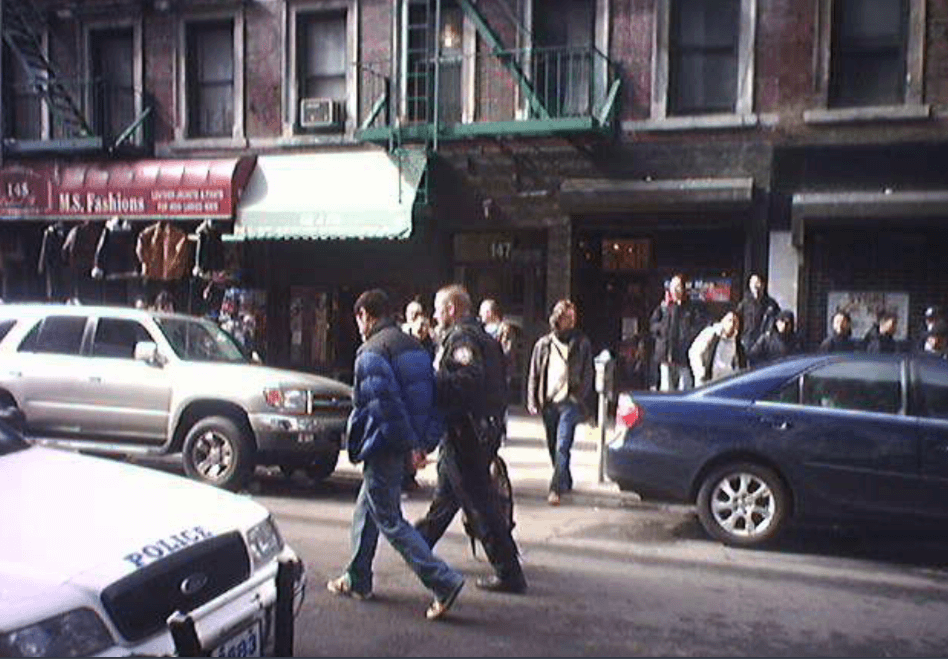 I got handed off to another cop who proceeded to walk me down the street, for everyone to see, a giant example of what it meant to doubt the word of the law. I was thrown into the back of a freezing paddy wagon, still cuffed.
As the minutes passed, I sat there alone. It turns out, while I was shivering in the back of this van, cops were escorting ticket holders one-by-one into the shop so they could purchase the shoes, before putting them into taxis, so they wouldn't get robbed the minute they left.
As half-an-hour turned into an hour, I sat there thinking how absolutely screwed I was. Now, I would have no job, no sneakers, and no remaining sense of self dignity. Finally, the door opened and there before me was the cop who had cuffed me.
"Why didn't you leave the line?" he started.
"I couldn't find my ticket."
"How long you been down here?"
"Since Friday," I said, figuring at this point I might as well double-down on my little lie.
"You mean to tell me you've been down here for three days?"
"Yes. And now I got nothing to show for it."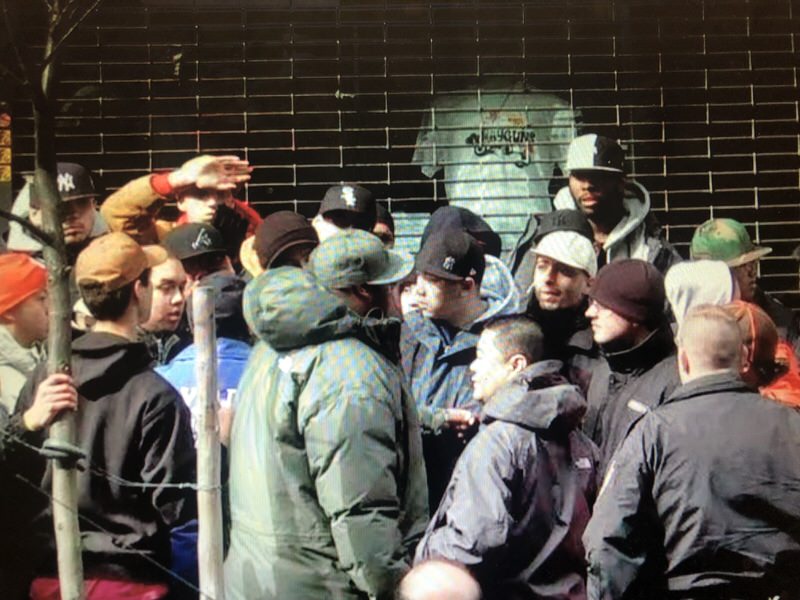 I don't know if it was the angst on my face knowing that my life was falling apart, or the fact that I was cold as hell, but I could sense the cop's energy changing. I could feel an inkling of empathy coming from him.
"Is there anyone who can verify that you've been down here since Friday?"
"My roommate," I said.
"Give me his phone number."
I proceeded to give the cop my roommate's phone number, knowing full well I had seen my roommate that very morning. But I thought that maybe, just maybe my roommate would know how to play it.
The cop dialed my roommate. No answer. He called him again. No answer. He waited five minutes and tried him again. No answer. The cop left me again to head back to Reed Space and see if they could vouch for my story. They couldn't.
"Listen," he said upon his return. "They might have a size 7.5 left. Would you want them?"
"Yes," I replied calmly, while internally freaking out, knowing that any size was worth at least 5-grand, and probably more.
The cop went back to the shop to check on the size 7.5.
At this moment, my emotions did a complete 180 — Holy fucking shit!! This was going to be the greatest sneaker cop in history. My life was on the absolute come up. Shit, I might run for President someday. Suddenly — everything seemed possible.
Then the cop returned with some news.
"The 7.5 was spoken for," he said.
"Damn."
After everyone had left, after all the Pigeons were long gone, the cop un-cuffed me and escorted me into The Reed Space.
There, standing behind the counter was Jeff Staple. He gave me one of the final few limited-edition tees that had accompanied the release… for free. I felt fortunate to get it. I returned to work without anyone noticing my absence. I tend to think that was a bad thing.