words // Josh Swade
images // Damion Mardel
I'll never forget the moment I first saw the Air Max 1 sitting on a Foot Locker shelf at the mall. It was in 1987, soon after they had been released to the public — the shoes were unlike anything I'd ever seen before.
They had a throwback quality to them, yet they were futuristic at the same time. They were clean yet relatively complex. Like no shoe before it ever had, the Air Max 1 was calling my name, begging me to wear it. It seemed like all I had to do was slide into them like slippers, and I'd be walking on Air… literally.
So much of the Air Max's soft, inviting aesthetic came from the materials used in the uppers. Instead of cowhide, the shoe utilized nubuck, a type of leather that produced an almost velvet-like surface. The nubuck, in bright red and light grey, was set alongside a pillowy white mesh that covered the toe box and tongue in the most complementary way possible. The whole thing came together like a beautiful work of art.
While the upper of the Air Max 1 was instantly eye-catching, it was the midsole, with its visible Airbag, that truly pushed the sneaker into instant legendary status. It would later be revealed that Nike designer Tinker Hatfield came up with the idea to cut a hole in the shoe, after being inspired by Paris' Centre Georges Pompidou, a building turned inside out.
As I lifted the sneaker off the shelf in the store, the Air in the midsole shone through like some sort of magical illumination — I instantly fell in love. For the first time in my life I wanted to wear a running sneaker, not to run in, but to just wear. All the time, every day.
"The whole thing came together like a beautiful work of art."
I proceeded to buy and wear as many Air Max 1s as I could. And I never stopped. I kept buying… and buying… and buying.
Like so many sneakerheads out there, I grew especially fanatical in the late 90s and early 2000s, a period that brought a renewed sense of fury and hype to sneaker culture. While I amassed way too many Jordans, SBs and Air Max 1s, my New York apartment became covered top to bottom with an absurd amount of shoeboxes.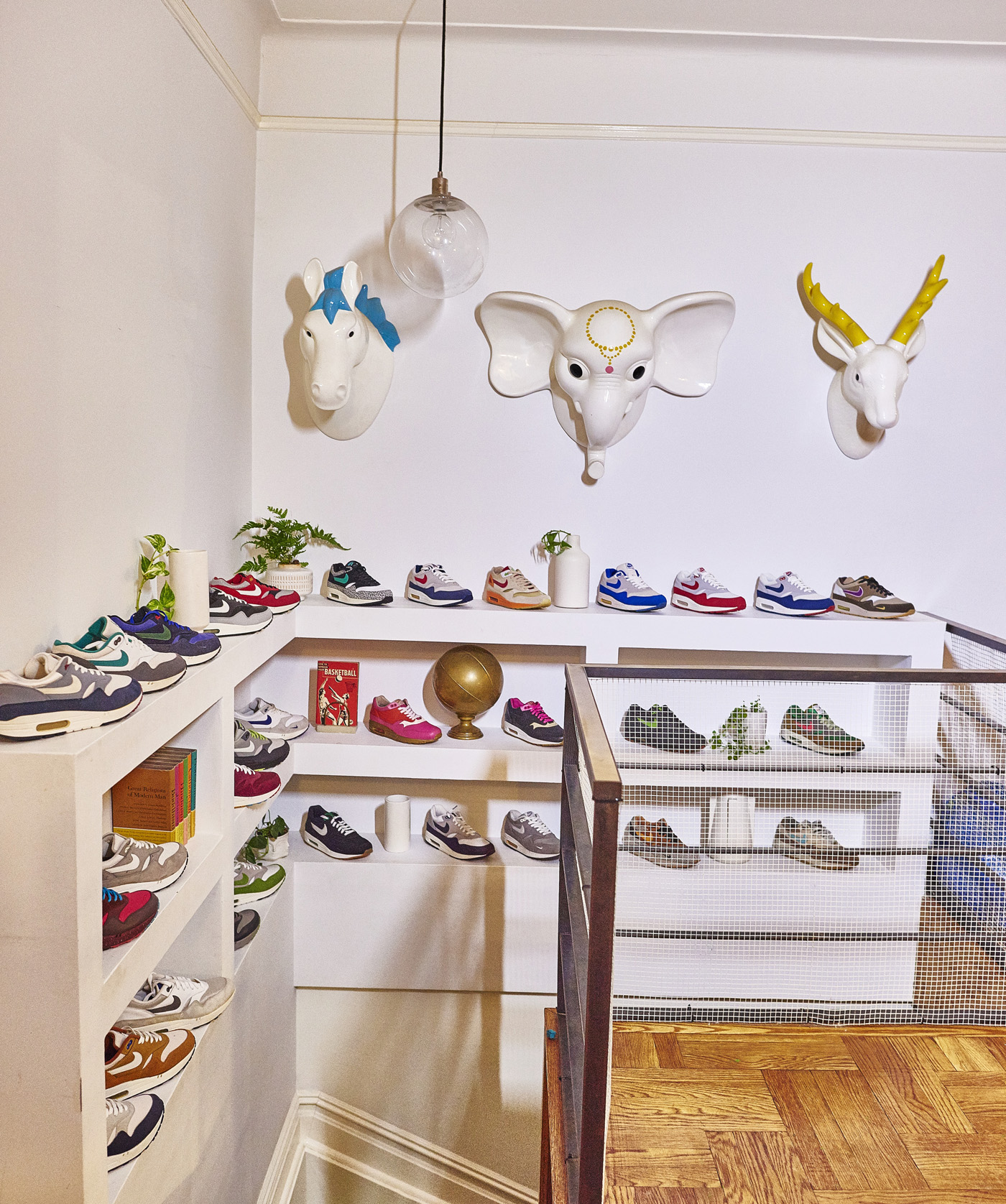 Eventually however, my collection dwindled. I grew jaded with the never-ending re-releases of OG Jordan colorways. All the retros made collecting them feel less and less special, so I got out of the Jordan game altogether. As Dunks became more of a mall shoe, rocked by everyone and their mother, I too got out of the SB game. That left me able to focus on one shoe and one shoe only: the untouchable Air Max 1.
Through the years I've been lucky enough to get my hands on so many grails. From the original mesh releases of '99, to the heat fest that was '04 (Urawas, Teals, Greystones, Wings & Waffles, etc.), to special collabs like the Pattas and the Kid Robots, my collection has literally grown up with me.
Then it suddenly came to a halt. As Air Max heads know, it all changed in 2008 when Nike altered the shape of the AM1 to a silhouette so far from the original that it felt like a different shoe. While a slew of messageboarders and Niketalkers bemoaned the lost silhouette, I, secretly, was pleased. No more waiting in line for hours upon hours, no more maxing out credit cards and spending money I didn't have, no more dealing with resellers, internet hype and the agony of not copping. Finally I could focus on getting my last few remaining grails and be done. After all, as a collector, there is something beautifully satisfying about the definitive start and end to a collection.
But here we are: March 26th, 2017 – 30 years to the date from the release of the greatest sneaker of all time, the Air Max 1.
To celebrate the occasion, Nike has brought back the OG shape. I can't say that I'm surprised. Why wouldn't Nike bring back the shoe in its true 1-to-1 form that perhaps more than any other, set the stage for the company's complete and utter domination? For my money, the Air Max 1 still represents the most seismic design breakthrough in athletic footwear history.
So now, it's back to the grind. I gotta dust off the old rolodex and outsmart these kids who are out there copping with things like apps and bots and proxies. (Whatever those are.) It might take me a minute, but I'll figure it out. I gotta say, it feels good to be back.
Josh Swade
NYC
3.26.17
Josh Swade is a New York based filmmaker who's last film ONE & DONE on #1 NBA draft pick Ben Simmons is currently airing on Showtime. The film gained notoriety for its exploration of the "one and done" rule in college basketball and the way in which it lent transparency to the world of recruiting, agents, runners and shoe companies. Swade has directed and produced several films in the ESPN 30 for 30 series as well as several music related films on artists like The Black Keys, Major Lazer, Sheryl Crow and Ringo Starr. He is currently working on a feature length film called, "Homeboy, Throw in the Towel" on NYC street photographer Ricky Powell.