After lightning comes thunder — this time with the slamming sound coming from the Southern District of New York's gavel, as Nike has filed a trademark infringement lawsuit against Kool Kiy, Omi, and their footwear manufacturer.
While Kool Kiy and Omi are individual creatives with separate businesses, both became known for their Nike-inspired sneakers that feature almost identical lightning strike insignias.
The lawsuit was officially filed on November 30, 2022, and spans six different complaints. Nike alleges that defendants Nickwon Arvinger and David Weeks of By Kiy LLC (aka Kool Kiy) and Bill Omar Carrasquillo of Reloaded Merch LLC (Omi aka "Omi in a Hellcat") are liable of trademark infringement in regards to the Air Jordan 1 and Nike Dunk.
The court documents were obtained and reviewed by Nice Kicks, in which the preliminary statement states, "Nike must protect its design and intellectual property from bad actors who undermine the very DNA of authentic sneaker culture by promoting, copying, and selling Nike's designs as their own."
Nike's legal team claims to have notified Kiy of the alleged infringement complaints last year on August 6, 2021. Nike then attempted to reach a resolution with By Kiy LLC, but an agreement was unsuccessful.
The Swoosh's lawyers also warned Omi with a similar complaint on October 5, 2022. The document sent to Omi stated that Reloaded Merch LLC had one week to contact Nike's lawyers to remedy the infringement complaints or that the brand would face a federal lawsuit.
Even after the individual warnings, Nike's lawsuit alleges that both Kiy and Omi continued on with business as usual and kept selling the infringing designs.
Furthermore, the lawsuit against Kiy and Omi also strikes against China-based manufacturer Xiamen Wandering Planet Import and Export Co., Ltd. The documents claim that Wandering Planet "[supplied] Kiy and Omi with knockoff sneakers using Nike's registered Air Jordan 1 and Dunk trade dress [and] knowingly participated in a scheme to intentionally create confusion in the marketplace and capitalize on it."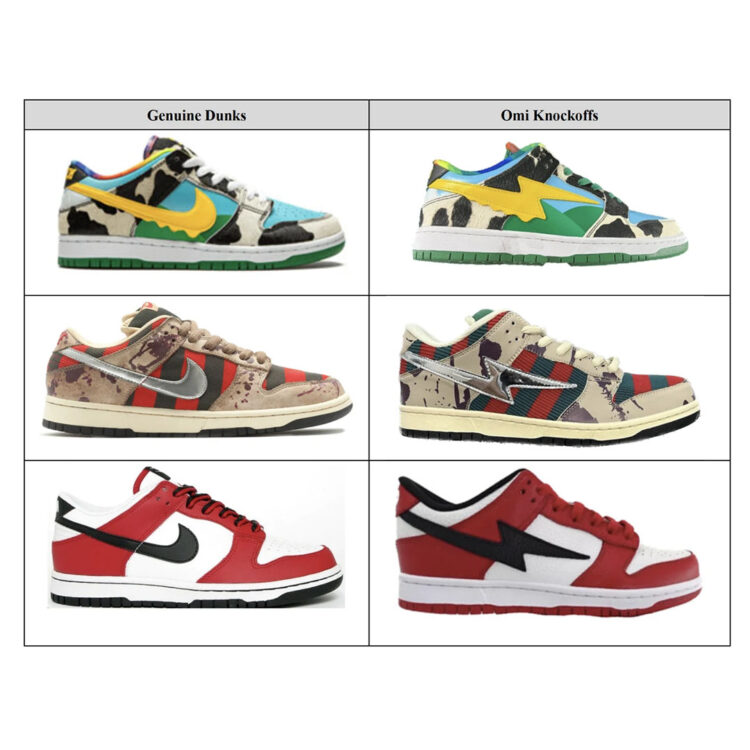 Throughout the documents, Nike's legal team provides side-by-side comparisons of the Air Jordan 1 and Nike Dunk designs, to the Kiy and Omi sneakers. The filing also includes social media screenshots from Instagram and Twitter, with users saying, "Kool Kiy took the WHOLE Jordan 1 design." Another user commented, "These are Jordan's?"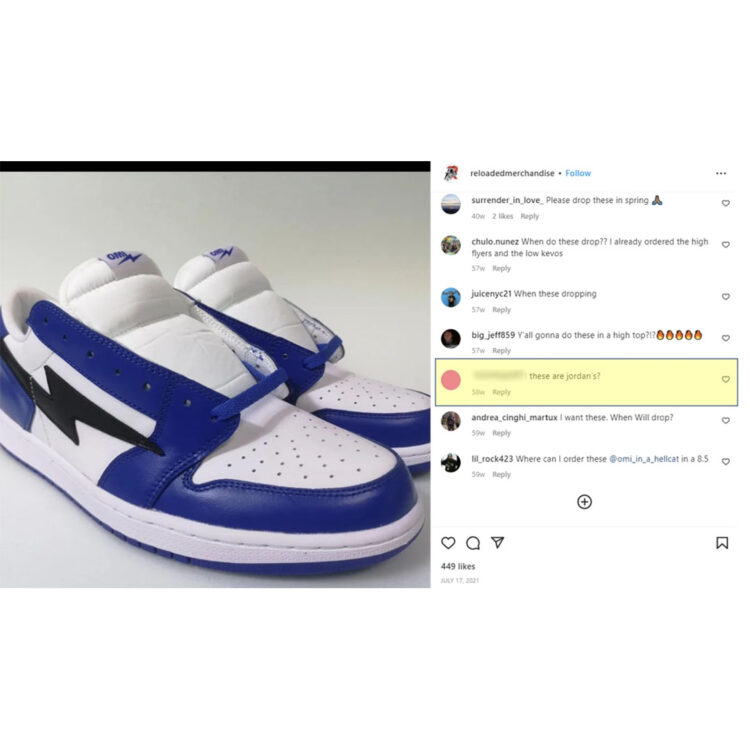 Among the trademark infringement claims, Nike is also suing Kiy, Omi, and Wandering Plant for false designation of origin, unfair competition, and trademark dilution. Nike's defense claims that the By Kiy and Reloaded Merch sneakers are likely to confuse customers about the origin of the products and Nike's connection the designs. The documents claim that the customer confusion has been exploited on the secondary market and includes examples of sneaker resellers advertising Kiy's products with variations of the Air Jordan 1 name.
Nike is requesting that the court block any further production and advertisement of Kiy's and Omi's sneakers manufactured by Wandering Plant. Additionally, the Plaintiff asks that the infringing merchandise, packaging, and promotional materials be sent to Nike for destruction. Nike is also requesting compensation for all damages and related expenses, but an exact monetary value has not yet been declared.
Kool Kiy took to Instagram to comment on the matter saying, "Woke Up This Morning To A Lawsuit From The Mega Giant Corporation That I Supported My Whole Life. The Fact That They Suing A Young Black Man , Who Started Out Exactly How They Did Is Kinda Crazy To Me .. Ironic How They Tell Us To "Just Do It" … KIY READY THO."
Shortly after, Kool Kiy followed up with another Instagram post saying, "Now Everybody Knows The Law… Well Get Yall F*cking Popcorn, Cuz I'm On Go." Kool Kiy quickly followed this post with another saying, "Anyway… Drop Ya Size!!" — as he promoted the "What the Kiy" sneaker that will be available at Art Basel Miami.
Omi also took to Instagram to comment on the lawsuit, in an all-caps post that reads, "It's crazy how me and Kiy been battling each other. And now we have a huge battle in front of us. I do not know why [Nike] made us co-defendants but we will fight together on this. It's crazy because Mimi worked for Nike and it's my favorite company in the world. The fact that our shoe is different but inspired by the same is insane to me. Sole is different, the lines are different. It seems crazy to me, even my lawyer is scratching his head and I have a top for him it's been monitoring the issues from the beginning. I thought we was in the clear but I guess not. Wish me and Kiy luck. But as far as Nike doing this to us they lost me support forever. I looked up to Phil Knight my favorites sneakers are the foam posits 98% of my closet is Nike. And the same principles and values that made there company I'm trying to follow. Nike inspired all of us to be like them and now they are trying to destroy anyone who trys to follow in there foot steps. It just shows that were doing something rite and we will make new silhouettes and we will never give up on the shoe game."
Before this, Omi and Kiy had been at odds with each other over their sneaker designs and their manufacturer. Omi said, "I told [Kiy] listen, if you don't call back the manufacturer, I am going to release your shoe for cheaper — So what I did was, I took the shoe, I took the brand and ran with it. It worked out for both of us honestly, because we're both kind of popping off of it."
At this time, Nike has not commented on the case. This filing comes after Nike and John Geiger reached a settlement on a trademark infringement lawsuit, a case that entangled La La Land Production and Design, Inc., who also manufactured the infamous Warren Lotas Reapers.
Nike Kicks will continue to update as this story develops. For more sneaker news and release dates, follow @NiceKicks on Instagram.