It's not every day that Nike goes from engaging in a year-long legal battle to acknowledging that they respect the very person they filed suit against while giving their well wishes for the continuation of that person's business.
It's been a little over a year since Nike amended its lawsuit against La La Land Production & Design, Inc. to include notable designer John Geiger, accusing him of trademark infringement and brand confusion with the rising popularity of his signature model, the GF-01.
On August 30, 2022, Nike issued the following statement, announcing the parties had officially reached a final settlement and the case was closed:
Making shoes inspired by popular models of larger brands isn't anything new in the sneaker world; from customizations of actual silhouettes to the rise of independent brands, the very essence of what made sneaker culture what it is today – individuality expressed through fashion – continues to grow.
Recently, however, we have also seen a number of lawsuits accusing independent artists and designers of infringing on trade dresses owned by larger brands in an attempt to stop their operation and cease sales of their products, forcing many creatives to change course or stop their businesses altogether.
John Geiger, a Pittsburgh native, has been shaking the table and disrupting sneaker culture since his first shoe, the "Misplaced Checks" — a never-before-seen take on an Air Force 1 featuring 16 different Swooshes, each one made of a different premium material.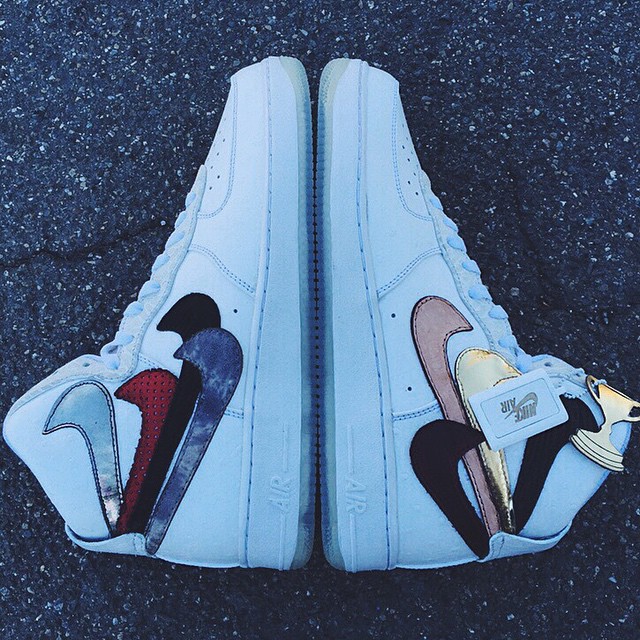 Since then, Geiger has released a number of original models, leading up to the GF-01. In Geiger's own words, the GF-01 was "inspired by" the Nike Air Force 1 and Geiger has never shied away from owning the fact that the shoe carried a resemblance to the 1982 classic that has remained one of Nike's top sellers year over year.
In October 2020, Nike sued famous sneaker designer Warren Lotas for infringing on a number of trademarks associated with the Nike Dunk after Lotas was selling a massive number of sneakers bearing an eerily close resemblance to the Dunk Low, with only a few changes, namely a "Jason" mask where the Swoosh lies.
From that suit emerged another lawsuit, in which Nike sued the maker of the Warren Lotas Dunk, La La Land Production & Design. John Geiger was later named as an additional defendant in the suit since the GF-01 was previously manufactured by La La Land.
A settlement was reached in that suit, forbidding La La Land from producing any more "infringing products," such as the Warren Lotas Dunk or the GF-01; however, production for the GF-01 had already been moved to a new manufacturer, continuing Nike's battle with Geiger, even after La La Land's case was closed.
Since August 2021, Nike, Inc., and Geiger have been engaged in a legal battle to determine if the GF-01 did, indeed, infringe on Nike's trade dress for the Air Force 1 and cause "confusion" in the market.
Lead by Geiger's in-house counsel, Darren Schwartz, who partnered with an experienced legal team, including Yeezy Brand General Counsel and co-author of "Sneaker Law," Kenneth Anand, the suit took a number of twists and turns, including Geiger's team moving for a dismissal of Nike's claims by attempting to prove Nike had failed to show proper evidence backing its claims. Geiger remained vocal about the legal dealings, stating on his personal social media that he was "preparing to fight this battle for all creators and underdogs fighting the same uphill battle as me."
Geiger had recently stated that he had begun depositions as the next step in the case, showing photos of piles of sneakers he was required to provide as part of the discovery phase.
According to court documents, Nike was slated to begin their depositions on September 1, 2022, however, just days before questioning began, Nike settled the case with Geiger and issued a formal statement, stating that Nike "respects" John Geiger and "both parties are pleased to resolve this dispute in a way that allows John Geiger to continue building his brand."
Though specific details remain confidential, the settlement will involve a modification of certain elements of the GF-01 that Geiger has already been in the process of reproducing while keeping the overall signature silhouette intact.
Keep it locked on Nice Kicks for the latest news.