Inside Nike's Courtyard in Manila at the FIBA World Cup
How would Nike show up at the FIBA World Cup?
As the international basketball tournament's title sneaker sponsor and the world's biggest hoops brand, the low-hanging fruit would be to use the stage to highlight a new product.
As a master marketer, they could use the moment to hype up a global endorser like Luka Doncic or Giannis Antetokounmpo.
As an American-born company, there's the opportunity to story tell around the next generation of Team USA.
In actuality, Nike did a little bit of all three, but a key part of the equation is something that won't have a direct impact on the balance sheet.
With the main part of the tourney taking place in the basketball-obsessed nation in the Philippines, where one can find a court or makeshift rim in almost every city block or barrio, Nike chose to focus on the locals who have the least access to the country's favorite sport: women.
"It's something about the passion of the Filipino people in how they idolize basketball," said Mau Belen, the first and only woman coach in the Philippine Basketball Association. "The sport gives Filipinos joy in the middle of a hard life and I think how we see basketball is not just as a form of entertainment, but it's really a form of joy."
Although the love of the game is equal among men and women throughout the third-world country, the freedom to play is not. Spaces are usually dominated by male players and females are relegated to hooping at hours when it's not the safest, if they even get court time at all.
To help solve this problem, Nike built a one-of-its-kind basketball facility in Manila called The Courtyard that's free to the public. Female hoopers, from children to the adult level, have exclusive time at the space on specific days.
The Courtyard houses two FIBA regulation basketball courts that are each made of 30,000 recycled sneakers, as well as a halfcourt warm-up area, locker rooms, and free sneakers for trialing.
"I couldn't really explain how special it is to go to a place where you don't have to beg or wait for time to use a court when in fact you know that your time will not come," Belen said, alluding to her experience having to wait on the sidelines to play when she was growing up. "Personally, I would have to wake up at 5:00 AM or 6:00 AM just to shoot around until 10 or 15 guys show up and take over the place."
Not only is Nike supporting Filipinas through physical resources, but also by providing free coaching. The brand partnered with Manila-based non-profit Girls Got Game to create year-round programming at The Courtyard that includes skills clinics and athlete camps at no cost, targeted at young girls learning to play for the first time.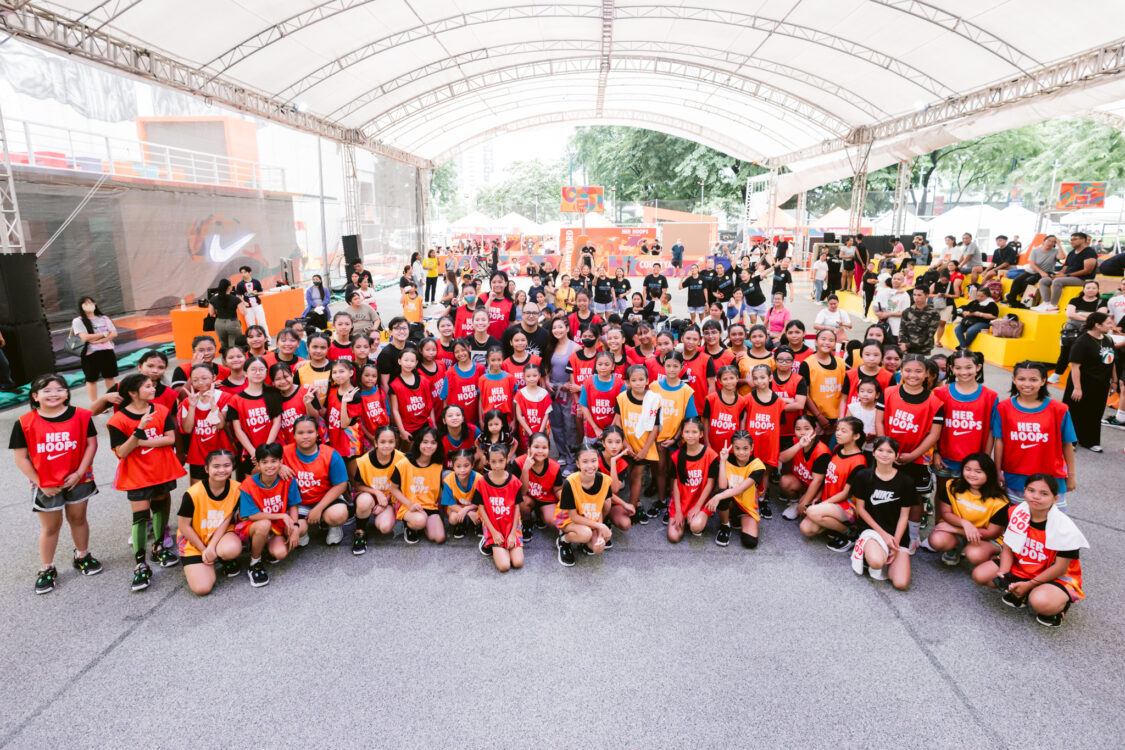 Unlike the U.S. and other countries, the Philippines doesn't have a women's pro-league. The only way aspiring female Filipina basketball players can get a glimpse of the pro level is from the women's national team or limited broadcasts of the WNBA.
"We only see the WNBA on League Pass, which you can only get if you have a credit card and is not something a lot of Filipinos have," said Mariana Lopa, Managing Director of Girls Got Game. "It's really difficult to watch WNBA in the Philippines. So that's why it's important for us to have stuff like this where girls can see role models face to face."
Mentors can come in different forms than just players as well. According to Lopa, Belen, and others in Manila, a coach can make or break a player's relationship with the game.
A key difference between male and female hoopers in the country is that more girls approach basketball as a way to have fun and build community, rather than for competition.
"Most of our girls are really playing because they love the game, not to hit the pros," said LA Mumar, head coach of the Ateneo De Manila University women's basketball team, who's coached both men and women's players. "Maybe some will be blessed to be with the national team, but there's just a certain purity when you coach them."
While the dream goal for the locals may be to eventually have a women's pro league in the Philippines, a more closely achievable one that Nike is trying to facilitate is to have more Filipinas involved in the game. It may not be through playing for the Filipino national team or at the university level, but in other ways young girls wouldn't see unless they were exposed to the likes of Belen or Lopa and her organization.
"I feel like basketball always saves me and I owe a lot to the sport. There are a lot of people that want to be in basketball but doesn't know how just because they are female, so they don't see the pathway to basketball in our country," Belen said. "I hope in the future we're not just focusing on me as the lone person who's a female in the professional league, but hopefully by five years from now there'll be a lot more female coaches in the mix."