The Air Apparent.
Each year on March 26, the sneaker community celebrates Air Max Day, a day when enthusiasts, collectors, and casual fans reminisce, enjoy, and appreciate the Air Max sneaker, commemorating the heritage of one of the most iconic sneaker lines in modern times. The Air Max, both then and now, exudes a strong influence on high fashion and lifestyle collections today, having undergone numerous retro iterations with OG colorways – a nod to the old school – while also receiving color blocking updates fit for the modern era.
Throughout the past month, Nice Kicks' Throwback Thursday has paid tribute to various Air Max iterations and collaborations including the atmos x Nike Air Max 1, Air Max 360, and Air Max2 Uptempo, highly transformative and sentinel models in their respective sport domains.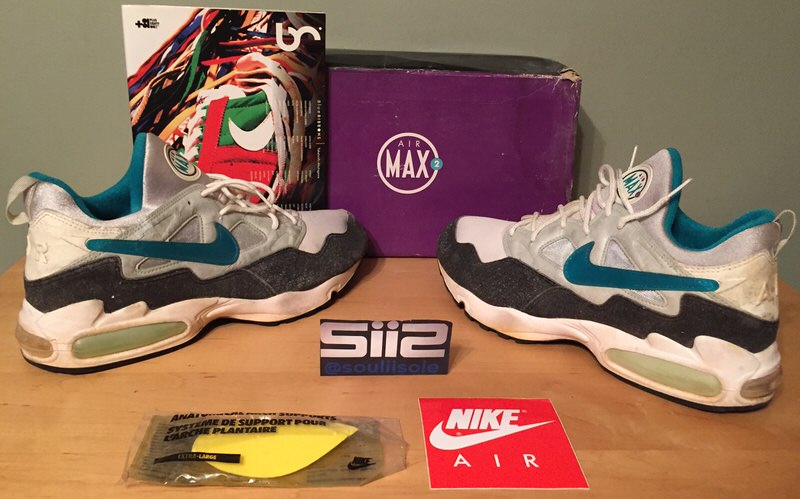 However, there remains one classic and vintage Nike Air Max model which to this day has not received its proper and true respect that it is owed, an often-forgotten and neglected silhouette, the unfortunate victim of "middle child syndrome," sandwiched in between the Air Max '93 and Air Max '95, a model which at the time of its release nonetheless served as a staple in Nike's running collection of yesteryear:
The 1994 Nike Air Max2.
Following the success of the 1991 Air 180, Nike debuted the Air Max '93, colloquially referred to as the Air Max 270, a pioneering model in its own right which used a 270-degree visible heel Air Max unit. In 1994, Nike continued its trend for "more is more" and "bigger is better," releasing an updated Air Max in a purple punch colorway which also featured a 270-degree Air Max bubble.
While offering the runner maximum cushioning, the 270-degree bag featured uniform air pressure in a single air chamber, a point of contention and area of improvement for those who designed the shoe and the runners who wore them. Like comparative vertebrate anatomy, form follows function, a guiding metaphor which was clearly evident in running footwear in '94, when researchers and designers alike returned to the lab in order to revise the thick, urethane piece of technology originally designed and developed by Frank Rudy.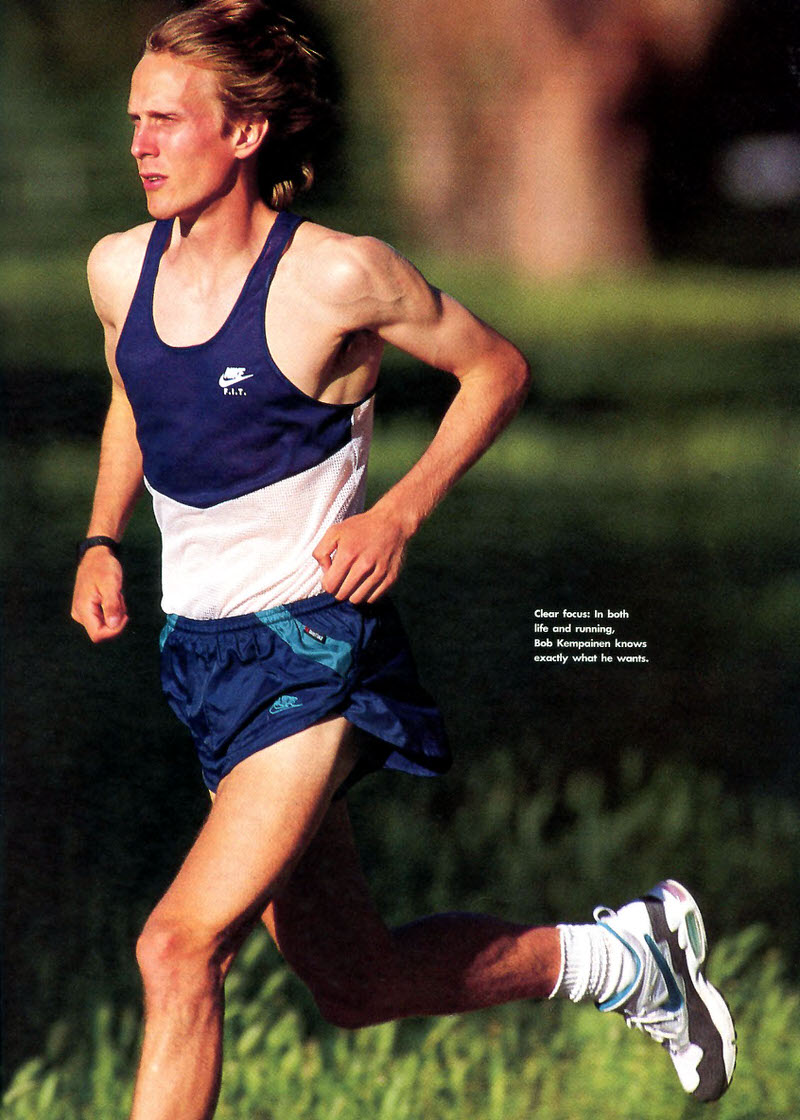 Enter the Air Max2 visible heel air sole unit, a pioneering new technology which incorporated two different air pressures in a total of four separate air chambers, a transition point which in turn redefined sneaker technology and elevated Nike and the Air Max sneaker onto an entirely new level.
The last Nike running sneaker designed by Tinker Hatfield, the 1994 Nike Air Max2 debuted at an original retail price of $135 and hit the ground running, both literally and figuratively, endorsed by some of the world's premier athletes and marathon runners at the time including Kevin Young and Bob Kempainen, the latter who wore the Air Max2 in a 1994 Nike print ad; and Spike Lee who was seen wearing the Air Max2 on the set of the 1995 drama, Clockers, starring Mekhi Phifer. An innovative TV ad also released as well which featured other Air Max2 sneakers as well including the Air Max2 CB and Air Trainer Max2.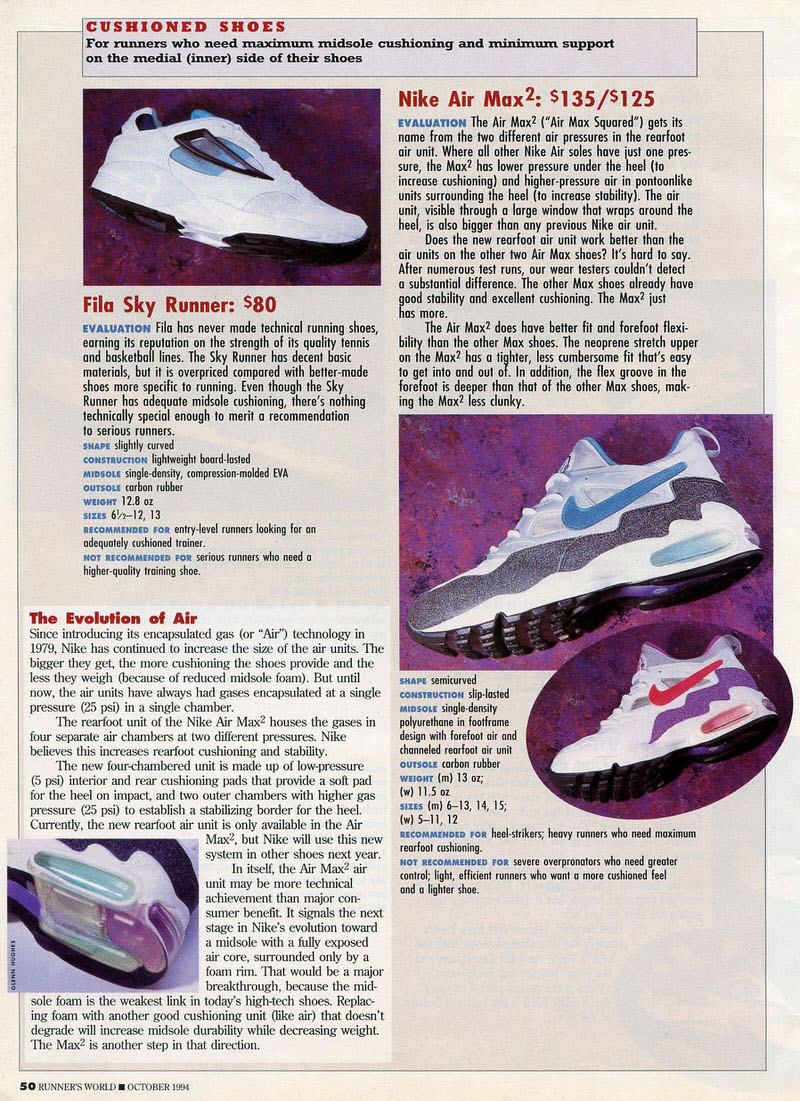 Following its "Evolution of Air" review in Runner's World in October 1994, the Air Max2, in its avant-garde bright, Agassi-like colorways including white/international blue and white/bright teal-black, transcended the sport of running becoming a statement piece and illustration of accessible sneaker art and design, the perfect fusion of technology and aesthetics.
The Air Max2 technology included a lower pressure under the heel (5PSI) to increase cushioning while featuring a higher-pressure air (25PSI) surrounding the heel to increase lateral stability during heel strike, the largest air sole unit ever produced at the time.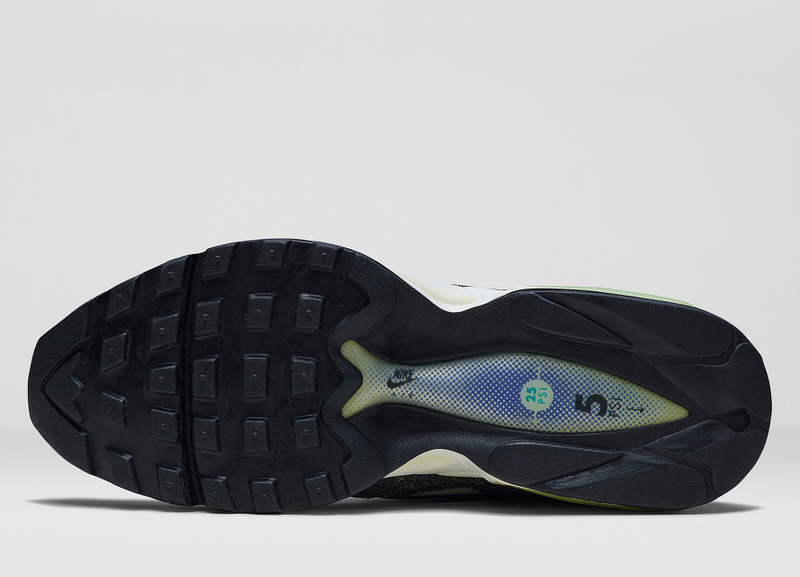 In addition to the newly developed dual-pressure visible heel 25PSI+5PSI air sole units – a design feature later incorporated into the Sergio Lozano-designed Air Max '95 a year later – the Air Max2 also featured a Huarache inner bootie made of Neoprene, BRS1000 rubber outsole, single-density polyurethane foot frame midsole, and deep forefoot flex grooves.
To top it off, the shoes came with their now iconic multicolored Air Max2 box which is as equally memorable and nostalgia-evoking as the shoes themselves. Of note, an early prototype sample version of the Air Max2 featured visible forefoot air, a design feature which unfortunately did not translate into the final production version, a feature instead reserved for a hoops descendant of the Air Max2, the Air Max CW. Additionally, the kids' version of the Air Max2 featured a 270-degree visible heel air sole unit in lieu of the dual-pressure chamber system.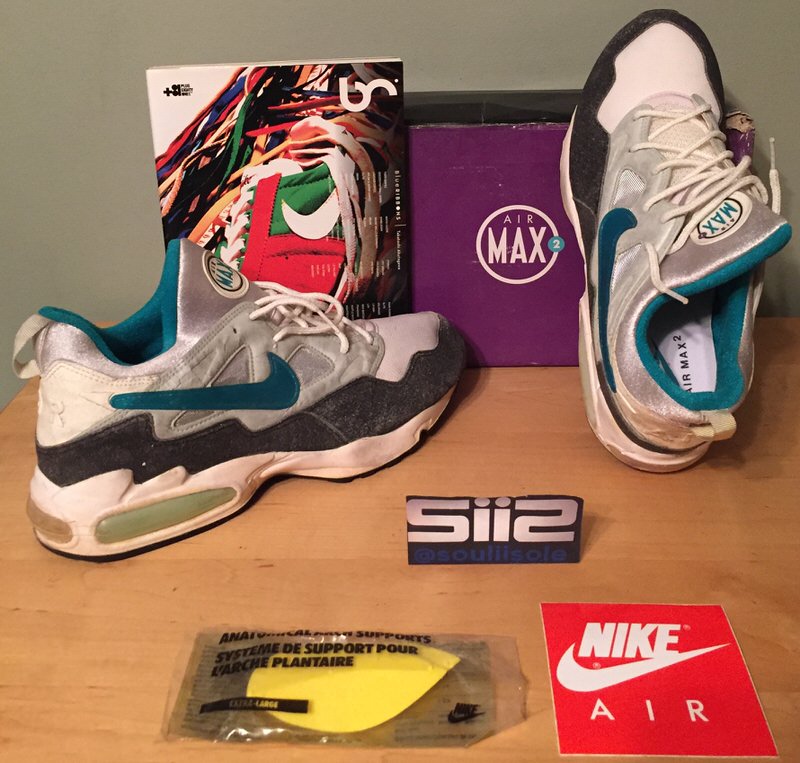 The Air Max2 running shoe served as a predecessor to other Air Max2 models across multiple sport domains including Barkley's Air Max2 CB, Air Max2 Uptempo, Air Max CW, Air DT Max, Air Trainer Max2, Pete Sampras' Air Max2 Sweep and Air Max2 Spa, Air Max2 Apparent (golf), and finally, the Air Max '95 and Air Max2 Light, all of which incorporated a dual-pressure heel Air Max2 unit, highly memorable pairs in the classic mid-90s Nike era.
On March 23, 2019, Nike released an atmos x Nike Air Max2 Light collaboration in time for Air Max Day. Thus, it is only right and proper that Nike finally bring back the Air Max2 in OG-correct form complete with its iconic Air Max2 box and bright color palate characteristic of the 90s era, a highly influential silhouette which set the industry standard for maximum cushioning with its superb, pioneering, redefining, and trendsetting sneaker technology, a model that will surely evoke strong nostalgia for those who experienced firsthand the Nike in the 90s era, a retro launch that would undoubtedly serve as a long overdue tribute to the '94 Air Max2: middle child of Nike's mid-90s running collection, the forgotten Air Max, arguably the most unattainable holy grail in vintage Air Max collecting.
Step in the right direction in the Nike Air Max2 and get a clear focus, both in life and on the running track.