Sneaker deals — an NBA tradition since Bob Cousy and PF Flyers in the 1950s. When young guns enter the league they strive to achieve a list of goals, like winning a championship, excelling on-court, helping their family and community and securing a fat bag.
Due to the game's nature, the faces of the NBA are crystal clear for the camera and their gear is easily recognizable from up close and afar. Their unparalleled visibility creates ample opportunities for sneaker brands to showcase their goods, build connections with consumers through play and market these athletes from countless angles. There's always money on the table for NBA players if they're [even moderately] successful.
Deals range from the "LeBron James Package" (a lifetime endorsement contract with Nike), to the "Derrick Rose Special" (10+ signature shoes) and all the way down to the Clipper's 6th man off the bench receiving free-kicks and/or varied incentive payouts.
Today, we're going to take a look at a grip of recent NBA players that jumped ship from one brand to another.
Here's how it generally works. In some cases, a player leaves Brand A for a more involved role under Brand B. Other times, a player will leave Brand X as a signature athlete to create a new line under Brand Z for more cash (or control). And more times than not, an up-and-coming player or veteran will fulfill their contract with Brand A to seek greener pastures as the face of a more obscure brand.
Let's dive into some notable players that left one brand for another over the last ten years. It's not always pay-dirt though. Sometimes the switch doesn't pan out, so we'll be covering a little bit of each.
Editors note: We'll wait to see where Jimmy Butler formally signs after terminating his Jordan Brand contract earlier this year.
Steph Curry: Left Nike For Under Armour, 2013
Starting the list, we have a player that found the greenest pastures around – Stephen Curry. His departure from Nike is actually super interesting. Allegedly, while in negotiations to retain Steph, someone at Nike (we won't name names) butchered the presentation by showing PowerPoints with Kevin Durant's name on it; they referred to Stephen as Steph-on (ouch); they had no plans to make the Golden State star a signature athlete; they wouldn't give Curry a summer basketball camp. All bad.
If only that Nike rep knew he was talking to a future 2x league MVP and 3x NBA Champion…
Curry took a leap of faith, bet on himself and signed a multi-year, multi-shoe deal with [then struggling] Under Armour. The rest is history [as they say]. Steph went from Hyperfuses to a wildly successful signature line. Even more importantly, Curry validated Under Armour as a legit player in the basketball category (years of Spawn Anatomix just wasn't cutting it). Seven shoes in and Steph's gamble with Under Armour has paid off. His kicks are now worn across the world, and he's the undisputed face of Under Armour Basketball.
Aaron Gordon – Left Nike For 361 Degrees, 2020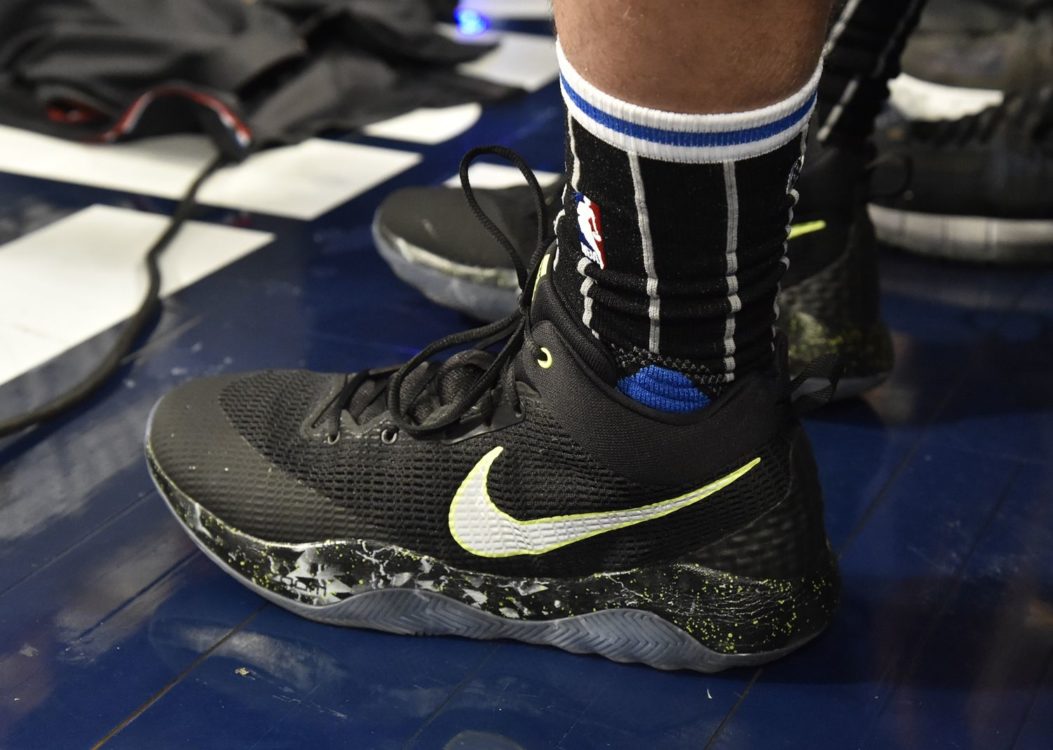 Best known for his high-flying dunks, Aaron Gordon is no stranger to maximizing opportunities within his smaller NBA market. Orlando isn't getting any shine until they're a legit contender, but that hasn't stopped Gordon from breaking into national headlines.
The Magic wing acted as a low to moderate Nike endorser since his Rookie year but over All-Star Weekend 2020 Aaron surprised everyone by rocking a new 361 Degrees design during the Dunk Contest (which he was robbed of). 361 Degrees has endorsed various NBA talent since 2010, but Gordon is easily the brand's most explosive signing. A signature shoe should come down the road of this multi-year deal too. Hopefully, Aaron can move units overseas and in the states – only time will tell. Read more on Gordon's deal here.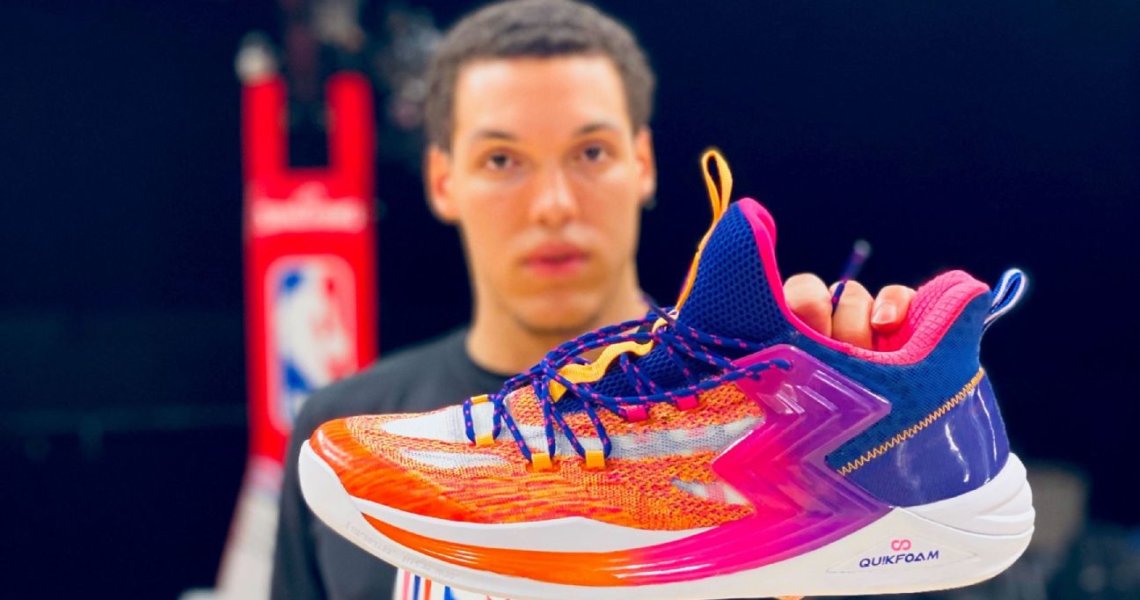 Kevin Love – Left Nike For 361 Degrees, 2011
Kevin loves to flip-flop between sneaker brands. Since entering the league in 2008, Love has rocked Nike and 361… then Nike again.
In 2011, while playing for the 'Wolves, Kevin Love signed a multi-year deal of his own with 361 after three years with Nike. The deal included multiple PEs and his own signature shoe – The Kevin Love 1 (no lie, Love's 361 Degrees PE from ASW 2015 were kinda fire). By 2015 Kevin aborted his 361 mission and re-signed with Nike. A no-brainer move to anyone in the sneaker community. It's been that Swoosh-life ever since for Mr. Love.
Kawhi Leonard – Left Jordan Brand For New Balance, 2018
What kind of guy leaves Jordan Brand, seriously? A fun guy, that's who. Longtime Jordan-head Kawhi Leonard (dating back to his SDSU days) enjoyed countless Jumpan PEs, you know, living the life most of us dream of, but it wasn't enough.
Leonard used his relocation from San Antonio to Toronto as an opportunity to expand his brand within the highly internationalized Canadian city. In a move that surprised everyone, Kawhi ditched Jordan Brand for New Balance. It's funny because NB hadn't been a player in the performance basketball category in nearly a decade.
Proving that timing is everything, Leonard delivered the Raptors their first-ever NBA Championship while wearing his brand new NB signature shoe, the OMN1s. Weird New Balance flex, but okay, it was a good move. Kawhi's NB stock will continue to rise with the help of Hollywood (once the league starts again, wahhh).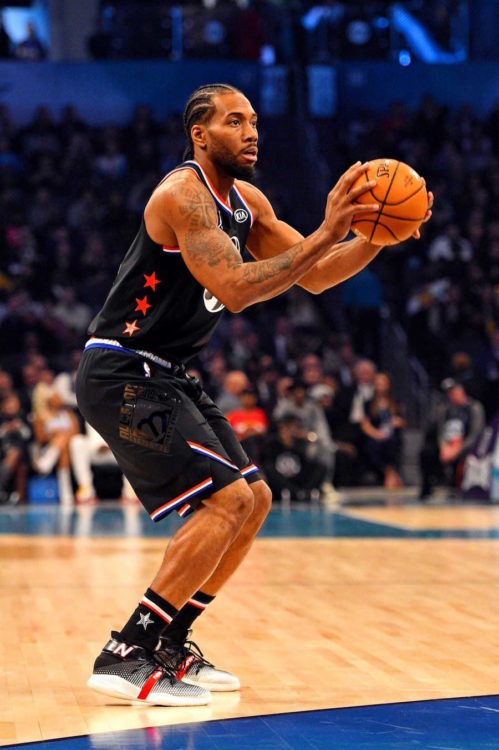 Dwyane Wade – Left Jordan Brand For Li-Ning (WoW), 2012
Certain players in the league are cut from a different cloth, and D-Wade was one of those players. Throughout his career, Wade wore Converse, Jordan Brand, and most notably Li-Ning.
The Heat legend's time with Jordan was an odd one that included two signature shoes under the FlyWade banner. At the time of signing everything seemed great. The Chicago kid signed with the Chicagoan Savior (MJ), cool, but rumor has it that Dwyane wasn't thrilled after his ill-received FlyWade 2.
Li-Ning swooped in and Godfather'ed Dwyane with an offer he couldn't refuse. Not only did Wade receive a signature shoe, but he was able to start an entire line dubbed Way of Wade (WoW). Honestly, the line is fire and touts eight different models. Wade's line continues to grow, and he even managed to sign our next athlete too.
D'Angelo Russell – Left Nike For Li-Ning (WoW), 2019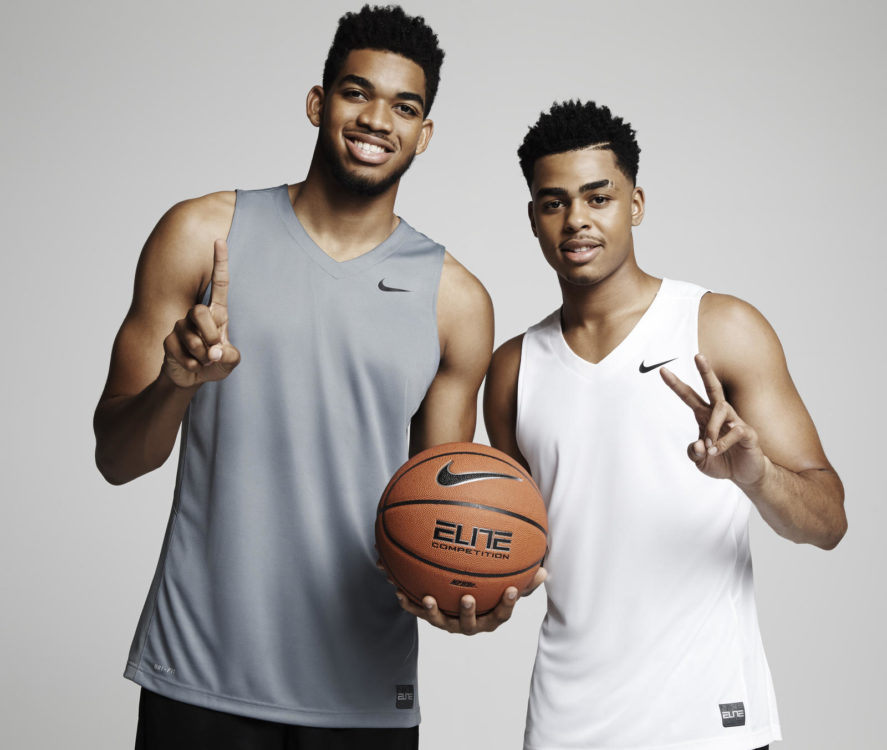 D-Lo. D'Angelo. "Talks 2 Much." Whatever you call the Wolves star is Gucci, just make sure you respect his game. D-Wade recognized game last year when he successfully signed sneaker free-agent D'Angelo Russell.
Pegging a landing spot for Russell was tough as a long-time member of the Nike family (dating back to his prep school days). Many assumed he'd resign with the Swoosh. But when you look at Nike's existing signature roster and D'Angelo's bravado, it became apparent that D wanted more. WoW offers Russell the ability to release a signature shoe, act as the face of the brand and usher in a new era of D-Wade's footwear legacy. We're excited to see what D-Lo accomplishes in Minnesota with WoW on-foot.
Tony Parker – Left Nike For PEAK, 2013
Tony Parker's a first-ballot modern HOF'er without any sneaker cred – how does that happen? The multiple-time NBA Champion showed out early in his career with tough Nike PEs (Zoom 2k3, 2k4, etc.), and he even rocked a pseudo-Nike signature shoe via the Zoom Flight Club.
In the midst of the 2013 NBA Season, Parker signed a lucrative deal with PEAK for up to 4 million a year. Like D-Wade, Tony's departure from Nike surprised most in the sneaker community as PEAK [and Li-Ning] wasn't taken seriously by the majority of North American consumers. PEAK went on to release nine TP signature shoes with Parker until the long-time Spur's retirement last season. Good move? Who knows. But remember, Euros don't lie.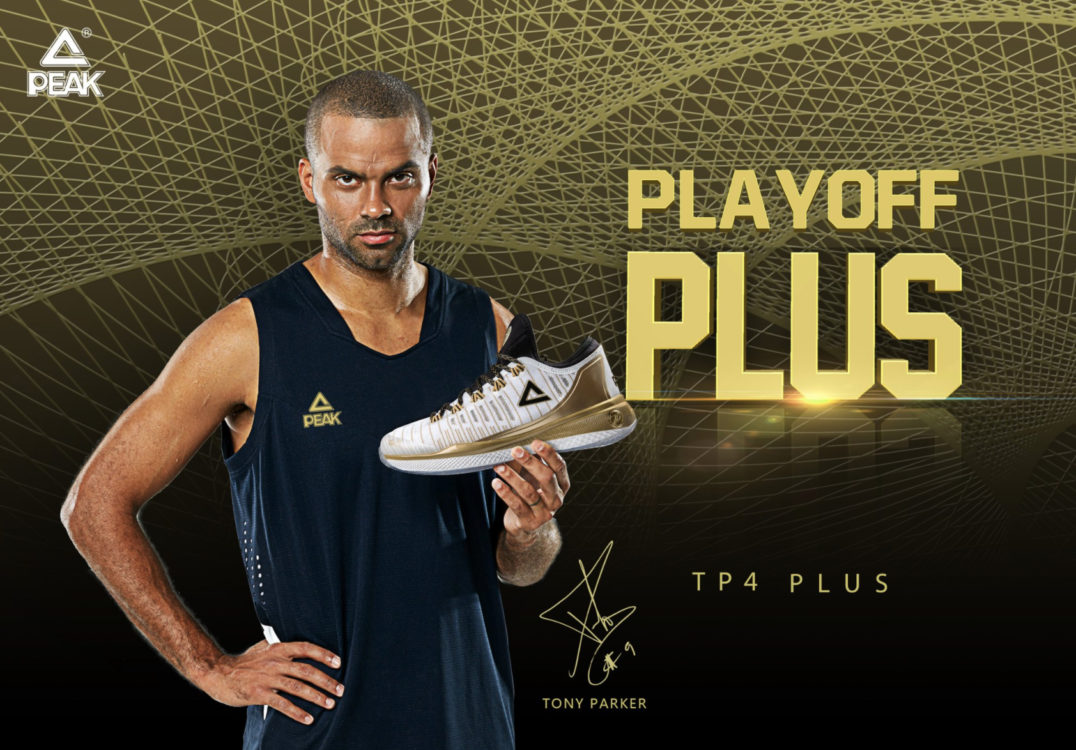 Klay Thompson – Left Nike For ANTA, 2017
The most interesting man in the world, better known as Klay Thompson, secured the bag in 2017 when he signed a lucrative endorsement deal with ANTA. San Francisco offers unique endorsement opportunities when compared to other markets due to it's direct visibility to Asia's foreign markets, and Klay's deal is a perfect example of that.
ANTA, being a Chinese brand, has a much easier time marketing Klay internationally as his popularity is highest in a city with a largely diverse cultural makeup. If Klay played in OKC, then this deal wouldn't work – cus, you know, "if it doesn't make dollars, then it doesn't make sense." Power to both Thompson and ANTA because the shoes haven't been half bad, and they've delivered a stack of quality viral moments together.
Kemba Walker – Left Under Armour For Jordan Brand, 2015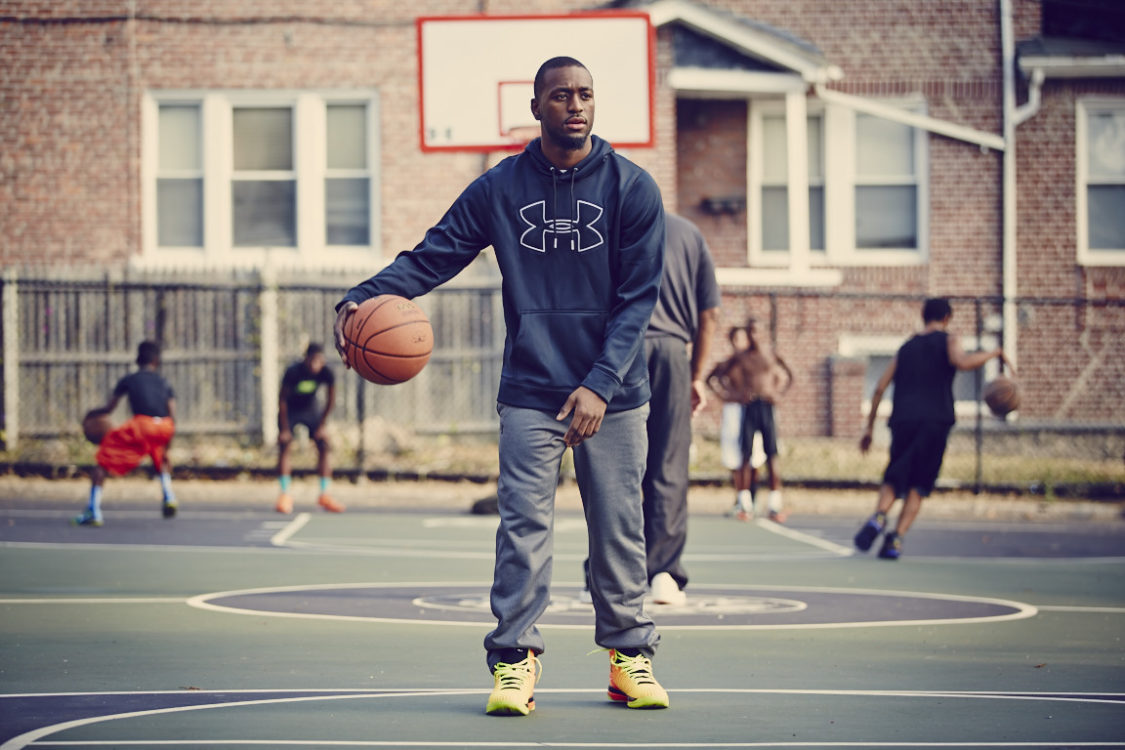 The glow-up was real when Kemba Walker left Under Armour for Jordan Brand. Cardiac Kemba made a name for himself at U-Conn with Js on his feet, so his partnership with UA straight out of college always felt a little off. We're talking pre-Steph Under Armour, a time in which the brand's best NBA athlete was Brandon Jennings. Adding Kemba to the roster definitely helped bolster UA, but what did it do for Walker's brand? Not much.
"Jumping ship" for Jordan Brand worked in Kemba's favor on two levels:
Jordan Brand's direct connection with his employer at the time – the Charlotte Hornets.
Walker's well-known affinity to retro Jordans like the Air Jordan 12 "Cherry"
Kemba gets some of the toughest Jordan PEs and Jumpman gets a high caliber All-Star stud — money.
Kemba in the Air Jordan 12 'OVO'
Others like Portland's CJ McCullum, the Celtic's Gordon Hayward, Rajon Rondo and DeMarcus Cousins left Nike for various brands – we didn't forget about 'em. Which athlete did we leave off the list that you remember switching sneaker brands? Let us know in the comments section below.