The time is finally here to see if your brackets can hold up and your respective team can make a Final Four as the NCAA Men's Basketball Tournament is underway today. With the likes of the Duke Blue Devils garnering another quality seed, they seem poised to make a solid run like the teams of years past. A formidable member of those teams of years past is the Texas-bred Daniel Ewing. Ewing was known for his heady play and steady defense, but to those within the sneaker culture, Ewing was one of the more prominent sneakerheads to ever grace the hardwood of the collegiate level. With that in mind, we've garnered an exclusive 1-on-1 interview with the Duke product and former NBA guard.
Sharing stories ranging his time on campus to his thoughts on the sneaker industry today, Ewing held nothing back as we chronicled his career and kicks on campus as a Blue Devil.
To see for yourself, scroll through the page below to enjoy the latest installment of College Kicks On Court Classic.
Nice Kicks: Growing up, what helped develop your love for sneakers?
Daniel Ewing: I have two older brothers, both are much older than I am. They grew up in the '80s and ventured to high school during the early '90s, so they were able to get some of the dope sneakers then. My brother had the 1s and my first sneaker ended up being the Air Jordan 4s.
Just being a younger brother and looking up to your older brothers definitely built that love of sneakers. Also, being an athlete you always wanted to have the best pair of sneakers to play ball or whatever it may be. So both being an athlete and watching my older brothers definitely helped me gain a love for sneakers.
Nice Kicks: When you became a teen and started playing AAU basketball and high school basketball, which team did you bring more "heat" out for: your AAU team or your high school squad?
Daniel Ewing: When I started in AAU, I played with an adidas team. That was the beginning era of the Kobe series and we had the first couple of shoes and I definitely had all of the T-Macs as well.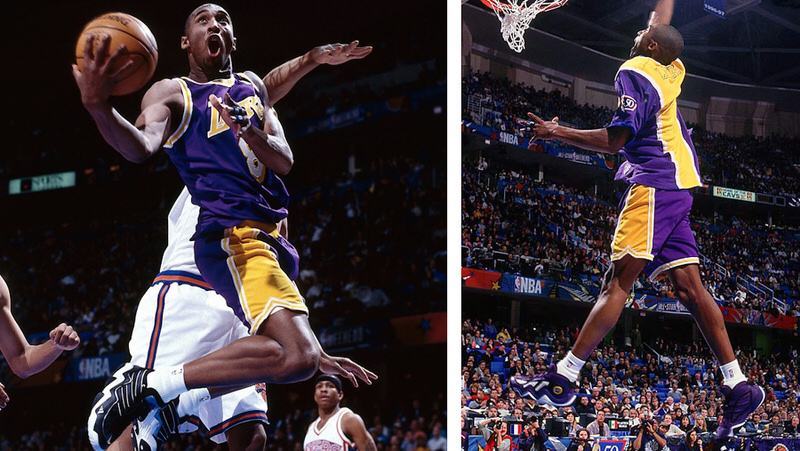 As for my high school team, I would wear whatever I wanted to wear, so I would bring out the Pennys on a few occasions. I also wore the Air Jordan 11 "Concords" and the "Space Jams" that came out during my senior year. I was also in the Air Jordan 11 "Cool Grey" a lot as well.
Nice Kicks: When you ventured to Duke, that university is known to be "by the book" and very "traditional." Did you get any pushback when you wore your variety of retros and notable kicks?
Daniel Ewing: [Laughs] Man, the sneaker game was so different back then. These major schools with the Nike and adidas accounts have so much access to shoes and dope PEs with the NikeiD program along with access to the players like KD, Kyrie and Kobe. It wasn't like that when I was in school.
I was always pushing our Nike Rep, and being like, "Just send all of the Nike Basketball shoes y'all have, and let us pick!" That was always my argument: just let us pick instead of just sending us two to three pairs and having only that selection to choose from. But to answer your question fully, they would always find a way to bring it back to the shoes. I have some witnesses that could share some really crazy stories.
Nice Kicks: Do you mind sharing the most memorable story?
Daniel Ewing: I was wearing the mostly white and slightly grey Air Jordan 13s. As everyone knows, the rivalry between Duke and UNC is a big deal. So, I wore the shoe a couple of games and I was playing well, nothing is going on with the shoe that is causing me problems — except the shoe had "Carolina Blue" on the bottom. On. The. Bottom.
So at Cameron Indoor it can get really hot and the floor starts gaining a ton of moisture and it just so happened that on one of those nights I wore the 13s. And I had several instances during the game in which I slipped a few times, so after the game one of the assistant coaches came up to me and as was like, "You know why you were doing all of that slipping in the game, right?" And he directly blames it on the shoes I have on and the Carolina Blue.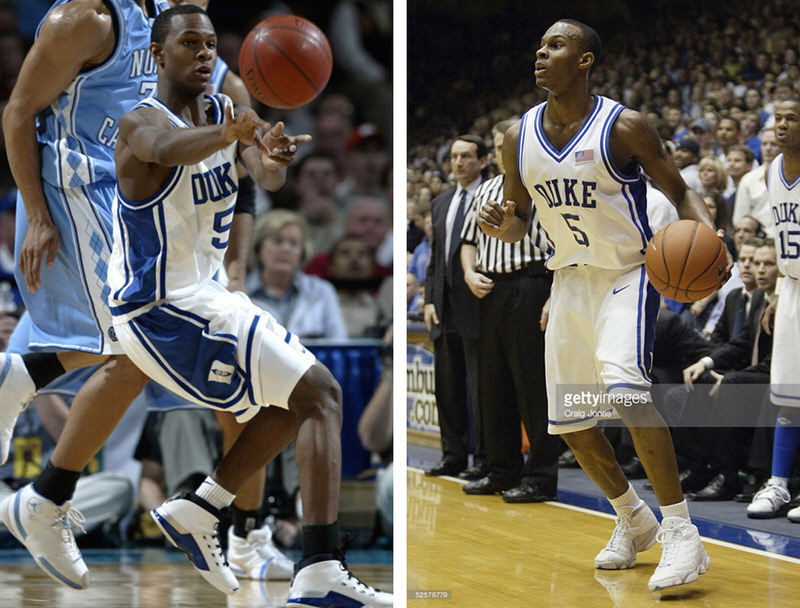 Nice Kicks: As a college student, were you spending most of your personal money on kicks that you would wear in the games?
Daniel Ewing: Yeah, for sure. With Duke being a Nike school we weren't getting Jordans. Then in AAU, I played with an adidas sponsored team, so I never really had those connections with anyone at Jordan or Nike to just get free stuff like that. So whatever retros you saw me playing in, I definitely bought those myself.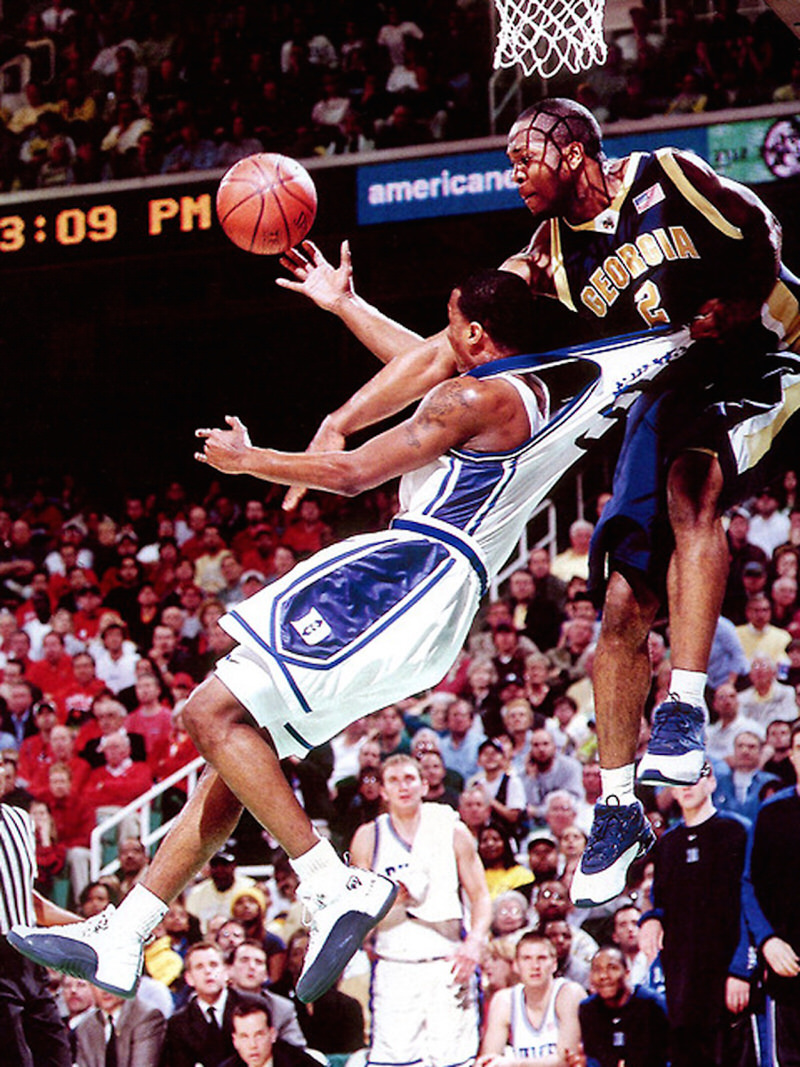 Nice Kicks: You didn't seem too afraid to mess up your kicks during the game, why is that?
Daniel Ewing: For me, the shoes I wore were the shoes that I wanted to hoop in. When I was in college from '01-'05, the big "style" shoe was the Nike Air Force 1. That was your shoe that you would wear to classes or parties because they all arrived in different colors. So wearing Jordans during the game wasn't that big of a deal.
Nice Kicks: When you were at Duke, did you have any peers or opponents that impressed you with their sneaker game?
Daniel Ewing: Man, like I said, the game was so different back then because you didn't have the social media platforms or blogs that would praise you for your sneaker game. You weren't really looking at the next team or the next player and looking around to see if anyone had heat.
For me, sneakers were just something that I liked and what I was into. I didn't want to wear the team shoe all the time, so rocking my own sneakers was my way of being my own individual without really separating myself from the team too drastically.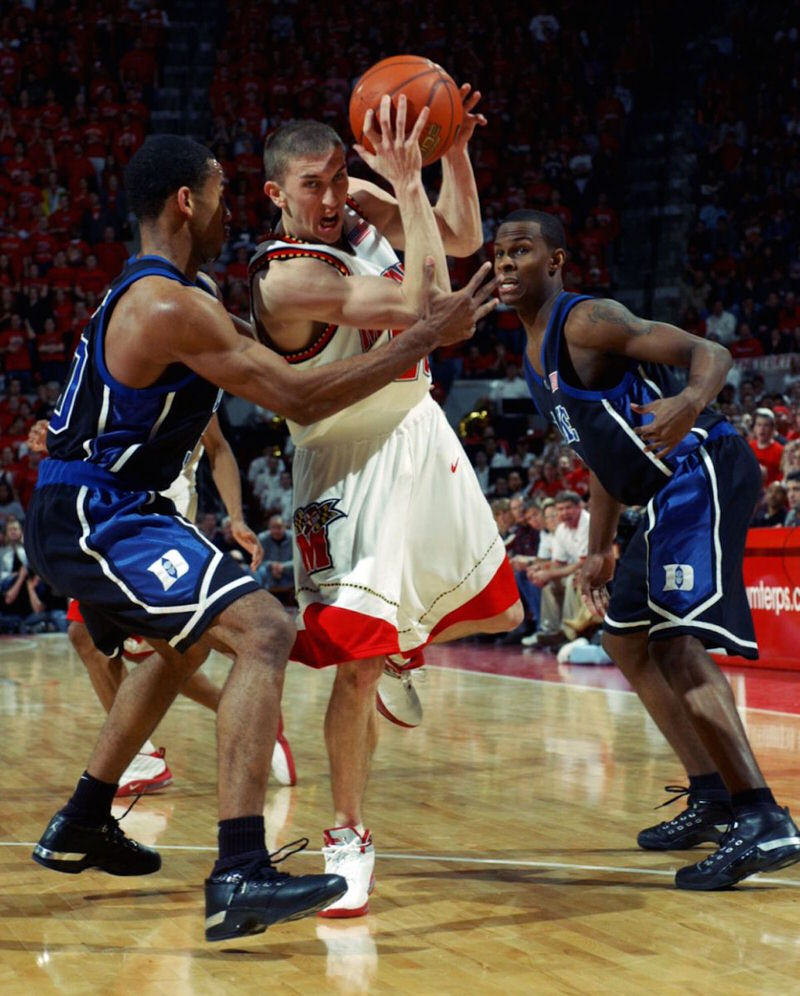 Nice Kicks: You mention not necessarily looking at opponents sneakers, however, is there any Duke or NCAA alumni that caught your eye?
Daniel Ewing: Yeah, for sure. I always looked back at the older guys and individuals that played before me. Particularly at Duke or the guys at UCONN and the Arizona team in particular. Especially Gilbert Arenas and Jason Gardner, they wore a lot retros before I even started. I remember seeing Gilbert Arenas in a few Trainers before I even started doing it.
Nice Kicks: With you sporting all of the retros throughout your career at Duke, what was the toughest silhouette to play in?
Daniel Ewing: I've never been one of those guys that is just going for the "look." I wouldn't rock it unless I felt comfortable with it and I could do what I want on the basketball court. I have to say that the one shoe that I did rock that was a little iffy was the Nike Air Force 180 Mid that has retroed a ton of times.
I rocked them against Carolina because I had no other shoe options and I knew I had to bring out the heat against Carolina. For me, those Barkleys were a little bit too heavy for me, and that was the only shoe that I can remember giving me a little bit of trouble.
Nice Kicks: Hypothetically speaking, let's say you're at Duke now. What would be the silhouette you would rock during this year's NCAA Tournament?
Daniel Ewing: Man, you really can't go wrong with all of the Nike Basketball shoes they get, especially with all of the flavors like the Kyries, KDs and Kobes. But if I had to go outside of the box, I would rock the black and blue Nike Air Max Sensations. I would have to rock something like that.
Nice Kicks: Lastly, as you've gotten older and your priorities may have changed as well, has your viewpoints on the sneaker culture changed also?
Daniel Ewing: Definitely. I honestly think the sneaker market is oversaturated at the moment. It doesn't make sense if the same sneakers are coming out every other year and people are going crazy over the sneakers that they've seen before. Granted, for the younger kids that's understandable but if you're up in age it doesn't make sense to buy the same shoes you've had one or two times already.
But I've been really feeling the other brands nowadays. Of course, Nike will still be Nike and adidas is coming with a lot of heat, but I've really been on New Balances and ASCIS as of late. It's been good to have a variety and different options.
Select Imagery via Getty Images. Keep up with Daniel Ewing on IG.