Kawhi Leonard is a special player, but you already knew that.
A lockdown defender and polished scorer, The Claw is on a tear, leading his Toronto Raptors all the way to their first NBA title.
Coming off a Game 6 for the record books, see some of Kawhi's best kicks on and off the court in the latest Player Profile.
Air Jordan 5 "3M"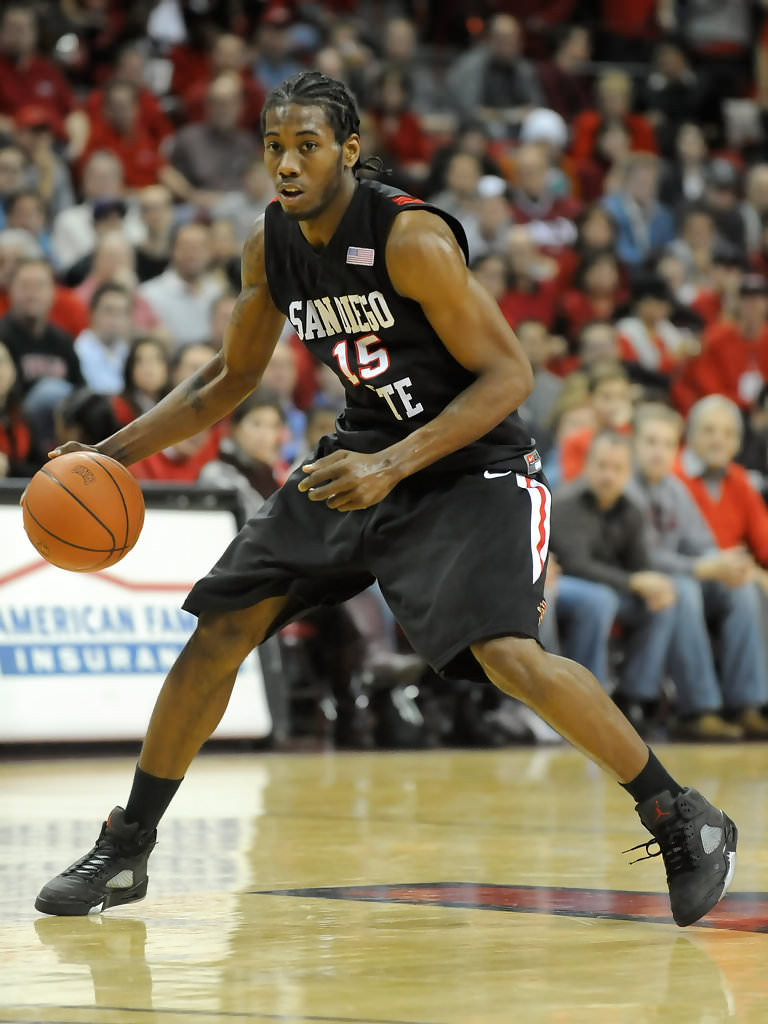 Just like Rip Hamilton and Rudy Gay helped launch the sneaker pedigree we see today at UCONN, Kawhi helped do the same by example at San Diego State. Sporting an array of retros, the Air Jordan 5 "3M" from the Raging Bull pack was among the most impressive.
Air Jordan 13 Low PE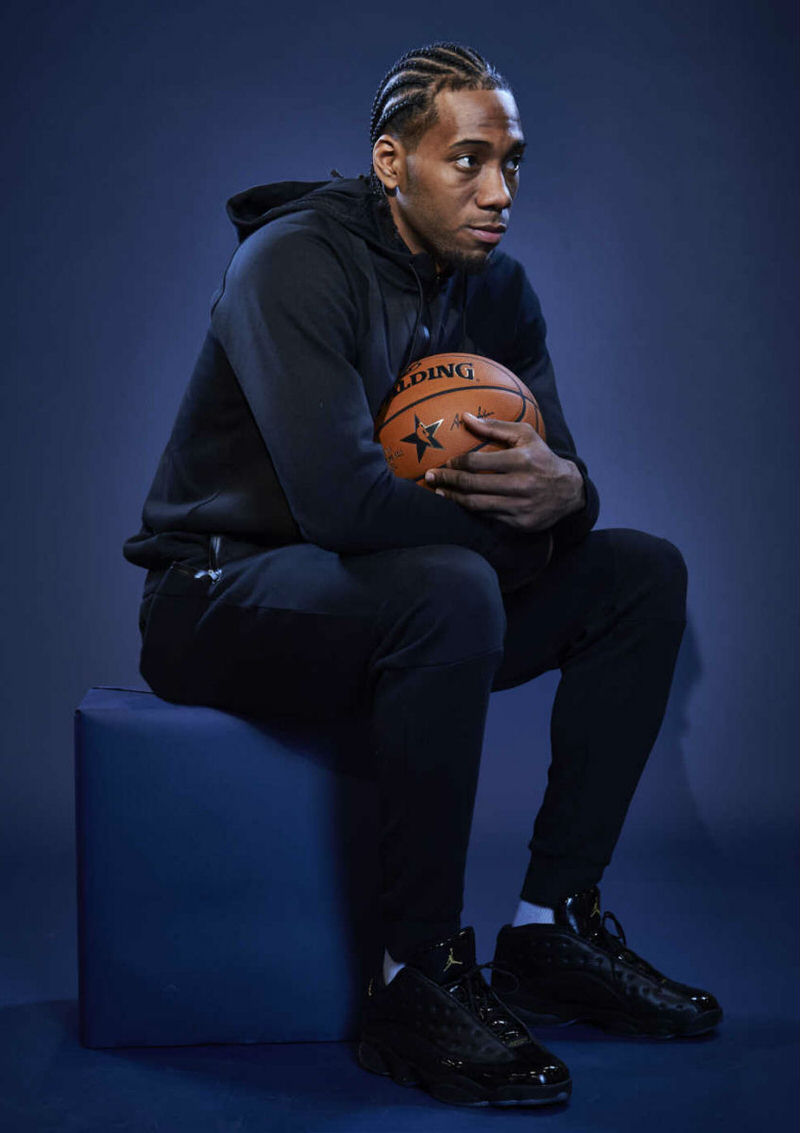 Whether Jordan or Bibby, most guys with their own Air Jordan 13 Low PE are named Mike. Not this time. At the 2016 NBA All-Star Weekend, Kawhi Leonard debuted a black and gold patent leather colorway of the panther paw inspired low top. This pair never released, proving they belong solely to The Claw.
Nike Air Foamposite One "Stealth"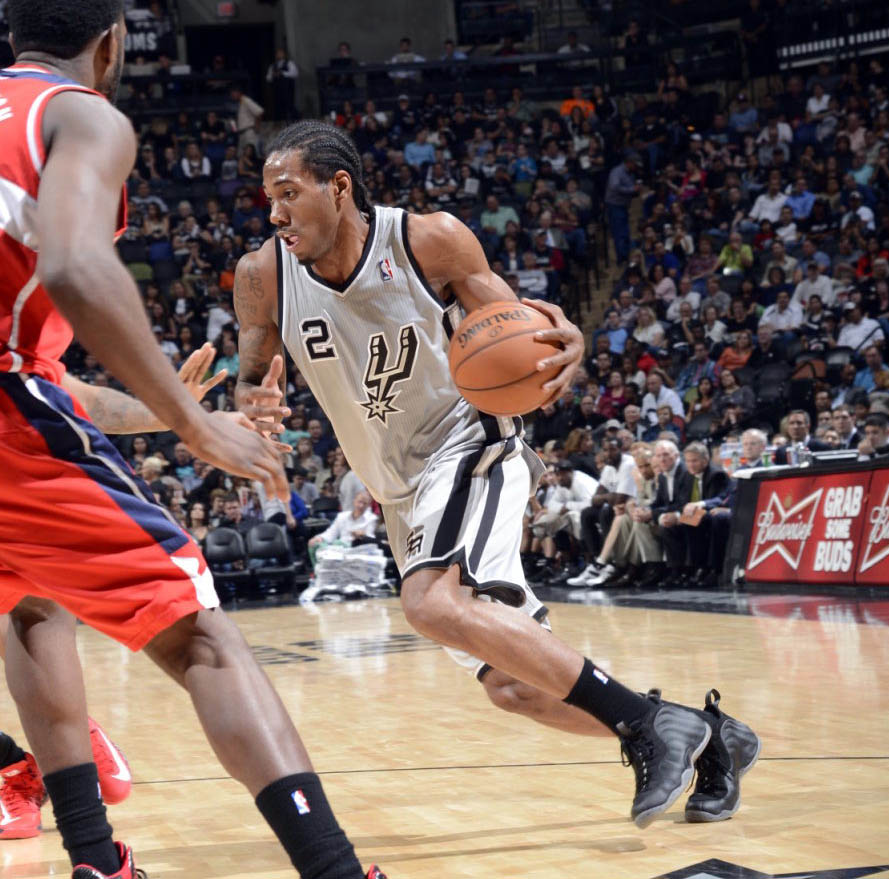 Before signing the dotted line with JB, Kawhi Leonard was spotted in Kicks On Court in a variety of retro sneakers from heroic Nike athletes. Penny Hardaway's famed Foamposite One sees #2 looking pretty good in #1's signature, with the "Stealth" colorway fitting to both his game and team colors.
Air Jordan 3 White/Cement
As previously stated, Kawhi has hooped in retros a lot. While wearing shoes of the old variety is nothing new since George Kiel started the KOC column, the fact that he's wearing said silos while assigned to guard the LeBron James' and Kevin Durants' of the world is pretty wild. Yup, in both college and the pros Kawhi was hooping in "Cement" 3s.
Air Jordan XX9 PEs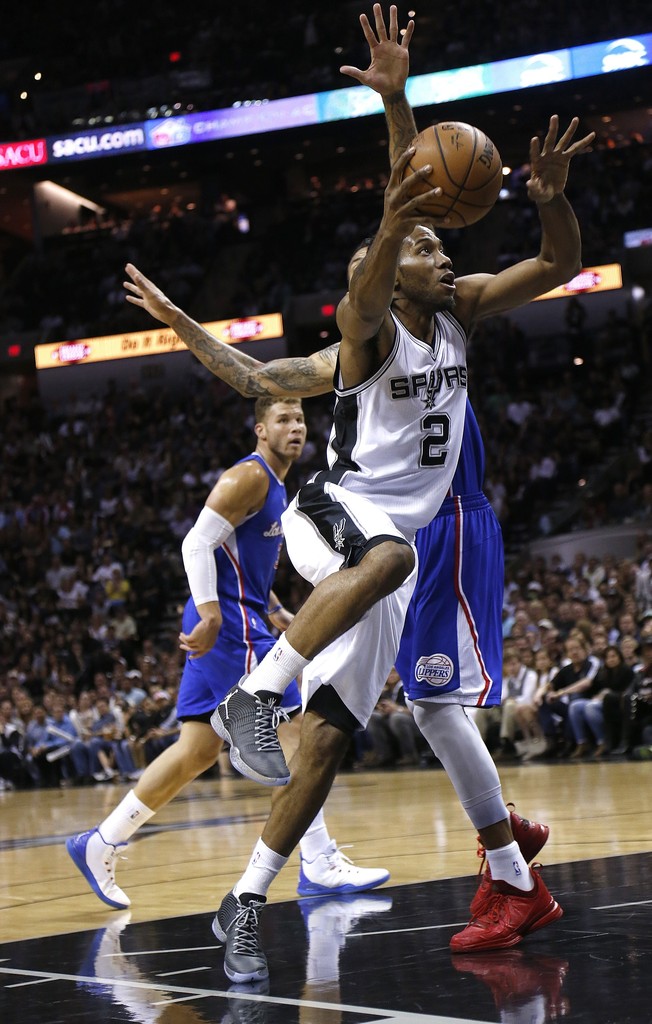 Getting your own logo on an on-court, signature series Air Jordan model is pretty major. While Russell Westbrook had been the face of recent AJ silos, Kawhi had been the feet, too, as he rocked the last few Air Jordan drops in GR and PE colorways alike.
Air Jordan 11 PE
From Randy Moss to Maya Moore, you have to be pretty special to score an Air Jordan 11 PE. Well, Kawhi Leonard already has. While the colorway origins are a total guess to us, the fact that he already has his own pair speaks volumes about how highly regarded #2 was in the Jordan Brand family.
Air Jordan XX8 SE
It's hard to imagine the Air Jordan XX8 SE having collector cache down the road, but anyone who has worn or played in this shoe will tell you it's something serious in regards to comfort and performance. Kawhi did something serious in these shoes too, guarding LeBron James and bringing home a championship to San Antonio in said sneakers. He also won the NBA Finals MVP. Not bad at all.
Nike Air Max CB 94
Outside of its endorser, the Nike Air Max CB 94 has been favored by stocky, springy guards like Jameer Nelson and Nate Robinson. Kawhi broke the mold by breaking these out early in his career. This colorway had been out of retail rotation for a minute when he did so, meaning he either holds on to old heat or finds new ways to cop it.
Air Jordan 11s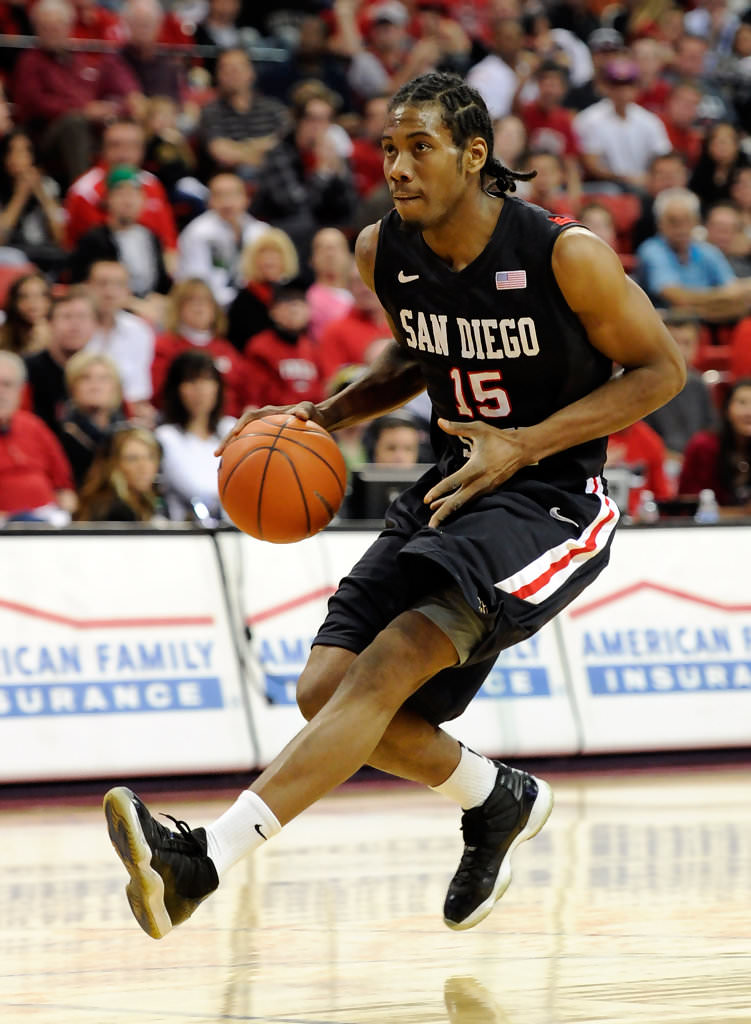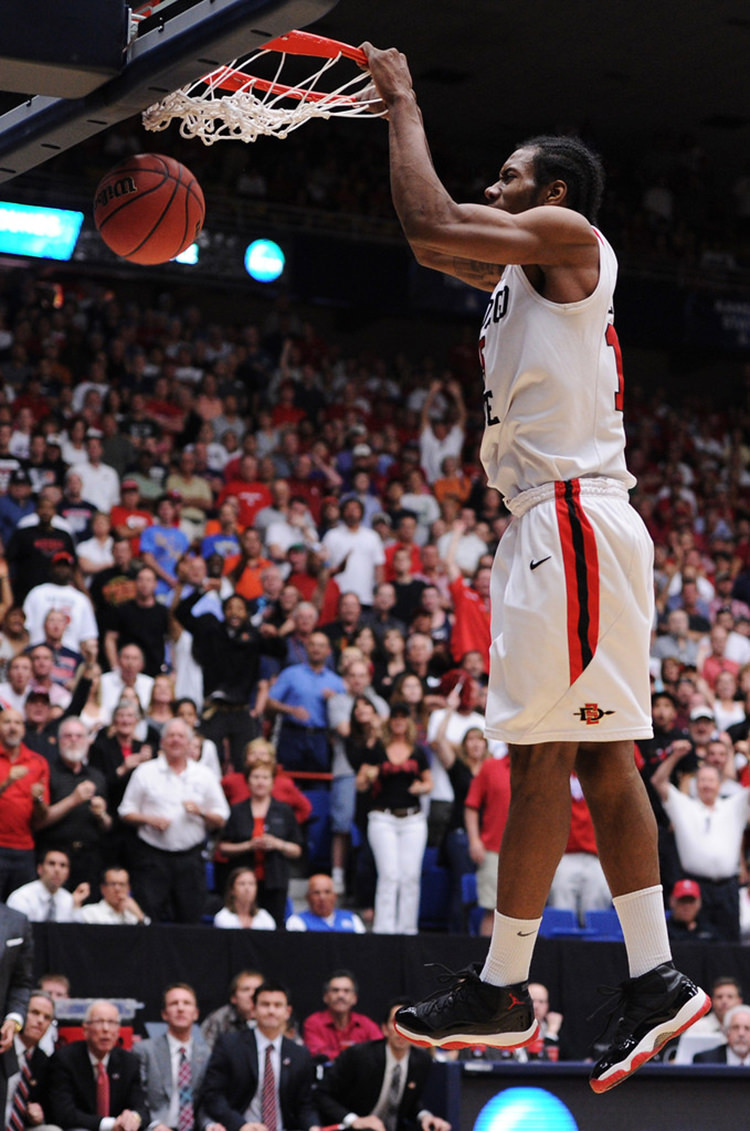 Rewinding to SDSU once more, Kawhi kept a very, very impressive rotation of retro Jordans on deck. Perhaps the most impressive from collector cache and still very playable today, the Air Jordan 11 "Space Jam" and "Playoff" were both highlights from his amateur days.
Air Jordan 6 The Claw PE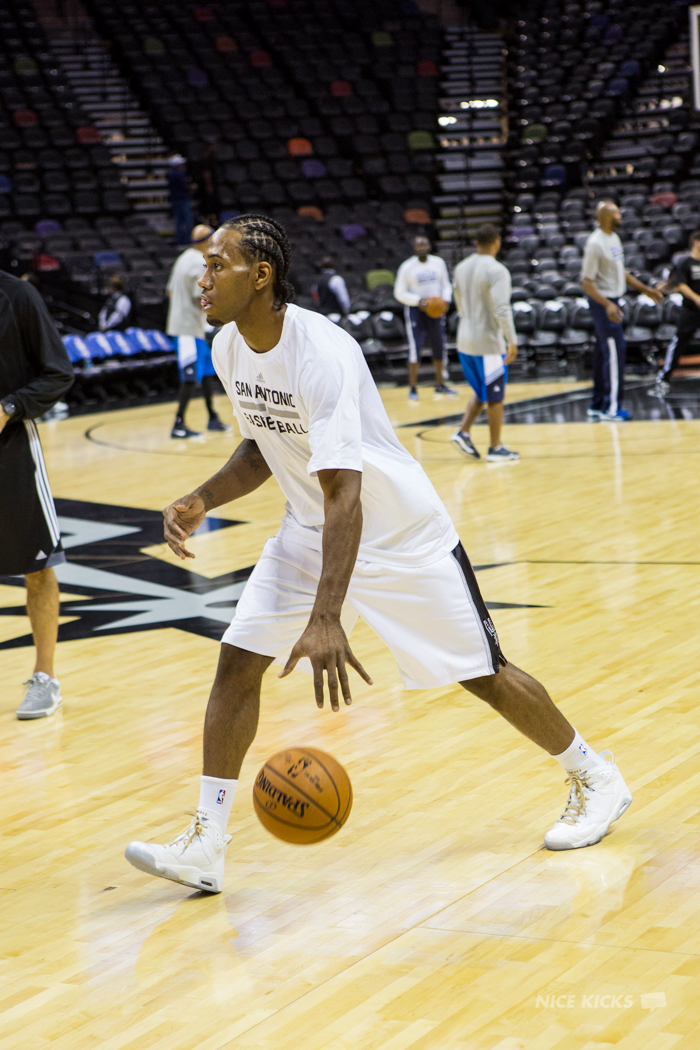 Kawhi Leonard should be a shoe-in for Team USA and this Air Jordan 6 PE displays that literally and figuratively. Sporting the golden mark of a winner along with the logo he created for himself, this AJ6 PE came as a gift from JB after he helped lead the Spurs to a championship. We'd definitely love to see him bring home the gold for the red, white and blue.
Air Jordan 12 Gold PE
When Kawhi called Jordan Brand and San Antonio home, he was privileged to many PEs. This "Gold" Air Jordan 12 was presumably a prize for a contest he won at JB's summer retreat with Anthony Hamilton, alluding to the fact that he'd have golden Air Jordans 1 – XXX. Proof? Here's his pair of 11s.
New Balance OMN1S
The new face and feet of New Balance, Kawhi Leonard made his presence felt in the NBA Playoffs by leading the Raptors all the way to their first NBA title.
While his first shoe — the OMN1s — have been produced in many PEs, we're liking this Nispey tribute the best. Stay up to date with upcoming New Balance Kawhi Leonard shoes along with links of where to buy them.