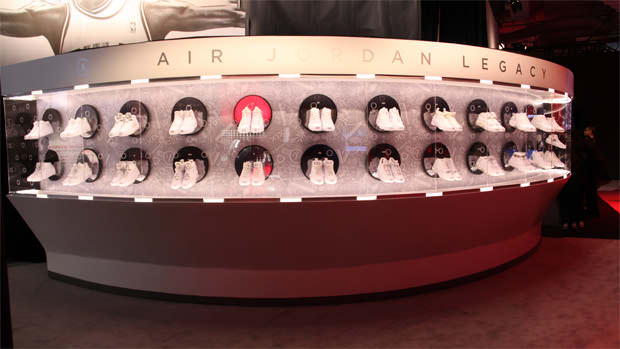 The snow has been nothing short of a pain in Dallas this All Star Weekend, but despite the slick roads and cold weather, one trip you should make if you are in town is to the Jordan Brand 23/25 Experience. ?Located just two blocks from the American Airlines Center, Jordan Brand built out a large space giving consumers an experience of the brand like no other.
This unique experience is highlighted by celebrating the heritage of Michael Jordan and the Air Jordan line through new forms of technology and interactivity. ?State of the art touchscreen displays give consumers a deep look into the history and stories of each Air Jordan shoe as well as everything one could ever learn about the new Air Jordan 2010 that releases tomorrow.
A concierge desk is ready to take appointments for you to design your own AJ Alpha 1 iD in their pop up studio, schedule a time for you to laser your sneakers, iPhones, or virtually anything at the iD23 lab, as well as hook you up with a free Jordan T-shirt.
DJ's are spinning live around the clock including MC Lyte, Bobbito Garcia, and live performance by Bun B. ?Check our photos after the break of some of the great parts of the Jordan Brand 23/25 Experience.
Jordan Brand 23/25 Experience
2350 Victory Park Lane
Dallas, TX 75219
[MAP]