Sneakers have become an ingrained part of culture and society. For some, it's a business model, as reselling is becoming more and more of a profitable business. For others, it'a nostalgia-driven addiction that channels some of our earliest memories and entices us to cop the latest retro or dig through eBay for that pair we couldn't afford back in the day.
And for a select few, sneakers are part-business and part-nostalgia. Jae Tips is one of many sneakerheads who has been collecting and rocking heat ever since he could walk. And while he's not a reseller, he's a businessman thanks to his passion for sneakers. Through the years, the Bronx native went from working the floor at Foot Locker to designing his own Nike Air Force 1.
Read below on Jae Tips and his expansive sneaker journey below.
Jae Tips on His Earliest Sneaker Memory
Nice Kicks: What's your earliest memory of sneakers? What makes them so important to you?
Jae Tips:
My earliest memory of sneakers came from Kindergarten. I remember telling the girl who sat in front of me that we had the same shoes on which were the
Air Jordan 11 "Concord,"
and she didn't care too much about that at that age. I think she told me to leave her alone.
I think from that point, having young parents who showed their love with materials things, I began to pay a lot more attention to what exactly they would get me for me. Once we went to sneaker stores since I five years old, I was asking, "what's new?" Those two words are still my life to this day.
How Jae Tips Got into Sneakers
Nice Kicks: Was there ever a moment where sneakers just clicked for you? When did you realize this was something you wanted to be a part of?
Jae Tips: When I left college, and my mom told me I had to get out or get a job. I asked my friend if he could get me a job at Foot Locker, and every moment on, it just felt like an overdose. I was 19, and to take what I thought was already unique, and I had a passion for it and gave it a boost felt like Disneyland with a 30 percent discount.
Sneaker Culture in The Bronx
You're from the Bronx. What's sneaker culture like there? What makes that specific borough so unique with its sneaker identity?
Jae Tips: The Bronx is really tribal when it comes to sneakers. There's a lot of do's and don'ts when it comes to what you should be wearing and colorways that are cool or uncool. It gets so real because if your mom got you the wrong Air Force, like an all-black pair or a mid, you would get made fun of in school, so those unwritten rules you gotta live by if you wanna fit in. I wasn't able to bend those until I had a chance to take the train for frequently down to SoHo in Manhatten, where more kids like me wore SB Dunks, premium Air Forces, not just all whites and enjoyed streetwear.
How Sneakers are a part of Jae Tips's Everyday Life
Nice Kicks: Sneakers have always been a blend of culture, music, and narratives. How have sneakers been embedded throughout your career, passions, and everyday life?
Jae Tips: Growing up in my neighborhood you wanted money so you can get shoes. All career paths wanted the same thing – the hoopers, the rappers, the kids that did well in school, and the ones that didn't were ultimately just trying get to the next Jordan release with a lot of money saved up.
That's why I think sneakers are that kind of blend of culture because of the circumstances and different circumstances we want nice things to make us feel better.
Through my life and career, sneakers have connected every dot for me. I met my children's mom and 75 percent of my close friends through the sneaker community. My music, my art, and even my daily life I'm reminded of shoes every step of the way, but I'm comfortable with that.
Jae Tips on the Doors that Sneakers have Opened for Him
Nice Kicks: You've been featured on multiple platforms. What's the exposure been like? What doors have opened up to you?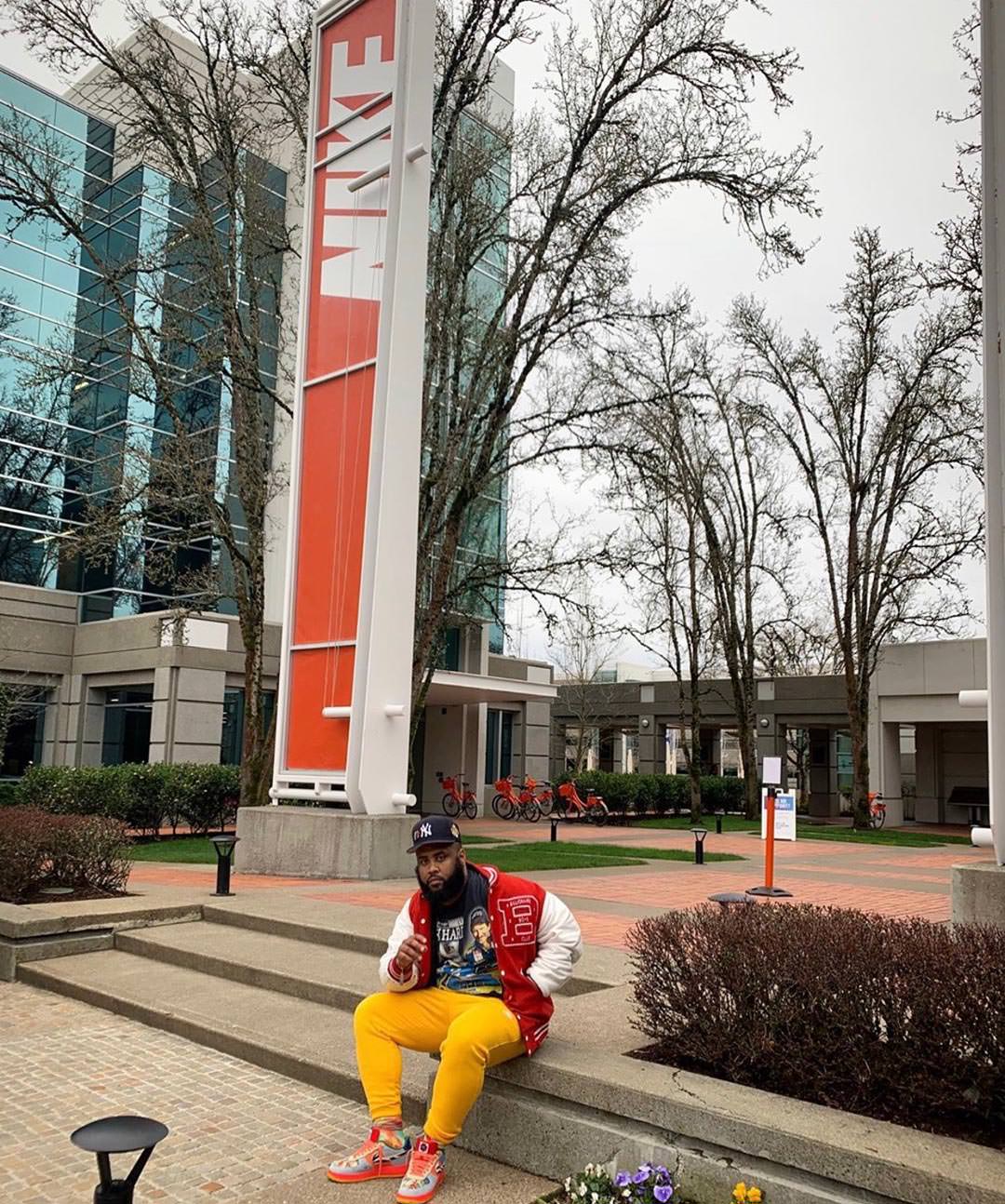 Jae Tips: It's been amazing to continue to see opportunities continue to manifest, people use to tell me a lot the reward for hard work is more hard work.

After making the Bespoke in 2019, where I intended to simulate an actual sneaker roll out, I've been back to Nike HQ twice. I've been featured in numerous interviews and "The Fresh Selects" with Jimmy Jazz. I've been modeling for my favorite brands. I've been added to seeding lists, which is a dream come true and opened the biggest door for me with design.
I've been able to collaborate with great people on merch for my own site and other brands it's been a real ripple effect, and the bespoke was the first domino, it means a lot to be known for my work keeps me focus on what's next.
Jae Tips on His Favorite Sneaker Moment to Date
Nice Kicks: Do you have a favorite sneaker moment? Whether old or new. What made that so special for you?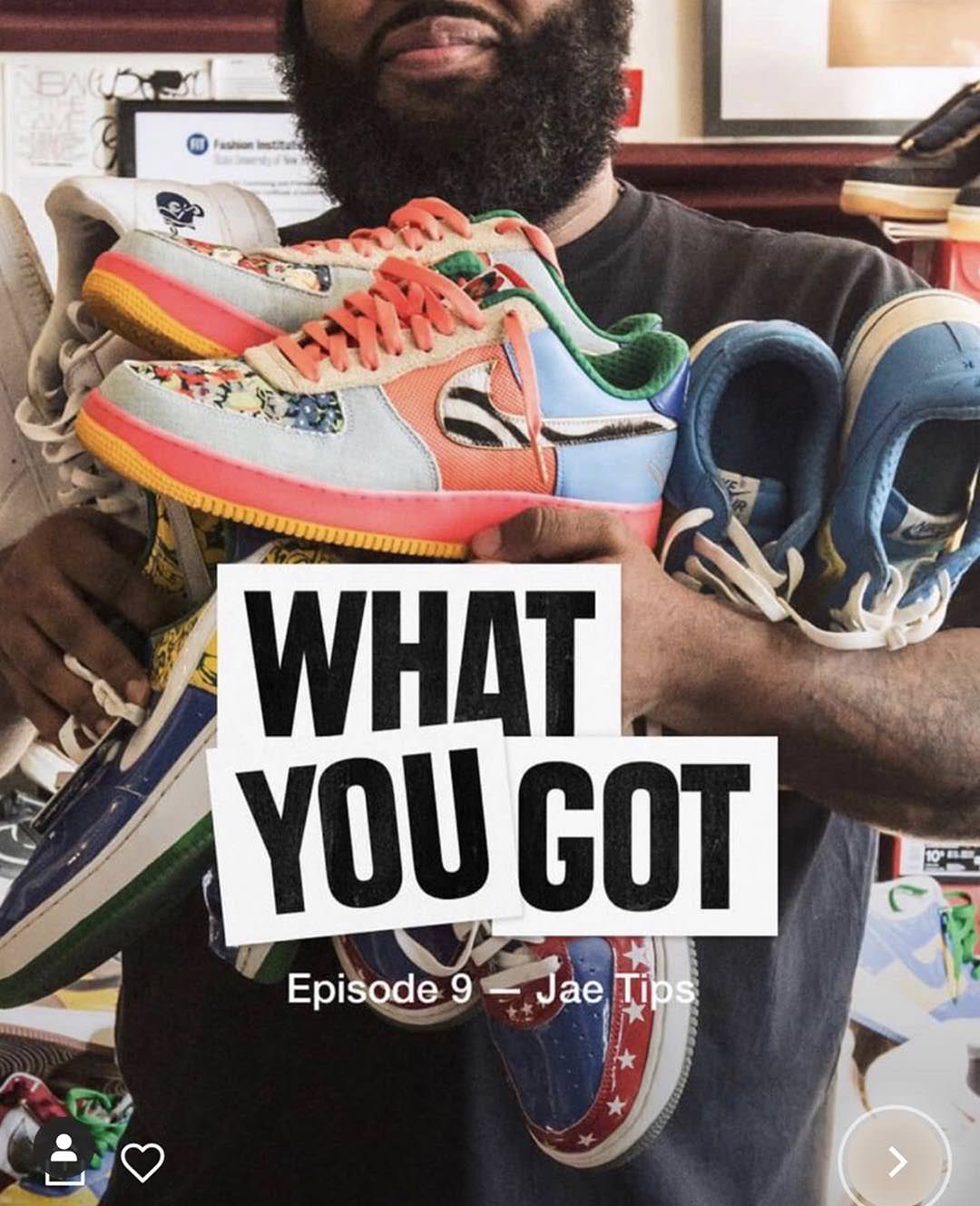 Jae Tips: My favorite shoe at the moment is the Nike Air Force 1. I've had a love-hate relationship with it most of my life, but when the SNKRS app reached out to me, the first thing they mentioned to me was they heard I was known for Air Forces, so at that point, I wanted to embrace it again. I've been on eBay heavy trying a size up in a lot of my classics from high school and earlier like "Kiwi," "Pixie," and "Invisible Woman." I ran the Bronx hallways in those.
Jae Tips on the Sneaker He's Still Searching For
Nice Kicks: Is there a pair you're still trying to get ahold of?
Jae Tips: The Nike Air Force 1 Low "Frankenstein." They were a bit out my price range as a teen, and now they're super inflated on the market.