words & interview // Nick DePaula:
When the first Crazy Explosive was unveiled last summer, it was clearly a stark departure for adidas Basketball. That was all by, well, design. From the higher cut silhouette, to the sloping encased midsole wrap, to the fully knit upper and triple red debut colorway, the shoe was meant to draw you in, and force you to pick a side, for better or worse.
"We came out and we punched people in the teeth," smiles designer Jesse Rademacher.
There was no mistaking the intent out the gate. The shoe was created for the game's rising breed of positionless wings, like Kristaps Porzingis, Andrew Wiggins and so many other young hybrids making their way in the league with adidas. For the second iteration of the statement level Three Stripes team shoe, it was more about an evolution of the design, a refinement of the fit through the collar, and a continued reliance on the elements from the debut edition that people gravitated to — like the universally loved Boost cushioning and the cozy Primeknit upper.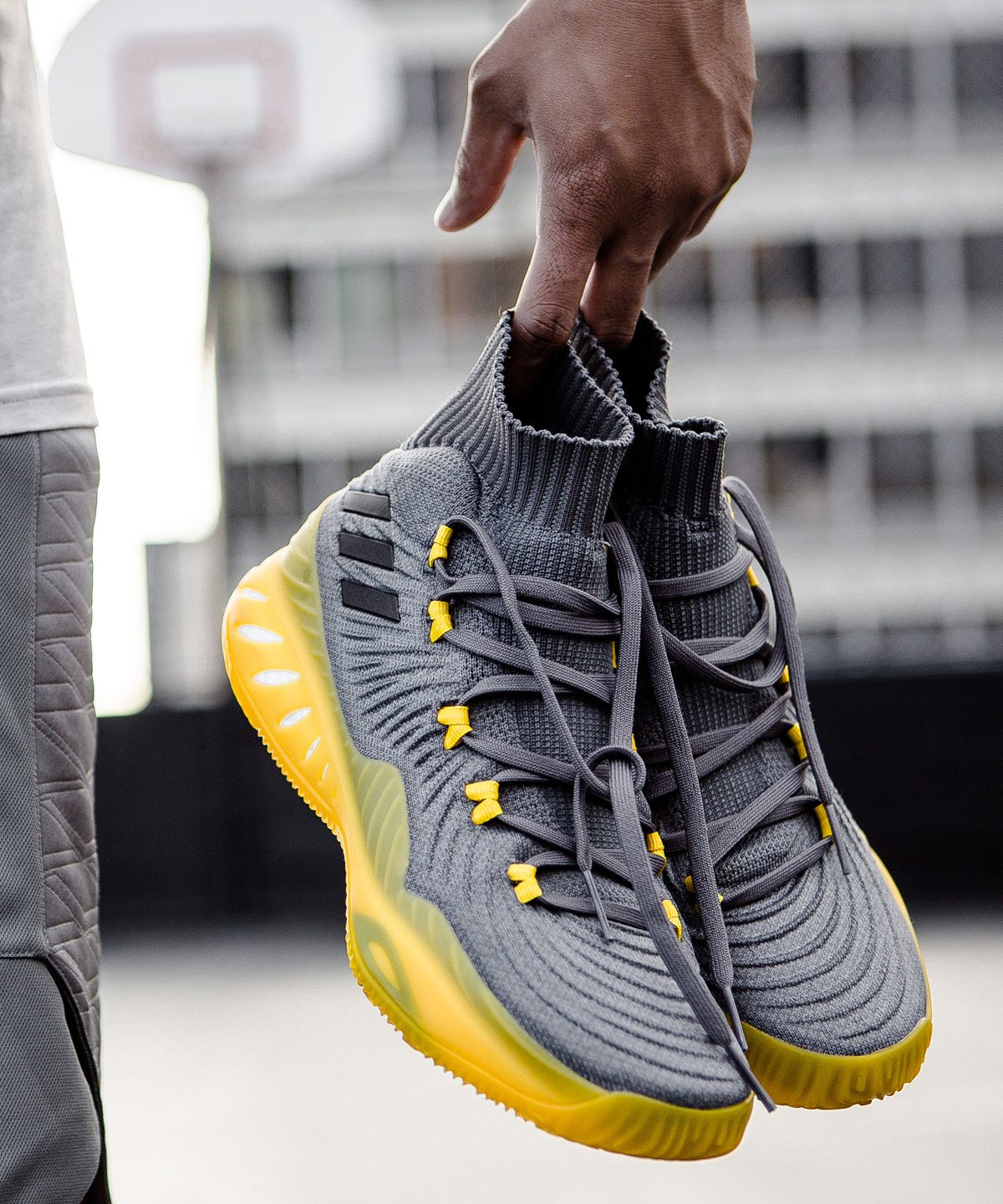 To hear all about the insights that went into the brand's new sleekened Crazy Explosive '17, we caught up with Jesse Rademacher yet again, who dialed in all the way from Asia, where he's locked in at the factory as he looks to create even more teeth-punching and boundary pushing designs. While the shoe has already launched globally in Europe, you can look for both the Solar Yellow and Crystal White lead colorways to launch stateside on July 27th.
Nick DePaula: Last year's shoe was so progressive and new in silhouette. What was the idea here in evolving the language and what were you looking to improve on?
Jesse Rademacher: The first one, we wanted to get people's attention, and show them something that was brand new. As we started to get into the second one, there was traction and there was some good conversation that was happening around the first shoe. People were starting to see the performance benefits of the Primeknit and the full-length Boost. The approach was really different for the second shoe – it wasn't creating something from scratch. It was about how we could actually improve it and make it better.
The mentality of the athlete is still consistent. We still wanted something for the true creator, the true visionary and for people that are willing to challenge convention. At this point, people should be a little familiar with what the Crazy Explosive represents. It was about refinement, reduction and about introducing a new technology into Primeknit that nobody has ever seen before from the brand.
Forged Primeknit allows for us to start stripping away layers, and start to get closer to a one-piece upper construction. On the first shoe, what we had was an interior GeoFit bootie tongue with a full Primeknit upper wrapped around that. Here, we really wanted to bring those layers together and make it a unified fit.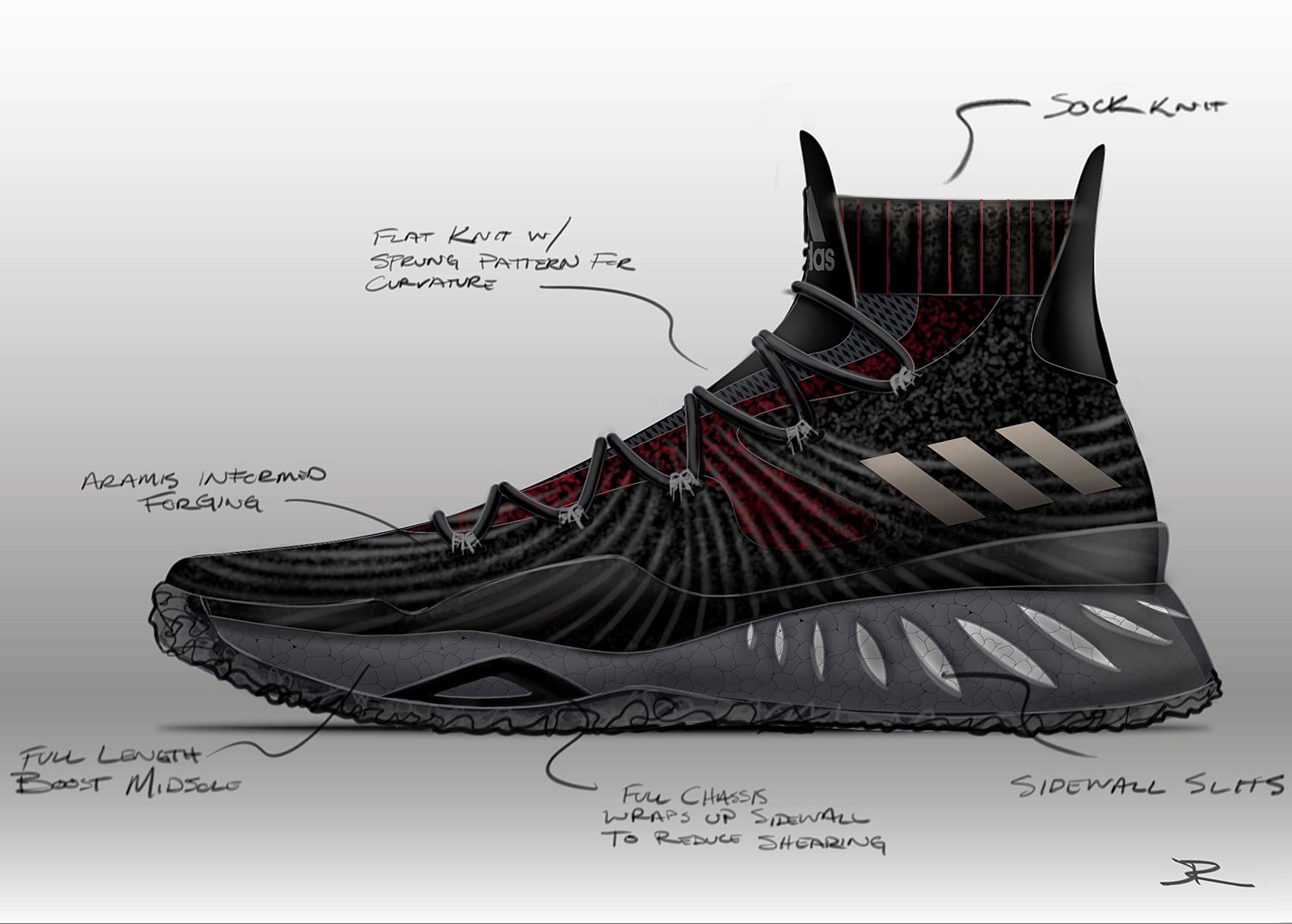 NDP: The first shoe was featured on Andrew Wiggins, and you also signed Kristaps Porzingis just as the season got underway. What kind of feedback have you heard from all of the different players that wore it last year?
JR: We're constantly getting feedback, not just from consumers, but from our athletes at the college level, the high school level and the pros. The pros we have, based on the contracts, we're able to get more direct interaction and direct feedback from them. Everybody was talking about bulk, and wanting to slim things down. This is a team shoe, and it's not an icon [signature] shoe, so it allows us to pull different opinions from different guys and manifest all of those different opinions into a singular design.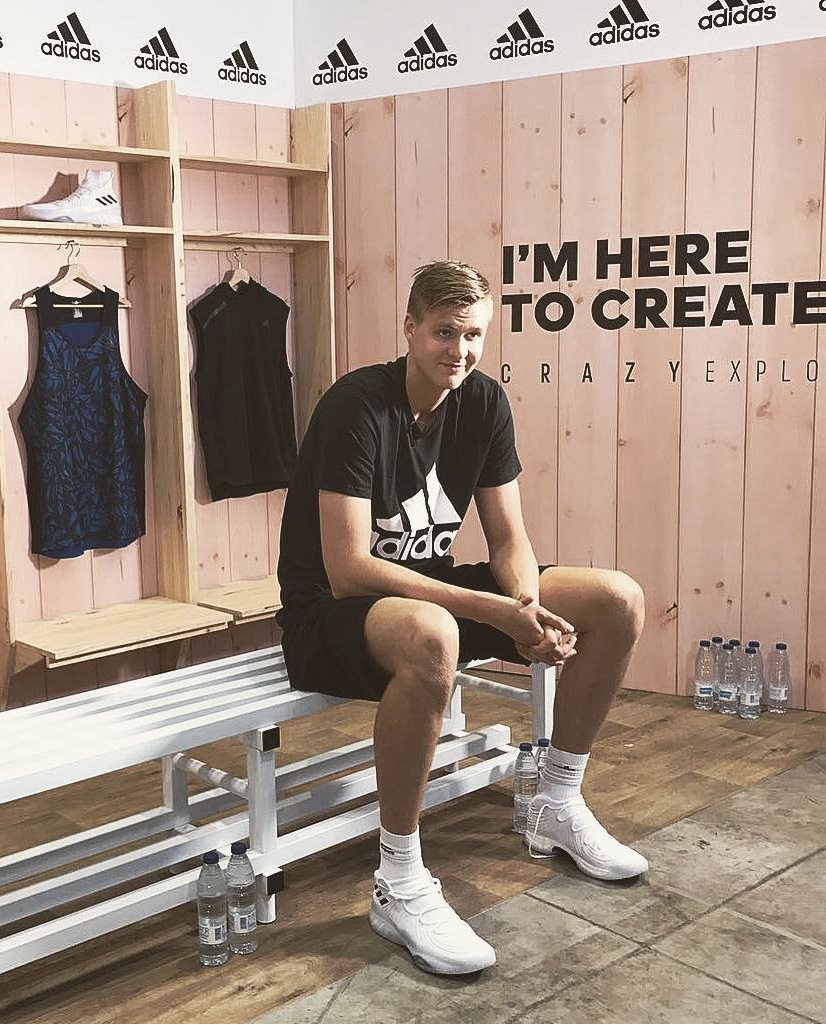 With the athletes themselves, we started looking at things within the brand that were successful, and things they were wearing when they weren't playing basketball. We started to see a trend towards more slim, more sleek and more form-fitting silhouettes.
Pairing that vision and that type of input from the athletes themselves, and the ability of this new technology, it just made perfect sense. The upper itself is a single piece of Primeknit, and then we hit it with heat to mold and fuse it to add that structure and rigidity based on the athlete's needs. In the tongue and collar, we don't forge that area, so it stays nice and flexible. It's a balance.
NDP: My understanding is the shoe utilizes the same full-length Boost setup. Did you guys do anything differently with the chassis and shank to improve the responsiveness?
JR: Based on getting really positive feedback on the first shoe's cushioning – and some people were comparing it and saying it was Basketball's UltraBoost – the comfort and the playability from weartesting sites gave us a lot of confidence that we were on to something special here. The first shoe was all completely new, and we asked athletes to digest a lot at one time. In this shoe, we wanted to double down on the things that we thought were most successful. That was the full-length Boost, the traction and the shank part.
What we updated was the side wrap. One of our design philosophies is "daringly simple." To get to daringly simple, it doesn't mean that the product can't perform any less, it just means that we need for each and every part of the shoe to perform even more. With that, this TPU is a co-injection. In the forefoot, that's a dual-density TPU wrap and is a more firm area. It's meant to provide more lateral stability when people are making hard cuts in the forefoot.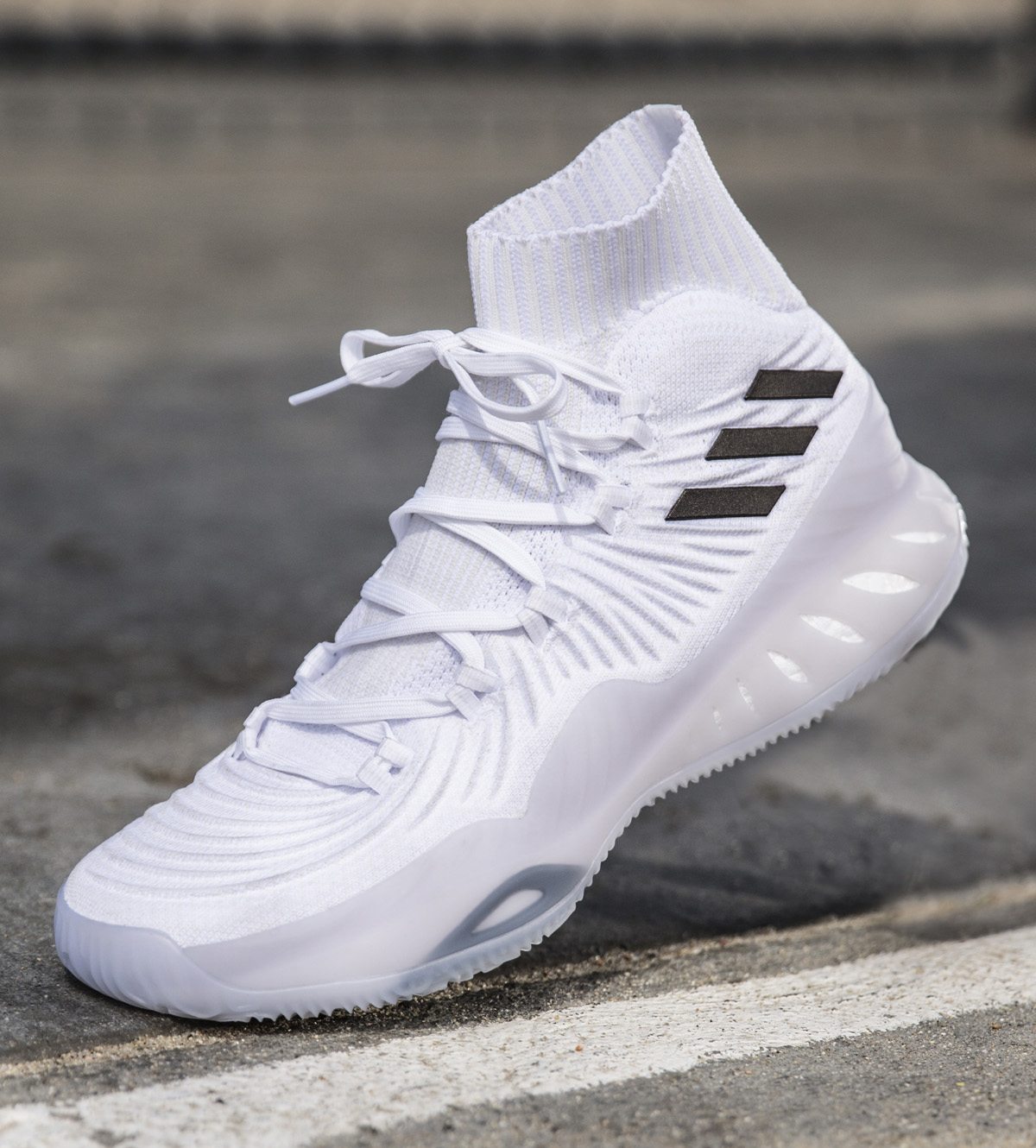 NDP: What can we expect to see from a color and execution standpoint? Will the shoe also launch in non-Knit versions as well?
JR: Yeah, it will. There will be different pricepoints. The Primeknit version is definitely the pinnacle, and it allows us to really build a shoe in a unique way with the forging process to add that stability in. It won't be the same silhouette or the same construction, but we'll have other materials than Primeknit to make the shoe a little more attainable at different pricepoints. The sock construction is a really unique performance-driven silhouette. Not everybody likes that type of fit on and off the court, so we'll look to offer up some different silhouettes and looks too.
NDP: The Low was worn by guys all around the league and was also really well liked design wise by our readers. Are you guys planning to introduce a Crazy Explosive Low earlier in the season this time around?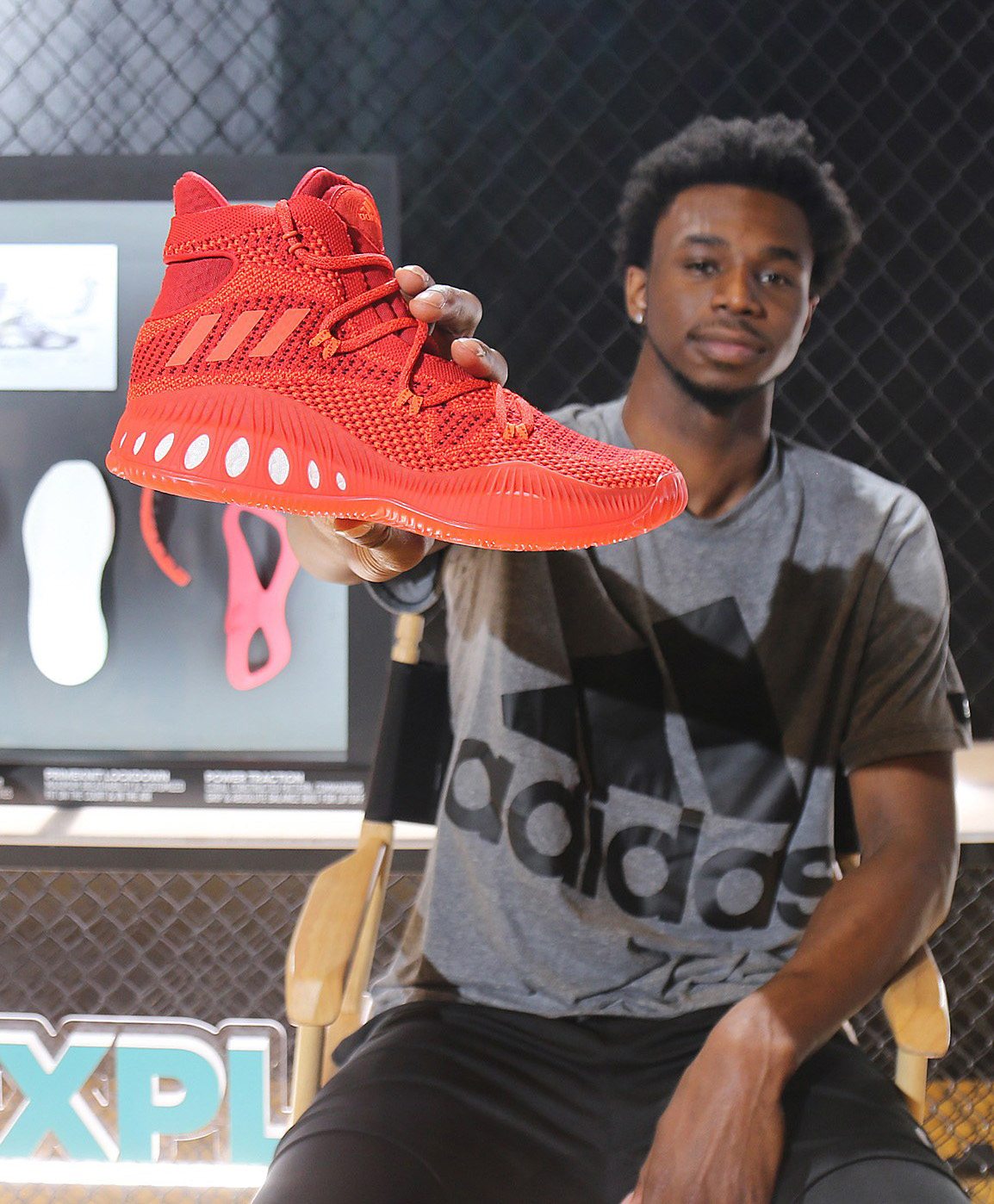 JR: The Low will launch a lot closer to the Mid. We definitely take a lot of feedback, and the influence that not just media, athletes and influencers have, but for us on the product and design side, we're constantly looking to get better at what we do.
We want to process that feedback and give people exactly what they want. We definitely heard the first time, that the Low was a bit late and people wanted it earlier. There's definitely guys that have a preference in silhouettes. We want to offer that a lot sooner than we did when we launched the first Low towards the back half of the NBA season.
NDP: What's the color direction for the second edition? Last year, we saw the all-red and Wiggins versions first early on. What can we expect ahead?
JR: Red has been a classic for adidas based on who the athletes on our roster are. We're looking to reinvent our process. The first shoe last year was in all red and then we did colors for Wiggins, who is the primary athlete. We kind of wanted to flip that this year and have a different approach. Yes, you've seen a couple colorways already, but we don't want to have the colorways just stick to a more sport and team color approach.
We want to mix in some other elements to keep it fresh and play off of some things that are going on on the lifestyle side. We're really focused on being present in all aspects of a creator's life in three key areas: Their game, their life and their world. We knew that team colors might be driven by the team they're on, and that covers the game part of their life.
Outside of that, people are taking influence from what's going on with Yeezy and what's going on in Running. Right now, people aren't trending to wear a lot of basketball shoes off court. We're looking to flip that, to make sure we can translate to what's going on in their life.
"We're really focused on being present in all aspects of a creator's life."
— Jesse Rademacher
NDP: You've mentioned the feedback process a bit – how do you actually go through tracking all of that down and then incorporating it into your work?
JR: It comes from all different angles. We keep up on the work that you guys are doing in the media, and what people are saying online. We also know that our job is to have a vision of the future, and not just what's going on right now. We have to take that feedback and also try to project where people's heads are going to be a year and a half or two years from now. That's just one avenue. We also check Instagram, all social, and we speak specifically to NBA, college and high school athletes all the way down to elementary and middle school kids.
We have external agencies that we hire to do trend forecasting. We also take feedback from what's selling and from the accounts themselves. We're pretty much completely bombarded with feedback. [laughs] Even in our personal lives, from our family and our friends telling us what they like and don't like. They might be the ones that are most honest and give the hardest criticism when you slip up.
Our job is to synthesize that feedback and pull the important nuggets to connect the dots to what we're hearing from multiple places over time. We process that and try to reinvent what the future looks like based off of all of that feedback. Different briefs and different projects are focused on different things. Some projects are specifically meant to sell products in terms of volume. Other projects are specifically meant to drive innovation and to challenge consumer's mindsets of what they think a basketball shoe could be. That's what the Crazy Explosive really represents. It's an avenue, a concept car and a way to really be the brand of the creator, and have the creators and athletes really be pushing all of the time.