When it comes to Curren$y, the line "Ain't nothing changed but the address" rings true, but heck, even that may be a stretch. Movin' up in New Orleans but far from moving out, the independent icon who has had deals with both No Limit and Cash Money is a local legend with international appeal. The former is found tru(e) like the 504 Boyz as he lived with C-Murder on his come-up, currently houses BG's son and brought his mom out to his All-Star Weekend concert. The latter is confirmed today as his Jet Life x Reebok Club C sold out online at Reebok following a quickstrike release at his home-based Sneaker Politics.
Catching up with the Hot Spitta in New Orleans during the Reebok x Footaction Classic in the Courtyard event, we spoke with him about his Jet Life Club C collab, the next Reebok model he'd like to work on and the best and worst Master P sneakers.
Ian Stonebrook for Nice Kicks: You've got a deep pedigree in '90s basketball shoes but in recent years you've been rotating more simple, classic styles. How do the Club C fit into your current steeze?
Curren$y: I wore the Club C everyday in high school — that was like my neighborhood shoe. The white and blue pair were the number one shoe and when they did the white and green pair those were nasty, too. So, we've been wearing Club Cs forever so when it came time for me to bust a move I had to pick that one. On top of that, I've wearing Air Force 1s for a minute, but otherwise it's been the Club C, the Pro Models, the Superstars or any Air Jordan up to 13.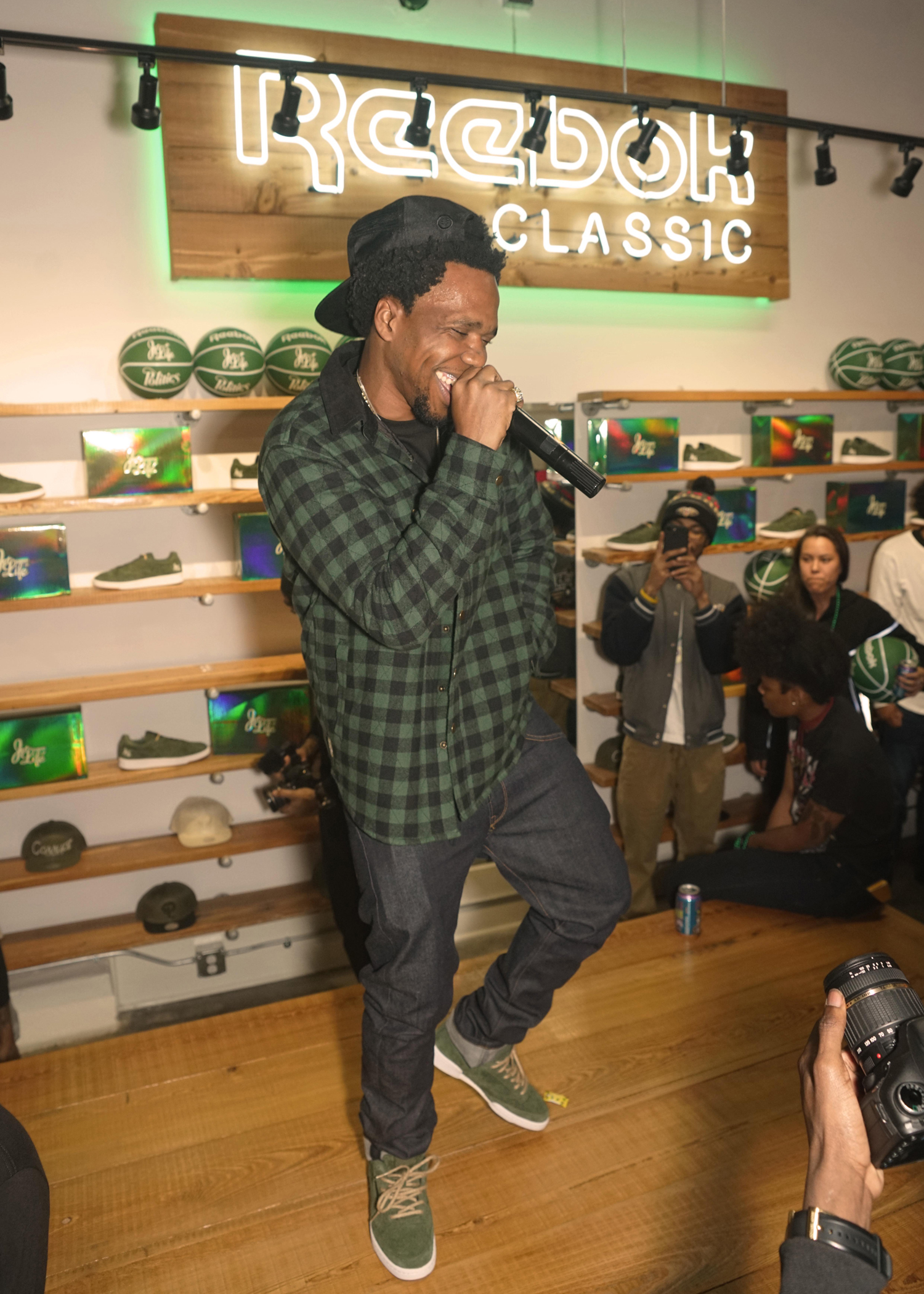 Zac Dubasik for Sole Collector: Reebok has dropped many artist collaborations over the years, which pairs stand out as your favorite?
Curren$y: The first S Dot was the sh*t. The ones with the Gucci strings was the sh*t but when they did the mids I had to fall back. The G-Unit ones weren't bad either. The first one with the logo on the back? They were the sh*t. I never saw the Nelly Reeboks but I hope they do the Juvenile Reeboks in a mid. Those were the school shoes, I still base everything off what we wore to school. Then the boutique Ice Creams? I still got the Money Rolls and the Diamond and Dollars. Those shoes separated people. It's like you are not serious about this because you gotta be able to f*ck off your priorities as a kid to say, "I'm gonna put everything into this. This cost so much money but I'm gonna do this." You know what I'm saying? It separates you, no matter where you was at. It didn't matter if you lived in the projects or lived in a big *ss house — it was still the same thing. It's $200 that can go a long way. You could do so much sh*t with that $200 but you spent it on shoes and you didn't spend it on weed? You're a different kid and I understand who you are. Me? I just had to hustle hard so I could buy weed as well as those shoes. But I understand, if you sacrifice one to buy the other then I know who you were and I feel safe around you if you had them.
Ian Stonebrook for Nice Kicks: You've been signed to both No Limit and Cash Money. What were the best and worst shoes you got seeded during those runs?
Curren$y: [Laughs] Alright, man. The worst one was the patent leather P Miller running shoes. They were kind of like a Classic meets a Cortez, but they were patent leather and the sole provided no grip and it wasn't really fused to the body of the shoe. [Laughs] But, I love Master P and all the moves he made in music.
The Converse Master P No Limit shoe was the best clearly! Then the Lugz shoe with Baby was clean. I had the black suede joints and I wore them with a mink coat. I defend them to this day, I wore them. I had the ones with the mock Gucci stripe, but I had the real Gucci shoes, too. I want to say the Lugz Birdman was the best shoe, but the Master P Converse shoe was the illest. With the camouflage lining, bro? Dog, I lived with C Murder — he dropped me off at school! So, I had stacks of that sh*t taller than me. This was real. It wasn't when they were making shoes in their own factory, it was a Coverse collab and the #1 rap shoe ever! And they were performance! Master P was in the NBA and he wore the shoe! He didn't wear his other shoe on the court, but he wore that Converse shoe and did his thing.
Kyle Rooney for Hot New Hip Hop: Being here in New Orleans, what's the craziest thing you've ever seen at All-Star Weeknd?
Curren$y: I hate to bring my boy into the fire, but my friend Choppa Style that was with No Limit, we were in the New Orleans Arena and we went to go high-five Master P in the front row and Choppa fell down the steps. I don't talk about it a lot, but he fell down and he had the jacket with all the NBA patches — I wanted one so bad, but I wasn't Chopper status at the time, I was just a little homie supporting No Limit — but he fell down his shirt went up and his stomach hit the basketball court and made that skin to hardwood noise! [Laughs] But he's my homie, I swear to God. I wanted one of those jackets so bad. [Editor's Note: "Choppa Style" still goes hard.]
Jordan Zirm for STACK: Did you ever rock the jeans that had all the NBA patches?
Curren$y: Nooooo. That's when I knew it had gone too far. Once they took it from the expensive jacket and put it on the satin joints where everyone could get it? Nah. That jacket is supposed to be like $1,500 every time. That jacket? Cam'ron is here right now. Cam had that jacket and the Dipset guys had the other jackets. [Laughs] That was the one I wanted.
Kyle Rooney for Hot New Hip Hop: You're clearly a sports guy, who were your favorite athletes growing up?
Curren$y: Emmitt Smith, he was serious because he was a good dude. I always watch what other people do. I liked Barry Sanders and Shawn Kemp was crazy. As a kid you play everything, but once everybody got taller than me and weighed more than me I realized it wasn't going to be my thing. By eighth grade, everybody was leaps and bounds bigger but all my coaches wanted me on the team. I was real with it, I just fell back.
Ian Stonebrook for Nice Kicks: Lastly, any other Reebok models you'd like to see the Jet Life label collab with?
Curren$y: Honestly, bro, the Workout Ripple. That shoe was crazy. Juvenile had them, but bottom of that shoe had ridges. I would like to do those and I would like to do the Dee Brown Pumps.
The Jet Life x Reebok Club C 85 is currently sold out, but sign up Reebok for re-stock updates.