Under Armour footwear is as interesting as it's ever been. While Steph Curry has been the saving grace for the brand's sneakers on the hardwood, it's more than just the Warriors renegade or even his polished play that has The Shield turning heads and selling shoes.
More so, it's progressive design and unique partnerships.
The former has been found in the Curry signature series taking on a sleeker look with unpredictable debuts and an off-kilter calendar. The latter has been proven by partnering with A$AP Rocky in an effort to grow in the lifestyle space but also present something daringly different from the performance pegged brand.
While the sneaker world awaits details on the footwear collaboration made with A$AP Rocky in mind, we're also not far away from the debut of the signature sneaker of Rocky Maivia, born as Dwayne Johnson but better known as The Rock.
Finding fame in pro wrestling but now thriving as an actor, the former University of Miami football standout has seen training at the core of his career through each season of life. As expected, he needs a shoe that can keep up with him.
So, how do you design a training shoe for the world's most electrifying man in sports entertainment? A 6'5 stud with Hollywood calling and 106 million IG followers watching his every move?
We spoke with Under Armour's Justin Howe, lead designer of the Under Armour PR1, to find out exactly that.
From Dwayne's insight from training in the Under Armour Delta to creating a shoe to call his own, see how it all went down in the conversation below.
"Under Armour is grounded in performance" – Justin Howe, Lead Designer of the Under Armour PR1
Nice Kicks: Dwayne's journey with Under Armour began with the Delta — a high cut model seemingly made for training and running alike. What insights did Dwayne give from the Delta that led to the PR1?
Justin Howe: From the very beginning, Dwayne was hyper-involved. We listened very carefully and we were able to collaborate very beautifully. As we go from the Delta to the PR1, we listened a lot to everything he was looking for. He wanted a mid cut, but not laced up as high. He wanted it more breathable because his "Iron Paradises" gets really hot, so he wanted it minimal so his shoe didn't heat up. He's throwing around a lot of weight and not doing so much cardio movement so we built in TPU heel clips to really stabilize him when he's doing massive vertical weightlifting. Those are a couple of the really unique performance attributes that really anchor the shoe.
Nice Kicks: Around the time Dwayne was training in the Delta I'd imagine the signature shoe was proposed. Tell us about when you were first briefed on the task and what your reaction was.
Justin Howe: On our team, we pulled our all-stars together. You've really gotta understand that Under Armour is grounded in performance and who better to celebrate with than the hardest worker in the room in Dwayne? It doesn't get much better, but like I said, this is what we do day in and day out.
Nice Kicks: Simply put, what were the biggest challenges creating for someone with the stature and star power of Dwayne Johnson?
Justin Howe: When we get to design for those extreme athletes like Dwayne it gives us the freedom to develop new solutions we may not have thought of. Whether it be from the HOVR Phantom or other models, we brought our best practices and fine-tuned them for Dwayne. Every little detail is amplified in a sense for him so that it stands up to the intensity he brings to the gym and how he pushes himself every single time.
Nice Kicks: How was working with Dwayne?
Justin Howe: He's just an absolute pleasure to work with. The specificity in the details of what he needs really helps us to attack full speed. He knows what he needs and then we go at it from a solutions standpoint. That's why when you have the shoe in hand, you're going to see an enormous part of very functioned and purposeful knit. You'll understand exactly why every detail, every pattern of knit is there. Even the pull tab is at an offset angle to help Dwayne pull his shoes on in one swoop when he sits down.
Nice Kicks: We've seen this as an issue mostly in basketball, but how do you create a shoe with someone of the build and training regimen of Dwayne, but still make it work for a mass market?
Justin Howe: Yeah, there's plenty of examples in the marketplace where that happens. For us, that's constantly part of the dialogue. When you look at the shoe, each component is built robustly but not to the point where it's overwhelming to consumers. Even if you're not his size or stature, this shoe is absolutely going to perform without being bulky or inhibitive.
Nice Kicks: From textiles to cushioning, tell us about the tech in the PR1.
Justin Howe: We went to a knit bootie construction which you've seen in some of our latest Curry models. Dwayne didn't want to lace up into a high, but he wanted a sock-like fit around his ankle. Because of this, we looked to engineered knit. From the knit, we get into the synthetic overlay which gives an enormous amount of lateral support and allows him to really lace up his shoes. This dude laces his shoes tight and it's not uncommon for him to blow through lacing systems. The forefoot webbing helps pull the foot flat in the forefoot rather than squish it. This makes it easier to grip the ground with his toes during high weight situations. In the midsole, we have MicroG cushioning for lightweight responsiveness.
You can see the texture from the outsole is molded into the midsole so that it's extra durable. The TPU heel clips in the upper have a nubby texture so that if you're working out with bands the bands don't slip around. In training, you actually use a lot more of your foot than you would in a running shoe or a basketball shoe. That heel clip is there to stabilize the foot and lock the foot in with heavy weight. The last part is the multi-directional outsole. It's extremely grippy and predictable which allows him to focus on his form. The traction is there in abundance.
Nice Kicks: What can we expect next from DJ and UA?
Justin Howe: There's a limited release for this and you'll see more coming this summer. There's an incredibly exciting future between Dwayne and Under Armour. This is only the beginning and I can't wait to share the new stuff as it comes out.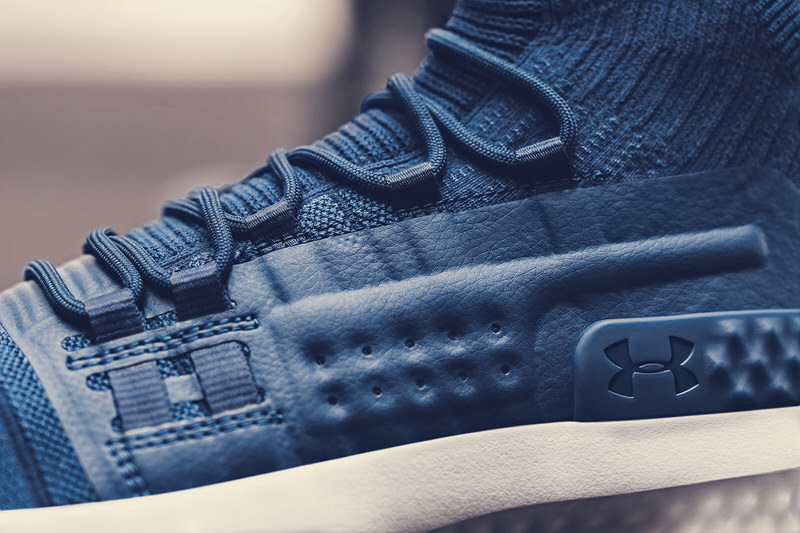 The Under Armour PR1 launches in limited quantities today. Look for pairs to hit globally in June.