Virtual Andre is Birthday Andre.
In honor of the birthday of the loudest tennis player ever, today we pay a special tribute to Andre Agassi and his 1997 Nike Air Zoom Challenge 2.
The mid-90s were an amazing time for Nike tennis in part due to the fierce rivalry between the game's two global ambassadors: Astounding Andre Agassi and Pistol Pete Sampras. While Sampras held the head-to-head advantage, it was Agassi with his justified irreverence, larger-than-life personality and charisma, and iconic kicks which catapulted the sport of tennis into contemporary mainstream American social consciousness and sport culture.
1995 was a breakthrough year for Agassi, a year which saw him earn a world number 1 rank by virtue of a monumental Australian Open win against Sampras – a four-set thriller – in the land down under.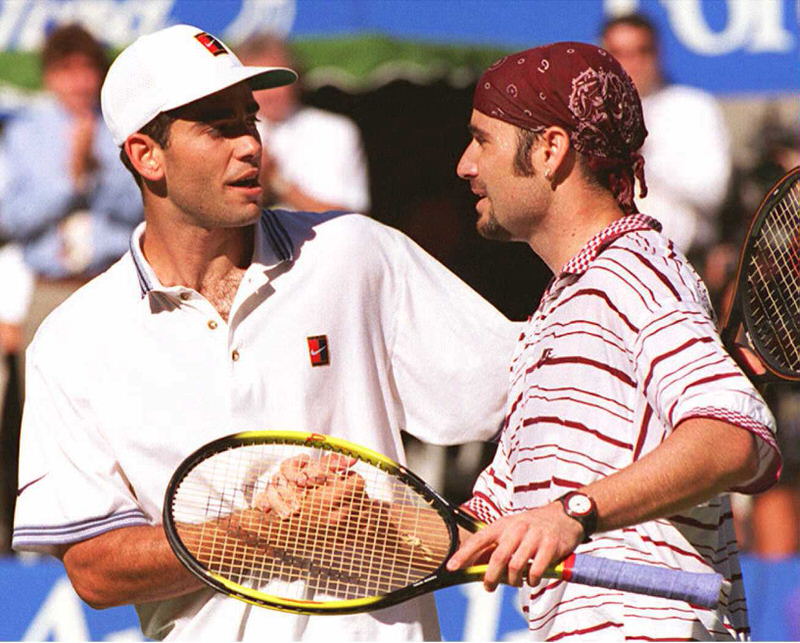 That same year, Andre dispatched the wig for a shaved head, often covered with a bandana, ushering in a new era of "Pirate Andre" and with it, the grunge tennis look, a stark contrast to "Rock-N-Roll" and Challenge Court tennis of the early 90s. Gone were the days of brightly colored neon-colored sneakers and spandex shorts which were instead replaced with toned-down, darker, subtler colors and graphics, an ode to Agassi's maturity and evolution both as a player and individual.
After winning the gold medal at the 1996 Olympics in Atlanta wearing the Air Zoom Challenge, the sky was the limit for Agassi. When he lost, he did so in style, always laced in the game's most avant-garde sneakers.
Designed by Wilson Smith, the Air Zoom Challenge II was the successor to the Zoom Challenge and reflected the Agassi line in the mid-90s with its distinguished swirling outsole tread. This underrated and often forgotten Agassi silhouette truly represented and embodied the very best of Nike tennis at the time and came fully loaded with heel and forefoot Zoom Air cushioning, a lightweight synthetic leather upper with high-abrasion Ceracom tip, a High-wrap Phylon midsole with carbon fiber midfoot stability plate, and DRC court rubber outsole.
Beginning with its predecessor, the Zoom Challenge 1, the Air Zoom Challenge 2 also featured an iconic Agassi "A" logo in lieu of the signature Challenge Court flaming tennis ball, icon which last appeared in the Nike Air Alarm.
A high-performance athletic sneaker, the Air Zoom Challenge 2 – both then and now – remains timeless from design, performance, and aesthetic perspectives, whose upper featured smooth lines and curves. The lateral outrigger is reminiscent of both the 1996 Nike Air Penny II and 1997 Nike Air Zoom Flight Five, helping secure the foot during hard lateral cuts, preventing ankle rollover. Moreover, the slit-finger ventilation panels located throughout the upper allowed for maximum breathability and ventilation.
Considered the "perfect pair" by the man himself, the Air Zoom Challenge II was in effect a "catcher's mitt," wrapping underneath and completely consuming the sides and top of the foot for an amazing, secure fit and lockdown feel, giving the athlete unparalleled support and stability.
While primarily designed for tennis, the Air Zoom Challenge II also served as a stable, lightweight, well-cushioned "top 3 hoops shoe" according to Nick DePaula by virtue of its vented, breathable upper and Zoom Air technology, illustrating the shoe's staying power over time.
Three original colorways were produced including white/blue spark, white/black-comet red-metallic silver, and black/sterling-varsity red, the latter which remains highly elusive for collectors today.
To complement the shoes, Nike created a series of print advertisements in multiple languages, as well as an innovative television advertising campaign known as "Virtual Andre," which depicted Andre in virtual reality form playing tennis while wearing the Air Zoom Challenge II in the classic white/blue spark colorway.
Additionally, the Air Zoom Challenge II made an appearance in the April 1997 issue of New Tekniques, a computer graphics magazine, which paid tribute to Nike's iconic "Virtual Andre" commercial which marked the brand's entrance into the Digital Domain and human character animation space.
The full-page spread featured Virtual Andre complete with his DRI FIT half-zip short-sleeve white/black/green-stripe graphic shirt and matching black shorts with white piping. Agassi wore this exact style outfit at the ATP Tour World Championships in Hanover, Germany where he lost in straight sets to arch-rival, Pete Sampras, a loss which marked a foreshadowing of Andre's downturn.
Agassi later rocked the Air Zoom Challenge II in the white/blue spark colorway on several occasions in 1997 in San Jose, at the Davis Cup in Newport Beach, and Indian Wells, the latter where he lost two tiebreakers to Philippoussis.
Albeit a signature mid-90s Nike tennis model, the Air Zoom Challenge II will forever be associated with Agassi's infamous downturn in 1997, a year which he started as the 12th seed. Agassi played a total of 24 matches including that year which included absences from Wimbledon, the Australian Open, and the French Open at Roland Garros after suffering a wrist injury and succumbing to many off-court distractions including a failed marriage to Brook Shields.
Following multiple premature exits including a disappointing 2nd round loss in Atlanta to 81st ranked Magnus Norman on April 28, 1997; a first-round loss to 103rd ranked Justin Gimelstob in Los Angeles on July 21, 1997; and a heartbreaking 4th round loss at the US Open to 13th-seed Patrick Rafter on September 2, 1997, Andre's career officially hit rock bottom on November 10, 1997, when he held a world rank of #141 – the lowest of his career – which prompted many to believe that his run as one of tennis' premier competitors was over and would never again win any significant championships.
"I was 140 in the world. I'd been number one in the world. And I'd lost yet another first round after accepting a wild card," reflects Agassi on that time. "I could still somehow sell seats, but I'd forgotten how to hit a tennis ball. I was in the hotel room after my defeat and looking out the window in Germany, at the traffic, I realized I hated tennis. I never hated tennis so much in my life than I did at that moment."
Andre finished the year ranked 110th in the world. Fortunately, Andre rebounded beautifully the following year proving his critics wrong yet again, in the process showing the world – and himself – he possessed the heart of a champion.
Years later, Andre said the following about his forgettable 1997 season:
"At some stage it just became a personal embarrassment. I had no business being out there competing in any tournament, let alone the biggest ones. It just came time to make a choice, to either do it or not do it. And I had to sacrifice a lot in my life, but fortunately, I was able to build a life around a lot of dedication and focus."
While his on-court performance that year may be forgettable, what isn't is the everlasting cultural and fashion impact Agassi has had on the game of tennis and apparel players wore on court, the embodiment and personification of justified irreverence.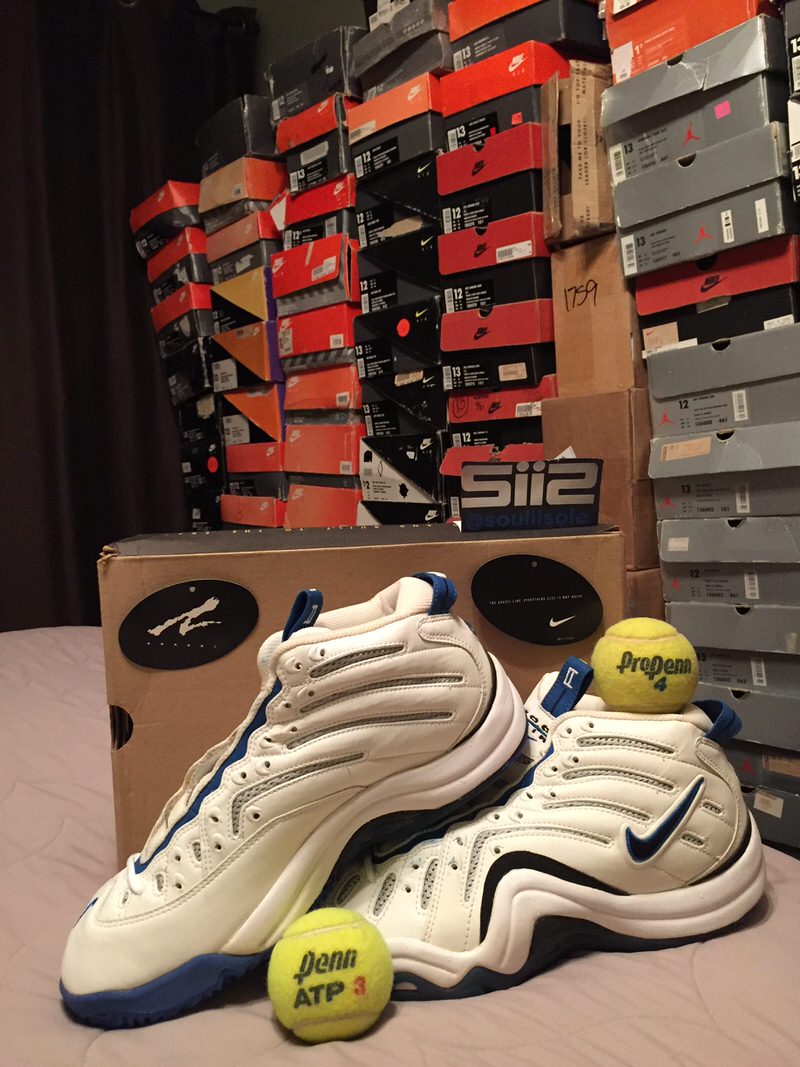 Have the heart of a champion, show resilience like Andre, lace up your pair of Nike Air Zoom Challenge II, and hit the ball as loud as you can.