Between the exhaustion of a global pandemic, dreaded supply chain delays, and now the painful reality of inflation, it's safe to say that we've all experienced our fair share of ups-and-downs over the last 2 years. While the world focuses on "getting back to normal," life still looks a little different in Eastern Europe.
On February 24, 2022, President of Russia Vladimir Putin ordered the invasion of neighboring country Ukraine. While Russia and Ukraine have a long history behind them, the active invasion of Ukraine was rather abrupt, and has inflicted pain on both Ukrainian and Russian citizens alike.
As a sneaker customizer born and raised in Russia, Alexander Osipov finds it difficult to focus on sneakers, knowing about the times of crisis that surround him. Considering Nike announced earlier this month that they've decided to halt all online orders in Russia, Alexander may even find in coming months that it'll be increasingly difficult to source sneakers he needs for his projects. But sneakers bring Alexander joy, so he remains focused on developing his creativity and expressing himself through his customs.
Alexander is relatively new to customizing sneakers, but you wouldn't be able to tell from his work. He has a natural eye for design as he creates unique silhouettes that mix sportswear with atypical textiles and intricate tooling. From the moment Alexander got started, his work has been well received on social media platforms like Instagram and TikTok, but his online presence exploded when his "Injection" sneaker went viral. Since then, Alexander has been continuing to experiment with new ideas, even going as far to customize ski boots, which happens to be another hobby of the Naberezhnye Chelny local. 
Get to know more about Alexander Osipov as we talk to him about how he got started, his inspirations in design, and what he plans to work on next.
What's life like in Russia right now? Are politics getting in the way of your art or affecting your motivation?
"What is happening right now in Ukraine is terrible. I hope this ends as soon as possible. Politics have a strong influence on my life. It is difficult to think about your own [thoughts], when in your head all thoughts are completely different. We can only hope that this will all end soon."
When did you first start customizing sneakers?
"I started doing this a couple of months ago. I didn't study design or go to art school. There are no people in my family associated with this. I had nothing to do with the design of clothes and shoes, but one day I came across the Instagram account @nicolemclaughlin. I was very inspired by the fact that this girl has a completely different look at the clothes and shoes that we are used to, and I thought that I could also create something of my own. I do my work completely by myself. Ideas just appear in my head and I implement them as I see them, then post them on Instagram. Almost immediately, my work began to be reposted by large Instagram accounts dedicated to sneakers and fashion design. That really surprised me."
How has your customizing style developed over time?
"I do not want to be [anchored] to any one style. I like freedom. In my work, you can find both custom shoes and new concepts. With each new work, I am more immersed in the process, and try to make even more interesting and stylish projects."
What was the first sneaker you ever made?
"My first shoe custom I attached a windbreaker from the [thrift store] to an old Nike sneaker, and tied it all with a rope. Then I posted this custom on my TikTok account and many people liked it so much. This was my first custom shoe and opened the door for me to [create] new projects."
What's your favorite pair of shoes that you've made?
"I don't have one favorite job, each has something interesting, but my most popular job is of course the 'Injection' sneakers. It was my moment of fame (haha)."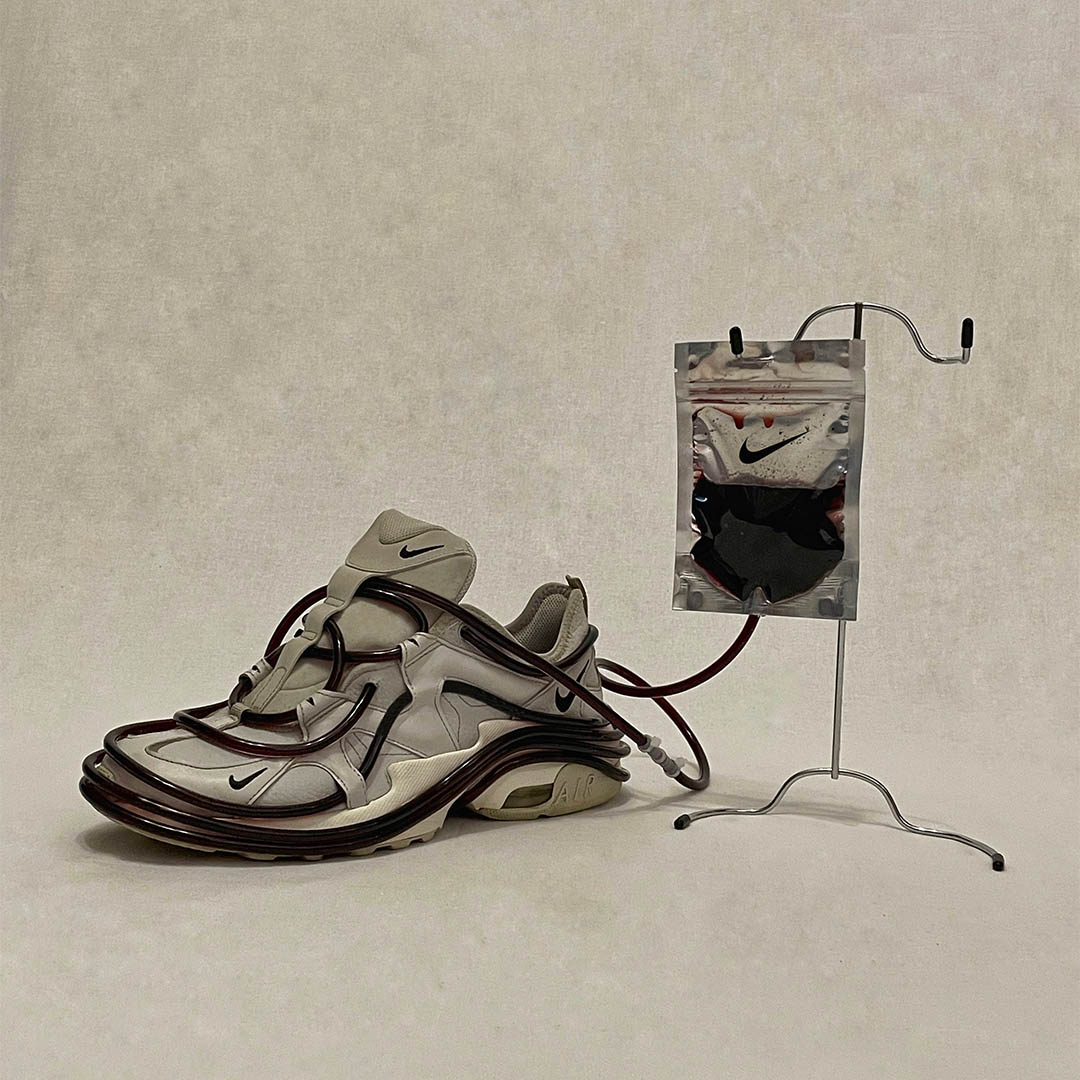 What brand makes the best silhouettes? Do you have any loyalty to a certain brand?
"I love Balenciaga sneakers. The Runner is a miracle."
What's your favorite pair of shoes that you own?
"My favorite shoes I wear are vintage 2008 Nike Xccelerate and the Salomon XT-6."
What are you hoping to achieve with your work? Where do you hope to see yourself in 5 years?
"I love to create something completely new, something that hasn't happened before, something that will surprise people. I hope that in the future I will have many more projects capable of this. It would be cool if in the future I had the opportunity to collaborate with shoe brands, and then anyone could wear those shoes."
—