For Tyler Liber, determination is the only way through. With nearly 10 years of experience under his belt, he's put in a decade's worth of work towards chasing his dreams of becoming a sneaker artist.
Tyler's story is probably much like many of ours. He has a 9-5 day job that has afforded him his sneaker habit but gets in the way of allowing him to be dedicated to sneakers full time. Nevertheless, Tyler hasn't ever given up on his passion for creating customs and designing sneakers. After his custom Dior-inspired Air Jordan 1 Low Golf was reposted by Hypebeast, Tyler was exposed to an audience outside of his Toledo, Ohio, radius and his DMs became flooded with order requests.
Much like Michael Jordan himself, Tyler is a fan of both golf and basketball. Combining the two has not only provided great joy for Tyler — and presumably MJ — but has also provided a space for golf to take new ground. While golf has been around for centuries, there's no denying that sport and its footwear are starting to take a new form. Between Tyler's custom golf sneakers and Jordan Brand's foreseeable interest in the sport, it's clear that a new era of the game is upon us.
Learn more about Tyler Liber and his journey as a sneaker customizer as Nice Kicks talks to him about the influence of Like Mike, studying graphic design, creating a custom for Mina Harigae, rooting for Russell Westbrook, and more.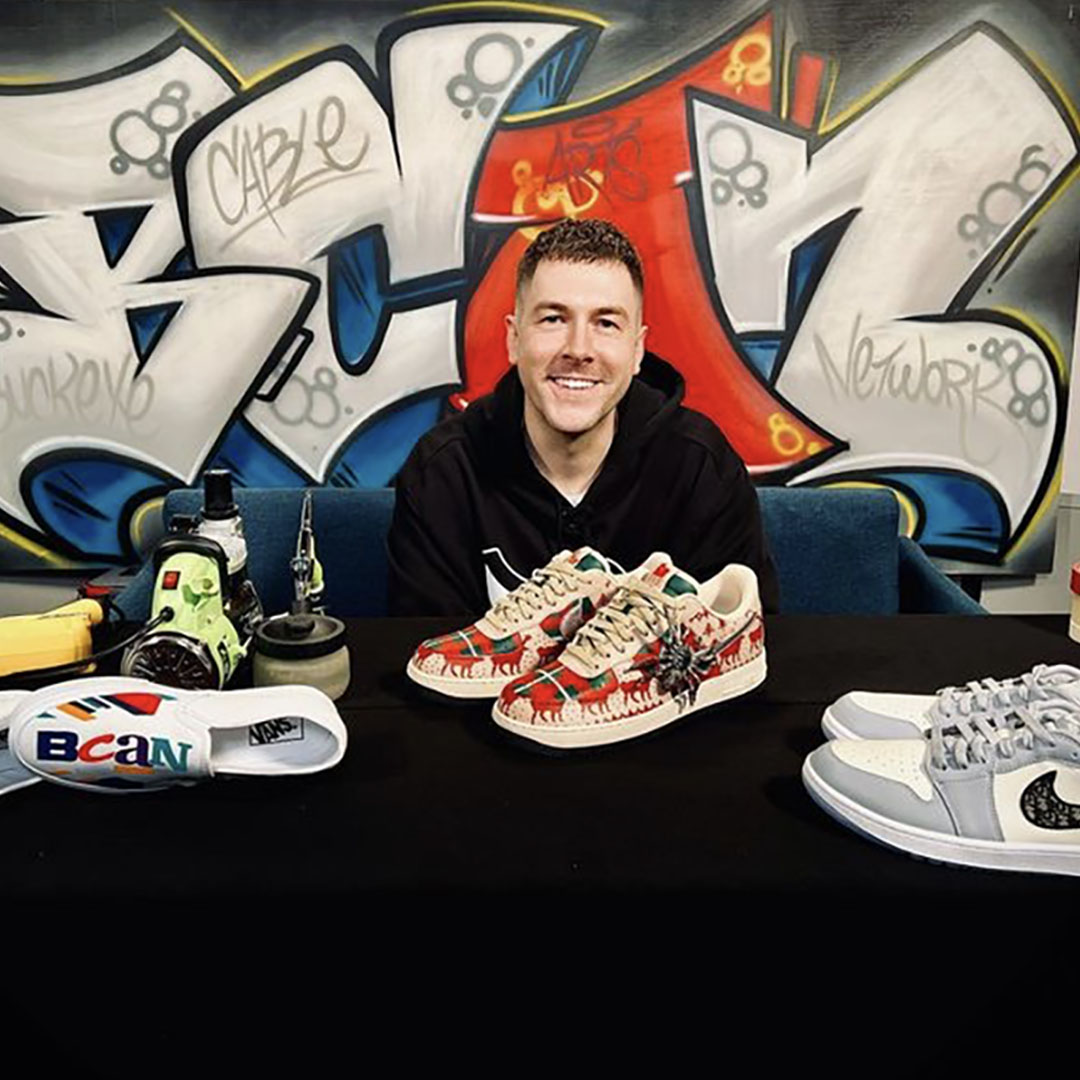 Nice Kicks: How long have you been customizing sneakers for?
Tyler Liber: I've been customizing sneakers for coming up to almost 10 years. It's mainly been a hobby for majority of those years, but as of recent it's sort of taken off. I'm in the middle of transitioning away from my current day job to do sneakers full time, it's exciting.
NK: What got you interested in customizing sneakers?
TL: The movie Like Mike with Bow Wow. He had that song "Basketball" and in the music video, he had Air Force 1s with "Bow Wow" airbrushed on the side with paw prints. I thought it was so cool to have painted shoes. I went to our local mall with my grandma and she took me to see the movie and to get some Air Force 1s. She's the best. We took the Air Force 1s to the airbrush shop at our mall and I remember I had it drawn up [the design] already with Crayola markers. The guy looked at me crazy because he wasn't used to painting shoes, he was just doing T-shirts. He was thrown off at first but he brought it to life. I remember I put them on and went straight to the YMCA to play basketball. I wrecked them in like a day, but it was so awesome. I still remember what they look like.
NK: What did the design look like?
TL: It was like just basic graffiti-style lettering in red, and then puffy clouds around it, like a smoky look, but it was mainly just graffiti style. I was trying to match what he did in the movie. One said "Tyler" and then the other said "Liber."
NK: How did you first get introduced to art and design?
TL: I've always been an artist since I was like 4 years old. I was always drawing and painting, whether it be portraits or sneakers. I remember I used to have my mom make color copies of the Jordan 12, like a template, then I would color them up. I actually still have a couple of them, I should dig them up to see how long I've been having this kind of mindset about shoes.
NK: Did you go to art school or are you self-taught?
TL: I went to a fashion school at Bowling Green State University [to study] Apparel Merchandising Development, but it just wasn't for me. It wasn't design based. I had a teacher in high school who I was really close with who recommended me looking into graphic design because I liked to design album art and stuff like that at the time. So I took a stab at graphic design at Bowling Green and I loved it. I found that branding was a passion of mine, doing logos and stuff like that. [I took] other art classes like drawing and painting during that time frame, so I was able to fine-tune my skills. I took this painting class where my professor was like, "I don't care what canvas you use, it doesn't have to be a traditional canvas." He knew I was into sneakers so I was like, "Would you be down with me painting on sneakers?" He was like, "Yeah, that's fine."
At the time I was dabbling in restoration work, so I started learning about Angelus paint and different techniques to use on certain materials. Throughout the semester I cranked out six pairs. I was pretty proud of that. I remember I did a Superman Jordan that I was really proud of and got good feedback on, so I just kept doing them. Occasionally I'd have people ask me if I wanted to practice on their shoes. Whatever beat-up shoes I had, I'd paint on them and do my own ideas. It just sort of snowballed into learning more on Instagram and seeing other fellow artists inspire me.
My main passion with the whole thing is conceptual storytelling through my work. Anyone can do a custom, but I want the substance and the stories behind it. I just try to imagine if I was at Jordan Brand and they assigned me a project for Christmas or whatever it is – how would I solve that problem? My background in design definitely helps with custom shoes.
One name that comes to mind that framed my approach to start was Vick Almighty from Reshoevn8r. I feel like his restoration work is unmatched. He always had educational videos and I tried to do the things that he did in there, and incorporated it into my own stuff in my own way.
Then, of course, Mache is like the goat to me in the customization game – him and Shoe Surgeon. So between following them and being inspired by their work, and just naturally wanting to soak in all the information by dissecting what they do, and how they do it. Taking that and then my background design, and combining all that together, it came together nicely.
NK: Would you consider yourself a freeform artist? Or are you more structured?
TL: I feel like I start out very structured just to sort of get all my ducks in a row, and sort of plan how I foresee the sneaker in my mind. A lot of times I foresee the final product before I even lay the paint down. It's rare that the sneaker comes out as I envisioned it the first time because while I am structured, it's also sort of a free flowing process. You have to adjust and make changes because sometimes you run into issues that you have to adapt to. So it starts off structured and then unravels into its own thing.
My main process though, I start out with a ton of Photoshop renderings. I do like 50 if it's like one of my own ideas that I'm trying to explore and dig deep on. I do like a bunch of different iterations and renders in Photoshop. Then from there I gather all my materials and paint, and align any kind of graphic design work I need – stencils using my Cricut and stuff done. But I also like doing freehand portraits and things of that nature as well. I try to do a little bit of everything that's out there. Even now, I'm dabbling into sewing a little bit."
NK: What made you want to attempt a golf shoe? What was the process like?
TL: I love golf. I'm a big golfer. Whenever you're passionate about something, you find a way. It just sort of falls into place because you want it and you're passionate about it. Recently, I've been wearing the Jordan 3 golf shoes when I play. I love the recent transition of golf, the culture [is changing], we're bringing Jordans into play and it's not so argyle sweaters and stuff. Golf incorporating the sneaker world into it is the perfect mesh for me. It's everything I love. So it just sort of came naturally.
As far as the shoe itself, some of the ones I worked on, like the Jordan 1s, even though its golf base is predominantly pretty close to the OG with leather materials and stuff, which is what I'm always used to painting with. I did a pair of G/Fore golf shoes where they're some sort of synthetic material. It was very different and the paint doesn't adhere as well, but I treat those just like you would a cleat, where you do all the necessary prep work like sanding and acetone to make sure that the paint adheres. It's been fun doing the golf shoes as of late.
NK: Recently golf culture has shifted away from dated argyle sweaters and has been more receptive to a contemporary flair that represents a new era of golfers. What would you say is the cause of the shift? Was there a defining moment or influence that caused golf to change?
TL: I think that the pandemic had a large part in contributing to the overall rise in golf that snowballed the change in how it is represented. With everyone being quarantined there were very few industries that grew and thrived through COVID. Luckily, being outside and playing golf was one of the few things a lot of people could still do so people from all walks of life that normally wouldn't try golf were giving it a shot. Next thing you know, people were trying new things with fashion, equipment, [and] accessories — a lot of them were sneakerheads. In my opinion, these brands and people weren't intentionally trying to change the game but rather just being who they are. It added [the] realization [that] maybe golf isn't so uptight and isn't only for people with money.
For me, I credit the same kind of shift to Tiger Woods when he came on the scene. He made golf cool. Maybe not the fashion as much as now but definitely broke barriers in the game. I was ready to wear Jordans [and] Nikes on the golf course 10 years ago, they just didn't make them. I love the shift and look forward to seeing what transpires in the future. For example, the Kith x TaylorMade collab is so fire. I would never have anticipated that collaboration, but I was pleasantly surprised when it was announced.
NK: What was it like working with Mina Harigae for her custom Dior x Air Jordan 1 Low Golf?
TL: I had the opportunity to do a pair for LPGA player Mina Harigae. When I did the shoes for her, it was for the U.S. Women's Open and she just started killing it. She was first place the first two days. It was awesome to have that timing of everything coming together and it was awesome to do the pair of shoes for her. She was on TV, national TV, just killing it. It was really awesome to be a small part of that whole weekend. She ended up coming in second, it was great. Things are already in the works to do more for her.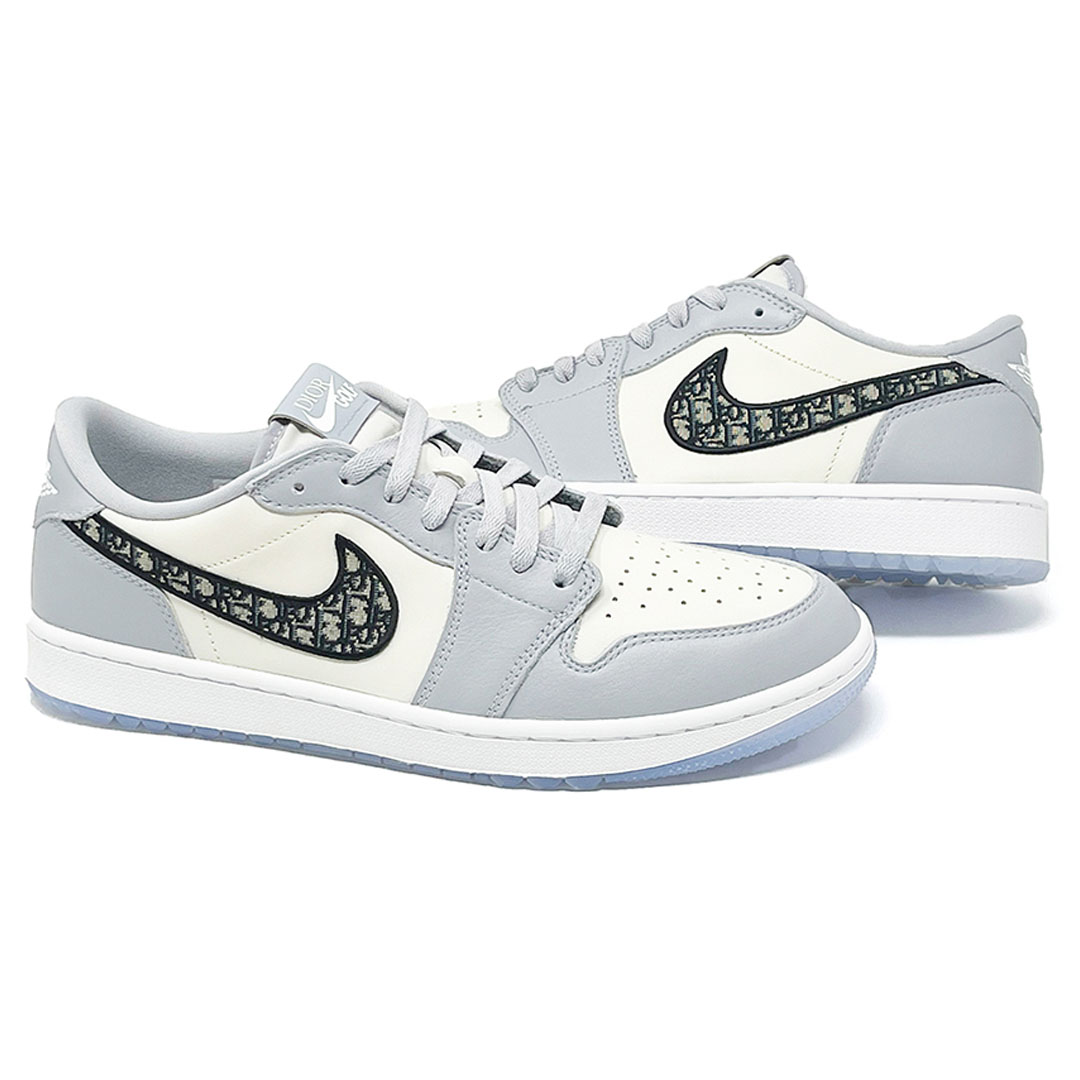 NK: You've made a handful of sneakers for celebrities and athletes. What was your first celebrity connection and how did that come about?
TL: Rittz, the rapper. His DJ reached out to me and I did a pair for both of them, and they wore them on tour. That was my first celebrity, but as of late I did a pair for Shane Victorino and a pair for Michael Strahan. That was really cool. It was a combination with a coworker and his assistant that reached out to me to do a pair for them."
NK: So essentially you've been able to grow organically on Instagram?
TL: Yeah, I'm pretty proud about that. It's natural and organic. I'm trying to do better on Instagram and social media, but being that I work full time, this is sort of my side hustle, it's hard to manage at, but I'm trying to do better. Hypebeast posted my work and that was like the main thing that blew up for me, where I had a lot of celebrity-caliber people looking and hitting me up for shoes. Then it snowballed into more stuff.
NK: From start to finish, how long does it take to complete one of your golf sneakers?
TL: The golf sneakers that do have a 4-6 week turnaround. As far as actual hours spent on that, it varies. It's hard to say. I haven't clocked individually how long they take, but I know I'm hitting all my windows I tell my clients and that's all that matters.
NK: Are there any other silhouettes that you would like to see be turned into golf sneakers?
TL: Yeah, they did a Jordan 12 Low for golf and I'm glad they introduced the model, but I want to see more colorways and more stories behind them, so I'm anxious for that. Then anything G/Fore, they have some fire as of late. They had a collab with TaylorMade that I really liked.
Jordan-wise though, all the shoes that I'm into with Jordan Brand have already been brought to life for the golf round. There are certain tweaks here and there I'd like to see happen. I love the Jordan 1 Low, I wish they had spikes on it just because as a golfer, you want the most traction as possible. But overall, I'm pretty happy with what's been out.
NK: How do the Jordans perform compared to other golf shoes?
TL: They've been great from the pairs that I've had. I've worn the Jordan 1 and the Jordan 3 on the course. They've been great through wet conditions and all the woods, sticks, and stems that you walk through. They've been sturdy and holding up really well.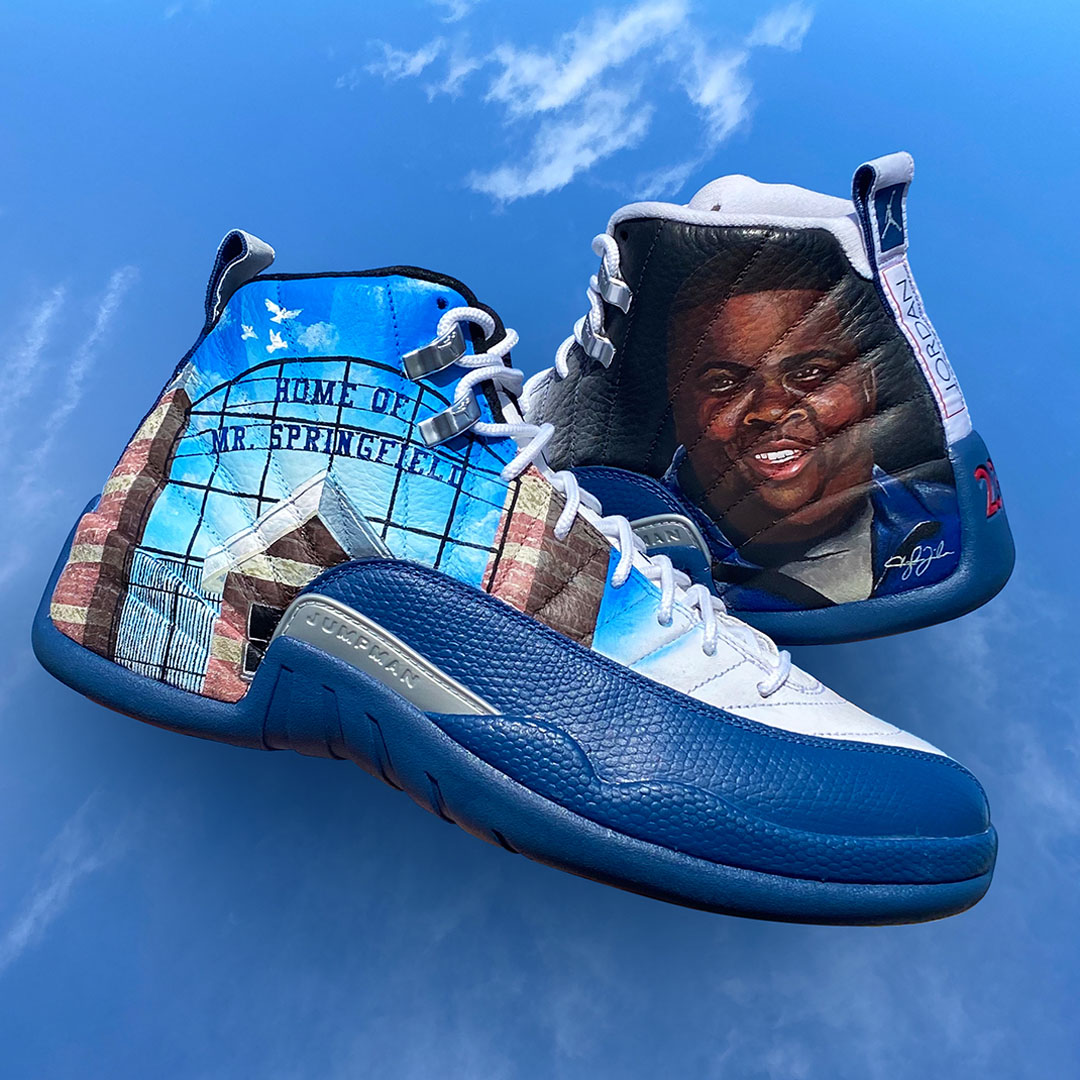 NK: What was the sneaker that got you into sneakers and sparked your interest in them?
TL: For sneakers in general, it would be the Jordan 12. I have a picture from when me and my brother were 5 years old, and for Christmas my parents hooked me up with the 'Cherry' colorway, and my brother got the 'Playoffs.' We were swapping them, trying to take jumping photos and stuff like that. That's what started it off for me. It was the Jordan 12 '96. I was 5 years old, but I was into Michael Jordan. Luckily I got to catch the tail end of his Bulls career, so that was cool. It cemented that special feeling for the 12 in my heart forever."
NK: How has your work developed over time?
TL: I'd say my portrait skills have grown a lot through just doing them in practice and stuff like that. My efficiency in doing things – whether it be prep work or taping, or knowing how to juggle multiple projects at once – that's gotten a lot better for me. I'm faster at thinking of ideas and getting them out there. I know what projects to take and what not to take now. Sometimes I get asked to do things that aren't feasible or don't make sense. It's my job to educate my clients and let them know what [works.] I'm just excited to put more time and effort into it.
Doing my normal full-time job as a graphic designer, working 9 hours a day, and then having to switch my brain to shoes – it's been fine, but I'm to the point where all I want to do is shoes.
NK: What's your favorite pair of shoes that you've made?
TL: The Home Alone Air Force 1 that I made last holiday season is my favorite. I feel like it was the perfect mesh of hype, that we all know sells, and then my own concept, and developing a new meaning to the shoe. They were inspired by the Freddie Krueger Nike Dunks.
I made like 50 Photoshop iterations just messing around and stuff. Then one colorblock just hit me where I was like, "What if I could develop a new meaning instead of doing another Freddy Krueger shoe?" So I dug deeper with that and it was really well received. I'm actually thinking about bringing them back and doing it on a pair of SB Dunks.
NK: How does it feel to have your work so well-received?
TL: It's really nice actually. I'm not saying that I need validation, but it gives me that validation that I can do this and people want this, and I should do this. I've been blessed enough to have people write about me, and share this or comment that, and it's been really nice to see. I've even seen a couple of Jordan execs like my stuff. It's just small stuff like that. It's reassuring that I'm on the right path and just to keep going. Go harder.
NK: What's in your daily rotation right now?
TL: My daily rotation right now is a pair of Dunk Lows, the classic "Panda," that has become a meme. I wear a lot of Vans and then just a classic pair of Forces. That's my rotation right now, but my favorite pair that I own is probably my Jordan 12 "Wings."
NK: What advice would you give to aspiring creatives?
TL: Don't be nervous to share your work. Just get it out there and develop tough skin. Take all the hate and the love together for what it is. Just stay positive and keep your head down. If you're passionate about it, just keep going and get yourself out there. That's the only way anyone is going to see it. Believe in yourself and learn as much as you can, and make as many connections as you can in the industry.
For me, developing my own relationships in the industry has been pretty difficult. There's only so much you can do through social media, with messaging and stuff, so I'm all about organic relationships, and face-to-face situations where I can actually develop a connection with a person. Also, perfect your craft. Don't be lazy, don't cut corners, do your research.
NK: What do you hope to achieve with your work and what do you hope to see yourself in the next five years?
TL: Well, I'm hoping to just have my sneakers and any related business on that end, be my own business. I want to have my own shop and I want to be putting out my own releases, like The Home Alone, like my own design, and just stick to following the calendar for the season and whatever the day is and having something generated for that theme that day and just keep making releases and keep developing connections.
And as a side note, it's kind of always been a dream of mine to work at Jordan Brand and be on the color design team there and Kelsey Amy there, she's like a huge inspiration to me. And all her work she does there for all the athletes and all the storytelling she does, and for her to be a customizer back in the day and then sort of transport that into working for Jordan Brand, it's cool to see something that led that path and all that. Oh, that is a thing to do. That would be cool. Whether it's having my own thing full time or somehow I get an adorned brand, one of those two things would be ideal for me in the next five years.
---
Follow @TylerLiber on Instagram.