Interview by Matthew Barron & Rosanna Cuellar for Nice Kicks. Lead Image by Matthew Barron for Nice Kicks.
Dubbed as "the queen of Argentinian Trap," Cazzu is paving a way for modern Argentinian artists. With a unique appeal and eclectic style, she's risen to the top of her urban latino genre and inspired more than the average reggatóne fan along the way.
Reggatóne artists have a knack for dressing above the bar. Similar to the hip-hop artists of North America, South American reggatóne and latin-trap artists entertain a particular taste for streetwear and sneaker fashion. Fashion that is then, in turn, emulated by fans across multiple countries. All the while, in-tune artists like Cazzu keep sneaker culture alive in these Latin American regions, all while adding her own flavor, of course.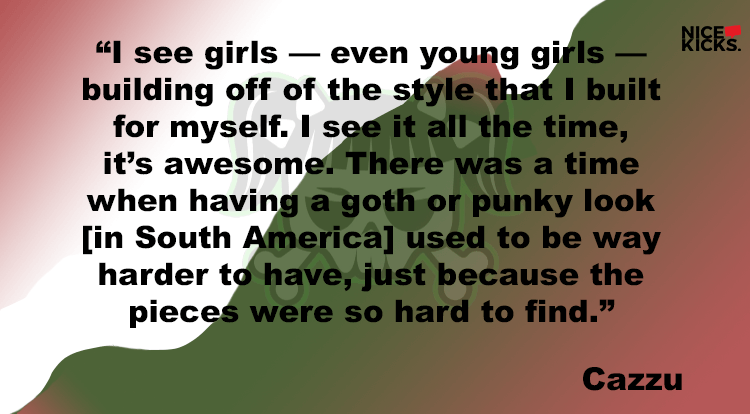 Recently featured as the cover star of Billboard Argentina's September issue, Cazzu is the one of the hottest Reggatone acts of the year. Her latest project, Error 93, is an exceptional extension of her artistic rarity. Released under Rimas Entertainment, the 10-track project boasted her into the limelight, alongside fellow modern-reggatóne artists like J. Balivin and Rimas Ent. label-mate Bad Bunny. The project also earned praise from Rolling Stone.
Courtesy of Baja Beach Fest, we met with Cazzu in Rosarito, Mexico to talk sneakers, culture & streetwear. Check out Cazzu's Sneaker Rotation below. Tag us in your IG story and let us know what you think of Cazzu's rotation for a chance to be featured.
[bsc_separator style="solid" height="4″]
Nike Air Max 97s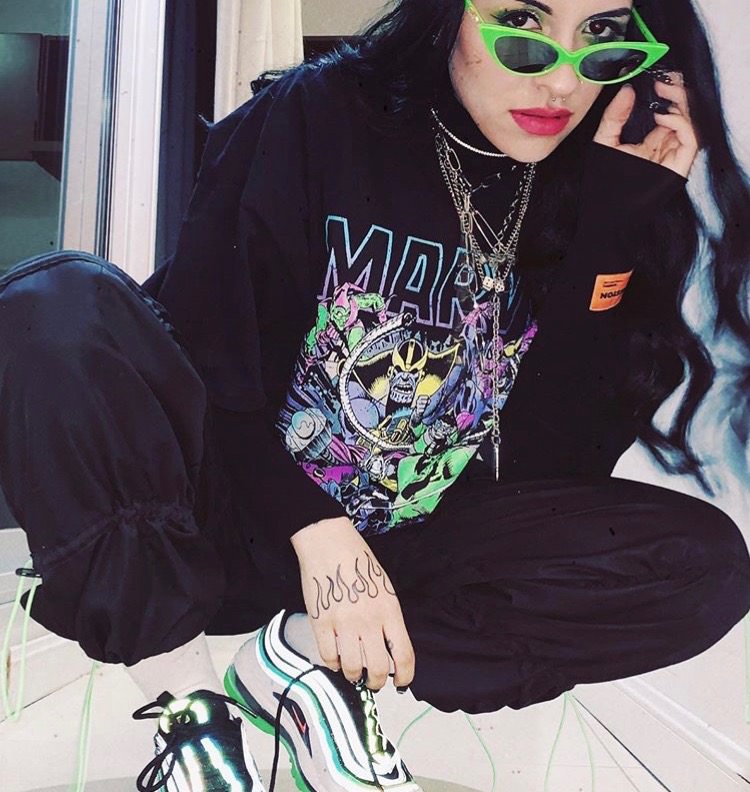 Cazzu: I feel like "style" has always been something I've tried to explore. Even though sometimes it wasn't always economically easy, I would always try to find original clothes at all the vintage stores where I come from.
I way always able to get swag from brands like Tommy Hilfiger, Nike and Polo, so a lot of my inspiration came from those cool vintage finds. When I was younger, the "emo" look was something I always liked but it was harder to dress to that style because it was harder to find. Having a goth or punky look was way harder to have because it was hard to find.
Nike Air Force 1 Low

Cazzu: I'm a I'm a huge fan of Air Force 1s. Those are my go-to — the white ones especially. For example, I have like four pairs of high top whites but I also really like white sneakers in general. I feel like they go so well with everything.
I actually don't like the women's sizes of AF1s though, I prefer men's sizes because the women's versions are more narrow and I prefer to have space. Most shoes, actually, that I have or want I try and get a men's because I like the way the fit me better.
Air Jordan 4

Cazzu: I was already older when I could afford them. I was never able to buy them when I was younger because, to be quite honest, it just wasn't economically feasible because they're so expensive. For example, when I got my first pair of AF1s even, it was when had my own job and could afford them. Then I fell in love [laughs]. I'm talking around 22/23 years old.
Because my country is so far — I grew up in Northern Argentina — everything is even more expensive because it has be imported. So they're very special to me, my fave. But like I said, not the womens. I love big shoes in general.
Combat Boots

Cazzu: These big mega wolf shoes I have on right now are part of my outfit today because I felt like this look, overall, was more "girly." I don't wear these too often, but I do like big shoes like these to tie outfits together. Mega ginormous and heavy kicks.
Honestly, I forgot the name of the brand on these, just because it's so rare I keep these in rotation. But I usually try to cop from an underground brand. I'm a huge fan of underground sneakers and clothes in general. For example, before Bilie Ellish wore Freak City, I was a huge fan of that brand. They were small and super underground. I like clothes that aren't easily recognized, original, exclusive and good quality. I don't use big brands like Fendi or Prada because those brands don't represent me. They don't make clothes for me or my style.
Vans Old Skool

Cazzu: You know, I've always loved Vans. I mean, I was super into them as a kid, and still love them, obviously. I've just always felt like they could complete my looks. But, of course, they were also hard to find and always up charged where I'm from.
My country is so far, so everything is more expensive there because it has be imported. I honestly didn't get my first pair until I got a little older, but now I have SO many pairs. Mountains of Vans. [laughs]
[bsc_separator style="solid" height="4″]
Special thanks to Audible Treats and Papas y Beer. Keep up with Cazzu via Instagram, and stream her latest project, Error 93, available on all streaming platforms.