Pompidou and Circumstance.
Today's Nice Kicks' Throwback Thursday pays tribute to a timeless and iconic silhouette with a modern, limited-edition twist: the atmos x Nike Air Max 1 B "Viotech" from 2003.
In the early days of the millennium, the majority of hype surrounding footwear and new releases within sneaker culture revolved around collaborations by notable artists including Stash, Futura, Dave White, and many others, signifying the beginning of a new movement or trends in sneaker design between artists and brands. Additionally, the sneaker scene witnessed the sudden resurgence of Nike Skateboarding and the now iconic Nike Dunk Low Pro SB, whose myriad colors and limited-edition releases truly was trendsetting, pioneering, and unprecedented at best.
Yet there remains one silhouette and collaboration of note which, over 15 years later, has maintained a very special place in the heart and "sole" of Nike Air Max enthusiasts: the atmos x Nike Air Max 1 B Viotech.
The history surrounding the Nike Air Max 1 has been discussed extensively, and rightfully so, as it remains a sentinel iteration in the Air Max line, and sneaker history in general. Designed by Tinker Hatfield, the Air Max 1 debuted in 1987 during a time when "more was better," when visible air was heavily marketed, Nike's golden ticket to prominence and immortality.
Inspired by the George Pompidou Centre in Paris, the Air Max 1 featured a large-volume visible heel Air Max unit, a model and a design feature which has maintained great staying power today, 30 years after its original debut.
The Air Max 1 has received many retros during its storied run, both general and limited-edition releases. One release in the post-2000 Nike retro era that is noteworthy of discussion is the atmos x Nike Air Max 1 B Viotech.
Using the iconic silhouette as its canvas, atmos flipped the script entirely and used a beautiful array of soft, subdued colors and tones, giving the shoe new life and additional character as a true piece of wearable, accessible art and design. Of particular note is the soft purple color in conjunction with gold stitching for the Swoosh on the toe box, heel, and tongue tag as well, allowing the wearer to have wings of gold both literally and figuratively.
Moreover, unlike Air Max retros of today, the 2003 Nike Air Max 1 featured a larger, thicker bubble, which stayed true to its roots, receiving strong approval and a positive response from Air Max purists, collectors, and hypebeasts alike.
In conjunction with Grey One, a rare Air Max 1 B x Grey One 1 Year collaborative sneaker was released in the khaki/viotech-dark mocha-gold colorway complete with a custom box designed by artist Dez Einswell and featured a box label which stated the pair's individual number out of 100 and the words, "2003 Nike/GreyOne/Dez Einswell/Ltd. Edition," with each box individually signed by the artist.
Only 100 pairs were produced and sold out instantly at Grey One's anniversary, cementing them as one of the best Air Max 1 collabs ever created.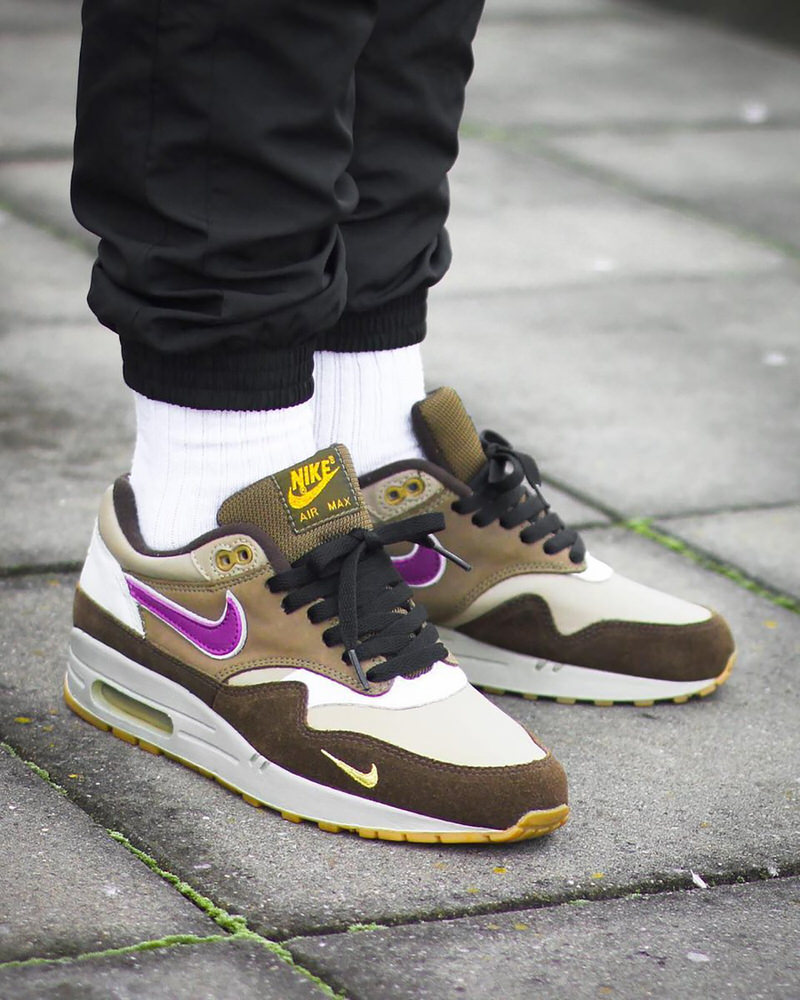 The Viotech colorway has sold well in years past across several models including the now famous Viotech "Rainbow" Dunk Low in addition to other atmos x Air Max 1s including the Safari, and DLX.
These collaborative projects moved the needle and further elevated the Air Max 1 to new levels from a consumer standpoint and, from a macro-level approach, the natural evolution and gradual progression of the Air Max line throughout the years as a significant piece in sneaker history.
Wear your Airs, lace up your pair of atmos Air Max 1 Viotechs, and take it back to the good old days.
Revolution is in the air.