lead image by Kirby Gladstein
"JUMP!"
It's a sentiment that was shouted an hour ago on stage by Playboi Carti but this time it's coming from Marilyn Manson.
He's closing his set at the second annual ASTROWORLD festival with the "Beautiful People" before Migos and Pharrell take the same stage next.
This of course is setting it all up for the man of the hour: Travis Scott.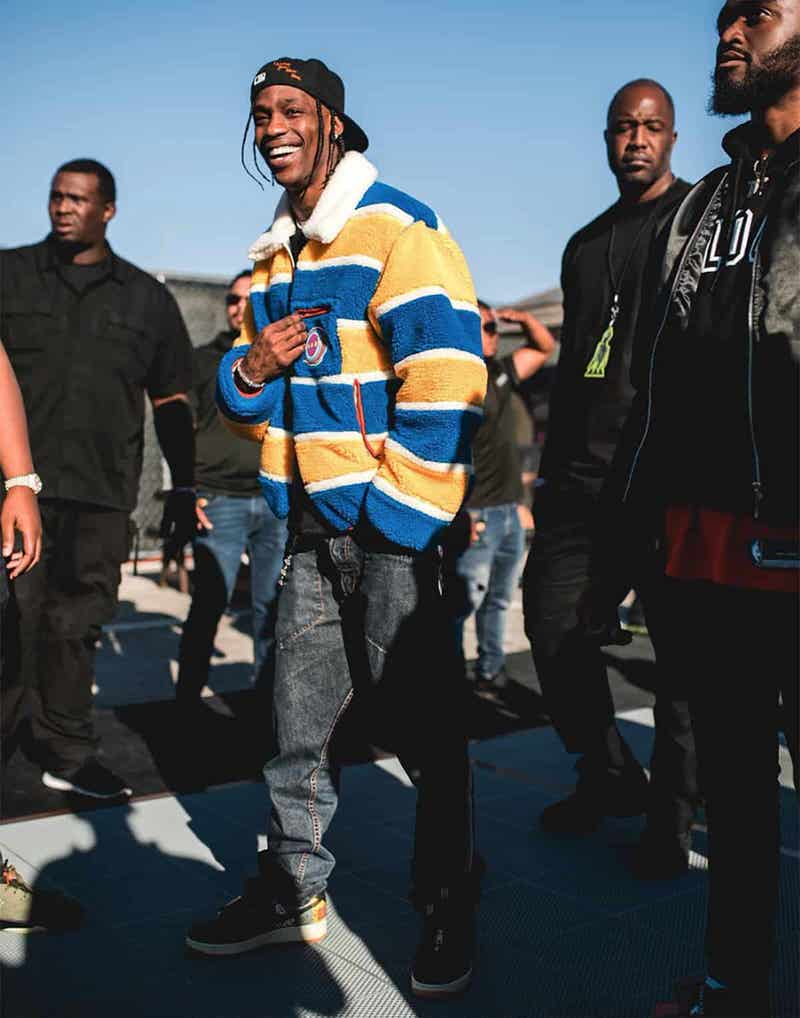 At only 27 years of age, Travis Scott's homecoming homage to his city's now defunct amusement park couldn't be more amusing as mentors have become openers and adults are passing up beer lines for tickets to go on carnival rides.
As alluded to before, the lineup for the second annual ASTROWORLD is both iconic and eclectic.
Though Atlanta, VA and Transylvania were all represented on stage, it felt like all 50,000 attendees at ASTROWORLD were actually from Travis' home of Houston.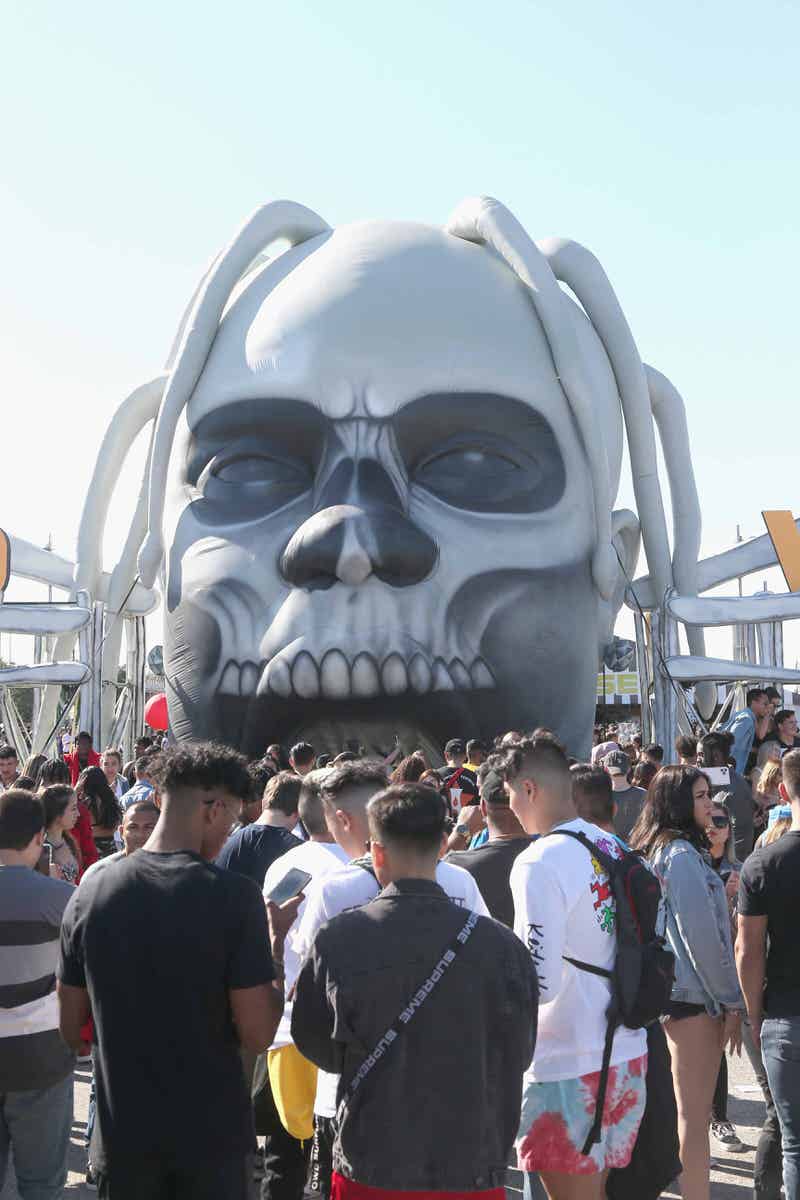 Despite the inflatable skull entrance, "THE YOUTH" couldn't have been more alive and on hand. Most music festivals can be a mixed bag ranging from Grateful Dead dads unfamiliar with Falling Upwards to sundress sweethearts looking to catch Kasey Musgraves.
While there's nothing wrong with any of that, that is not ASTROWORLD.
Expressing themselves in a unified manner that only Travis could curate, mosh pits were made up of high school and college aged ragers dressed in muddy Jordans matched by ketchup and mustard Clyde Drexler jerseys all their senior in origin. Around the fairgrounds you could spot fans in everything from beat up recent releases to tie-dye Travis Forces in torn up fashion.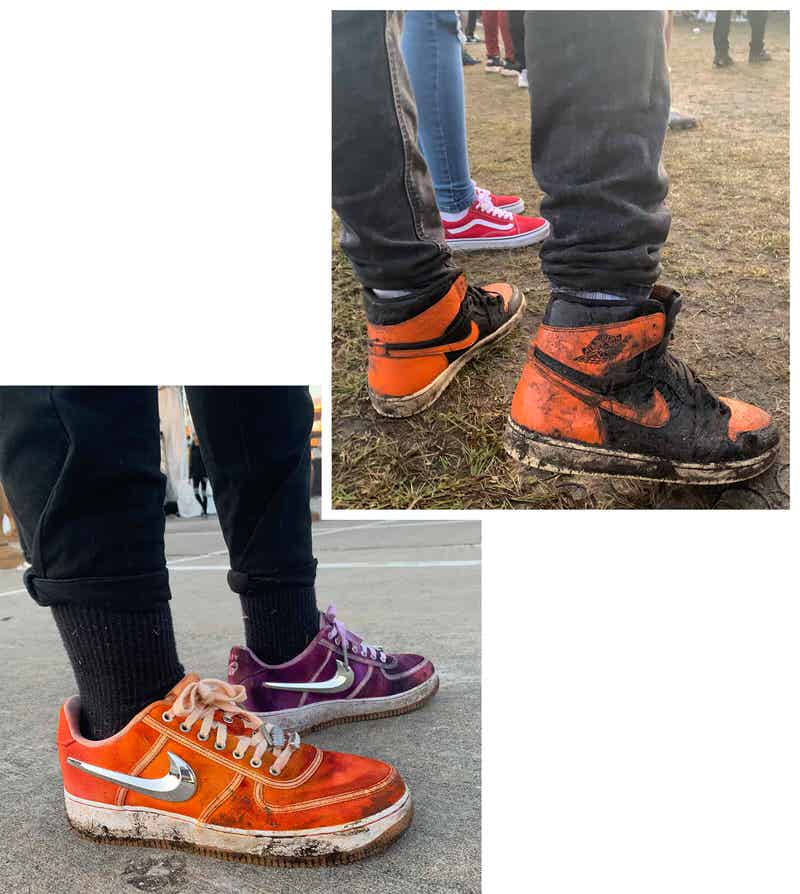 Though retro sneakers and throwback jerseys canvassed the crowd, truly it was all about ASTROWORLD merch and Travis Scott's coveted collaborations with Nike and Jordan Brand.
This trend was seen on stage, backstage and in merch lines longer than Kylie Jenner's money all around the venue. Old or young, VIP or GA, everybody was about if. Fans threw on hot off the presses hoodies as their mosh pit armor while others bagged up bulk that could likely pay their semester tuition.
Keen on the power of their golden goose, Nike and Jordan had their teams in attendance for the launch of Scott's celebrated Air Force 1 collab a week before its release with fans flourishing in the AF1 SNKRS experience IRL.
Brand members from Beaverton who'd been on board anywhere from two years to two decades were overheard saying, "This is the best work trip I've ever been on."
Travis' Air Jordan 1s, Air Force 1, Air Jordan 4s and Air Jordan 6s were seen all over the fairgrounds with daps and pounds met for fire 'fits rather than ice grills.
Artists paid tribute to their humble host on stage with Offset rocking the unreleased "Yellow" take on the Travis Scott x Air Jordan 6 and Chase B sporting his homie's backward branded AJ1 collab.
Though Trav, Chase and Offset are well known for rocking SBs, it was Cactus Jack signee Sheck Wes who took it all the way back in Heineken Dunks.
Not be outdone, Nike flew out signature skaters like Ishod Wair and Theotis Beasley just for the festival to enjoy the rage and support their brand brother.
And support and rage they did.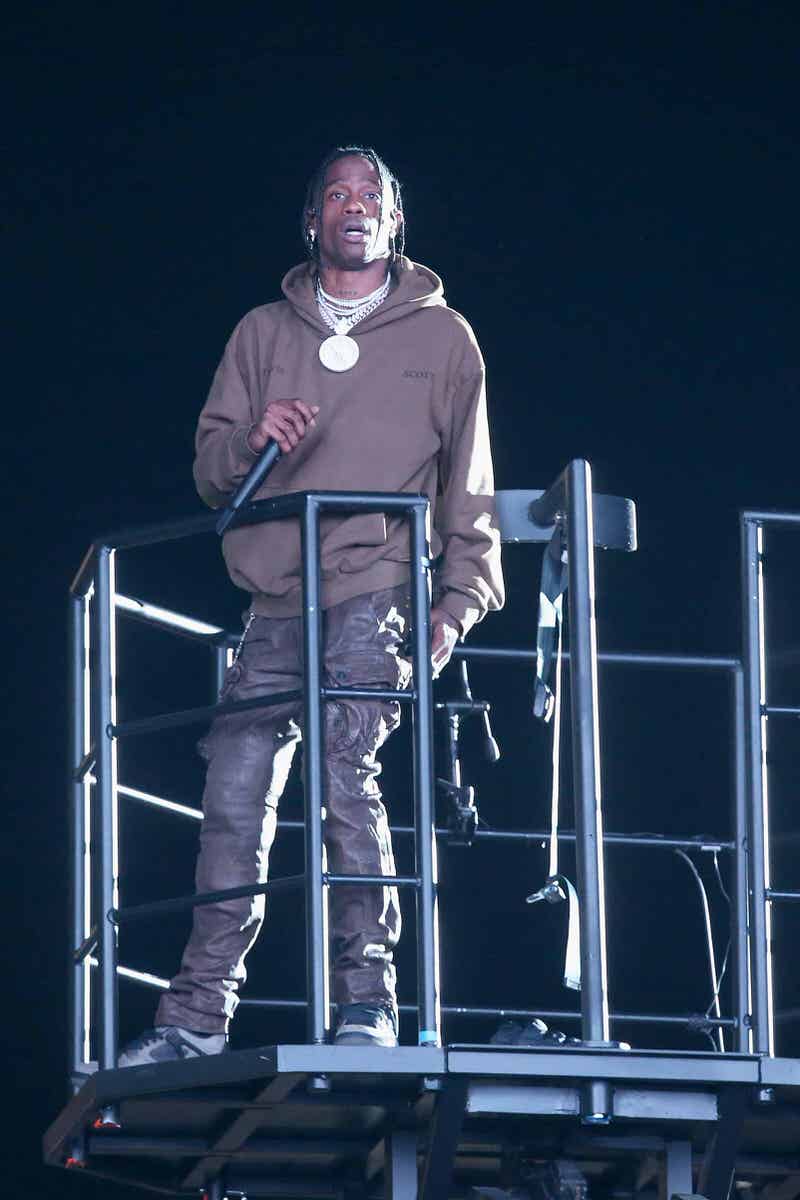 Much like Michael Jordan was the man at Nike and in the NBA at the age of 27, Travis proved the star of stars at his homecoming concert also three years shy of 30.
Back in 1991 at the same age Travis is now, MJ returned home to Charlotte for the NBA All-Star Game. Dropping 26, 5 and 5 in the same silo Travis just added a stash pocket to, Mike was laser focused on winning his first championship while still competing in arenas beyond basketball. For Trav, it's a lot the same.
While Travis chases his first championship in the form of the Grammy ASTROWORLD deserved, the album still serves as this generation's Dark Side of the Moon both sonically and aesthetically. Travis has ascended to the same heights as his mentor Kanye West circa Graduation, living in a space bigger than just rap.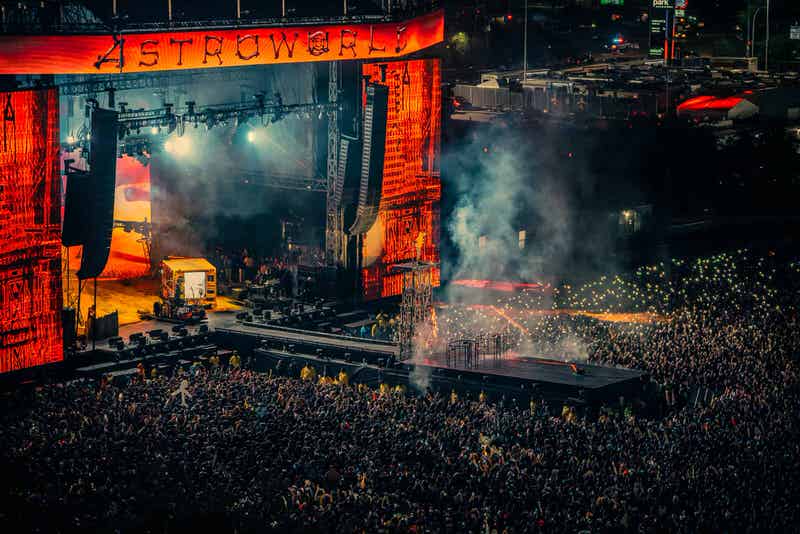 Competing with Rocky for first when it comes to fashion and Drake for biggest when it comes to records, Travis has a foot in every modern arena but doesn't seem stressed. Why is that? While Mike was all about winning, Travis is strictly about fun.
As influenced by X-Pac as 2Pac, Travis bares a smiles as often as he bares his soul and the kids connect. Clearly a cash cow he doesn't seem concerned with money — he's hell bent on seeing his fans and his friends have fun.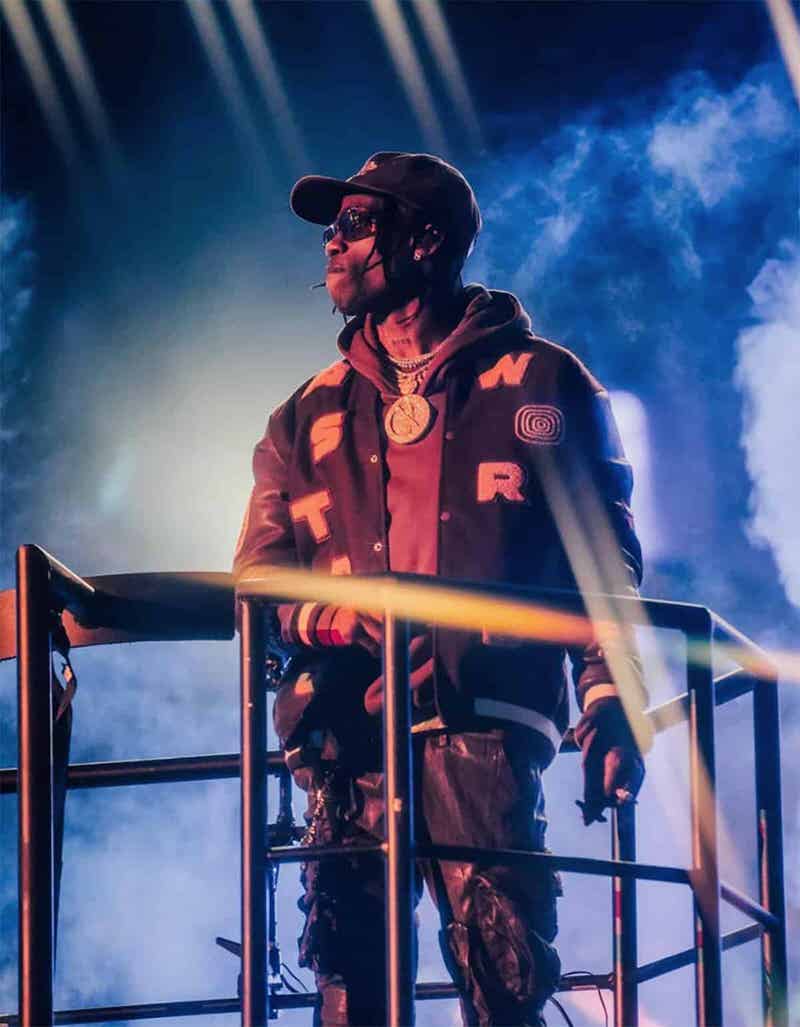 When Travis finally takes the stage – though he's already hopped out and DJ'd for Sheck Wes and Chase B hours earlier in the show – he's introduced by none other than Dave Chappelle and emerges out of an ambulance in an interlude that seems to pull as much from his high school theater days as it does Kurt Cobain's wheelchair roll up decades ago at Coachella.
In reality, it's a playful nod to his rumored knee cap shattering performance weeks before at Rolling Loud NYC.
Running through new tracks like "HIGHEST IN THE ROOM" to Days Before Rodeo cuts like "Mamacita," the climax of the show is when Travis brings out a guest not included on the original lineup.
Yup, Kanye West.
Chase B, who was likely lining up at Active Athlete ten years ago when the first Air Yeezys dropped is now the first DJ to drop "Follow God" for Yeezy himself outside of a Sunday Service.
The show ends in fireworks with fans unconcerned about their thrashed grails and more excited about the most amazing experience they've ever had — not to mention their new merch. Some fans will rewatch their IG stories amongst friends at Whataburger or BBs while others will catch early shuteye in hopes of catching Travis' sneaker restocks at Chase B and La Flame's new joint venture Space Village.
As fans took to school today in their new ASTROWORLD hoodies one can only imagine what's next for Travis himself. His acclaimed Netflix documentary suggests he works tirelessly on making sure his fans have the most lit sonic and visual experience his mind can imagine.
This year's ASTROWORLD festival proves him and his team are clearly capable of exactly that.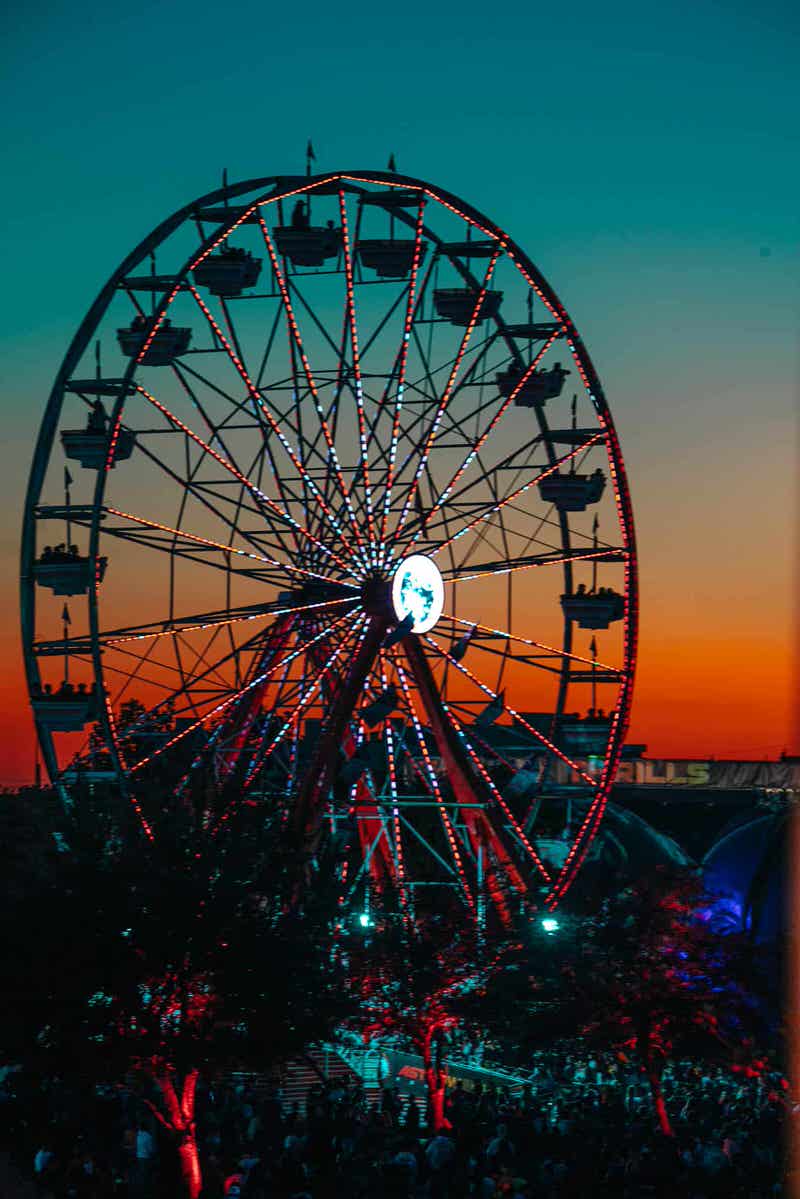 What's for sure is that more merch, more music and more sneakers are certainly on tap for Travis as he closes a decade that saw a truly meteoric rise from Mike Dean discovery to Hollywood royalty and hip-hop elite.
If Kanye considered the Yeezus Tour his audition tape for Disney, perhaps ASTROWORLD festival is the blueprint for having Houston house an actual amusement park curated by La Flame himself? An interactive music, shopping and riding space in Space City for all the fans that wish they could be here?
After attending ASTROWORLD 2019 we believe it and the kids do too.
After all, who says man was not meant to fly?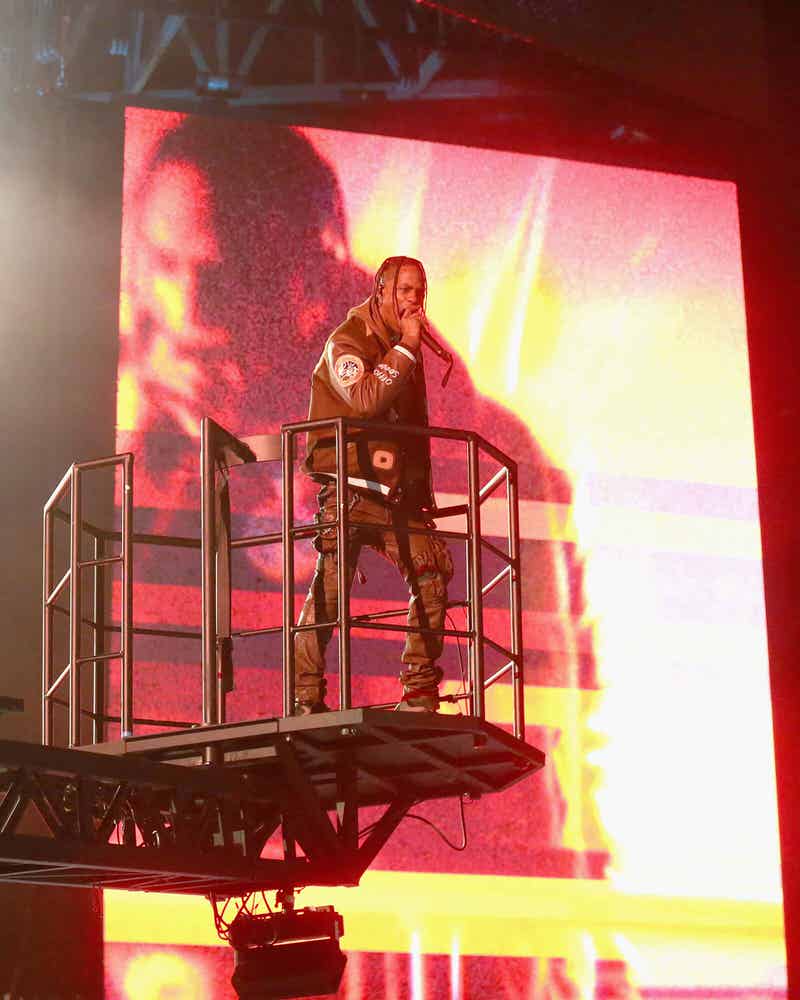 Special thanks to Giant Noise & Scoremore